The history of scuba diving in Coron can be traced back in World War II. It was when the air strikes of United States Navy Task Force 38 on September 21, 1944 against Japanese Imperial Navy in Manila Bay forced the Japanese to transfer their remaining fleet to other areas they thought were safe, including Coron Bay.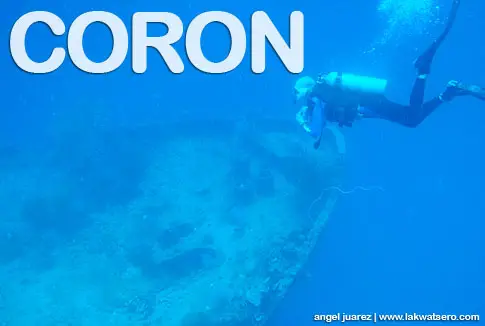 But the Japanese were wrong, because on the early morning of September 24, the Task Force 38 reached Coron Bay and heavily bombed the Japanese fleet bringing down at least nine of their ships.
This turn of events resulted in one of biggest collections of submerged shipwrecks we have today. An underwater museum of history and a visual treat to scuba divers who love to experience the thrill of penetrating creepy wrecks. The main reason why we keep on coming back to one of our favorite diving destinations!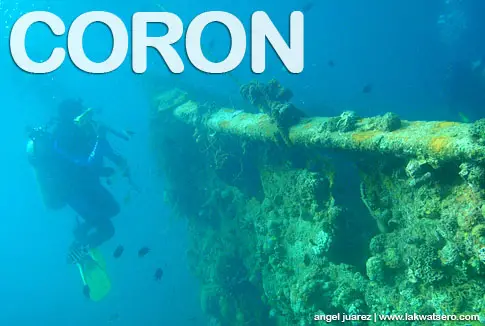 So less than two years after our last dives on the waters of Coron, Ate Claudia and I were back again early this year for another round of wreck diving.
After our four previous dive trips there, only Kogyu Maru and Kyokuzan Maru were the only known wrecks that we haven't seen yet. Kyokuzan Maru lies on the seabed on the other side of Busuanga Island. It is quite far and requires special arrangements for divers based in Coron Town so we skipped it on this trip but we made sure to see Kogyu Maru, along with Irako and East Tangat Wreck which we have already dived before.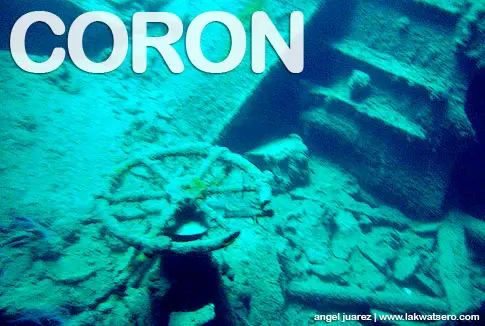 Irako
Our first dive was in Irako, a 145-meter food supply ship of the Japanese Imperial Navy built in 1940 and was put into service in 1941. It is one of the deepest shipwrecks in Coron Bay, lying upright at a maximum depth of 42 meters near Tangat Island.
Being one of the biggest and deepest wrecks in Coron Bay, Irako is one of my favorites. The structure is almost intact except for the bridge section where the bomb struck. Thankfully, the visibility was good and we were able to penetrate the deck level which we were not able to do when we first dive there in 2011.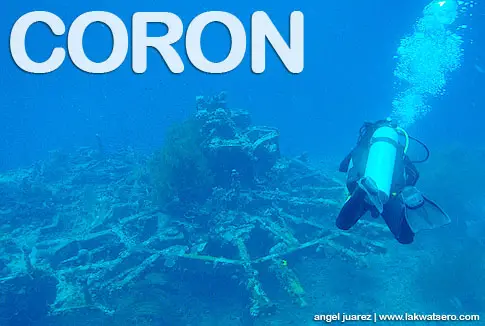 We navigated inside the narrow and dark openings of Irako, careful not to disturb the silt. We spent a few minutes inside, looking at interesting remains of this once gorgeous ship – the transmission room, propeller shaft, engine rooms and other remnants. Simply magical!
Before we reach our no-decompression limit, we went out and hovered around for a while. Once again, I was amazed with Irako. It is definitely a thing of beauty that even some groupers, scorpionfish, lionfish, fusiliers, trevallies, snappers and other marine species are attracted to it, sometimes even whale sharks!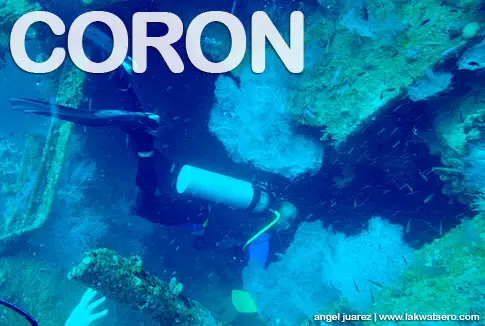 Kogyu Maru
We were off to a new treat on our second dive with Kogyu Maru since it was a new experience for both Ate Claudia and me. This 158-meter long auxiliary cargo ship of Japanese Imperial Navy lies on her starboard side at a maximum depth of 34 meters near Lusong Island.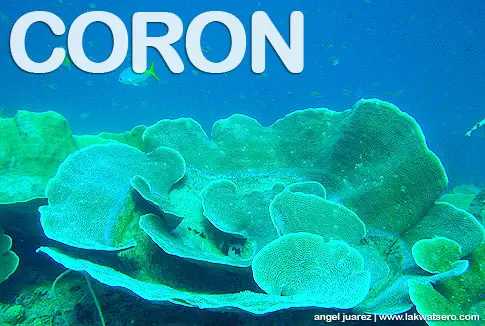 Unlike Irako, penetrating Kogyu Maru was easier because it has more openings that allow more light to come in. Visibility and current were also good which gave us some great time penetrating the wreck. Inside we saw cement bags that are still in place, construction materials, barrels and its other remnants. While outside, soft and hard corals cover the ship's exterior attracting variety of aquatic creatures.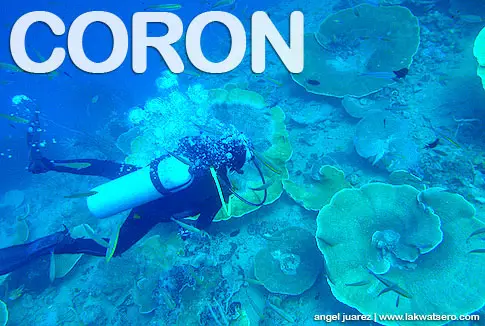 East Tangat Wreck (Tirukaze Maru)

Our day of wreck diving ended with a third and final dive at East Tangat Wreck, believed to be either a tugboat or an anti-submarine sea craft. East Tangat Wreck is the ship Tirukaze Maru of Japanese Imperial Navy. The wreck lies on a sandy slope at around 20 meters, near a reef.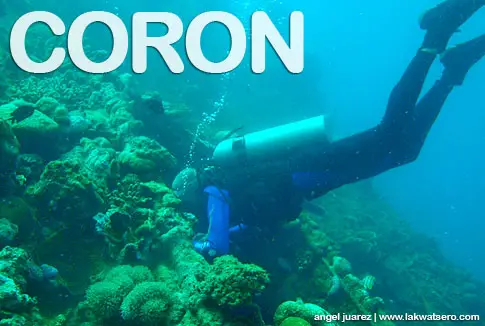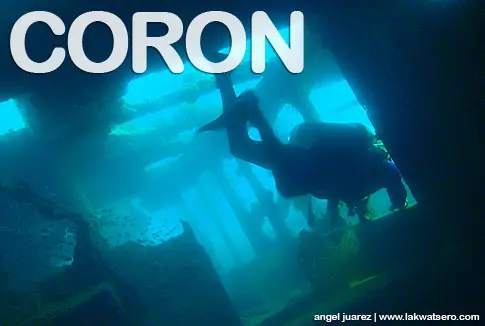 East Tangat Wreck is an easy dive, great for novice divers, snorkelers and as last dive for experienced divers due to its shallow depth, mild current and very good visibility. The area is also teeming with colorful corals, sponges, crinoids, reef fishes and other marine creature. I also love diving in East Tangat Wreck because it is always a relax dive and there are always interesting stuff to see!
How to Get to Coron
By Air
By Air, Franciso B. Reyes Airport of Busuanga is the jump off point to Coron. Philippine Airlines, Skyjet, Air Juan and Cebu Pacific have direct flights to Busuanga from Manila, Cebu, Clark, Caticlan, Puerto Princesa and San Vicente. From Busuanga, catch a 45-minute van ride to Coron town for P150.00 per person (2015 rate).
By Sea
Manila to Coron:
2Go Travel has twice a week voyage from Manila to Coron and Puerto Princesa. The ferry usually leaves in the afternoon for a 13 to 14 hours journey. There's a ferry that leaves Friday afternoon, arriving in Coron at 5AM of Saturday with return ferry leaving Coron at 430PM of Sunday, arriving Manila at 630AM of Monday. This is perfect for weekend warriors, but expect some delays. Aside from 2Go Travel, there are also other ferry operators from Manila to Coron including:
Operator: J.V. Serrano Shipping Lines (M/V D'Asean Journey, M/V D'Sea Journey)
Route: Manila-Coron and vice versa; Coron to Cuyo and vice versa
Contact Info: (02)-243-4595
Operator: Atienza Shipping Lines (M/V Josilee-II, M/V April Rose, M/V Q-Carrelyn-III)
Route: Manila-Coron-El Nido-Liminangcong and vice versa
Website : http://www.atienzashippinglines.net
Email: [email protected]
Telephone No. : (02)-986-3118 and (02)-536-8123
You can book your ferry or plane tickets from Manila to Coron and vice versa below:
BOOK YOUR FERRY/PLANE FROM MANILA TO CORON
El Nido to Coron:
Fast craft and outrigger boats connect El Nido to Coron with daily departures. Travel time is at least 3.5  hours for a fare of around P1,800 one-way via fast craft; around 7 hours for a fare of P1,400 one-way via outrigger boat; and around 8 hours for a fare of P1,200 one-way via passenger ferry.
You can book your ferry or plane tickets from El Nido to Coron below:
BOOK YOUR FERRY/PLANE FROM EL NIDO TO CORON
Puerto Princesa to Coron:
2Go Travel going to Manila stops at Coron. You can book your ferry from Puerto Princesa to Coron below:
BOOK YOUR FERRY FROM PUERTO PRINCESA TO CORON
San Jose (Mindoro) to Coron:
Outrigger boats regularly depart from San Jose, Occidental Mindoro to Coron. Travel time is approximately five (5) hours and fare is around P600 one-way.
You can book your boat from San Jose (Mindoro) to Coron below:
BOOK YOUR BOAT FROM SAN JOSE (MINDORO) TO CORON
Dive Operators in Coron
There are lots of dive operators in Coron but I always go with Sea Dive Resort. Sea Dive Resorts has a thrice-daily dive schedule.Rate is P1700 for one fun dive, P2800 for two and a promo rate of P2900 for three dives, including all the basic equipment (except dive light for wreck penetration), dive boat, boatman, guide and lunch.
For more information on Coron, visit Lakwatsero's Travel Guide to Coron.