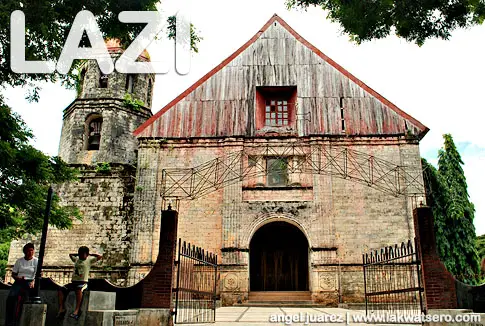 Nested in the western corner of Bohol Sea and surrounded by bigger islands of Visayas and Mindanao, is the lovely province of Siquijor, a small island that offers big surprises.
Formerly called "Isla de Fuego" or Island of Fire during the early Spanish era, Siquijor used to be a town of Negros Oriental until it became an independent province in 1971. It is the third smallest province in the country with a total land area of only 343.5 square kilometers.
Today, Siquijor is a fast becoming tourist favorite in Central Visayas due to its natural beauty and mystical charm. Its white sand beaches, century old churches, amazing dive sites, beautiful waterfalls and other natural wonders are among the magnets that keep attracting people to uncover the island's mystique.
A small yet bountiful island, Siquijor is a synergy of nature's beauty and mystery, a bliss waiting to be explored. Come and experience the mystique charm of paradise that is Siquijor.
How to Get There
Via Air

The province of Siquijor has an airport that can cater to small commercial aircraft but to date, no commercial airlines fly there. The nearest commercial airport is in Dumaguete City.
From Dumaguete
Dumaguete City is the capital of Negros Oriental, it accessible from Manila via Philippine Airlines and Cebu Pacific. From Dumaguete Airport, flag a tricycle to take you to Dumaguete Sea Port or Pier in Looc, near the Boulevard. Rates range from P100-P150 per trike from the airport, and even cheaper in the main road or outside the airport compound, it is just a short ride of not more than 15 minutes.
At the port of Dumaguete, you may opt to ride the fast craft or the RoRo ferry to either the town of Siquijor or Larena. There are numerous shipping lines operating the route as early as 5:45 AM and as late as 7PM daily, call the ferry operators for their updated schedule as they usually change. Fast craft rate is P160.00 one-way, travel time is an hour. RoRo ferry rate is P109.00 one-way with almost two hours of voyage. Check out the ferry schedule to and from Siquijor as compiled by the local government.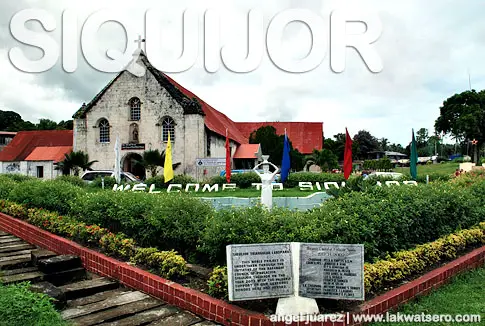 Via Land/Water
The ports of Dumaguete, Cebu, Tagbilaran and Iligan have direct links to the province of Siquijor by ferry or boat. These major cities, being possible gateways to Siquijor are accessible via ferry ride from different ports of call in the country. Numerous shipping lines link these cities to the others including 2Go Travel, Cokaliong Shipping, Montenegro, SuperCat, Super Shuttle and OceanJet, among others.
Meanwhile, Oslob, the southern town of the province of Cebu, also has a direct link to the town of Larena. Oslob is a four-hour ride from Cebu City.
By land from mainland Luzon, Siquijor can be reached by bus from Batangas on a RoRo via Eastern Nautical Highway passing Calapan, Roxas, Caticlan, Iloilo, Bacolod, Dumaguete and all the way down to Siquijor; or via the Central Nautical Highway by traversing the Pan Philippine Highway passing the provinces of Laguna, Batangas, Quezon, the Bicol Region and  towards Pilar in Sorsogon, then RORO to Masbate before crossing via RoRo again to Cebu, then drive southwards to Oslob and RoRo again to Larena.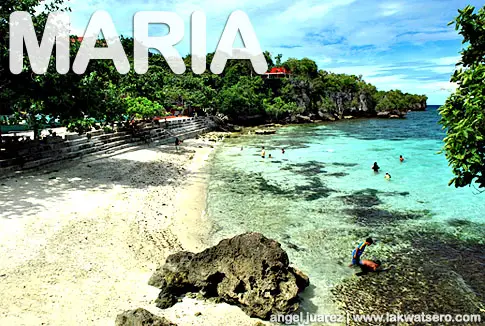 Where to Stay
While Siquijor can be toured on a day trip if you are based in Dumaguete City, it is still a best to stay in the island to better appreciate the place.
Coco Grove Beach Resort is a popular choice for tourists spending the night in the island. The beach front resort offers offers native style cottages and villas for as low as P2,700.00 good for two (2) persons per night.  For backpackers and budget travelers, one of the favorites is Lorna's End of the World Beach Resort which offers basic and budget-friendly accommodation for as low as P400.00. You may check out, Traveling Dork's review of this resort. (Recent update: Lorna's End of the World Beach Resort got burnt down :()
Coco Grove Beach Resort
Address: Tubod, San Juan, Siquijor
Contact: +639152535130/+639399155123/+63-035-2255490/+63-035-4229663
Lorna's End of the World Beach Resort
Address: Lala-o, San Juan, Siquijor
Contact: +639173816377
Other notable places to stay are:
Salagdoong Beach Resort and Hotel Agripino
Address: Olang, Maria, Siquijor
Contact: Provincial Tourism Office at +63-035-344-2088/+63-035-480-9173/+639187714714/+639102002552 (Hotel Agripino)
Email: tourismsiquijor@yahoo.com
Salamangka Beach and Dive Resort
Address: Buhulisan, Catulayan San Juan, Siquijor 6755 Philippines
Contact:+63-035-3442088, +63-035-480-9173
Email: info@salamangkaresort.com
For the complete list of places to stay in Siquijor, check out the local government's website for the compilation of accommodations in the island.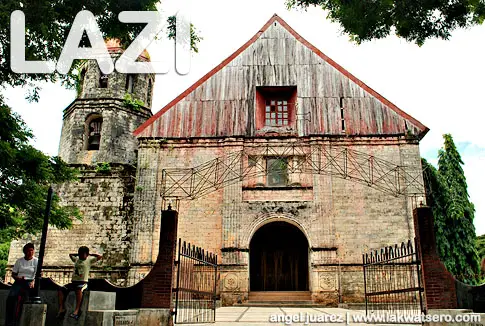 Activities
Visit the century-old churches St. Francis of Assisi of Siquijor and St. Isidore de Labrador and its convent of Lazi
Cool off at Capilay Spring Park and Guiwanon Spring Park
Checkout Cambugahay and Lugnason Falls
Go beach hopping at Salagdoong Beach, Kagusuan Beach, Siquijor Beach, Paliton Beach and San Juan Beach
Cliff jumping at Salagdoong Beach
See the century-old Balete Tree
Explore the unspoiled underwater of Siquijor. Dive or snorkel on more than 20 dive sites surrounding the island including the famous Tulapus Sanctuary, Daquit Shoal, Tonga Point, West Point, Paliton, Lala-o Sunken Island, Solangon, Tubod Marine Sanctuary, Salagdoong, Candapino Point and Tambisan among others.
Drop by at Butterfly Sanctuary
Visit Cantabon, Eugenia, Dacanay, Tagmanocan and Baljo Caves
Trek Bandilaan National Park, the highest point in the island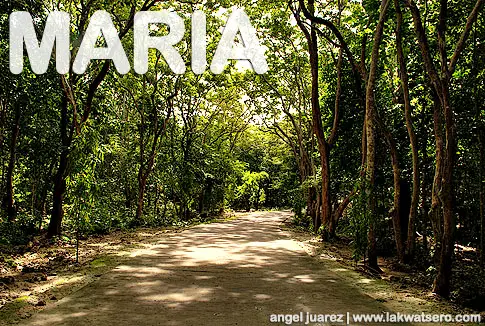 Tips
Siquijor can be explored on a day trip, check out my Siguijor in a Day blog
Best time to visit Siquijor is during summer or dry months of November to May
There is an ATM in the island, located in Larena, Siquijor (Allied Bank/PNB)
Major credit cards are accepted in major establishments
Check out Wandering Dylan's collection of Siquijor related posts and mysiquijor.com for more information
(Visited 138 times, 12 visits today)
Follow @thelakwatsero on Instagram: