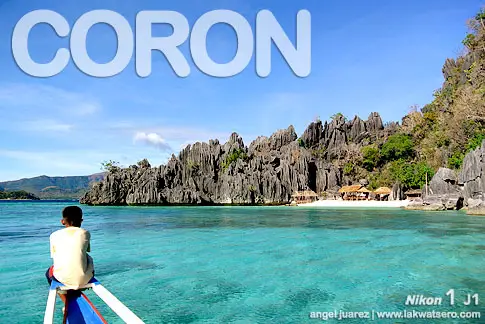 Coron, a second-class municipality in northern Palawan is a paradise blessed with rich marine life, endemic flora and fauna, and magnificent landscape. With its stunning limestone cliffs, pristine white sand beaches, picturesque lagoons and lakes, amazing underwater ship wrecks and natural scenery, the place imprints an indelible beauty to everyone who falls to its unique charm.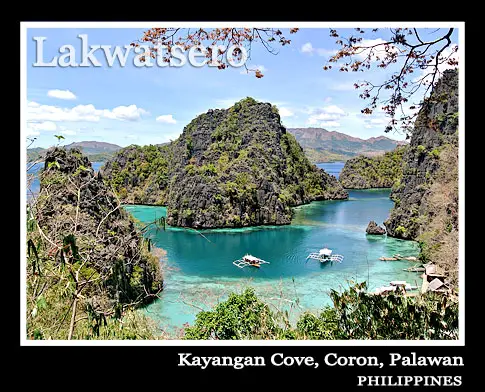 The town is also home to seven enchanting lakes which are sacred cultural sites of Tagbanua tribe. Of these seven lakes, only two are open to public – the Kayangan Lake which is named as the cleanest lake in the country for three consecutive years and the Barracuda Lake. The other five, including Cabugao Lake which is the biggest and believed to be a lair of giant octopus, are restricted to public.
Experience Coron – the jewel of the Calamianes group of islands, a picture perfect paradise. You will definitely keep on coming back.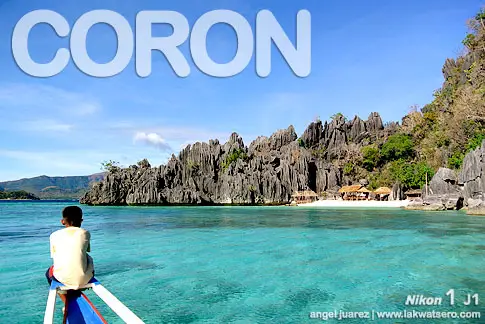 How to Get There:
By Air
By Air, Busuanga is the jump off point to Coron. Philippine Airlines, Skyjet and Cebu Pacific have direct flights from Manila to Busuanga. Travel time is around an hour. From Busuanga, catch a van for an 45-minute ride to Coron town for P150.00 per person (2013 rate).
By Sea
2Go Travel, a union of Aboitiz SuperFerry and Negros Navigation has twice a week voyage from Manila to Coron and Puerto Princesa. The ferry usually leaves in the afternoon for a 13 to 14 hours journey.
There's a ferry that leaves Friday afternoon, arriving in Coron at 5AM of Saturday with return ferry leaving Coron at 430PM of Sunday, arriving Manila at 630AM of Monday. This is perfect for weekend warriors, but expect some delays.
There are also smaller steel hauls and trigger boats that ferry passengers and cargo from Manila, El Nido, Batangas and San Jose (Occidental Mindoro) to Coron. From Manila, here are the current operators. (Contact the shipping lines for schedule and fare information.)
Operator: J.V. Serrano Shipping Lines (M/V D'Asean Journey, M/V D'Sea Journey)
Route: Manila-Coron and vice versa; Coron to Cuyo and vice versa
Contact Info: (02)-243-4595
Operator: Atienza Shipping Lines (M/V Josilee-II, M/V April Rose, M/V Q-Carrelyn-III)
Route: Manila-Coron-El Nido-Liminangcong and vice versa
Website : http://www.atienzashippinglines.net
Email: atienzashippinglines@yahoo.com
Telephone No. : (02)-986-3118 and (02)-536-8123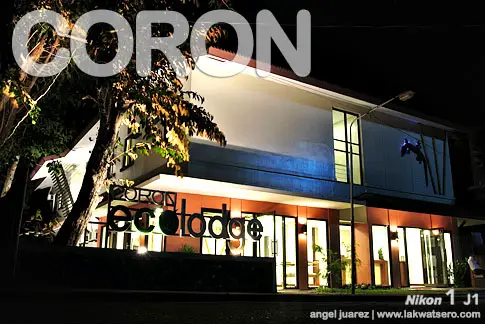 Where to Stay:
When in Coron, you can choose to stay in the main island where most hotels and lodges can be found or in other neighboring islands and beaches where you can pitch your tent or stay in the cottages. If you prefer the latter there are a lot of islands and beaches to choose from – Banana, Malcapuya, Malaroyroy, Banol and Atwayan among others.
For those who prefer to stay in the town prefer, here are my recommended hotels and lodges:
Coron Eco Lodge located along Real Street, near the public market, is a new boutique hotel in downtown Coron. They have 22 air-conditioned twin rooms for as low as P1,898 per night inclusive of breakfast. Each room can accommodate up to three guests. The hotel exterior and interior are beautifully designed, the rooms are cozy and well maintained, and the staff are very accommodating. You can never go wrong in this place at a very reasonable price.
Sea Dive Resort located near the port and public market has fan rooms with shared bath for as low as P450.00 per night good for 2 person. Superior air-con room rate is at P,1300 per night good for two person. They also have dive shop, restaurant, bar and offers tour packages.
Darayonan Lodge, along the National Highway, near San Agustin Church, is another popular accommodation in town. They have has a twin room for as low as P1400.00 per night
KokosNuss Garden Resort, is also along the National Highway. They have economy fan cottages with common bathroom for as low as P600.00 good for 2 persons. Aircon room (with marble flooring, private tiled bathroom, hot & cold shower, toilet, ceiling fan, TV and air-conditioning) starts at P1500 per night. They also have restaurant and offers island tour and diving services.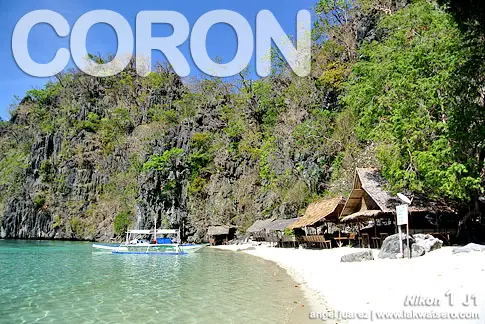 Activities:
Trek to Tapyas Hill where a huge cross is erected, a view from the top is breathtaking, overlooking the entire town and the neighboring islands
Island hopping, swimming and snorkeling to the following sites: Siete Pecados (P100.00), Kayangan Lake and Cave (P200.00), Barracuda Lake (P200.00), Banana Island (P200.00), Malcapuya Beach (P200.00), Bulog Dos Island (P200.00), Banol Beach (P100.00), CYC (free), Malaroyroy, Beach 69, Skeleton Wreck, Sangat Wreck, Lusong Coral Garden and Shipwreck, Twin Lagoon (P100.00), Twin Peak (free), Smith Beach, Hidden Lagoon, Calachuchi Beach, Bulungan, Dibutunay, North Cay Island, Calumbuyan, Dibatoc and other hidden islands and beaches
Snorkeling/Diving is a must in Coron with its magnificent underwater scenery where rich marine life and fantastic underwater shipwrecks are common scenery. The Japanese shipwrecks of  Irako, Okikawa Maru, Akitsushima, Kogyo Maru, Olympia Maru, Kyokuzan Maru, Terukaze Maru or East Tangat Gunboat, Nanshin Maru, Lusong Gunboat and Skeleton Wreck are scattered in the waters of Calamianes and are good sites for wreck diving. For diving needs you may visit Sea Dive Resort, Coron Divers, Discovery, Dive Link and Dive Calamianes among others.
Spend a day in Kingfisher Park
Visit Calauit Island Sanctuary, Black Island and Cave and Concepcion Falls
Dip in Maquinit Hot Spring (P100.00)
Explore the islands in the north of Busuanga Island – Dimakya, Isla Walang Langaw, Isla Walang Tao, Diatoy and other nearby islands and islets
Hike Hunter's Peak
Horseback riding
Mountain bike tours
Jungle Treks
Visit Tagbanua Communities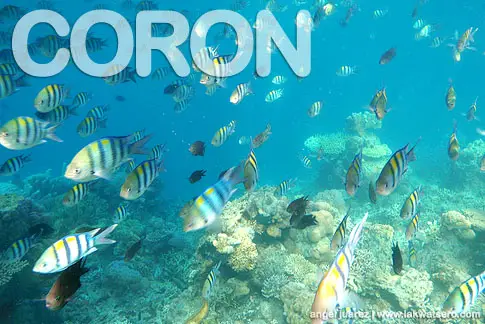 Sample Itinerary
Day 1:
0800H – 1000H: Meetup NAIA T3 / Check-in – P200.00 (Airport Terminal Fee)
1000H – 1105H: Manila to Busuanga Flight
1105H – 1230H: Baggage Claim/ Travel time to Coron – P150.00 (Van Fare)
1230H – 1300H: Check-in at Darayonan
1300H – 1430H: Late Lunch / Rest – Approx P100.00
1400H – 1700H: Tapyas Trek *Bring Water – P8.00 (Fare to Mt. Tapyas Base / walking distance)
1700H – 1900H: Maquinit Hot Spring – P250.00 Round trip trike
1900H – 1930H: Washup/Fixup
1930H – 2100H: Dinner – Approx P100.00
Day 2:
0800H – 1600H: Three Fun Dives inclusive of meals – P3400.00 (Sea Dive)
Non divers may do a Culion, Malcapuya, Banana or Calauit Tour
Day 3:
0800H – 1800H: Whole Day Island Hopping Tour and Snorkeling with meals ~P400.00 (Boat Share/Person)
Note: Bring Snorkel, Mask, Fins
Possibe Tour Areas:
Kayangan Cave and Lake – Entrance: P200/person
Barracuda Lake – Entrance: P100/person
Twin Lagoon – Entrance: P100/person
CYC
Siyete Pecados  –  Entrance: P100/person
Banol Beach – Entrance: P100/person or Atwayan Beach – Entrance: P100/person
Skeleton Wreck – Entrance: P100/person
Twin Lagoon – Entrance: P50/person
Twin Peaks
1800H – 1930H: To Hotel / Washup / Rest
1930H – 2100H: Dinner – Approx P100.00
Day 4:
0700H – 0930H: Wakeup Call / Breakfast / Pack-up / Checkout
0930H – 1030H: Coron to Busuanga – P150.00 (Van Fare)
1030H – 1135H: Waiting Time / Flight Checkin – P20.00 (Terminal Fee)
1135H – 1240H: Busuanga to Manila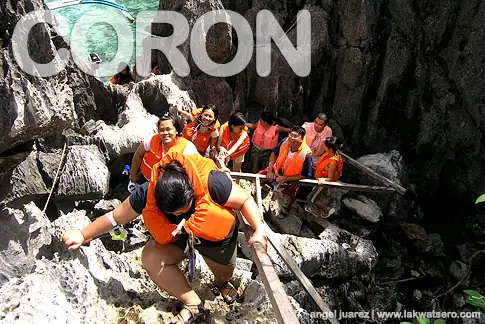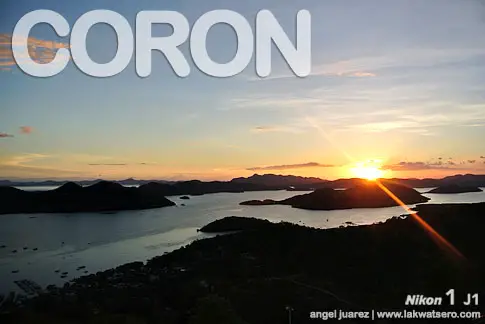 Tips
There are two banks with ATM in Coron town – Allied Bank and BPI
If you want to experience Coron on a budget, join a DIY tour or other group tours open for joiners, you will surely find one in the net, I only spent roughly P5000.00 for the entire tour including the round-trip ferry fare by joining Do-It-Yourself Coron tour organized by Mr. Owen Ferrer
How to Tour Coron
Touring Coron is relatively easy. For convenience, you can avail of the package tours offered by hotels and resorts, join the organized tours by various tour operators based in Manila (DIY Coron, Travel Factor, etc.) or avail of the package tours by operators based in Coron Island such as Coron Galeri.
If you want some freedom on your tour, you may rent your own boat. Coron Town has standard rates for boat rental set by the local government. Here is the standard tariff (boat only) as of October 2010:
Destination : 1-5 pax / 6-9 pax / 10-15 pax
Coron Island Loop : P2000 / P2500 / P3500
Sangat/Lusong : P2000 / P2500 / P3500
Banana/Malcapuya/Malaroyroy : P3500 / P4000 / P6000
Culion : P2500 / P3500 / P6000
Dibatok : P2500 / P3000 / P4500
Calumbuyan : P3500 / P4500 / P6500
Diwaran : P3500 / P4000 / P6000
Tara : P7000 / P9000 / P15000
Linapacan : P7500 / P9500 / P15000
El Nido/Taytay : P14000 / P18000 / P25000
Mindoro : – / P25000 / P40000
Coral Bay/Evergreen : P3500 / P4500 / P6500
Calauit : P7500 / P9000 / P15000
North-South Cay : P4000 / P5500 / P8000
Panlaitan/Dibutunay/Black Island : P5000 / P6500 / P10000
Here are the tour organizers in Coron I have tried so far:  Cheap Travel Coron by Jun and Emily Yong (Contact: +639205531710/+639205532361); Kuya Marvin (Contact: +639995333144); DIY Coron by Owen Ferrer; Sea Dive Resort
Links
*First published August 25, 2011
(Visited 635 times, 6 visits today)