Explore and fall in love again and again with Sagada, a highland paradise in Cordillera that offers the best of nature, culture and adventure. This Sagada travel guide provides all the necessary information to fully experience the place. Complete with information on how to get there, where to stay, activities, sample itinerary, budget, and other relevant tips.
Visit Sagada
Approximately 5,000 feet above sea level, Sagada is a small and tranquil town of Mountain Province with so much to offer to anyone who chooses to experience its distinct appeal. With its temperate weather, wondrous caves and cliffs, verdant rice terraces, majestic waterfalls, luscious foods and delicacies, and rich heritage and traditions, Sagada promises everyone an unforgettable and truly remarkable experience with nature and culture.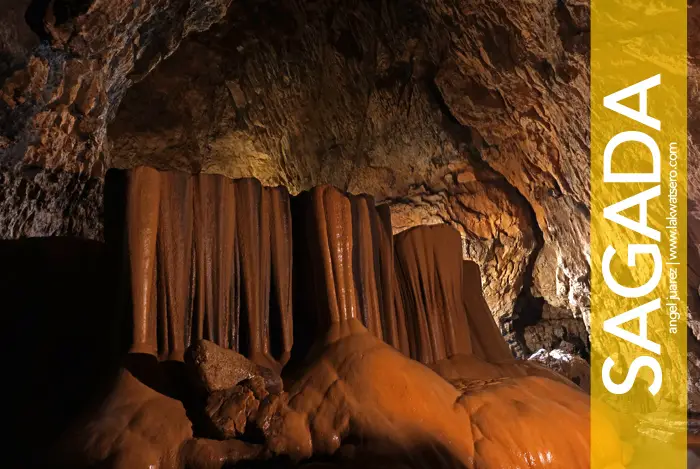 The town also embraces its visitors with the warm hospitality of the locals that complements the beauty of the place. Undoubtedly, the charm of this mountain town is still incomparable to most tourist destinations in the country. Without a doubt, it is a home away from home. So whether you are a laid back traveler or into adventure, young or old, of any background and age… Sagada definitely has a spot for you.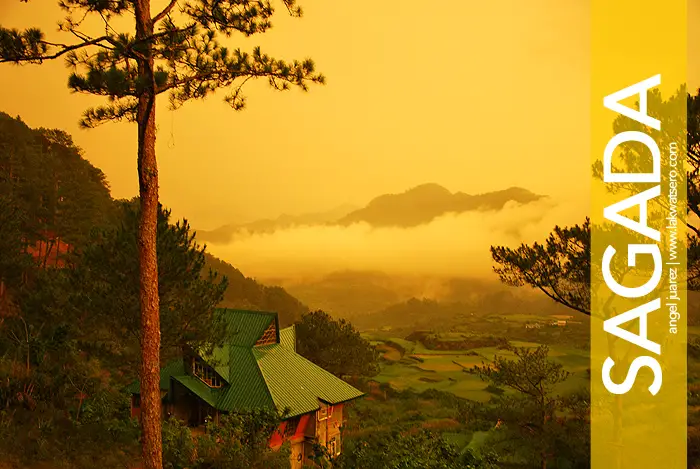 How to Get to Sagada
As of the moment, only tourists traveling via private / personal vehicles are allowed.
Manila to Sagada (Direct Bus)
 Coda Lines Corporation has a daily trip from Cubao HM Terminal to Sagada via Banaue and Bontoc. The bus leaves daily at 8PM, 9PM and 10PM, arriving Sagada after twelve hours of the next day, regular fare is P760. For more inquiries, contact +639771860548 and +639394677863, or visit their Facebook page. You can book your seat from Manila to Sagada or vice versa below:
Alternatively, Sagada can also be reached either via Baguio with almost the same travel time and fare.
Manila – Baguio – Sagada
Manila to Baguio
Most bus companies heading to Northern Philippines have trips to Baguio. But Lakwatsero prefers Victory Liner, their Baguio bound buses leave the terminal (Manila, Pasay, Cubao and Caloocan) every hour. Travel time takes five to six hours and fare starts from P576 for regular bus and P730 for deluxe bus (as of March 2022), discount applies to senior citizens and PWDs. The most ideal time to travel is around 11:00 PM for you to reach their Baguio Terminal by 5:00AM the next day. Other bus Lines that ply to Baguio include:
Dagupan Bus (EDSA cor. New York,  Cubao , Quezon City/ Contact No: (02)727-2330) – P430
Philippine Rabbit (Rizal Ave., Sta. Cruz, Manila)
Dangwa Transit (Dimasalang, Sampaloc, Manila)
Saulog Bus  – P430
Genesis Bus – P420
You can book your seat from Manila to Baguio or vice versa below:
Baguio to Sagada
From Victory Baguio Terminal, you may opt to go to GL Liner Terminal in Baguio Dangwa Terminal or in Lizardo Transit Terminal in Barangay Sto. Niño to catch a bus to Sagada. Both are just short taxi ride (around 10 minutes) for approximately P40 from Victory Liner Terminal. GL Liner has five trips daily at 6:30AM, 8:30Am, 9:30AM, 10:30AM and 1130AM, meanwhile Lizardo Transit has only two schedules daily at 3AM and 5PM.
If you have plenty of time, you can take a twenty minute walk to the Baguio Dangwa Terminal which is just in front of Baguio City Public Market. Fare for both GL Liner and Lizardo Transit is P220 (student and senior citizen: P176), travel time takes around six (6) hours passing along the scenic Halsema Highway. Almost the entire stretch of the road to Sagada is paved and smooth. The bus will stop in front of Sagada Municipal Hall.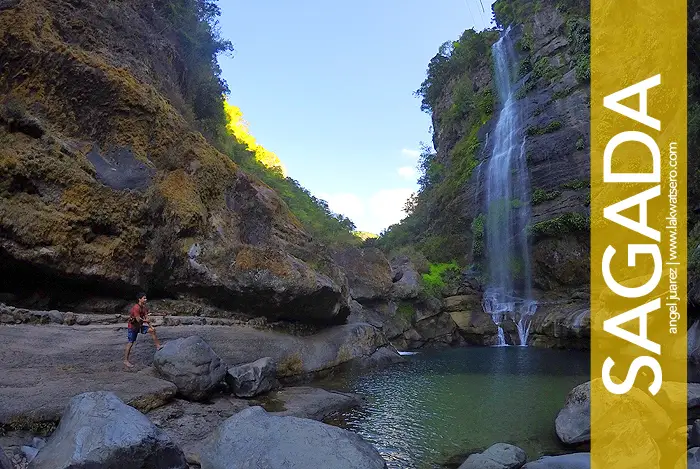 For those coming from Bontoc, Banaue and Ilocos Sur:
From Bontoc
From Bontoc catch a jeepney to Sagada. Jeepneys leave Bontoc every hour from 6AM to 1PM, travel time is approximately one hour and fare is around P50.
From Banaue
Banaue route is a good choice if you plan to drop by to the famous Rice Terraces of Banawe.
Ohayami Bus and Dangwa Transit operate the Manila to Banaue route. Ohayami Bus has two to three departures starting at 8PM, their terminal is in the corner of Fajardo Street and Lacson Avenue in Sampaloc Manilla, near UST. Advanced reservation is advised, you may reach them at +639276493055 or (02)-5160501 or check out their website at: www.ohayamitrans.com. Meanwhile, Dangwa Transit Terminal is operated by Florida Lines with terminal in Florida Cubao Terminal near Kamias, they operate one trip daily leaving at around 8PM.
From Banaue, catch the direct to Sagada bus. You can book your seat below:
If you miss the direct bus, you can go to Banaue town proper and catch a jeepney or bus to Bontoc for P150, travel time is approximately three (3) hours. The bus will stop near the Bontoc Municipal Hall. From there, ride a jeepney to Sagada for P50. You may opt to ride on the jeepney roof to enjoy the view and the sea of clouds of Bontoc and Bayyo.
From Ilocos Sur
If you are coming from Ilocos Region, the best route is via Tagudin-Cervantes-Sabangan Road that connects Ilocos Sur and Cordillera. Taking this route involves three transfers from the town of Tagudin in Ilocos Sur. Local shuttle vans depart on regular intervals from as early as 6AM to as late as 5PM from Bitalag Junction to the town of Cervantes, fare is P150 and travel time is approximately two (2) hours on a scenic ride that passes through Besang Pass National Park.
At Cervantes, transfer to a Bontoc bound van stationed at the plaza or at Sitio Bulaga after Aluling Bridge. Vans to Bontoc leave as early as 6AM, with the last trip at around 2PM. There are local buses and jeepneys too from Cervantes Market to Bontoc. Ask the driver or conductor to drop you off at Sagada junction, fare is approximately P100 pesos, travel time is around an hour and a half.
From Sagada junction, you may catch a jeepney or bus bound to Sagada, it is only around 15 minutes ride.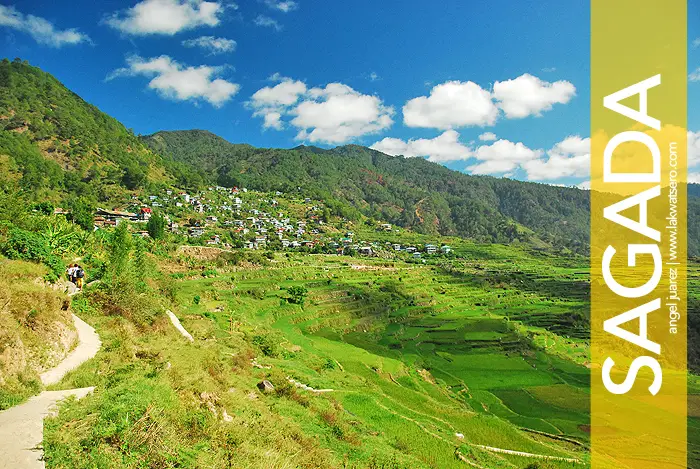 Going Around and Away
Public transportation around the town are limited but there are vans and jeepneys that can be rented at standard rate to take you to far destinations such as the jump off to Bomod-ok Falls, Kiltepan Viewdeck and Lake Danum. Other attractions in town can only be reached by foot such as Calvary Hill, Cemetery and Echo Valley.
Going away, the return trip of Coda Lines to Manila departs at 2:30PM and 3PM daily. Meanwhile local buses to Baguio depart from 5AM to 5PM while jeepneys to Bontoc starts operating at 6AM with last trip at 1PM.
You can book your seat for the direct bus from Sagada to Manila or vice versa below:
Where to Stay in Sagada
For list of DOT accredited accommodations in Sagada, visit this link.
Accommodation in Sagada
Since Sagada embraced tourism, a couple of inns and lodges sprouted in almost every corner of the town proper and surrounding areas. But Lakwatsero's home in Sagada is Residential Lodge, owned by my foster mother Mary Daoas (Contact No: +639296257419/+639196728744). It is a three-storey lodge equipped with free WiFi, with a common area per floor where guests could watch TV or interact with other guests. Room rate is as low as P300 per head per night for a room with common toilet and bath, and P350 per head per night for a room with own toilet and bath. Free coffee and tea for all 🙂
Glamping
Meanwhile, one of the recent establishments in Sagada is Balay ni Apo, the very first to offer glamping accommodation in town. For just P2000 per night per camp for two (2) persons, one can experience an unforgettable cabin getaway with a breathtaking view of sea of clouds. It is located in Barangay Suyo and approximately 10 minutes away from the town proper. Contact +63908-8812632 for reservation.
Camping
Alternatively, if you prefer camping, you can pitch a tent for a minimal amount in Lake Danum, Mt. Ampacao, Marlboro Hills, Calvary Hill or in Kiltepan Viewdeck 🙂
Other Top-Rated Accommodations in Sagada
Top-Rated Budget Accommodations in Sagada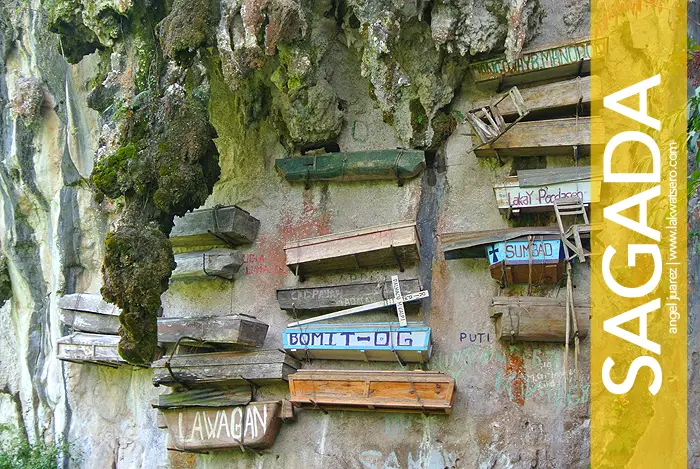 Other Places to Stay in Sagada:
George Guest House (Contact No:+639185480405/+639206070994)
Indigenous Inn (Contact No: +63921645 5679)
St. Joseph's Rest House (Contact No: +63927360344)
Travelers Inn (Contact No: +639207992960)
Rock Inn Cafe (Contact No: +639209095899)
Ganduyan Inn (Contact No: +639212738097)
Sagada Guest House (Contact No: +639189385601/+639193002763)
Masferre Country Inn (Contact No: +639183416164)
Yellow House Inn (Contact No: +639092549783/+639478351985/+6399514 8820)
Gecko Inn (Contact No:+639202895471/+639197261114)
Sagada Kanip-aw View Lodge (Contact No:+639282847507/+639298162233)
Shamrock Tavern (Contact No: +639301955680)
Yabami Bed and Breakfast (Contact No: +639497472245)
Mary Hillz Homestay (Contact No: +639153794860)
Churya-a Hotel (Contact No: +639064300853 /+639215331030)
Mapia-aw Pension (Contact No: +639052164055/+639082027969)
Ligaya's House and Cottages (Contact No: +639183438415/+639207849633)
Billy's Haus (Contact No: +639216032745)
Green House (Contact No: +639187367831)
Alfredo's Inn (Contact No: +639487112112)
Alapo View Inn (Contact No: +639183113161/+639213279055)
Alibama Inn (Contact No: +639208135797)
Canaway Inn (Contact No: +639182915063)
Hilltopville (Contact No: +639129014749)
Misty Lodge (Contact No: +639994459899)
Kanip-aw Pines View (Contact No: +6309282847507)
Bagalima Riverside Inn (Contact No: +639477046613)
Treasure Rock Inn (Contact No: +639202725881)
Hidden Hill (Contact No: +639107967073)
Rocky Valley Inn (Contact No: +639184036018)
Sagada North Inn (Contact No: +639079035309)
Davey's Town Inn & Resto (Contact No: +639495944471)
Isabelo's Inn (Contact No: +6309289517153)
Igorot Inn (Contact No: +639087578357)
Olahbinan Resthouse (Contact No: +639284067647)
Pumpkin House (Contact No: +639107095275)
Sagada Homestay Inn (Contact No: +639197028380)
Sagada Green Hills (Contact No: +639175535337)
Tinagtago Inn & Restaurant (Contact No: +639399591967)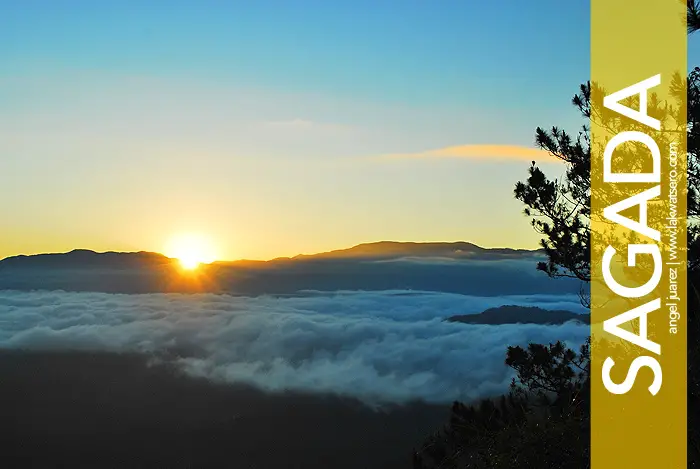 Things to Do in Sagada
With the variety of activities to choose from, places to see and foods to eat, Sagada is truly an adventure, nature and food haven. Here's the (growing) list of it:
Spelunking in Sumaguing, Lumiang or Crystal Caves.
At least three hours of cave connection from Lumiang to Sumaguing (or vice versa)
Tour of Echo Valley, Underground River, Bokong Falls, Cemetery and Calvary Hills
See the hanging coffins (Dokiw, Lumiang, Echo Valley, et.al.) up close and see the other ancient burial sites
Try rock climbing in Echo Valley Cliffs
Walk through the rice terraces of Suyo, Ankileng, Balugan, Bangaan (on the way to Bomod-ok Falls) and Kiltepan
Trek to Bomod-ok Falls and Pongas Falls
Commune with nature and culture of Sagada
Try the mountain tea, the famous yoghurt of the Yoghurt House and the lemon pie of Sagada Lemon Pie House
Taste the local delicacy called Pinikpikan or battered chicken 🙂
Experience the Saturday night buffet at Log Cabin
Look for the wild horses in Sagada's Marlboro Country
See the sunrise at Kiltepan Viewpoint, Sunrise View Hotel, Isangwaw Sunrise Viewdeck
Witness the sunset at Paog's Sunset Viewdeck
Trek Mt. Ampacao
Witness the Panag-apoy and Begnas Festival
Visit Sagada Pottery, Masferre's Photographs and Ganduyan Museum
Buy weaved products at Sagada Weaving and other local shops
Check out the amazing Blue Soil Hill
Experience the year-end bonfire at Mt. Ampacao
White water rafting in Chico River
Go mountain biking in Sagada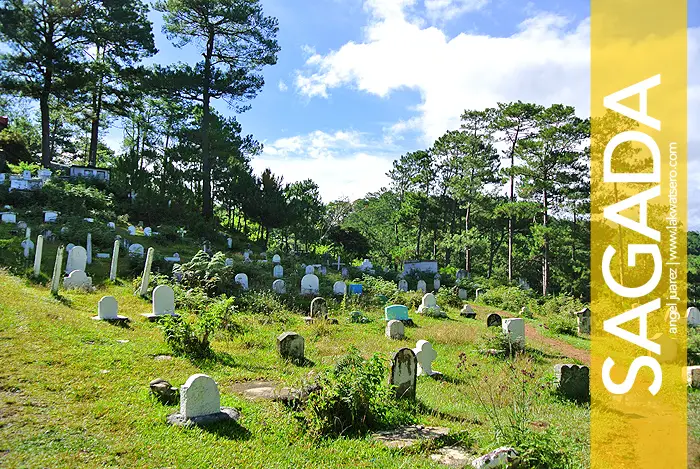 Sample Sagada Itinerary and Budget
Here's the 3D/2N itinerary that I followed during my my first visit to Sagada in 2007.  You may follow or tweak it depending on your liking. Estimated DIY cost for this trip is around P3500 – P4000 🙂
Day 0: Travel to Baguio
2330H: Departure from Victory Liner Pasay
Day 1: Baguio to Sagada + Caving
0530H: Arrival at Victory Liner Baguio/Taxi or walk to Dangwa Terminal
0600H: Arrival at Dangwa Terminal/Breakfast
0630H: Departure of Bus to Sagada
1230H: Arrival at Sagada / Check-in at Lodge
1245H: Lunch
1400H: Spelunking – Lumiang to Sumaguing Cave Connection
1800H: Finish Caving
1930H: Dinner
Day 2: Big Falls + Echo Valley
0630H: Breakfast
0730H: Trek to the Big Falls (via Bangaan Rice Terraces)
0830H: Arrival to the Big Falls
0930H: Trek back from the Big Falls
1030H: Back to the starting point of Big Falls trek
1130H: Lunch
1300H: Rock Climbing
1500H: Tour Echo Valley, Hanging Coffins and Underground River
1700H: End of Tour
1900H: Dinner
Day 4: Kiltepan Sunrise + Travel to Baguio
0400H; Call time
0445H: Proceed to Kiltepan Viewdeck
0515H: Sunrise in Kiltepan Viewdeck
0600H: Back to town
0630H: Breakfast
0700H: Departure from Sagada to Baguio
1300H: Arrival at Baguio/Lunch
1400H: Shop and Some tour of Baguio
1800H: Departure from Baguio to Manila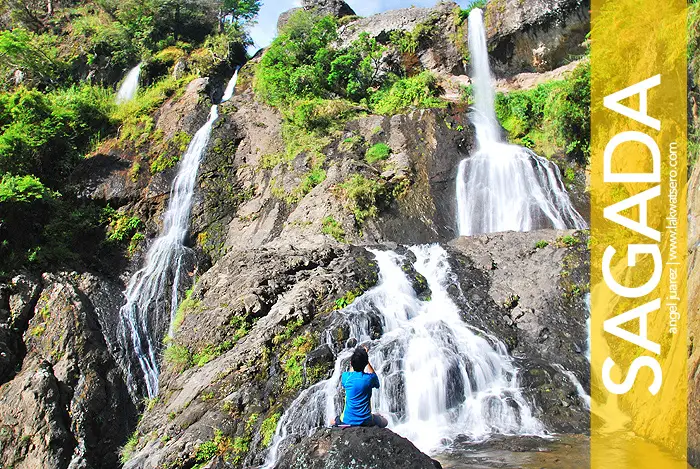 Tips
Best months to go is during dry months (October to June) or during planting season (March to July) when the rice terraces are planted
Mobile signal of all carriers are available
Some establishments accept credit card
Due to influx of tourists and packaged tour, Sagada bans parking all major roads, sidewalks and other passages from 6 am to 8:30 pm which means, tourists are advised to walk or take public transport. Public transportation should park at hotel parking or in pay parking areas.
All guests are required to register at the Tourist Information Office (TIO)