Batad (Banaue) Travel Guide: How to Go, What to Do, Sample Itinerary, Budget & More
Categories

Luzon, Travel Guide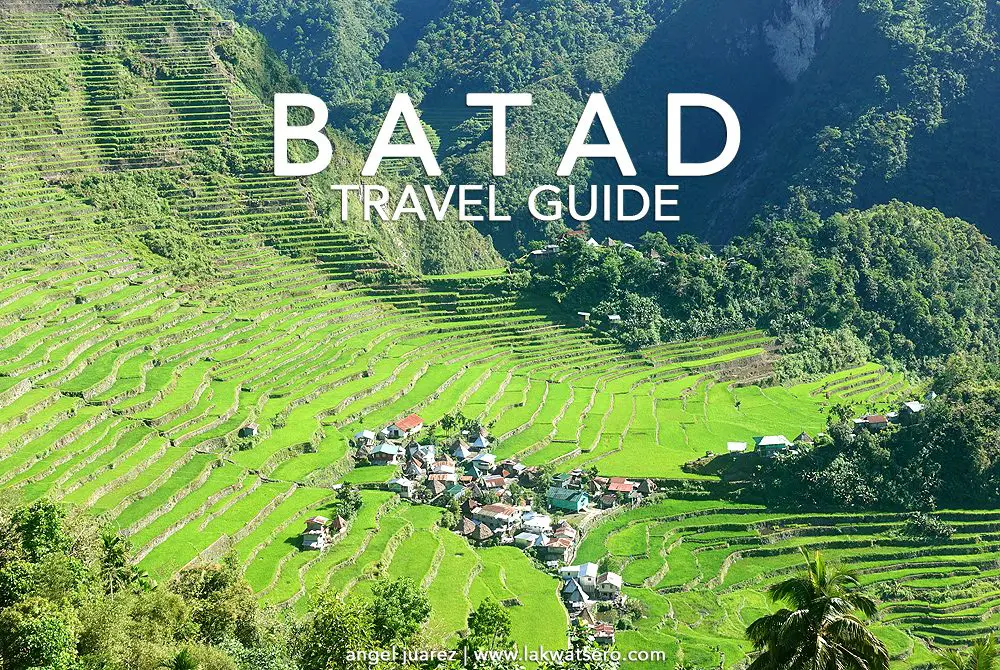 Nothing beats waking up in the morning on the sweet sound of the chirping birds, on the fresh breeze of the mountain air and on the majestic view of rice terraces! Nothing beats waking up in the morning in Batad!
A village of Banaue in the province of Ifugao, Batad is famous for its amphiteater-like rice terraces, one of the five clusters of rice terraces in Ifugao that are inscribed in the UNESCO World Heritage Site list since 1995.
Built around two thousand years ago by the indigenous people of Cordillera, the rice terraces of Batad are made up of compacted soil similar to other rice terraces in Ifugao. Many consider this Batad attraction as the best of all rice terraces in the region and even in the entire Philippines. Through the years, more and more tourists, local and foreign alike, flock to this side of Cordillera to see the magnificent rice terraces that carpet the entire mountainside of the small village.
Adventure awaits in Batad since most of the attractions in the area require trekking or walking. But walking along the rice terraces and being surrounded by amazing scenery make a day in the village a truly worthy one!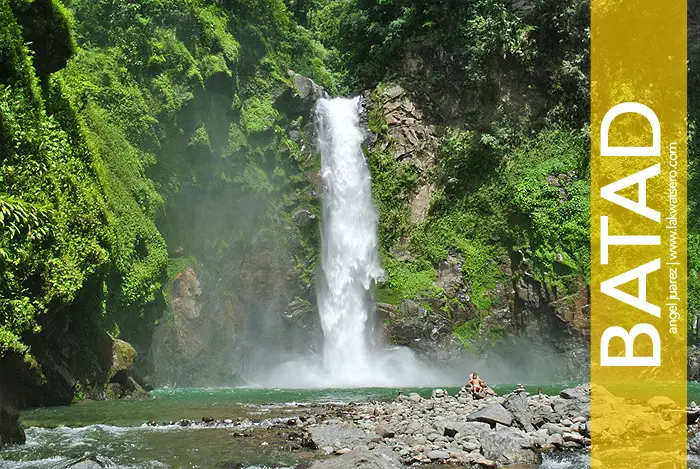 How to Get There
Batad is approximately 18 kilometers from Banaue town proper. The schedule and frequency of trips from the town proper depend on passenger traffic, but there is usually only one scheduled trip at 3PM to Batad (two during summer, 9AM and 3PM departure). Fare is P150 per passenger and travel time is approximately 45 minutes. The jeepneys are stationed in the terminal in front of public market. The jeepney will take you to the end of the road past the saddle, approximately 500 meters or 15 minutes trek to Batad village.
If you miss the direct trip to Batad, you can charter a tricycle at P400 (P300 if only to the saddle approximately three kilometers to the village) good for two to three passengers or a jeepney for at least P1,500 for 10 passengers. Alternatively, you can take the public jeepney going to Bangaan or Mayoyao, get off at Batad Junction and trek for approximately six kilometers to the village.
Manila to Banaue
Ohayami Transit and Dangwa Transit operate the Manila to Banaue route. Ohayami Bus has two to three departures starting at 8PM, their terminal is in the corner of Fajardo Street and Lacson Avenue in Sampaloc Manilla, near UST. Advanced reservation is advised, you may reach them at +639276493055 or (02)-5160501 or check out their website at: www.ohayamitrans.com. Meanwhile, Dangwa Transit Terminal is operated by Florida Lines with terminal in Florida Cubao Terminal near Kamias, they operate one trip daily leaving at around 8PM. Fare is P450, travel time is around eight hours.
Meanwhile, Coda Lines Corporation's Sagada busses pass by Banaue, their terminal is at Cubao HM Transport Terminal. Buses leave daily at 8PM, 9PM and 10PM, fare is P450 for regular aircon and P550 for deluxe. Travel time is around eight hours. For more inquiries, contact +639771860548 and +639394677863, or visit their Facebook page.
Bayombong and Solano (Nueva Vizcaya) to Banaue
There are jeepneys from Bayombong and Solano (Nueva Vizcaya) to Banaue via Lagaue. Travel time is around three hours and fare is less than P90. Buses from Manila to Isabela and Cagayan pass by Bayombong and Solano.
Baguio to Banaue
There are buses that serve Baguio to Banaue route. Ohayami Transit has daily night trip to Banaue, travel time is around seven to eight hours and their buses are stationed along Otek Street near Burnham Park. Meanwhile, KMS Bus has two trips daily – one in the morning and one at night. Their minibus are parked near Rizal Park.
Clark to Banaue
If you are coming from Clark, you can go to Baguio or Manila to catch a trip to Banaue. You may also opt to go to Solano but it requires a lot of transfer (Clark to Dau, Dau to Tarlac, Tarlac to San Jose, San Jose to Solano and Solano to Lagaue/Banaue).
Bontoc to Banaue
If you are coming from Sagada or Bontoc, there are local buses that goes directly from Bontoc town proper to Banaue stationed near Bontoc Municipal Hall. Scheduled departure is every hour with the last trip at around 12 noon, travel time is two to three hours at P110.00 per passenger (as of June 2016).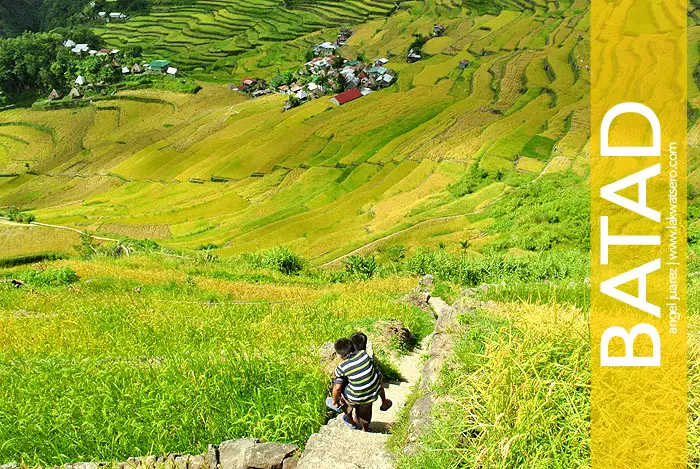 Going Around and Away
Batad is a mountain village, getting around is only by foot.
Going back to Banaue town proper from Batad, trek to the main road and catch the public jeepney that usually leaves at 9AM daily. If you miss the public jeepney, you can trek down to Batad Junction (approximately six kilometers from Batad village) and catch a tricycle or jeepney to the town. Alternatively, you may rent a trike or jeepney at the saddle or hitch to other vehicles going to Banaue.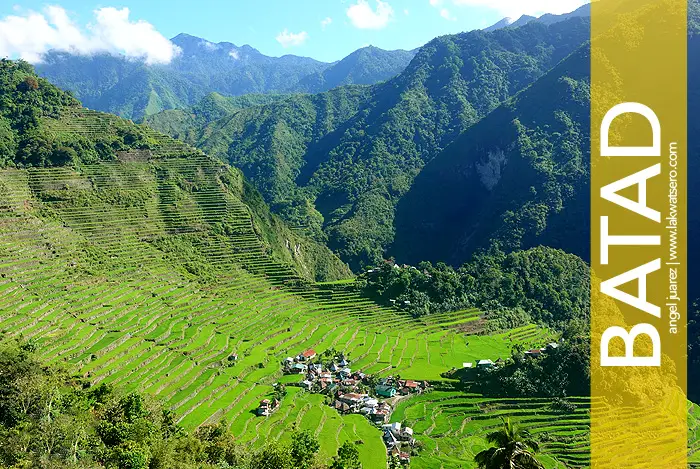 Where to Stay and Eat
There are no posh hotels and resorts in Batad, accommodations are limited to lodges, inns and native huts. Rate is as low as P250 per person per night for a single fan room. You may also opt to stay in the native Ifugao huts for as low as P250 per night per person. Dining should not be a problem as most inns and lodges have their own restaurants.
Since mobile signal is very limited in the area, advance reservation is really not necessary. Afterall, there are a lot of lodges and inns in town to accommodate tourists. On my visit to Batad, I stayed at Rita's Mount View Inn and Restaurant (Contact No: +639108423076), overlooking the beautiful rice terraces. They have six room that can accommodate up to 12 guests, rate is P250 per person per night.
My favorite, however, is Batad Top Viewpoint Homestay and Restaurant as it offers an unobstructed view of the Amphitheater Rice Terraces. Batad Top Viewpoint Homestay and Restaurant is the topmost accommodation in the village and the trail is on the left of the fork around 200 meters from the village. Rate is as low as P250 per person per night.
Another popular spot is Ramon's Home Stay (Contact No: +639168743787/ Facebook: Ramon's Native Homestay). Ramon Homestay also charges P250 per person per night for a room and P250 per person per night on a native Ifugao hut.
Other accommodations in Batad are Hillside Inn, Batad Pension, Simon's Viewpoint Inn, Gilbert Homestay, Cristina Main Village Inn, Samson Homestay, Watefalls' Side Inn, Batad Kadangyan Lodges and Foreigner's Inn among others.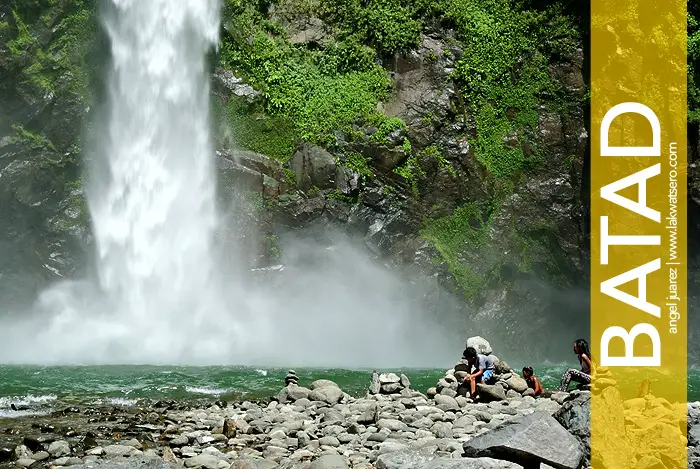 What to Do
Walk along the rice terraces
Hike to Awa View Deck to see the unobstructed bird's eye view of the Rice Terraces
Trek to Tappiya Falls
Try the native rice wine
Trek to Bangaan
Trek to Kinakin and Cambulo
Trek Mount Amuyao
Stay in a native Ifugao hut
Taste Pinikpikan and other local delicacies
Buy locally produce products and souvenirs
Appreciate nature and culture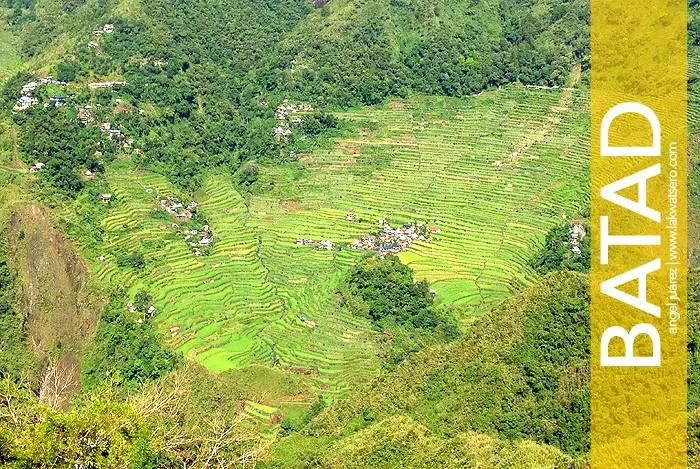 Sample Itinerary
Here's a sample itinerary for a Batad tour which you can follow. Warning, this trip involves a lot of trekking and walking.
Day 0
2100H: Departure from Manila
Day 1
0600H: Arrival in Banaue / breakfast
0700H: Trike to Batad
0800H: Arrival in Batad, trek to village, check-in, rest
0900H: Trek to top view, Tappiyah Falls and option for Awa View Deck (bring snacks and water)
1600H: Back in homestay, wash-up, rest, buy souvenirs
1800H: Dinner / socials / lights off
Day 2
0700H: Call time / breakfast
0800H: Trek to main road
0900H: Batad to Banaue
1000H: Arrival in Banaue, option for halfday tour of Banaue and Hungduan (Hapao Rice Terraces, Bacung Rice Terraces nd Balentimol Falls)
1700H: Proceed to Banaue
1800H: Arrival in Banaue / early dinner / proceed to bus terminal
2000H: Banaue to Manila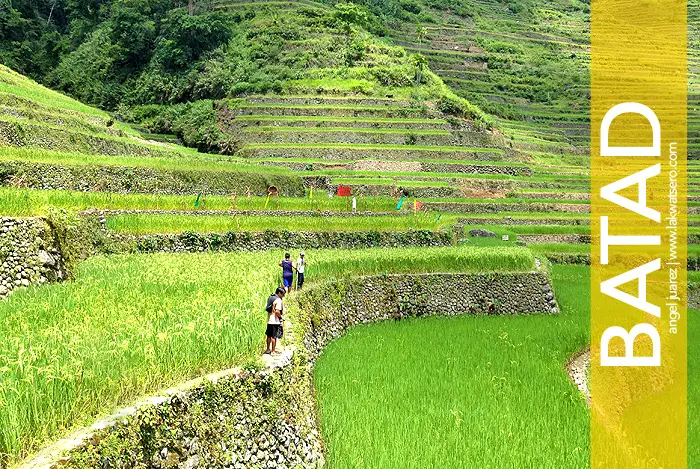 Other Tips
The best months to go to Batad is during dry season (December to June), with highlight on the months of April and May when the rice terraces are at its greenest. July to August are the harvest season, the paddies are gold by then.
Guide fee to Top View and Tappiya Falls cost P1200; to Bangaan costs P1200; and to Kinakin-Cambulo costs P1500

No ATM in town
No establishment accepts travelers check, credit and debit cards
Mobile signal is intermittent and very limited
Initial publication: March 14, 2010; Updated July 28, 2017.
(Visited 4,763 times, 4 visits today)