A Sagada trip will never be complete without a moment at Yoghurt House. For years this decent and cozy restaurant has been synonymous with great food experience in this remote town, thus establishing itself as one of Sagada's landmarks.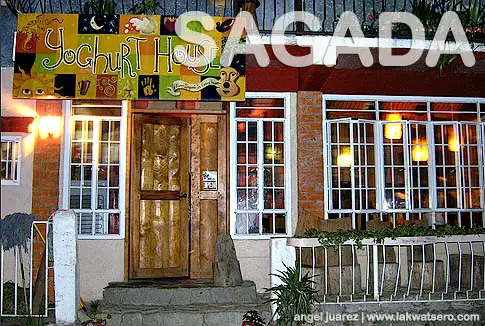 Situated a few meters from the Municipal Hall, on the boundary of Barangay Poblacion and Dagdag, along the road leading to the Sumaguing and  Lumiang Caves, Yogurt House invites everyone to experience their luscious culinary offerings. A good place to unwind, relax and satisfy your cravings after a whole day of strenuous activities and adventure.
The place is relatively small but just enough to maintain its relaxing ambiance. It is a two-story establishment. The ground floor, measuring approximately twenty square meters give or take, used to be the restaurant few years back. Now they freed their second floor to accommodate more diners. On the ground are the kitchen, a mini library, computer set where one can surf the net at P50.00 per hour and a fire place in a corner where most locals stay on a cold night to warm themselves while drinking beers and sniffing tobaccos. Wonderful photos of Sagada are framed and hanging on the walls. The second floor is filled with dining tables and chairs, with balcony seats that offer a view of the town and the greens of pines.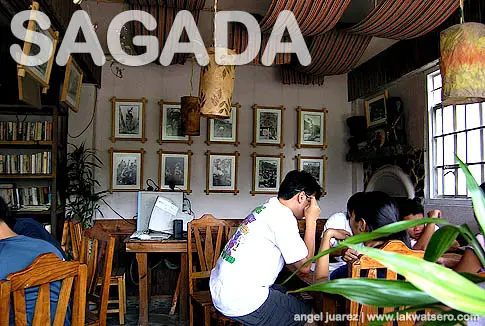 They serve some of the best foods in town, from pancakes and yoghurt based breakfast menus to carbo overloading pasta, rice meals, sandwiches, chicken and other dishes for lunch and dinner, freshly cooked with their own secret recipe using the town freshest produce.
Must try for breakfast is the Hiker's Delight – a banana and yogurt wrapped in home made pan cake topped with strawberry preserved. My lunch and dinner favorites include Vegetable Pasta, Creamy Carbonara, Tuna Spaghetti, Fried Rice with Vegetable and Tuna, Pan Fried Pork, Cheese Spaghetti, and of course the house specialty – Yoghurt Complete (with strawberry, banana and granola). Servings are quite big, which I believe can be shared by two.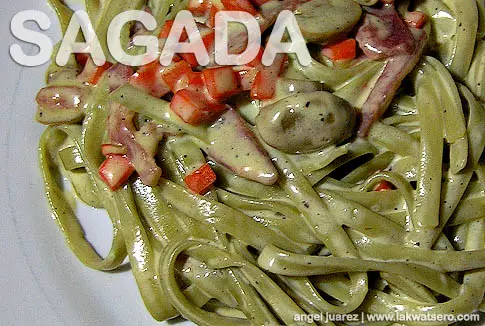 Yoghurt House is one of the long list of reasons why I keep on coming back to this highland town. The thought of going there makes me crave, I will not mind the long travel from Manila just to satisfy my palate 🙂
It is open everyday, from 6AM to 9PM. The place can become full on peak season, they do not accept reservation.