I was in Coron last October with the ISD divers and friends for a dive trip and tour, my third time to visit the place known for great underwater scenery, wreck diving, beautiful white sand islands and islets, lakes and other natural spots. Coron is in fact one the places I love and a visit will always never be complete without island hopping to its amazing spots.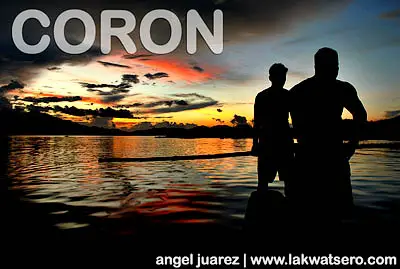 The entire Calamianes Group of Islands where Coron belongs cannot be toured in a day so there are few packages being offered. From the usual tour of Coron's nearby islands, beaches, coral gardens, lakes, caves and wrecks to the more adventurous trips to the farther islands of Banana or Dicalabuan, Malcapuya, Culion, Calauit, Dimakya, Dibotunay, El Nido or even Apo Reef in Mindoro.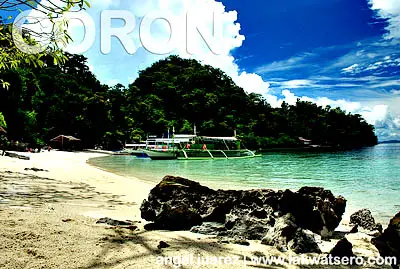 With majority of the group as first timer in Coron, our itinerary the day after a whole day of dive was the tour to its nearby spots, commonly called "Coron loop", the usual and a must trip for every tourist, first timer or frequent visitors alike. Our tour handler this time was Cheap Travel Coron owned and operated by Jun and Emily Yong, P4500.00 for a whole day Coron loop for 15 of us, inclusive of lunch and merienda, life vests and free use five snorkel sets.
It was a whole day of fun and amazement to the wonders of Coron, its inland and underwater treasures that we usually read in publications or online, see in pictures and TV, or hear from our friends.
Siyete Pecados, a marine park teeming with marine life, is a spot I don't get tired of visiting. It feels great swimming with the oversize Angelfish, friendly Sergeantfish and colorful snappers, groupers and other tropical fishes, much more feeding them. Not to mention the vivid corals underneath. Environmental fee is P100.00.
Kayangan Cave and Lake is one of the seven enchanting lakes of Coron considered sacred by the Tagbanuas. It was acknowledged as the cleanest lake in the country. A short trekking is required to see the lake surrounded by limestone cliffs. Meanwhile, the cave that is overlooking the cove reveals the picturesque and most photographed view of the Coron. Entrance fee is P200.00.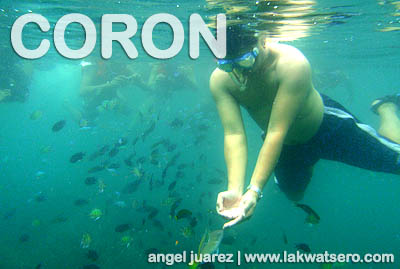 Atuwayan Beach is a lovely small strip of white sand beach; this is where we had our sumptous lunch – fresh crab, grilled liempo (pork) and talong (eggplant), deliciously prepared by our boatmen. Thanks Kuya Jun. The water of Atuwayan Beach has a good population of corals, fishes and other marine life. Entrance fee is P100.00.
Skeleton Wreck is an old submerged wreck just in front of the Atuwayan Beach. It provides a creepy skin diving or snorkeling experience. The top of the wreck is at six meters deep, the area where the wreck lies is surrounded by live and colorful corals with a good population of fishes. Environmental fee is P100.00.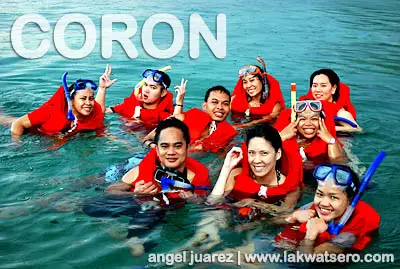 Twin Lagoon is an enclosed lagoon with the opening submerged in water during high tide. The water is a combination of salt and spring water, making it looks oily when disturbed. Experience swimming with the large congregation of white non-stinging jellyfish inside, it is a surreal feeling. Environmental fee is P50.00.
Twin Peaks is another place for a good snorkeling experience. The place is called such due to two islets sitting in the water. The good thing about this place is – it's FREE!
We chose Atuwayan Beach over Banol Beach and dropped Barracuda Lake from our itinerary since we ran out of time and to save cost, I have been to Barracuda two years ago, and if I remember it right, the trek to the cliff was a real challenge due to sharp pointed rocks. The lake is almost similar to Kayangan Lake, and it is called Barracuda Lake because of a freshwater Barracuda that resides there. For divers, the thermocline is another interesting thing about the place. Entrance fee is P100.00.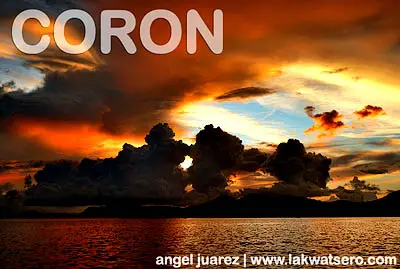 If there's one reason that discourages me to visit Coron, it is the fee for almost every place, and it will eat up a large chunk of your budget. I find El Nido's one-time payment scheme of environmental fee better and cheaper. Don't get me wrong, I love Coron, I am just hoping that they find way to make the place more tourist and budget friendly.
So if you will be heading to Coron soon, be sure to put these must visit places in your itinerary, because as cliche as it is, you have never been to Coron if you haven't done the Coron loop.
Actual Budget for Coron Loop (October 2010)
P300.00 – boat share (P4500.00 / 15) – meals, merienda included
P100.00 – Siyete Pecados fee
P200.00 – Kayangan Cave/Lake fee
P100.00 – Atuawayan Beach fee
P100.00 – Skeleton Wreck fee
P50.00 – Twin Lagoon fee
—————————————————-
P850.00 – Budget for Coron Loop
Standard Island Hopping Tour Rate in Coron
Coron implements a standard rate for island hopping, but tour organizers offer discounted rates and packages inclusive of meals and other add-ons, so try to haggle first 🙂
Here is the standard tariff (boat only) as of October 2010:
Destination : 1-5 pax / 6-9 pax / 10-15 pax
Coron Island Loop : P2000 / P2500 / P3500
Sangat/Lusong : P2000 / P2500 / P3500
Banana/Malcapuya/Malaroyroy : P3500 / P4000 / P6000
Culion : P2500 / P3500 / P6000
Dibatok : P2500 / P3000 / P4500
Calumbuyan : P3500 / P4500 / P6500
Diwaran : P3500 / P4000 / P6000
Tara : P7000 / P9000 / P15000
Linapacan : P7500 / P9500 / P15000
El Nido/Taytay : P14000 / P18000 / P25000
Mindoro : – / P25000 / P40000
Coral Bay/Evergreen : P3500 / P4500 / P6500
Calauit : P7500 / P9000 / P15000
North-South Cay : P4000 / P5500 / P8000
Panlaitan/Dibutunay/Black Island : P5000 / P6500 / P10000
Tour Operators
To date, these are the tour organizers I have tried in Coron and I'm happy to say that my experience with them were good:
Cheap Travel Coron by Jun and Emily Yong
Contact: +639205531710 / +639205532361
Kuya Marvin
Contact: +639995333144
DIY Coron by Owen Ferrer