This is the day three and four travelogue of the five-day trip to El Nido.
After a day of diving, Ate Claudia and I were not yet through with our rendezvous. There were so much to see and so much to do in the waters of Bacuit Bay but we need to maximize the limited time left for us to explore and appreciate El Nido, this time by discovering its lagoons, beaches, caves, islands and the beauty above the underwater paradise.
We allotted our two whole days in El Nido for island hopping tours in Bacuit Bay. Contrary to the common impression, touring El Nido is so easy and cheap.When you walk to the town center, you will see a lot of shops offering packaged tours inclusive of lunch. These packaged tours are organized into common itineraries known to the entire town.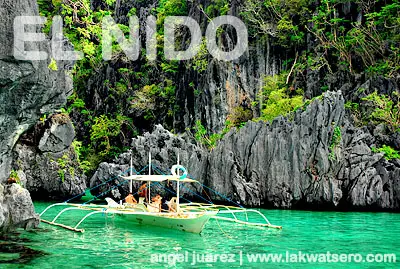 Tour A: Small and Big Lagoons of Miniloc Island, Payong-Payong Beach, Shimizu Island and Seven Commandos
Tour B: Pangulasian Island, Snake Island, Codugnon Cave, Cathedral Cave and Pinagbuyutan Island
Tour C: Hidden Beach, Secret Beach, Star Beach, Matinloc Shrine and Helicopter Island
There may be slight variations on itineraries per tour organizer but most of them stick to the above. There are other tours and variations being offered such as kayak tour, half-day tour, sunset cruise and dinner, glass bottom boat tour and island overnight, but the most common are the packaged tours A, B and C.
Tour rates vary, but one of the tour organizers we saw with lowest rate was the Lagoon Tours owned and managed by Mr. Harvey Templado or simply Kuya Harvey: P500 for tour A, P550 for tour B and P650  (which we haggled for P600) for tour C.
We arranged tours A and C with Kuya Harvey for our two-day island hopping in El Nido. We asked him to include us in a group since they require a minimum headcount of four person per tour to avail of the per person rate, he assured us that everything would be okay and that there will surely be other tourists joining the tour, no need to worry of the headcount.
So we spent the gloomy Saturday, the first day of our island hopping tour of El Nido with Tour A, with us were two Koreans, out boatman Kuya Harvey and his companion Alvin.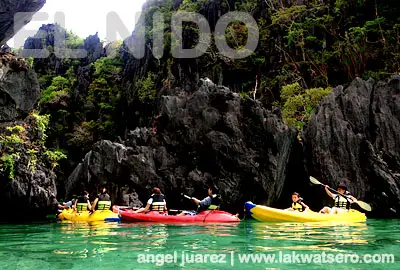 Our first stop was Small Lagoon of Miniloc Island. It has a narrow opening  that can fit a kayak. Inside is a calm lagoon and a small cave in the end. Small Lagoon reminded me of Coron's Twin Lagoon, although the latter's opening submerges during high tide.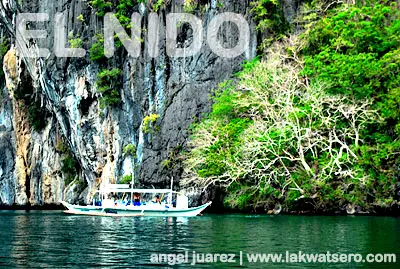 Next destination was Big Lagoon also of Miniloc Island. Unlike Small Lagoon, boats can enter the Big Lagoon. Due to its placid water, raft weddings are sometimes held in the lagoon.
Our lunch was prepared and served in Payong-Payong Beach, also of Miniloc Island. A small white sand beach, dotted with limestone cliffs. The area has good corals and fishes, so we had fun snorkeling around while our lunch was being prepared.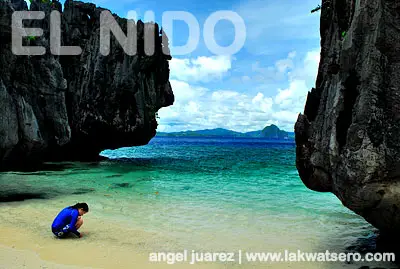 After lunch break we continued our tour with a stop at Shimizu Island, the island was named after two Japanese brothers who died when they lost air while scuba diving in an underwater cave in the area. The island has white sand beach and a great snorkeling site ideal for fish feeding.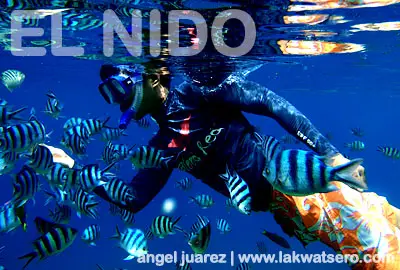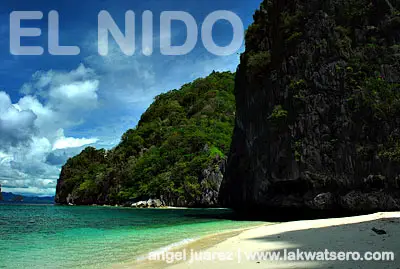 Our final stop for the day was Seven Commandos Beach. Formerly known as the Ipil 3, it was now known with its current name due to graffiti on one of its cliffs that says "Seven Commandos". It is another white sand beach best for swimming or just beach bumming. There is a store in the island that sells coffee, chips, buko juice and other stuff.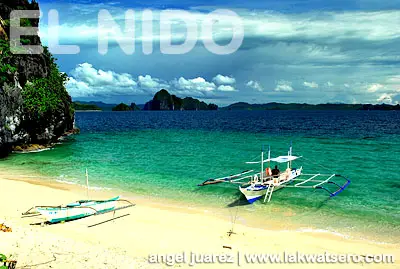 The next day, for the continuation of our El Nido island hopping tour, we were blessed with a good weather, with blue sky and calm water, we were allowed to go on with Tour C, fronting the open water of South China Sea. With us were the two Koreans who joined us on Tour A, and a French couple.
We first went to the Hidden Beach of Matinloc Island, a secluded white sand beach hidden in the cliffs.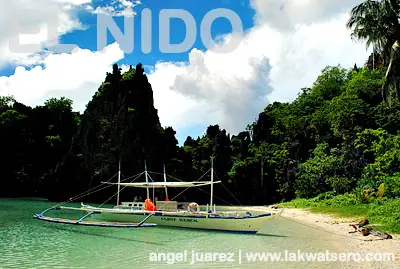 Next was the Secret Beach, also in Matinloc Island. Going to the Secret Beach was a tough challenge, one must have a knowledge in skin diving or at least know how to swim to get through inside. The Secret Beach is enclosed by cliffs with an opening submerged in the water fronting the South China Sea. The challenge is to enter the narrow opening very carefully, despite the huge waves, without bumping into the walls with sharp rocks. Inside is a small yet lovely white sand beach, which remains secret to some.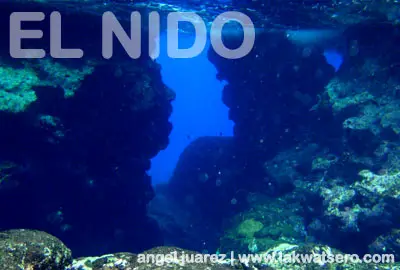 Our Sunday lunch was in Star Beach, another white sand beach fronting the Matinloc Shrine with some good corals and fishes.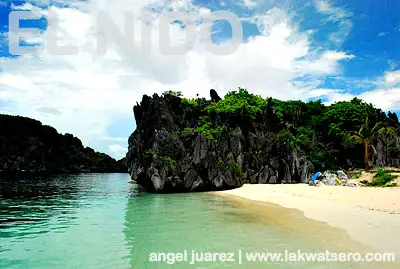 Matinloc Shrine was our next stop after lunch break. A very unique shrine surrounded by cliffs with a small white sand beach. One of its cliffs can be climbed to have an unobstructed bird's eye view of the surrounding.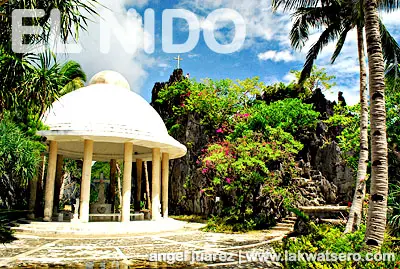 It was snorkeling and fish feeding time on our next stop, the snorkeling site in front of Culasa Beach. The area has colorful corals and good population of Sergeants, Trumpets, Angels and Butterfly Fishes.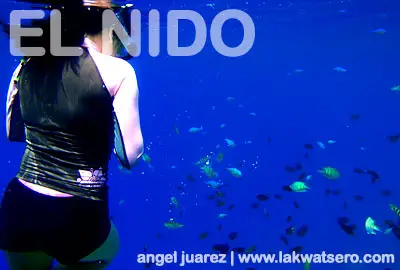 And the final stop was Helicopter Island, an island with a long stretch of white sand and great corals.
It was two days of fun with the water and marine life of Bacuit Bay and it went so fast. There were still so much places to see but our time was up. El Nido is really beautiful, and we hope to see the same or even more beautiful when we go back someday unknown to us. We will definitely miss El Nido!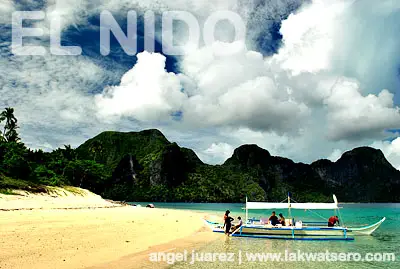 Quick Facts
Tour Organizers in El Nido
Lagoon Tours
+639263049680
El Nido Boutique and Art Cafe
+639209026317
Spirit of El Nido
+639087838866
Ricson's Aquatic Tour
+639297955758
Bacuit Island Tour
+639297501914
Arman V. Island Tour
+639192034199
Tao Philippines
+639213724097