The weather that night was the same when we went to Culebra Island in Pangasinan on the last week of May – rainy with thunderstorms and there were no stars at sight. The government weather bureau Philippine Atmospheric Geophysical and Astronomical Service Administration (PAGASA) already announced the official start of summer a few days ago, but  still there were no hesitations. Apo Reef trip pushed through as planned. Our last hurray for summer of 2010, our final bid to summer's sun.
With some minor alterations on the itinerary due to changes in ferry schedule, we gathered in Buendia Taft in Pasay City at 9PM for our trip to Batangas Port. We left the terminal at 10PM of June 11, two hours ahead of the initial plan.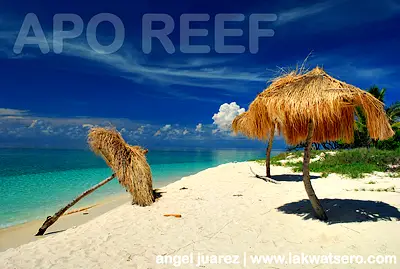 Going to Batangas Port
The Batangas trip took us two and a half hours. The fare was P167, still the same the last time I went there (March 2010). An hour before two in the morning, I, Bj and my new found travel friends Maita, Love, Ivy and Paul were already in the Batangas Port. There was a Montenegro Ferry to Abra de Ilog leaving at 2AM. We aimed to catch that trip in order to arrive Sablayan early and leave to Apo Reef before 10AM.
We purchased ferry tickets for eight people at P208 each plus P30 terminal fee and headed to passenger's waiting area at the 2nd floor of the terminal where we waited for Donna and Jill. Both coming from Alabang, they arrived a couple of minutes before we boarded the ferry, so we had the usual bonding and getting-to-know-you moments before boarding.
While waiting inside the terminal, a man offered us a ride from Abra de Ilog to Sablayan at P220 each for Dimple Star Bus. We scrapped the offer thinking it was a scam or something. Shortly after, the boarding call was announced and we all went to the Ro-Ro vessel. We saw again the same man who offered us a ride, this time, he was wearing a Dimple Star Bus uniform. Apparently, he was a real employee of the bus line.
Aboard the Ro-Ro
I am a regular of Ro-Ro and bigger vessel but it was my first Montenegro experience. The vessel was a typical Ro-Ro ferry – no comfortable beds, no spacious lounges and decks, just rows of chairs and tables. The air-conditioning unit in the closed door hall was not working, and every row of chair was already occupied, each by a single person lying as if it was their own beds, so we chose to stay in the open area where there were still vacant chairs and more comfortable fresh air.
Bj, Ivy, Love and Paul spent the three hours ferry ride on the upper deck with their seemingly endless stories. Maita, Jill, Donna and I preferred to nap. We were woken up by Bj when the boat was about to dock in the port of Abra de Ilog. It was still dark at few minutes before five in the morning. I asked around for the van fare to Sablayan and someone told me that it ranges from P230-250. The P220 deal of Dimple Bus Star was not that bad after all, so I looked for the man who approached us earlier but my foot led me to their other bus (there were two Dimple Star Bus aboard the Ro-Ro ferry). Luckily, there were still vacant seats. I called the group and we all hopped in for another two to three hours ride to Sablayan.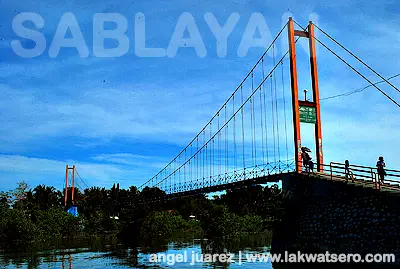 The Road to Sablayan
As expected, parts of the ride was bumpy. Bags were falling from upper compartments and the passengers were jumping in their seats whenever the bus humped. Before eight in the morning, we were already at the sports complex of Sablayan where the tourism office is also located.
We met Ate Norie there, our contact person. She is an employee of the tourism office under the Municipality of Sablayan. The good thing about this town is that – all the tours are controlled and managed by the local government at fixed and reasonable rate. We settled everything in the office: the boat that can fit 12-15 people at P6500 for 36 hours; the environmental fee; and rental of snorkels and masks. They also offered us dive packages but none of my friends were trying, so I scrapped the idea of diving in Apo Reef this time (maybe next year :P). Ate Norie then gave us the contact number of our boat and handed brochures and maps. Everything was so organized.
We then called two trikes and headed to the market for our breakfast and to buy foods and items we needed for the camping. As usual, it was chicken and pork meats for adobo, hotdogs, a gallon of water we rented in a water refilling station, two kilos of rice and some condiments all amounted to around P800.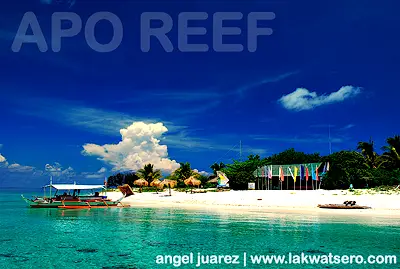 Boat Ride to Apo
It was almost 10AM when we went to Pondohan to meet our boatman, a former captain of the Armed Forces. His boat was big enough for the eight of us. And so our journey from Sablayan to Apo Reed started. We took advantage of the three hours trip for the much needed sleep, occasionally  waking up just to see nothing around us but the sea.
Our excitement leveled up as we passed the rocky limestone island called Tinagkapan or Cayos del Bajo, a few meters from a white island ahead of us. The water is shallow, calm and very clear. So clear that corals and fishes can be easily spotted. The coral area is unbelievably vast, covering the whole area that my sight can reach. Wow! Welcome to Apo Reef!
Welcome to Apo Reef!
Apo reef is the largest coral atoll-like reef in the Philippines, the second largest in the world next only to Australia's Great Barrier Reef. It is a 34 square kilometer reef that serves as habitat of more than 350 marine species such as sharks, sea hawks, manta rays, stingrays and other tropical fishes and invertebrates.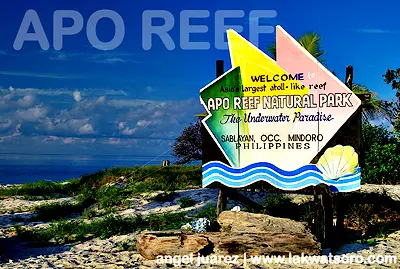 Our boat docked to an island surrounded by white sand named Apo Island. Mangroves are abundant in the area surrounding the lagoon that is located in the center of the island, while on the north is its striking lighthouse that can be trekked to see the 360 degree view of the area. The island is guarded by rangers made up of police, military and staff from the Municipality of Sablayan, so it is generaly safe.
We setup our camp to a shaded area they called playground. There are wooden benches and tables in the playground, nearby is an open cottage that we occupied as kitchen, a saltwater deep well, comfort rooms and the reception area/headquarter of the Apo Reef Natural Park. There is no source of freshwater in the area.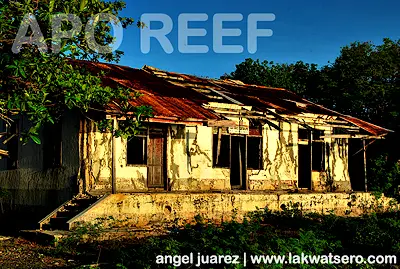 Trekking the Lighthouse
We had our late lunch that we prepared while setting up the camp. Meanwhile, Donna was able to fly a kite, her long time dream. Our guided snorkeling tour was scheduled the next day, our itinerary for the day was to go to the lighthouse and lagoon. Macmac, our boatman's son accompanied us although the trail was easy and obvious. We passed by the Department of Environment and Natural Resources' (DENR) Headquarter and the old lighthouse station towards the beach area in front of the watchtower. It was already low tide and the sea cucumbers abundant in the area were already exposed in the shore.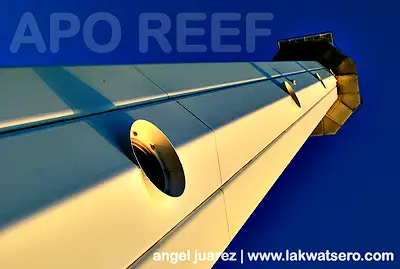 We climbed to the first balcony of the lighthouse and from there we witnessed the beauty of Apo Reef in birds eye view. Standing at 33.5 meters above sea level, the white concrete tower light house of Apo Reef is one of the major domestic lighthouses in the country. It is used to guard the park against illegal fishing boats in the area. The structure has an enclosed elevated square base with octagonal skeleton and a balcony on its top, and then a square tower on the center of the first balcony topped by another octagonal balcony.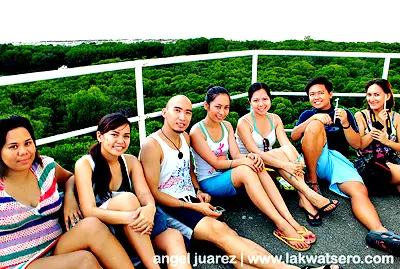 The view from the lighthouse is fascinating. It gave us the unobstructed view of the surrounding where we saw the mangrove forest, lagoon, white sand shore and the corals around.
Rafting in Lagoon
When we went down, Macmac led us to a bamboo bridge amid the mangroves leading to the lagoon, where we all rode an improvised raft made of styro and bamboo. Aside from big crabs and other common fishes, stingrays and small sharks are occasionally seen swimming in the lagoon. We traversed the lagoon guided by two cords that cross at the middle, we shifted to the other cord at the intersection and reached the other point where we passed another long bridge made of bamboo that leads to the southern part of the island.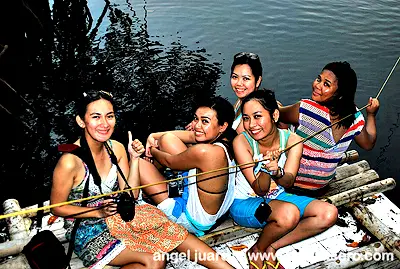 The southern part of the island is just a few meters from our camp. The beach area has white fine sand but the water already receded afar, while the rocks and hard corals were already exposed because of low tide.
Beach Bumming
I went back to our camp and set the marinated pork adobo on low fire before going back to the sea to swim and snorkel. We walked farther to a deeper area where we swam and snorkeled, there we had a glimpse of the lively and colorful marine life of Apo Reef even in shallow water.
The sun already set when we went back to the shore but its remnants were still in the sky that turned the clouds into fire, while the placid water on the shore provided reflections of the art. I wished to freeze the moment and marvel longer but the great art was short lived, darkness already enveloped us.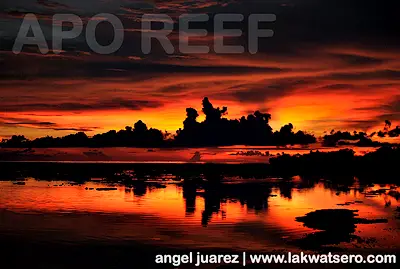 We had hotdogs, pork adobo and rice perfectly cooked for dinner. When we were all through, we washed, fixed up and gathered on the beach for the bonfire. Macmac helped us with the bonfire, and he was with us as we grilled the mallows, told stories and counted falling stars until we fell asleep. I remember counting five.
Sunrise in the Lighthouse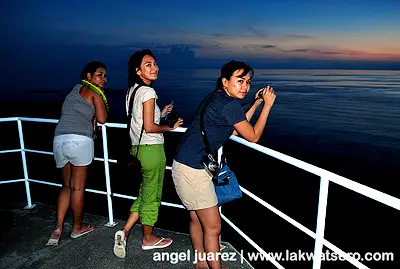 At five in the morning, Donna woke us. Maita, Jill, Donna and I trekked again to the light house and waited for the sunrise. The early trek was worth it as we witnessed the sun break into the horizon. It cast its rays to the lighthouse while the sky turned blue, and revealed once more the picturesque surrounding of Apo Reef.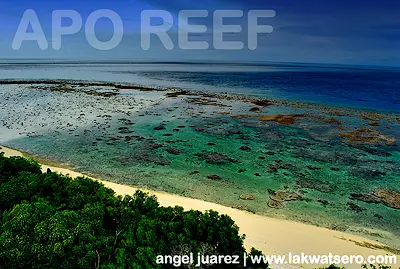 Everybody was already awake when we returned to our camp. We fried the left over rice and hotdogs and opened some canned goods for our breakfast. Right after we finished our meal, the boat was already ready for our snorkeling tour.
The Best Snorkeling Ever
Attached to the boat was a bamboo grid with four square divisions. Two persons can fit on each square. Armed with our snorkels and masks we hanged on to the bamboo and the boat started to move gradually to the best snorkeling areas. It was two hours of hanging into the bamboo raft, just seeing what's underneath us. It was a perfect show of colorful corals, huge and small underwater creatures, school of fishes and other marine life. The best snorkeling session I have ever experienced. Halfway the tour, we saw a huge sea hawks (pawikan) swimming in the open. Shortly after, another one showed, and then another. We saw three in all.
We were in the homestretch of the tour when something rare caught our attention, it was no less than a shark swimming in the sandy bottom. It was not alone, we counted five sharks in all. One even swam with us underneath. It was the first time I ever saw sharks and the feeling was surreal. I've been to numerous dive sites in the country hunting for this elusive creature only to witness them while snorkeling in the shallow water of Apo Reef.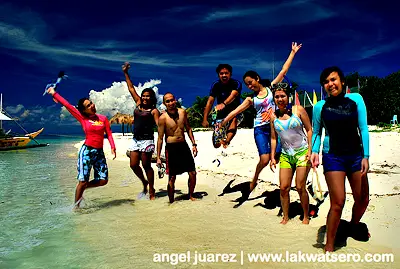 It was already past ten in the morning when we finished snorkeling. The heat was starting to burn us, the sky was in pastel blue, the sand reflected white in sunlight and the water was so tempting. We were just starting the day, enjoying the sand, the sea and the sun of Apo Island, but we had to leave.
From Apo Reef to Pandan Island
We packed and left Apo Island past 10 in the morning. As we go farther, I saw the lighthouse, the beach, the colorful flags, the cottages and the mangroves getting smaller and I felt sad. So I just lied to the boat's bench and sleep. When I woke up, we were already approaching Pandan Island, it was almost 1PM.
Pandan Island boasts of cream sand beach with great snorkeling and diving sites. It is a private island with a resort and diving facility. Its proximity to mainland Mindoro makes it a popular getaway for local and foreign tourists. Entrance fee to the island is P120.00 per person.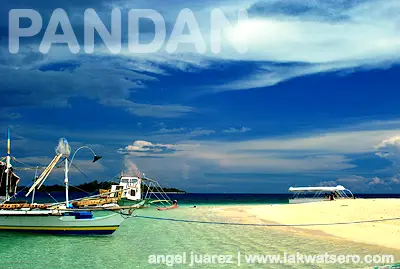 We quickly got off the boat and headed to the restaurant, we were all hungry. We browsed their menu but none of their items interest us, perhaps we were already used to the camping foods. We all agreed to go back to the boat, setup the stove and heated the left over fried rice, cooked the luncheon meat and instant noodles. Voila! We had a free lunch by the boat.
We wasted no time and quickly jumped off the boat after our lunch. We just swam and snorkeled around until around 4PM, when it was our time to get back to Sablayan. The sky turned sad and cloudy as we left Pandan Island, in around fifteen minutes we arrived at Pondohan. We called two tricycles to fetch us to the Eco-Tourism Office where we washed up before going to Abby's Restaurant near Sablayan Market for our dinner.
Going Home
We spent more than two hours in the restaurant while waiting for the Dimple Star Bus to Batangas Port at 9PM. Good thing that we reserved our seats earlier (Sablayan to Batangas at P550 per person inclusive of Ro-Ro), there were so many passengers that time and we would end up as chance passengers had we not paid for our seats ahead. A few minutes before 9PM, we walked to the Dimple Star Bus terminal in Sablayan and waited for the bus that arrived late at past 10PM. It took us six hours by bus and Ro-Ro to reach Batangas Port. The Dimple Star dropped us at Diversion Road where we transferred to Pasay bound bus (P167 – Batangas to Pasay). It was another long journey from Sablayan to Abra de Ilog to Batangas and finally to Pasay, we arrived Pasay past 7AM and sad to say, parted ways.
It was a memorable, fun-filled, budget friendly weekend trip. We will surely miss everything about Apo Reef – the sharks, sea hawks, tropical fishes and corals, the vivid underwater paradise and the equally colorful scenic island that will make you wish it is always summer.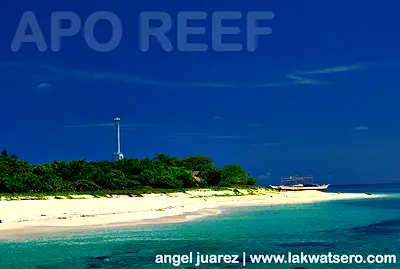 Itinerary
Day 0: June 11
2130H – 2200H: Assembly in Pasay
2200H: Departure from Pasay to Batangas Port
Day 1: June 12
0030H: Arrival in Batangas Port
0030H – 0200H: Assembly/Buy Ticket/Board Ferry
0200H – 0400H: Batangas to Abra de Ilog via Montenegro Lines
0400H – 0700H: Abra de Ilog to Sablayan by Dimples Bus
0700H – 1000H: Arrival in Sablayan/Register and Settle Payments at Sablayan Eco-Tourism Office/Breakfast/Shop for camping supplies
1000H – 1300H: Sablayan to Apo Reef by boat
1300H – 1430H: Arrival in Apo Reef/Setup Camp/Prepare Lunch/Lunch
1430H – 1800H: Explore Apo Reef: Trek the lighthouse, rafting in lagoon, swim, snorkel, photo ops, prepare dinner
1800H – 1900H: Dinner
1900H: Socials, Bonfire, Lights off
Day 2: June 13
0500H – 0630H: Call time/Watch Sunrise/Prepare Breakfast
0630H – 0800H: Breakfast/Prepare for Snorkeling Tour
0800H – 1000H: Guided Snorkeling
1000H – 1030H: Break Camp
1030H – 1330H: Apo Reef to Pandan Island
1330H – 1430H: Lunch in Pandan Island
1430H – 1600H: Explore Pandan Island/Swim/Snorkel/Photo Ops
1600H – 1630H: Pandan to Sablayan
1630H – 1800H: Wash up in Eco-Tourism Complex
1800H – 2100H: Buy bus ticket to Batangas/Dinner/Rest
2100H: Wait for Bus/Depart from Sablayan to Batangas
Day 3: June 14
0400H: Arrival in Batangas (Diversion Road)
0400H – 0730H: Transfer to Pasay bound bus, Batangas to Pasay
0730H – 0830H: Pasay to Home
0830H: Home
Budget
P167.00 – Manila to Batangas by bus (2.5 to 3 hours)
P208.00 – Batangas to Abra de Ilog by Ferry (2 hours)
P30.00 – Terminal Fee
P220.00 – Abra de Ilog to Sablayan by Bus (3 hours)
P812.50 – Boat from Sablayan to Apo Reef (3 hours) P6500/8 pax – round trip
P131.25 – Environmental Fee (P150 each but Ate Norie discounted one pax) (P150*7 )/8
P25.00 – Trike ride: Tourism Office to Market/Market to Pondohan
P100.00 – Foods and Supplies (P800 / 8 pax)
P25.00 – Trike ride: Pondohan to Tourism Office/Tourism office to Market (Abby's Restaurant)
P550.00 – Dimple Star Bus Sablayan to Batangas (inclusive of terminal fee and Ro-Ro)
P167.00 – Batangas to Manila
P250.00 – Miscellaneous expenses, personal items, foods, tips, etc.
P0 – Entrance in Pandan Island (Entrance is P120.00 but nobody collected fee from us :))
___________________________________
P2685.75 – Budget for Apo Reef + Pandan Island
Tips
Tours are managed and controlled by the local government of Sablayan, Contact No: +639284659585 (Ate Norie), email: amazingsablayan[at]yahoo[dot]com or ecotourism_sablayan_occmdo[at]yahoo[dot]com[dot]ph
Boat rental is fixed at 6,500 for 36 hours (payable in eco-tourism office)
Entrance fee in Apo Reef is P150 per person (payable in eco-tourism office)
Tour guide is optional, but in case you need one (which I think not) P750.00
Snorkel and Mask set can be rented at the tourism office for 100.00/set
Tents can also be rented at 150.00 per tent that is good for 3 persons
Tourism office offers various tours, trips and packages which include trip to Island Experience, Caving, Diving, Snorkeling, Trekking, Museum Tour, etc.
Verify the schedule of Montenegro ferry if you are commuting  from Batangas to Abra de Ilog, their site is not updated, you may call them at (043)723-6980 / (043)723-8294
From Sampaloc, Manila, there are air-conditioned Dimple Star Buses that go San Jose Mindoro and pass through Sablayan, fare is P800  (P175 higher if you commute per leg Manila-Batangas-Abra de Ilog-Sablayan), their last trip is 8PM from Sampaloc. They also have terminal in Alabang. Contact No: +639086315495 & +639086964803. Occidental Mindoro Transport Services buses also ply the same route
Going home, there are vans direct to home in Sablayan, rate is P900+
There are vans from Sablayan going to Abra de Ilog, fare is P220 – P230 but trips are rare and limited
There are provincial non-airconditioned buses in Sablayan going to Abra de Ilog but the trip take more than four hours due to numerous stops
The most convenient way for me is to ride a Dimple Star Bus from Sablayan to Batangas for P550 (inclusive of Ro-Ro and Terminal Fee), if you decide to take Dimple Star reserve your seat ahead!