It was a last minute decision and it seemed like a coincidence that Gael's feature on Apo Reef was just published in Yahoo!Travel. Reading her piece along with some of my photos made me missed Apo Reef even more. Perhaps it was the sign. After all, if there are places worth coming back over and over again, Apo Reef is surely one of them.
So for third year in a row I went to this paradise off the coast of Sablayan, Occidental Mindoro and once again had a great time in this small parcel of heaven, both underwater and above.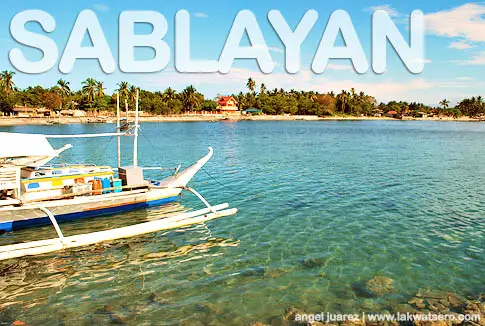 The twelve hours of night travel from Manila to Sablayan passed unnoticed. The four transfers from where I live went smooth as a breeze. I arrived Sablayan Tourism Office by eight in the morning and met my TFMWPP friends there, already done with all the last minute shopping and ready to cross the sea. Ate Helen Calaguas of the Tourism Office helped us arranged everything that we needed for the trip and for our unexpected dives.
At half past nine, our boat left the breakwater of Sablayan and for two hours, endured the big waves until the pearl in the middle of Mindoro Strait appeared in the horizon.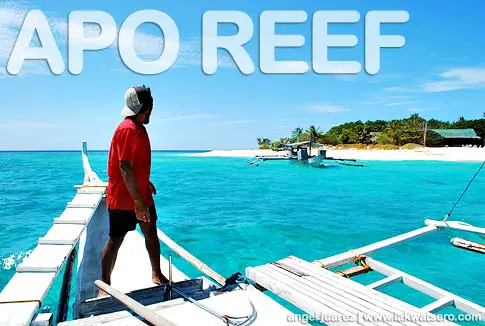 Welcome to Apo Reef Club! The poster in the wall of the reception area greeted us as we entered the hall while shaking off the fine white sand that were stuck on our feet. Kuya Jojo, an LGU officer on duty recognized me and quickly took the position as our official chef. He cooked the rice perfectly which we partnered with canned tuna and sausages for our lunch.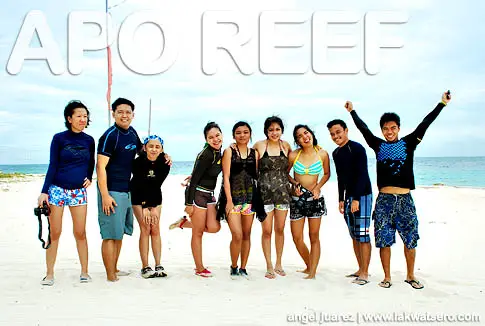 After lunch, we boarded the boat for our afternoon in the waters of Apo Reef. Divers Jona, Anj and I had our first descent on the north-east side of the island, while the rest enjoyed snorkeling.
It was a perfect day for diving – the visibility was excellent, the water temperature was great and the current was mild. Kuya Albert, our Dive Master was able to guide us well underwater for 42 minutes. It was memorable for me, not because of the countless sharks and pelagic that we spotted but because it was my 100th dive, a personal milestone in my scuba diving career.
An hour after our first dive and with the same diving conditions as the first, we enjoyed our second dive southeast of the Apo Island. The usual sharks, huge napoleons, tuna, jacks and other pelagic entertained us, as well as the colorful dynamics of the sea that we spent 53 minutes underwater.
The sun was already hinting its end for the day when we returned to the island after our dives. The dark gradient of the eastern sky started creeping, racing with the quickly setting sun in the west. They created a glorious scene, as always. Apo Reef sunset never ceases to draw beauty and amaze every eye longing for it. So beautiful. So lovely.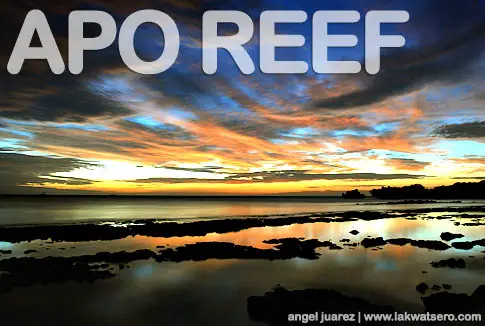 A lazy morning greeted us when we woke up the next day, the wind was blowing hard and the sky, overcast. After we devoured the breakfast prepared by Kuya Jojo, we all went on with the day's planned activities. Aboard our boat, we headed to the northwest side of the island where the sea was calmer. There we snorkeled while the others had their intro diving.
Hours passed quickly and unnoticed in that spot, perhaps because we enjoyed snorkeling and diving a lot. Seeing school of Napoleons, Tuna, Sharks, Jacks and other pelagic made us oblivious with time. One thing that made us a bit sad was not seeing even a single Sea Turtle, quite weird since Apo Island is a known breeding ground of Sea Turtles.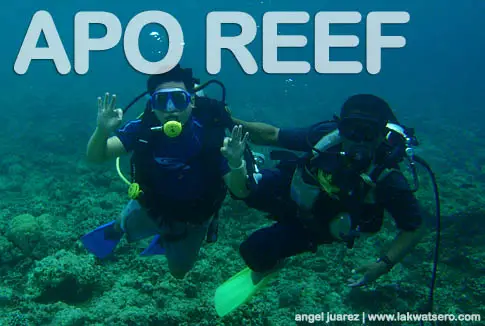 The wind was still blowing hard when we went back to the island to pack our stuff, it was time for us to go. With a heavy heart, we left Apo Reef and endured three hours of bumpy boat ride to mainland Sablayan. The gloomy sky and mischievous water were sympathizing with us as we bid adieu to our weekend bliss.
The island slowly faded from the horizon of waves, and we found ourselves back to our usual selves. It was a short stay in paradise, yet it let us escape the weights of living in the real world even for a little while. Once more, I promised my self to return because if there are places worth coming back over and over again, Apo Reef is surely one of them.
How to go to Apo Reef
By Air
San Jose, Occidental Mindoro is the gateway to Sablayan by air. Airphil Express, Cebu Pacific and Zest Air have regular flights to San Jose from Manila, travel time takes 45 minutes. From San Jose airport, take a short ride by tricycle to bus terminal, then hop to a bus going to Sablayan, fare is a little over P100.00, for a travel time of two-and-a-half to three hours. There are also air-conditioned vans that can be rented from the airport although it costs higher at P3500.00 and up, good for 10-12 persons.
By Land/Sea
From Sampaloc, Manila, there are air-conditioned Dimple Star Buses that go to San Jose, Occidental Mindoro passing in Sablayan, fare to Sablayan is P800.00 inclusive of the ferry and terminal fee in Batangas Port, last trip is 8PM from Sampaloc. They also have terminal in Alabang. Contact No: +639086315495 and +639086964803.
From Cubao, RoRo buses going to San Jose also stop at Sablayan.
For budget travelers, the cheapest way to get to Sablayan from Manila by land and sea is to go to Batangas Port for P167.00 fare (as of February 2012 , cheaper on DLTB buses at P133 ) for a travel time of  two-and-a-half to three hours, then catch a ferry to Abra de Ilog at P260.00 plus P30.00 terminal fee (as of February 2012), a two to two-and-a-half hours boat ride, and hop on to a Roro Bus or a Dimple Star Bus from Abra de Ilog at P220.00 (as of February 2012) for another three hours ride by bus. If there are still available bus from Batangas Port better arranged your seats from there as the buses are usually get filled even before reaching Abra de Ilog. Alternatively there are vans from Abra de Ilog to Sablayan though rare, charging at least P250.00 per passenger.
Montenegro and Besta are the ferry operators in Batangas Port to Abra de Ilog. Please verify their schedule if you are taking that ferry, their site is not updated, you may call Montenegro at (043)723-6980 / (043)723-8294 or you may verify their and other schedules of ferry at the Port of Batangas hotline at (043)7238243.
For more information on going to Salayan and Apo Reef, please check out Lakwatsero's Travel Guide: Sablayan (Apo Reef/Pandan Island).