Who says summer is already over? Not for beach people like us (Anj, BJ, Donna, Grace, Jonard and me). The gloomy forecast and scattered city showers didn't stop us on our planned beach bumming up north. This time at Culebra Island, Pangasinan's secret jewel.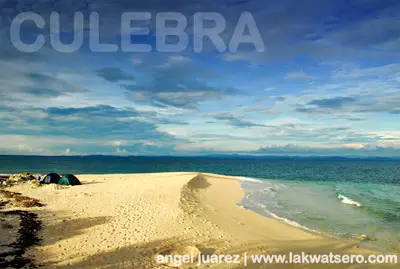 Culebra (Colibra) Island or formerly Camaso Island is a tiny island off the coast of Barangay Tambobong in Dasol, Pangasinan. It is located on the western side of the province fronting South China Sea.
Its cream sand is typical of a tropical island, but its remoteness guarantees an unforgettable experience away from the busy scene of high profile beaches in the country.
Cubao to Alaminos to Burgos
The best and easiest way of going there is via the 12 midnight air-conditioned bus of Victory Liner in Cubao bound to Sta. Cruz, Zambales via Alaminos that passes directly to the town of Burgos and Dasol. But we failed to make it to the scheduled departure, so we settled for the regular (non air-con) bus going to Alaminos of Five Star Transit, scheduled to leave at one o'clock in the morning.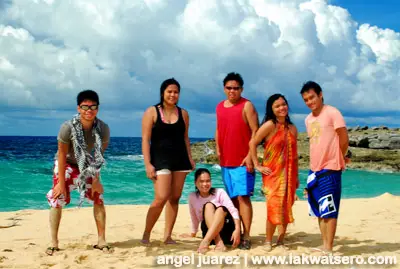 We had no other choice since the next air-con bus of Victory Liner will depart at 430AM, and though they have 230AM regular bus, we decided to take the Five Star bus that departs earlier.
The non air-con bus ride was not as bad as I thought it would be. The journey took four and a half hours all in fresh air. The catch was, it only costs us P244.
We arrived at Alaminos a few minutes after five o'clock in the morning. We planned to take our breakfast but the town was still asleep so we proceeded to Victory Liner Terminal to ride another regular bus bound to Sta. Cruz. Buses to Sta. Cruz leave Alaminos Terminal every 30 minutes. We left at 530AM and arrived at Burgos Market at 6AM, a short ride for P28.
Burgos Market was just starting its day when we arrived. Some of the shops along the road were still closed but vendors selling meats, vegetables and fish were already setup inside. We stopped for a breakfast at a carinderia of Ate Rogelyn, who happened to be from Tambobong. She was kind enough to let us rest for a while and even lent us her water dispenser, we just paid for the purified water. She also advised us to look for her sister-in-law Benilda Donato in Tambobong who owns a resort in the town.
Shortly after our breakfast, Donna and I went to the market to buy foods and other stuff we needed. Two kilos of rice, chicken and hotdogs; half kilo of pork meat; condiments; styrobox; small casserole and other things. Our bill ballooned to P856.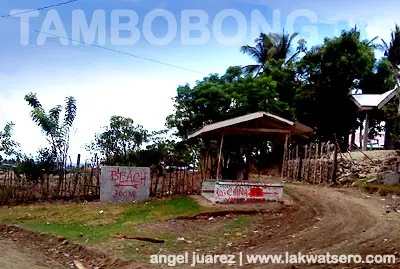 The Road to Tambobong
Going to Culebra Island needs one to go to Tambobong Beach. But going to Tambobong is not a walk-in-the-park. The road going there from Burgos is 50% unpaved, but one may opt to go to Barangay Magsaysay or Gais-Guipe thru Poblacion, Dasol and rent a boat from there to Culebra Island, although it will take a longer boat ride. Buses going to Sta. Cruz from Alaminos pass through Poblacion, Dasol.
Since we were already in Burgos, our options were to rent a tricycle or catch the rare passenger jeepneys going to Tambobong. There are only few jeepneys going there, they ply Tambobong – Alaminos route and vice versa, so it is only by luck to catch these jeepneys. Aling Rogelyn told us that the first jeepney going there from Alaminos is at noon during Saturdays, so the only choice left for us was to rent a tricycle for P300. We were six which means we need two trikes, a total of P600.
We left Burgos at 730 in the morning and arrived in Tambobong an hour after. As expected, parts of the road going there are rough. There were efforts of paving the entire stretch as seen on installment but for unknown reasons, the completion seems elusive at this point.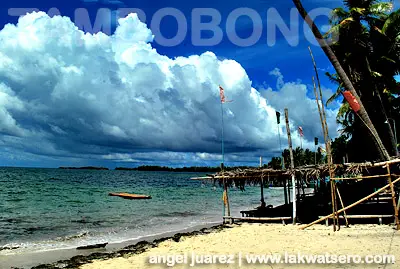 Tambobong Beach on its own is fascinating. The laid back town is blessed with cream sand that shines as sunlight kisses the coast. We met Ate Benilda there, they own Tambobong Beach Resort. They offered us their rooms and cottages but we politely declined since we planned on camping in Culebra Island, instead we just asked for their boats to Culebra. Their rate for a two-way boat ride to the island is P700 for a boat that fits up to seven people. But we were charged P1300 since the boat will return the next day to fetch us. They gave us two pails of fresh water and allowed us to use their shower when we return, so we agreed to the deal.
Touchdown Culebra Island
It wasn't raining but the sky was cloudy. There were times that the sun showed up, though it didn't lasted long. But we were already thankful for the weather. We sailed for half an hour to the calm waters of Dasol Bay, to a visibly off-white island just across Tambobong. From afar we counted only six coconut trees, one with just the trunk standing. It was true, shades are scarce in the island.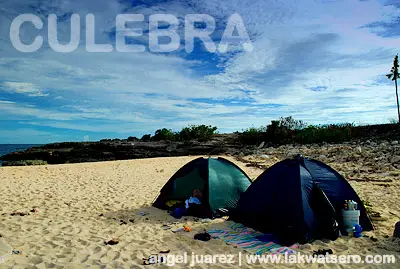 There were other groups in the island, but we were the only one staying overnight. We setup our camp to an area we thought would not be reached by waters come high tide, and started preparing our lunch. As if new to camping, we again had a problem cooking our rice, after an hour of cooking a kilo of rice, Donna took turn to prepare Chicken Adobo, her island specialty.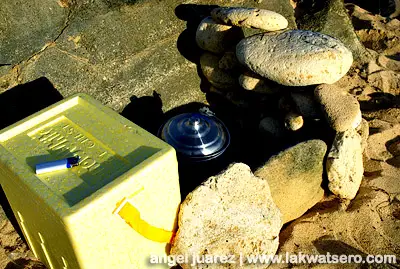 We didn't waste time right after lunch, we all ran to the sea and enjoyed Culebra's water. It was a perfect escape from the heat of the shadeless island. The waves were like playing with us. For hours we just swam and let the waves pummel us until we all got tired, we lay down to the sand and surrendered to the lazy afternoon as we took a nap under the sun.
When we woke up, we want back to the water and continued our game with the waves.
Touring the Island and Waiting for Sunset
We got out of the water and started to prepare our dinner before five o'clock in the afternoon. We put the stove on low fire, let our Pork Adobo simmer and left to explore the island. The island was so small that in less than 10 minutes, we were already on its other side, fronting west to the direction of sunset.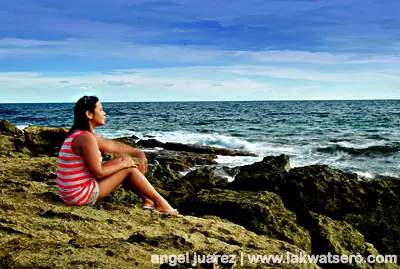 Big rocks are scattered in the area forming podiums. We sat on of the rocks and waited for the sunset which seemed forever, we almost got tired of waiting, perhaps we were too early. But all our waiting paid off as we witnessed one of the most astonishing sunsets we ever witnessed. The setting sun and cloud formations sketched its most vivid art all in natural and captivating colors. Lovely.
The island was so small that one can tour the island in 15 minutes. On the west is a beach with cream sand, while the rest of the coastal area have big rocks. Locals called the island as Culebra/Colibra or Snake Island because of abundance of sea snakes at night. Sad to say, there are a lot of garbage in the island, brought by irresponsible tourists.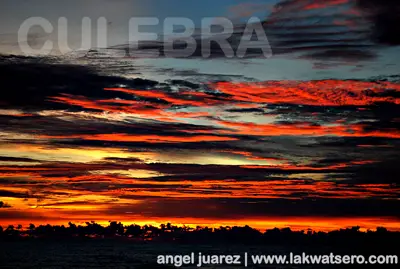 It was almost dark when we returned to our camp, the Adobo was already cooked. We fried some hotdogs, open a canned tuna and just consumed the leftover rice from lunch. Presto, we survived the dinner.
An island camping wouldn't be complete without a bonfire. So right after the dinner, we gathered some dried leaves and dead tree branches and lit it. The fire didn't last long, just enough to burn a couple of mallows. There are only six standing trees in Culebra, one of which is dead, so it was quite hard to maintain a fire in the island without bringing enough materials from the mainlaind to fuel it.
Amazing Moonrise
And so we fixed ourselves even without shower and readied our sleeping mat on the sand. Yes, we all decided to sleep outside, except Grace, who loved her tent so much that she spent most of the afternoon sleeping and sweating inside.
It was only around seven and we were about to call the night off when something caught our attention. A growing glow started to appear on the east. We thought it was a forest fire but to our amazement, it was the moon rising from the horizon in full orange. Unlike the sunset, the moonrise was so fast that it was already high and lighter in color when my camera was ready to capture the scene. Argh! I missed to catch it when it was just breaking from the horizon.
It was the first time I ever saw the moon break in the horizon and I was mesmerized by its beauty. It was so orange and it looked bigger. I hope I can show it to you but this was the only image I captured.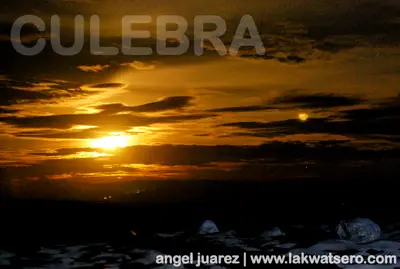 Goodmorning Sunrise
Sleeping in the beach with the stars as my roof was one of my fond memories of Culebra, but I couldn't stand the cold that I woke up at dawn to transfer to the tent.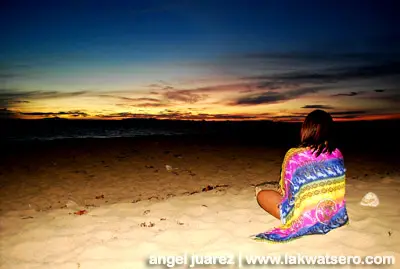 My phone alarmed at five in the morning for the sunrise. Donna was already awake and the sun has yet to show up. A few minutes passed and the eastern sky started to change its color as the sun break into the horizon. It was a good morning for Culebra, no rain clouds in sight, a promise of a sunny day.
Instant pancit canton, loafs, hotdogs and sausages were our menu for breakfast. After the meal, the rain clouds passed above us, and the sky revealed a rainbow. It rained, but it didn't stop us to go back once more to the water and play with the waves. The rain stopped after a little while and the sun showed up again. Shortly after, a boat carrying a group came for a day trip, and then more boats followed.
Past 9 o'clock in the morning, we felt that the beach was already crowded and the sun was already hot that we decided to pack our stuff and bid Culebra goodbye. We reached Tambobong before ten in the morning and washed up at Tambobong Beach Resort.
By 12PM the tricycle from Burgos that we contacted to fetch us arrived. We were already in Burgos by 1PM and back to Alaminos around 2PM where we had our late lunch. We boarded the Manila bound bus of Victory Liner by 3PM, all in summer tans and that was the end of probably our last hurray for summer of 2010.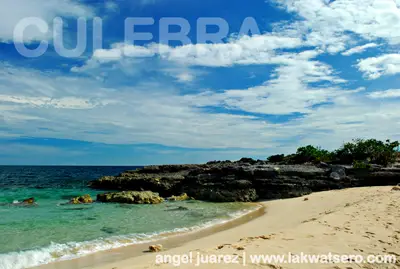 Itinerary
Day 1: May 29
0045H: Departure (Cubao to Alaminos)
0530H : Arrival in Alaminos
0530H – 0600H: Alaminos to Burgos Market
0600H – 0730H: Arrival in Burgos Market/Breakfast/Shop for needed items (ice, meat, fruits, drinking water, utensils, etc)
0730H – 0830H: Burgos to Tambobong
0830H – 0900H: Arrival in Tambobong/Rest/Look for Boat
0900H – 0930H: Tambobong to Culebra
0930H – 1130H: Set-up Camp/Explore/Prepare Lunch
1130H – 1230H: Lunch
1230H – 1800H: Explore Culebra: beach bumming, photo ops, swimming, snorkeling, sunset watching, island walk, prepare dinner
1800H – 1900H: Dinner
1900H: Socials, Bonfire, Lights off
Day 2: May 30
0500H – 0600H: Sunrise watching, morning rituals, prepare breakfast
0600H – 0700H: Call Time, Breakfast
0700H – 0930H: Free time, explore, discover, play, pose, packup, break camp
0930H – 1000H: Culebra to Tambobong
1000H – 1200H: Wash-up/Fix-up/Rest
1200H – 1300H: Tambobong to Burgos
1300H – 1330H: Burgos to Alaminos
1330H – 1500H: Lunch/To Bus Station
1500H – 2100H: Alaminos to Manila
Budget
P244.00 – Cubao to Alaminos (Five Star Non Aircon Bus)
P10.00 – Trike to Victory Terminal (It is actually a walking distance)
P28.00 – Alaminos to Burgos (Non Aircon Bus)
P50.00 – Breakfast
P143.00 – Foods and Supplies (P856 / 6 pax)
P100.00 – Burgos to Tambobong (Trike at P600 / 6 pax)
P217.00 – Tambobong to Culebra (4-Way Boat Ride at P1300 / 6pax)
P100.00 – Tambobong to Culebra (Trike at P600 / 6 pax)
P25.00 – Burgos to Alaminos by Jeep
P100.00 – Super Lunch at Alaminos
P347.00 – Alaminos to Cubao (Victory Liner Aircon Bus)
————————————————-
P1414.00 – Total budget for a DIY Culebra/Tambobong
More Tips
The ideal time to leave Manila is from midnight to early morning in order to arrive in Tambobong before lunch.
A direct air-conditioned bus to Burgos and Dasol leaves Cubao Victory Liner terminal at 12 Midnight. This is a Sta. Cruz, Zambales bound bus via Alaminos, Pangasinan. If you miss this bus, the next trip to Sta. Ztuz via Alaminos would be at 430 in the morning.
The next option would be to ride a regular bus (non aircon) via Five Star Transit or Victory Liner. Five Star Transit has 1AM regular bus, while Victory Liner has 230AM bus to Alaminos.
There are jeepneys from Alaminos that goes directly to Tambobong via Burgos. Although there are only less than 10 jeepneys with unknown schedule.
If you go to Tambobong via Burgos, you can catch a public jeepney that goes to Tambobong from Alaminos, but due to the limited trips and unknown schedule, you may opt to rent a trike at P300 that is good for 4-5 persons.
It would be better to get the contact number of the trike driver so you can contact them on your scheduled return if there is no more jeepneys going to Alaminos from Tambobong
If you are going there via Dasol Poblacion, you may need to rent a boat to get to Tambobong or Culebra
There is mobile signal in Tambobong and Culebra Island
There is no resort and electricity in Culebra Island, only in Tambobong
Boats to Culebra are readily available in Tambobong, no need for advance reservation, the rate is usually P700.00 per boat back-and-forth.