Not everybody knows that the very first stamp in Asia was issued in the Philippines on February 1, 1854. Some carries a genuine error in printing the word "corros" rather than "correos", which are valued by avid stamp collectors due to its rarity.
I assume, very rare also knows that the world's first stamp that featured basketball was also issued in our country?
Needless to say, our rich postal history follows the vibrant history of our country. Thanks to Filipinas Stamp Collectors' Club for exposing me to all these through their free Postal Heritage Walking Tour.
The Filipinas Stamp Collectors' Club
The Filipinas Stamp Collectors' Club was formed in 1994 and now regarded as one of the country's premier societies for beginners and seasoned stamp collectors. Amid the digital world of communication, they are actively  promoting stamp collecting in the country through various projects and awareness campaigns such as exhibits, seminars and walking tours.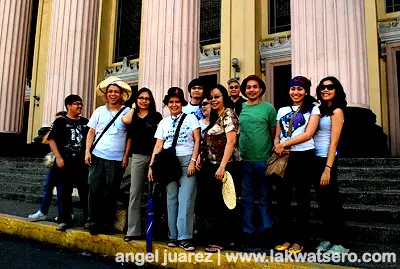 The Postal Heritage Walking Tour is a monthly tour they organize for free, no strings attached. Held every 3rd Sunday of the month, this free guided tour caters to students, cultural hoppers, philatelist and people from all walks of life. It is fully supported and endorsed by the Intramuros Administration, Philippine Postal Corporation (PhilPost) and the City of Manila.
It was Lawrence Chan, the tour guide, who invited me to join the walking tour. After some email exchanges, I confirmed my slot for a different tour of the city.
The Walking Tour
We gathered at Liwasang Bonifacio or popularly known as Plaza Lawton. It was originally named Plaza Arroceros, covering the current Manila City Hall to the Manila Central Post Office Building during the Spanish era, but it shrunk now to the area in front of the Post Office Building.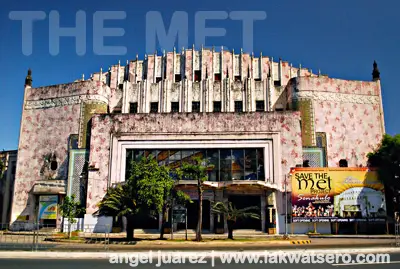 Our tour started at one of Manila's famous landmarks just across Plaza Lawton – The Metropolitan Theatre or the MET. Tagged as the "grand dame" of Manila's theaters, the MET was designed by one of the great Filipino architects, Juan Arellano, the same man who designed Manila Central Post Office building and Jones Bridge.
We entered inside and had a glimpse of its vibrant past that still echoes on its walls, rooms, corners and hallways. It was my first time to enter the MET and I was mesmerized by its beauty but saddened by its present condition.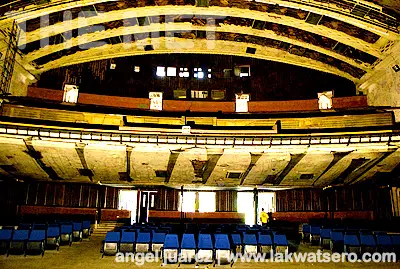 Our next stop was another Manila's landmark – The Manila Central Post Office Building, which serves as the head office of PhilPost. Built in 1926, the neoclassical structure stands proud at the mouth of Pasig River. It was severely damaged during World War II but rebuilt in 1946 with its original design. Also located in its compound is the Postal Museum and Library.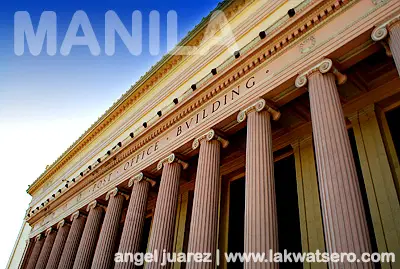 The Postal Museum and Library was organized and opened to the public in 1992 to showcase the country's rich repository of stamps and postal relics. This is where Filipinas Stamp Collectors' Club regularly holds meetings, lectures and auctions every 3rd Sunday of the month, from 1PM to 5PM.
From Post Office Building we proceeded to Intramuros, passing by Puerta Isabel II Monument and National Press Club (NPC).
Puerta Isabel II Monument was erected in July 14, 1860 in Plaza Arroceros, in honor of Queen Isabel II of Spain who reigned from September 29, 1833 to September 30, 1868. The statue stood in Plaza Arroceros until her downfall, when Bartolome Barreto, a sympathizer of the queen, hid it in his house. The statue surfaced again in 1896 and moved in front of Malate Church. The monument was transferred again to its present location during then Prince Juan Carlos of Spain's visit in 1975.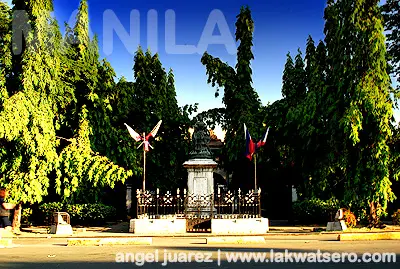 But what was the connection of Queen Isabel II to Philippine postal history? Well, simply because Queen Isabel II was the only one portrayed in all Philippine stamps from the first ever stamp in 1854 up to 1874.
After the side trips in Puerta Isabel II and NPC, we walked to the direction of Plaza Mexico and Aduana.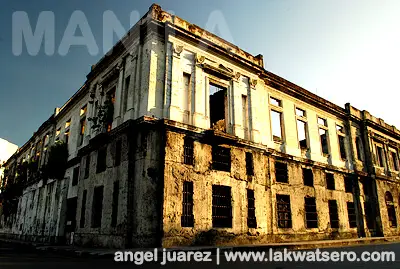 Plaza Mexico was inaugurated in 1964 in commemoration of the Fourth Centenary of the Miguel Lopez de Legazpi's Expedition to the Philippines, which left Mexico on 21 November 1564 .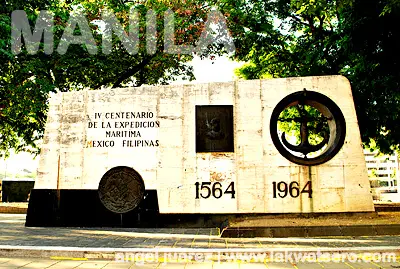 Across Plaza Mexico is the Aduana or Customs House, where most goods and mails were declared for customs purposes during the Spanish era. It was originally built from 1823 to 1849 but was demolished in 1872 after an earthquake in 1863 left the building structurally unfit. A new building was erected on the same location in 1876 that houses the Customs Office , Independencia General de Hacienda (Central Administration), Treasury and Casa Moneda. It was destroyed during World War II but was successfully restored and used by Central Bank, National Treasury and Commission on Election until a fire razed it in 1979. Restoration is ongoing since 1998 to house the National Archives Office.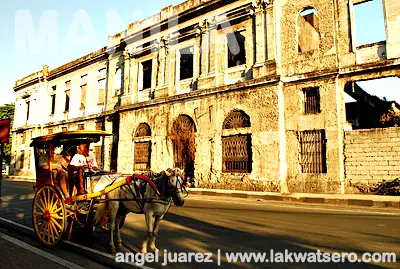 A short walk from Aduana is the Plaza Roma, right in front of Manila Cathedral and Palacio del Gobernador. This is where we ended our tour with a renewed admiration to the city and its rich history; and the vibrant postal heritage of our country linked to it.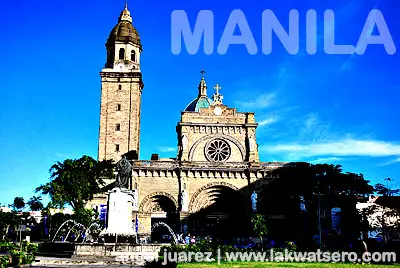 Other Tour Areas
Tour areas vary monthly, aside from those areas mentioned above, the tour sometimes includes Arroceros Forest Park, Mehan Garden, Jones Bridge, Mc Arthur Bridge, Manila City Hall, FEATI University, Colegio de San Juan de Letran, Postal Bank, Far Eastern University, Escolta, Bahay Tsinoy and others.
Join the Tour
The free Postal Heritage Walking Tour is held every third Sunday of the month, you may contact Mr. Lawrence Chan at +63919-3901671 or email him, at l_rence_2003[at]yahoo[dot]com to join the trip.
Again I would like to thank Lawrence and the rest of Filipinas Stamp Collectors' Club for the experience!