It was in 2011 when we first visited Colibra Island (sometimes spelled as Culebra Island) in Pangasinan. It was still unpopular then, in fact some locals discouraged us on going there.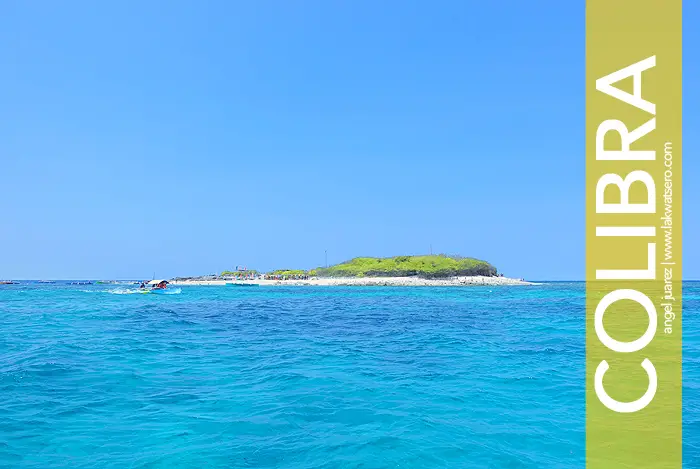 "It is an ugly place!"
"There's nothing there!"
We ignored their rants and spent a night in the island. Only us under millions of stars, with the sunset, moonrise and sunrise gracing our stay.
Situated off the coast of Barangay Tambobong in Dasol, Colibra Island or Camaso Island is a tiny and rocky islet surrounded with cream sand and turquoise water… so small that one can tour it in fifteen minutes or less.
The southern coast is covered with rocks and uplifted corals while the rest is surrounded with cream sand. Locals called the island as Colibra/Culebra or Snake Island because of abundance of sea snakes particularly on the rocky part of the island.
The island is flat and dry, making it hard for freshwater-dependent trees to survive. There used to be five coconut trees there but now down to none. There are patches of smaller plants around but its entirety is unshaded.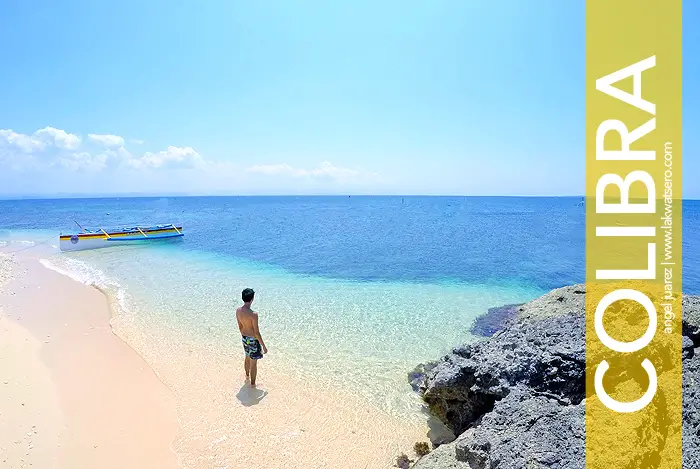 Colibra island is just 20 minutes ride from Tambobong Beach. Unlike before, a resort now controls the island collecting P25 entrance fee for every guest and docking fee for every boat. There are also open cottages for rent and stores selling basic supplies.
With Tambobong just eight kilometers away from Barangay Cabongaoan, Colibra is best combined with a trip to the tidal pools of Cabongaon Beach, the "Death Pools of Pangasinan".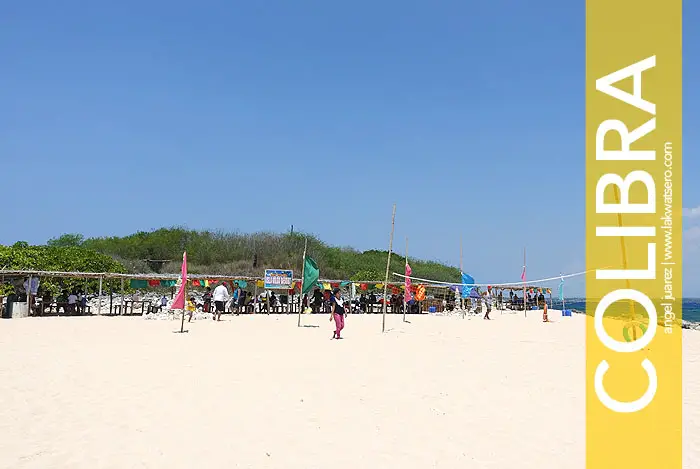 How to Get to Colibra Island from Manila
Ride a bus (First North Luzon Transit, Victory Liner, Dagupan Bus, Five Star) from Cubao or Pasay to Alaminos, fare ranges from P380 to P400 and travel time is at least four and a half hour.
From Alaminos, transfer to a local bus to Sta. Cruz or Iba and get off at the junction to Tambobong in Dasol, fare is P39 and travel time is around 45 minutes. You may also catch a bus going to Sta. Cruz via Alaminos and get off straight at the Tambobong Junction although this trip/route is limited.
From the junction, flag a trike to take you to Tambobong Beach at P300/trike maximum of four passengers. At Tambobong Beach, boats are readlily available at P800 round trip, good for three, inclusive of docking fee of P100.
If you are in Barangay Cabongaoan, you may also charter a boat to Colibra there albeit a little expensive and travel time takes a little longer than if coming from Barangay Tambobong. Alternatively, you may flag a tricycle from there or hitch to vehicles going to Tambobong. Trike rate starts at P100 one-way, maximum of three, travel time is 15 to 20 minutes.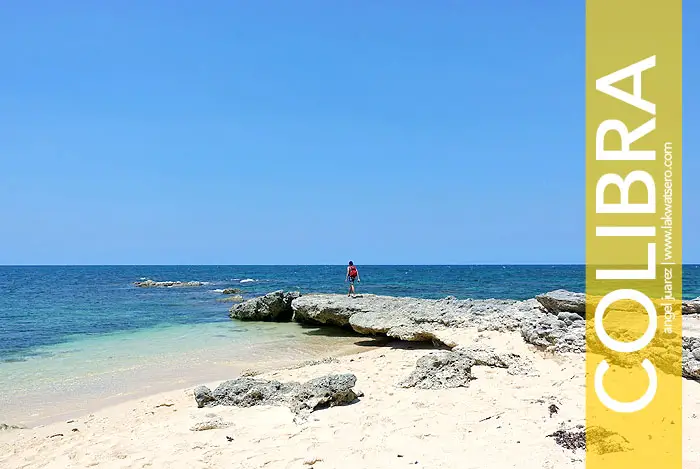 Sample Itinerary (Cabongaoan-Tambobong-Colibra Weekend)
Budget: Less than P2,000 per person (group of two to three persons)
Day 1:
0000H: Departure (Cubao to Alaminos)
0400H : Arrival in Alaminos
0430H: Alaminos to Burgos
0500H: Arrival in Burgos Market/Breakfast/Shop for supplies/foods
0600H – 0630H: Burgos to Cabongaoan Beach
0630H – 1100H: Explore Cabongaoan Beach and Cabongaoan Tidal Pools aka Death Pools
1100H – 1130H: Travel from Cabongaoan to Tambobong
1130H – 1300H: Check-in / Rest / Lunch
1300H – 1330: Boat to Colibra Island
1330H – 1800H: Explore Colibra: beach bumming, photo ops, swimming, snorkeling, sunset watching, island walk
1800H – 1830H: Return to Tambobong
1830H onwards: Dinner / Socials / Lights off
Day 2:
0600H – 0700H: Call Time, Breakfast
0700H – 1000H: Free time in Tambobong Beach; option to explore Crocodile Island, Lagaratas Island, Paratec Beach, Pao Beach, Balinmanok Beach and other coves and beaches of Dasol and/or Burgos
1000H – 1200H: Wash-up/Fix-up/Rest/Check-out
1230H – 1230H: Tambobong to Highway
1230H – 1330H: Burgos to Alaminos
1330H – 1500H: Lunch/Proceed to Bus Station
1500H – 2100H: Alaminos to Manila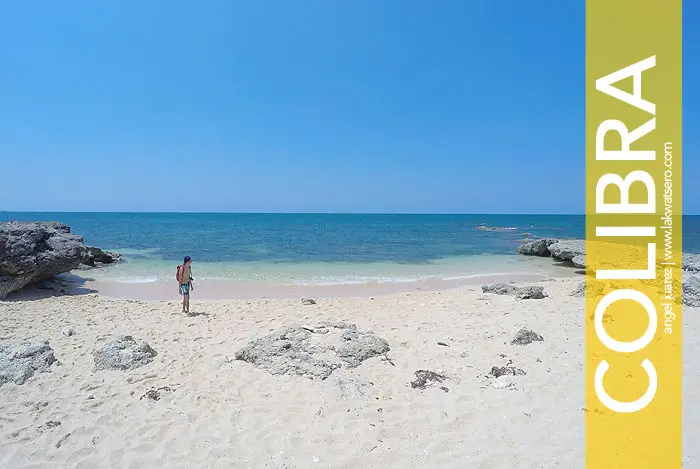 Tips
The ideal time to leave Manila is from midnight to early morning in order to arrive in Tambobong before lunch.
A direct air-conditioned bus to Burgos and Dasol leaves Victory Liner Cubao terminal at 12 Midnight. This is a Sta. Cruz, Zambales bound bus via Alaminos, Pangasinan. If you miss this bus, the next trip to Sta. Cruz via Alaminos would be at 430 in the morning.
There are jeepneys from Alaminos that goes directly to Tambobong via Burgos. Although there are only less than 10 jeepneys with unpredictable schedule
It would be better to get the contact number of the trike driver so you can contact them if there is no more jeepneys or trike around on your return
There is mobile signal in Tambobong and Colibre Island
There is no electricity and water source in Culebra Island
Camping is allowed in Colibra Island