I was back in Calamianes Group of Islands last March for another dive trip with my dive buddy Ate Claudia Artazo of Cagayan de Oro. It was both our fifth visit in Coron and our fourth time to dive in its waters.
Apparently, Coron is one of our favorite places for scuba diving! We love its underwater ship wrecks so much that the plan to go back after five years since our last dive in October of 2011 was cut short. In less than two years, our feet landed once again in this northern island group of Palawan.
Our itinerary was to dive of course, do some island hopping, trek the Tapyas Hill, pig out and just laze in the comfort of our cozy hotel.
Swim
On our first day, we arrived Busuanga in the morning and before noon, we were already in downtown Coron. We still had half day to spare and we thought of hitting the waters to swim, snorkel and bum in the beach. We planned to check out new sites since we've already visited most if not all of the major spots in Coron Bay near the town. Unfortunately, the sites we have not yet been are quite far from the town and would require one whole day. So we scrapped the idea and ended up revisiting Kayangan Lake, Skeleton Wreck, Atwayan Beach and Siyete Pecados.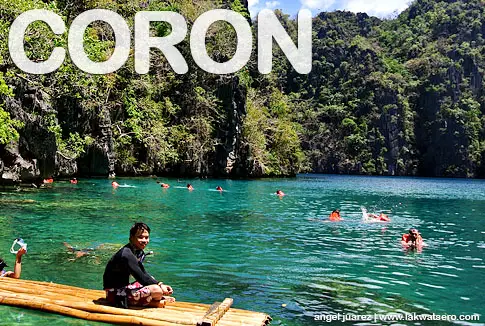 Three foreigners joined our tour, all first timers in Coron so we acted as their tour guides. We made sure to hit some of the best places we could think of since they only had a day to explore the place. It was a quick Coron stop over, they said.
We really didn't mind revisiting these places since they are always worthy of a visit. The picturesque view of Kayangan Cove and its clean lake, the creepy snorkeling and free diving sessions in Skeleton Wreck, the tranquil Atuwayan Beach and the colorful and vivid underwater life in Siyete Pecados Marine Park are all worth every peso we spent for the ride and the entrance fees. Amazing and magical places indeed! Our guests were all amazed of the site we visited specially the snorkeling sites and the Kayangan Cove.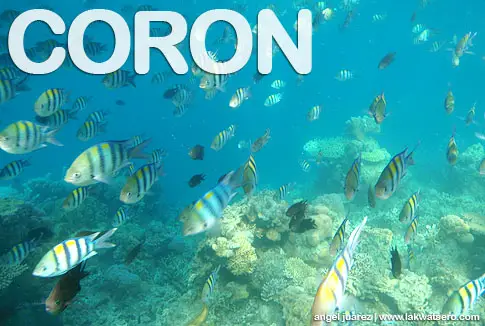 Trek
The view deck on top of Tapyas Hill is one of the best places to watch the sunset in Coron. So right after our quick day in the water, we hurriedly trekked the 800+ steps to the summit of the hill for the glimpse of Calamian sunset. In fifteen minutes, we managed to reach the view deck just in time for the sunset.
Still catching our breaths, we watched in awe as the mighty sun slowly hide in the horizon of Coron Bay, behind the magical islands of paradise. It was a sight to behold, a moment to cherish, a picture perfect scene of beauty.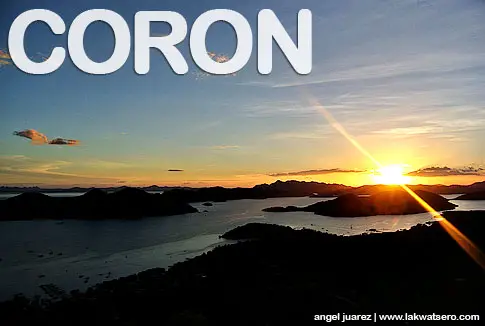 We witnessed as the blue sky turned red and eventually purple. Slowly, the darkness prevailed. But we were thankful for the moon for the little light it provided.
We sat in one of the benches watching the turn of the day and waited patiently for the cross to light up. When the bright stars were already glittering in the dark sky, the cross illuminated and it signaled our trek back.
Dive
Our whole second day was slated for scuba diving. We were off for another three rounds of wreck diving in Irako Maru, Kogyu Maru and East Tangat Gunboat, the scheduled dives of Sea Dive Resort.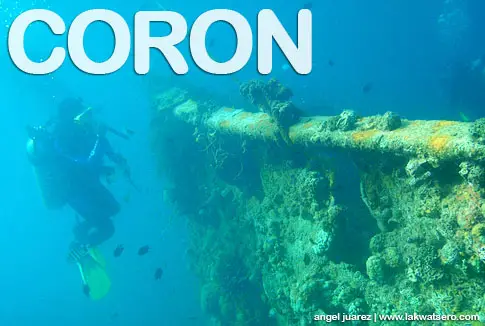 Out of all the Japanese underwater shipwrecks scattered over Calamianes, only Kogyu Maru and Kyokuzan Maru were the only wrecks that we haven't penetrated yet. But Kyokuzan Maru lies on the seabed on the other side of Busuanga Island, near Club Paradise and Dimakya Island, and since we were based in Coron town, Kyokuzan Maru was already out of the plan.
Wreck diving is really surreal experience. Penetrating these known monsters of Coron is totally a different story that merits a separate blog post. We surely had amazing time underwater specially inside Kogyu Maru and Irako.
Eat
Coron is another haven for food trippers. With variety of restaurants lined up in the streets of the town offering various cuisines, pigging out in the island is one of the things that excites us. We planned to return to Old House Restaurant to enjoy their pasta and chicken, and have a coffee and cakes at B.O.G. Cafe, only to find out that they already ceased operating.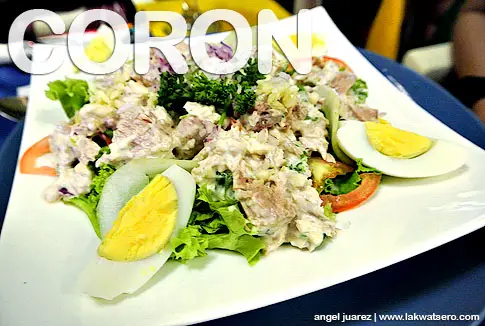 So we decided to try new restos and ended up in Centro Coron Restaurant and Ice Valley Desserts. But I guess I totally set my mind my on Old House and B.O.G Cafe. I was looking forward to the old familiar taste of pasta, chicken and the frappes and the idea clouded my experience in the two new establishments that we tried.
Thankfully, Bistro Coron is still there and still the old good resto that we knew. We had vegetable pasta and tuna salad on our after-dive dinner. We ended up very full and satisfied.
Sleep
Another new experience for us was our stay in Coron Eco Lodge, a new boutique hotel situated near the public market, church, municipal hall and public plaza.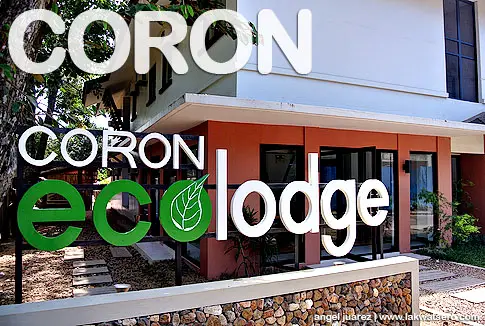 The exterior of the two-story hotel is beautifully designed as well as the interior. The room are cozy and has cool ambiance. The staff, naturally warm and polite.
For only P1,898 per night good for two persons and inclusive of breakfast, Coron Eco Lodge is truly a worthy place to stay in the Coron.
How to Get to Coron
By Air
By Air, Franciso B. Reyes Airport of Busuanga is the jump off point to Coron. Philippine Airlines, Skyjet, Air Juan and Cebu Pacific have direct flights to Busuanga from Manila, Cebu, Clark, Caticlan, Puerto Princesa and San Vicente. From Busuanga, catch a 45-minute van ride to Coron town for P150.00 per person (2015 rate).
By Sea
Manila to Coron:
2Go Travel has twice a week voyage from Manila to Coron and Puerto Princesa. The ferry usually leaves in the afternoon for a 13 to 14 hours journey. There's a ferry that leaves Friday afternoon, arriving in Coron at 5AM of Saturday with return ferry leaving Coron at 430PM of Sunday, arriving Manila at 630AM of Monday. This is perfect for weekend warriors, but expect some delays. Aside from 2Go Travel, there are also other ferry operators from Manila to Coron including:
Operator: J.V. Serrano Shipping Lines (M/V D'Asean Journey, M/V D'Sea Journey)
Route: Manila-Coron and vice versa; Coron to Cuyo and vice versa
Contact Info: (02)-243-4595
Operator: Atienza Shipping Lines (M/V Josilee-II, M/V April Rose, M/V Q-Carrelyn-III)
Route: Manila-Coron-El Nido-Liminangcong and vice versa
Website : http://www.atienzashippinglines.net
Email: [email protected]
Telephone No. : (02)-986-3118 and (02)-536-8123
You can book your ferry or plane tickets from Manila to Coron and vice versa below:
BOOK YOUR FERRY/PLANE FROM MANILA TO CORON
El Nido to Coron:
Fast craft and outrigger boats connect El Nido to Coron with daily departures. Travel time is at least 3.5  hours for a fare of around P1,800 one-way via fast craft; around 7 hours for a fare of P1,400 one-way via outrigger boat; and around 8 hours for a fare of P1,200 one-way via passenger ferry.
You can book your ferry or plane tickets from El Nido to Coron below:
BOOK YOUR FERRY/PLANE FROM EL NIDO TO CORON
Puerto Princesa to Coron:
2Go Travel going to Manila stops at Coron. You can book your ferry from Puerto Princesa to Coron below:
BOOK YOUR FERRY FROM PUERTO PRINCESA TO CORON
San Jose (Mindoro) to Coron:
Outrigger boats regularly depart from San Jose, Occidental Mindoro to Coron. Travel time is approximately five (5) hours and fare is around P600 one-way.
You can book your boat from San Jose (Mindoro) to Coron below:
BOOK YOUR BOAT FROM SAN JOSE (MINDORO) TO CORON
For more information about Coron, check out my Coron Travel Guide.