Welcome to Surigao del Sur
The province of Surigao del Sur, in Mindanao's CARAGA Region, has been out of the tourism map for quite some time but its natural attractions are paving the way for the province to be visited and seen.
Who wouldn't be amazed of the majestic Tinuy-an Falls in Bislig and the Enchanted River in Hinatuan? As such, more and more tourists are braving the long road to these two most visited spots in the province.
Both situated in the eastern seaboard of Mindanao, fronting the Pacific Ocean, Bislig and Hinatuan are driving the growth of the province in terms of tourism generated income.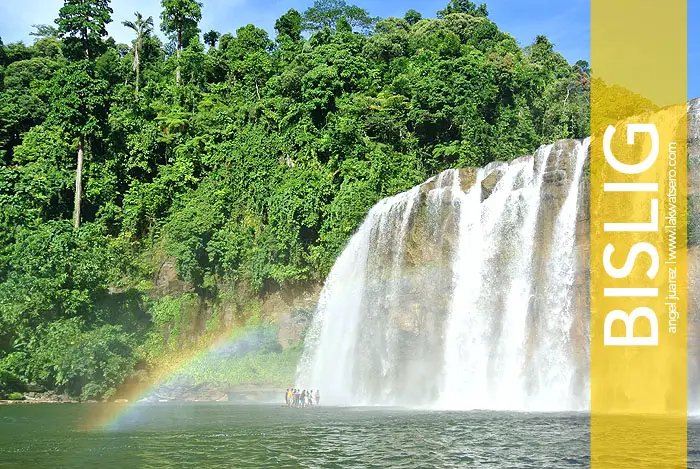 Bislig, considered as the easternmost city of the Philippines in terms of geographical location, is the gateway to the Tinuy-an Falls which is aptly dubbed as "Niagara of the Philippines", the widest waterfalls in the country at 95 meters. But aside from it, Bislig is also home to other interesting scenic spots – cold spring, caves, underground river, lakes and other waterfalls.
Meanwhile, north of Bislig is the town of Hinatuan, another coastal town. It is a laid back and typically rural town famous for Enchanted River and Maomawan Islet.
The road going to Bislig and Hinatuan maybe long but what's in there are worth the long travel. They are paradise on their own rights and are truly fascinating wonders of nature.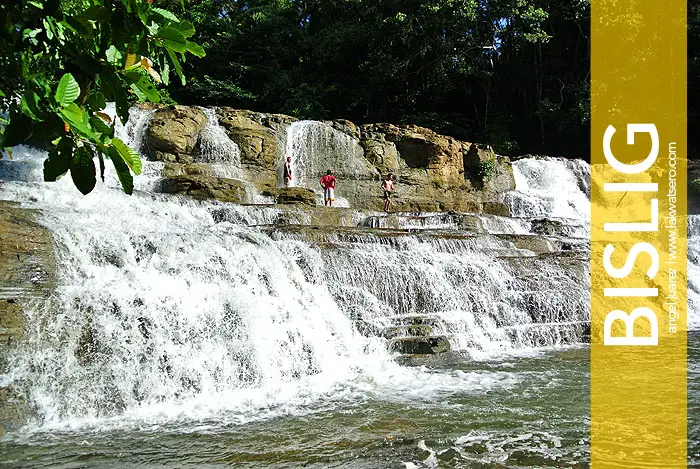 How to Get to Bislig and Hinatuan
Surigao del Sur has airports in Bislig and in the provincial capitol of Tandag, but unfortunately there is no commercial airline serving these points. The nearest commercial airports and also serving as gateways to Bislig and Hinatuan are Butuan City, Surigao City (Surigao del Norte) and Davao.
From Butuan
There are buses and vans from Butuan City Integrated Bus Terminal going to Mangagoy, the commercial hub of Bislig City. Direct deluxe (non-aircon) bus travel time takes five (5) hours to Mangagoy for a fare of P243 (as of August 2012) and four (4) hours to Hinatuan for a fare of P190 (as of August 2012). Vans travel faster, approximately three-and-a-half (3.5) hours to Hinatuan and four (4) hours to Mangagoy.
Alternatively, you may catch an aircon bus going to Davao, get off at San Francisco (San Franz) in Agusan Del Sur (2 hours) and transfer to another bus or van going to Mangagoy (3 hours) passing through Hinatuan (2 hours).
From Surigao City
Getting to Bislig and Hinatuan from Surigao City is quite strenuous since there is no direct link between these places and it really requires transfer. From Surigao City, you may either go to Butuan which is around two hours or Tandag which is four to five hours. The latter is ideal if you are coming from Sohoton/Bucas Grande Islands.
From Butuan, there are direct deluxe (non-aircon) buses going to Hinatuan and Mangagoy (Bislig), while in Tandag, there are jeepneys and vans.
From Davao City

There are deluxe (non-aircon) buses from Davao City's Ecoland Bus Terminal going directly to Mangagoy (Bislig). Travel time takes around six hours. Alternatively, you may catch an aircon bus going to Butuan City, get off at the town of Trento and transfer to another bus or jeepney going to Mangagoy (Bislig).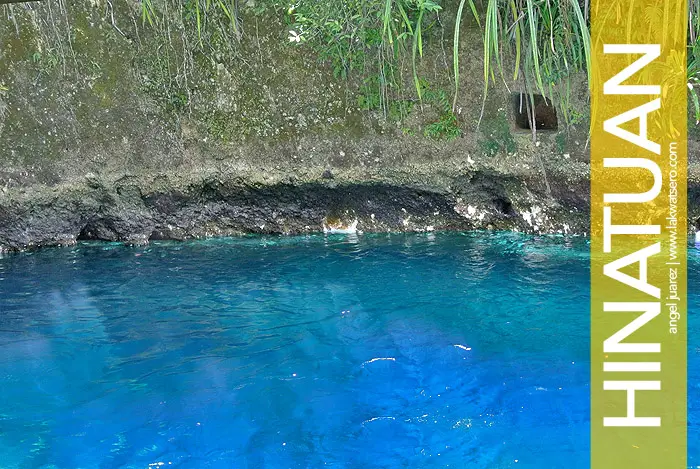 Getting Around and Away
Tricycle and motorbikes locally known as habal-habal are the common mode of transport around Bislig and Hinatuan. In Mangagoy (Bislig), there are local jeepneys going to Hinatuan, Tagbina, Barobo, Trento, Lingig, Boston and Cateel.
Going to Hinatuan from Mangagoy, you may ride the bus going to Butuan City (1 hour, fare P50 as of August 2012), get off at Dugmanon Junction and transfer to a habal-habal going to Enchanted River at P50.00, one-way, per person. Another option is to ride the local jeepney from Mangagoy Jeepney Terminal to Hinatuan Jeepney Terminal (1 hour and 15 minutes, P35 as of August 2012).  From Hinatuan Terminal, transfer to a habal-habal going to Enchanted River at P50.00, one-way, per person.
Take note that habal-habal do not leave until they are full so if you are in a hurry, you may need to pay for the full rate of going there and back. The average rate is P200 but I got mine at P150 for round trip habal-habal transfer.
What to do in Bislig
Visit the Tinuy-an Falls located in Sitio Sote, Barangay Burboanan. It can be reached by traversing a rough road from city proper. Private vehicles can drive directly to it and park at the designated parking area outside the fall's compound. Meanwhile, public commuters can hire a tricycle or habal-habal that will take you to the waterfalls in half-an-hour from the city proper. The best time to visit the place is in the morning. Entrance fee at Tinuy-an Falls is P50.
Check-out the other waterfalls: Sibaroy, Sian, Mendezona, Kambawi, Canlumawag and Secret Falls
Ride a boat to Hagonoy Island
Drop by Togonan Cold Spring, Delot and Hinayagan Cave, Forester's Park, Hercules Wall, Barcelona Beach, Lawigan Beach, the man-made Lake 77, Caguyao River, Mone River and Suhoton Underground River.
What to do in Hinatuan
Visit the Enchanted River of Hinatuan and swim on its deep blue water. The best time is in the morning. See also the feeding at noon and occasionally at 3PM daily. Entrance fee at Enchanted River is P30. Picnic huts are available for rent inside. You may bring your own food  or let the restaurants outside cook for you.
Discover/Intro to Scuba Diving in the Enchanted River. As low as P550 for no fins/no swim intro dive on a maximum depth of 10 feet with souvenir photos and video. P950 with complete scuba gear, with orientation and on maximum depth of 20 feet. Leisure diving for professional is not allowed as of August 2012.
Go island hopping in Hinatuan Bay and see Maomawan Islet
Explore Cagwait Beach the nearby islands off Tandag
Go Island Hopping in Britania Islands in San Agustin
Go surfing in the northern town of Lanuza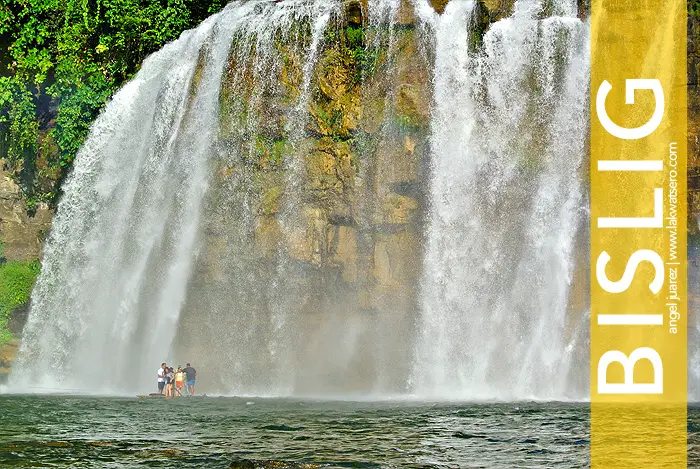 Where to Stay in Bislig and Hinatuan
There is no fancy hotel and resort in Bislig and Hinatuan, only local and small time resorts and lodges that are mostly budget friendly. In Bislig, most of the accommodations are in business district of Mangagoy, where I stayed overnight.
I got my room at St. Francis Pension House along Espiritu Street, Mangagoy. It is a very basic and small fan room, approximately 12 square meters and without its own toilet and bath. Only P150.00 overnight. St. Francis Pension House has air-con rooms too with own toilet and bath and TV, rate ranges from P500 – P1,000.
Florland Resort, located in San Vicente is perhaps one of the decent accommodations in the area. They have air-conditioned apartelle rooms with toilet and bath, living room and kitchen  for as low as P1,000. The resort has swimming pool too. Contact No: (086)6160-056/09284338879.
Other accommodations in Bislig:
Casa de Babano, Caramcam, Mangagoy – non-aircon single room for as low as P150, aircon rooms for as low as P700. Contact No: (086) 853-1297
Paper and Country Inn, Osmena St., Tabon – aircon rooms with toilet and bath and TV for as low as P500. Contact No: (086)853-3079/(086)853-4144
Hotel One-Eleven, Abarca St., Mangagoy –  non-aircon single room for as low as P150, aircon rooms for as low as P400. With restaurant and function hall.
Bislig Town House, Tabon – non-aircon  single room for as low as P100.
Jen-Jen Lodge, Castillo St., Mangagoy – non-aircon single rooms for as low as P100.
Salud Villa Resort, Kahayag – non-aircon triple room P600 and aircon triple room for P800.
Shielah's Pension House, Espiritu St., Mangagoy – non-aircon single room as low as P125 and aircon room for as low as P350. With function rooms. Contact No: (086)853-1510.
Ma. Regina Inland Family Resort, Dao-Dao, San Fernando
Garay Inland Resort, San Vicente
Violy's Pension House and Restaurant, aircon single room with own t&b for as low asP350. Contact No: (086) 628-2369
Sleep Inn, Mangagoy – non-aircon single rooms for as low as P150.
Yolanda Inn – non-aircon double room as low as P250 and aircon double room for as low as P550.
Pensionne La Salle
Accommodations in Hinatuan:
Marky's Hostel – non-aircon room good for two for as low as P300, aircon family room for as low as P850, dorm fan room for as low as P75 per person and dorm aircon room for as low as P150 per person. Contact No: +639284397785
Maryland Lodging House – single fan room for as low as P200. Contact No: +639078689808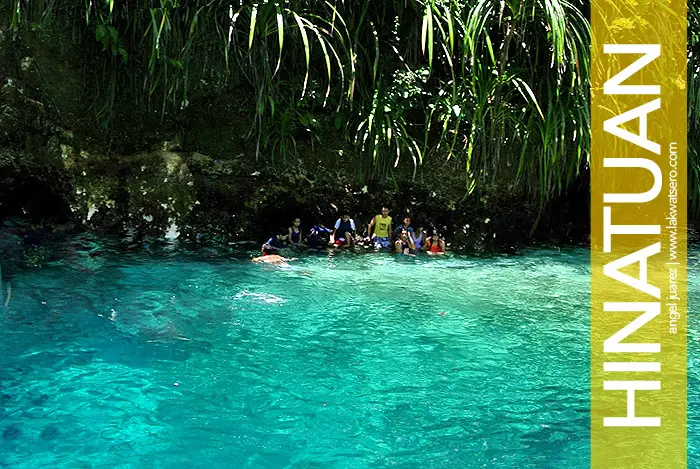 Sample Itinerary
Day 1
0700H – 0830H Manila to Butuan
0830H – 0930H Proceed to Bus Terminal / Snacks / Catch bus to Mangagoy
0930H – 1400H Butuan to Mangagoy
1400H – 1500H Late Lunch / Check-in at Hotel 1500H – 1800H Rest / Free Time
1800H – 1900H Dinner
Day 2
0600H – 0700H Call Time / Breakfast
0700H – 1000H Tinuy-an Falls
1000H – 1200H Back to Hotel / Check-out / Lunch Proceed to Bus Terminal
1200H – 1400H Mangagoy to Hinatuan
1400H – 1430H Transfer to Enchanted River
1430H – 1630H Enchanted River
1630H – 1700H Proceed to Hotel
1700H – 1900H Free time / Rest / Dinner
Day 3
0600H – 0700H Call Time / Breakfast
0700H – 0730H Check-out / Proceed to terminal
0730H – 0930H Hinatuan to Britania
0930H – 1300H Britania Island Hopping
1300H – 1430H Wash-up / Late Lunch / Proceed to Terminal
1430H – 1900H Britania to Butuan
1900H – 1930H Check-in at Hotel
1930H – 2100H Dinner at Margie's
Day 4
0600H – 0700H Call Time / Breakfast
0700H – 0730H Check-out / Proceed to Airport
0730H – 0900H Flight Check-in / Pre-Departure