Beautiful and exotic, the Island Garden City of Samal or IGaCoS, a part of the Metropolitan Davao area, is a great destination if you are looking for tranquility, great adventures and extreme challenges with nature.
Samal is an island paradise located in Davao Gulf, just a stone throw away from Davao City. The island is blessed with beautiful coast with white sand beaches, abundant marine life, magnificent rock formations, and flourishing flora and fauna. It is home to the famous Pearl Farm Beach Resort, which was once literally a pearl farm.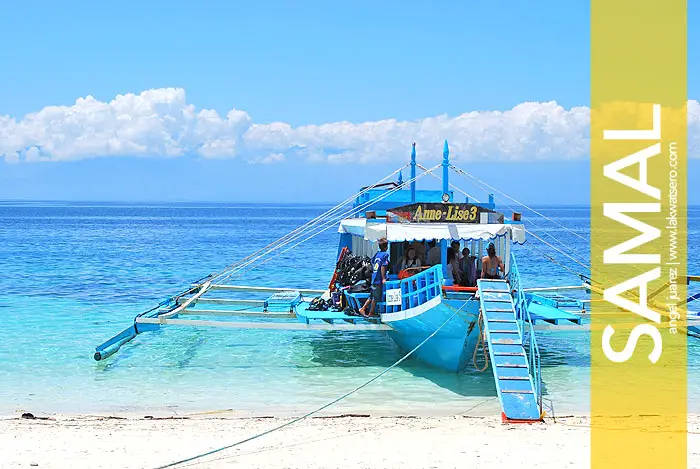 A guided tour of the island will let you discover its inland treasures – rivers, waterfalls, heritage houses, and the world renowned cave that hosts the world's biggest colony of fruit bats. Local and foreign scientists say that the cave (one of the 70 caves in the island) is home to millions of Geoffrey's Rousette Fruit Bat. But the beauty of the island is not just its white and unspoiled beaches or its diverse natural attractions but its warm and lovely people as well. All these make this island a potential world-class eco tourism destination in this part of the Philippines.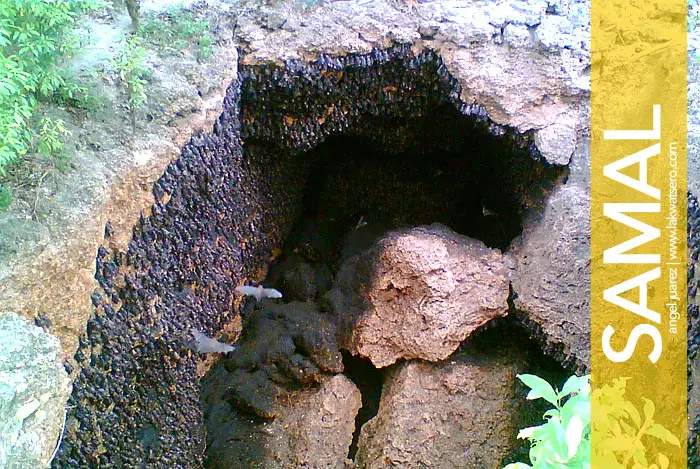 How to Get to Samal Island
Davao City is the jump-off point for Samal Island. Davao is accessible via air or land/water travel from major cities in the country and the South East Asia.
Philippine Airlines, Air Asia Philippines and Cebu Pacific fly to Davao from Manila, Clark, Cebu, Bacolod, Iloilo, Zamboanga, Cagayan de Oro, Dumaguete, Tacloban, Tagbilaran, Caticlan, Puerto Princesa and Siargao. Meanwhile, Silk Air and Cebu Pacific connect the city to Singapore while Air Asia links it to Kuala Lumpur.
From Davao City, boats and ferries are available at Sta. Ana Wharf and Km. 11 Wharf in Sasa.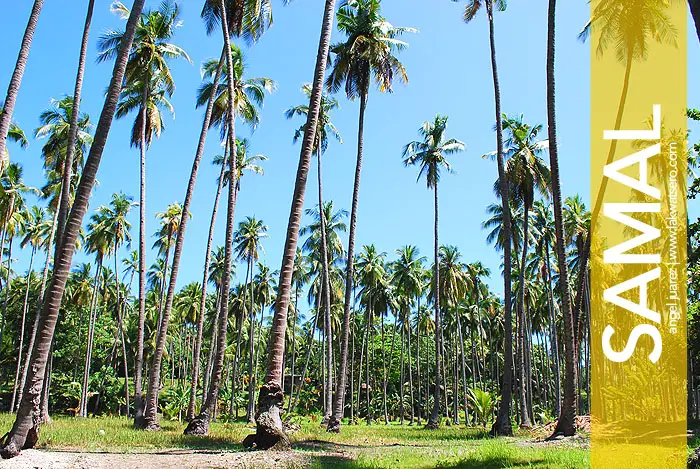 Where to Stay in Samal Island
There are more than 30 commercial resorts scattered along the 116-kilometer of shoreline of Samal. Famous for high-end tourists is the Pearl Farm Beach Resort while Paradise Island Resorts is popular for most general tourists for to its affordability, accessibility and amenities.
Alternatively, you may opt to stay in Davao City if you are planning to spend just a day in Samal Island.
Top-Rated / Highly Recommended Accommodations in Samal
Chema's by the Sea
Samal Island
Starts at 2,500 PHP
CHECK RATES
Paradise Island Park & Beach Resort
Samal Island
Starts at 2,000 PHP
CHECK RATES
Top-Rated / Highly Recommended Accommodations in Davao City
Tinhat Boutique Hotel and Restaurant
Poblacion, Davao City
Starts at 1,000 PHP
CHECK RATES
First Pacific Inn Davao
Poblacion, Davao City
Starts at 800 PHP
CHECK RATES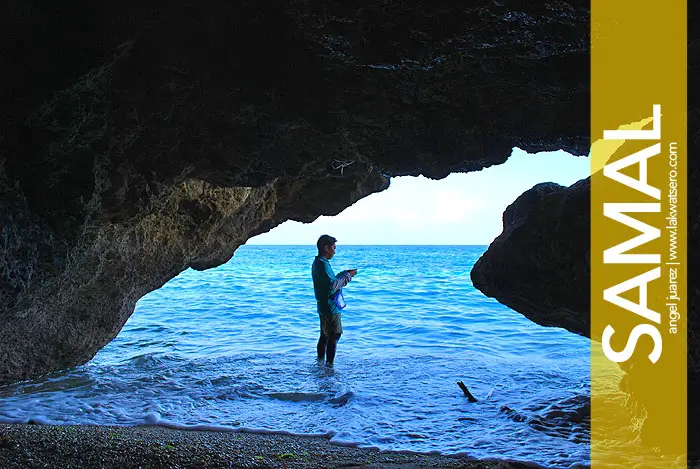 Activities in Samal Island
The island has it all, choose from variety of activities that this island paradise offers.
Water sports: jetski, kayaking, banana boat ride
Snorkeling, scuba diving and free diving
Swimming and beach hopping
See the pawikan and dugong Santuaries
Visit Monfort Bat Cave in Babak District, home to 1.8 million Geoffrey's Rousette fruit bat
Spelunking in Simbahan Dako Cave, Kimoko Cave, Mangongaong Cave and other caves in Talicud Island, Kaputian District and Babak District
Chase the island's waterfalls – Hagimit Falls, Tambang Falls and Tagbaobo Falls
Island hopping  – Samal Island, Talikud Island, Malipano Island and Ligid Island
Camping
Go white water rafting in Davao River
Spend a day in Eden Nature Park
Explore the other attractions of Davao City and neighboring areas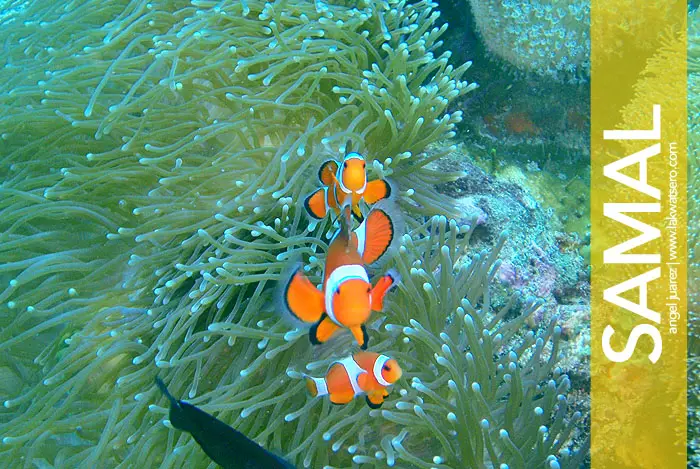 Tips
Dive shops in Santa Ana Wharf (Carabao Dive Center, Wind and Wave, Coral Dive, ProDive) offer day tour in Samal Island for as low as P800 per person, food not included
Samal is still the cheapest place to dive in the Philippines, rate starts at P750 per dive (gear and dive master included), Intro Dive is as low as P850 per dive while Open Water Certification starts at P12,5000
Mobile signal is available in the island
Best months to go is from April to August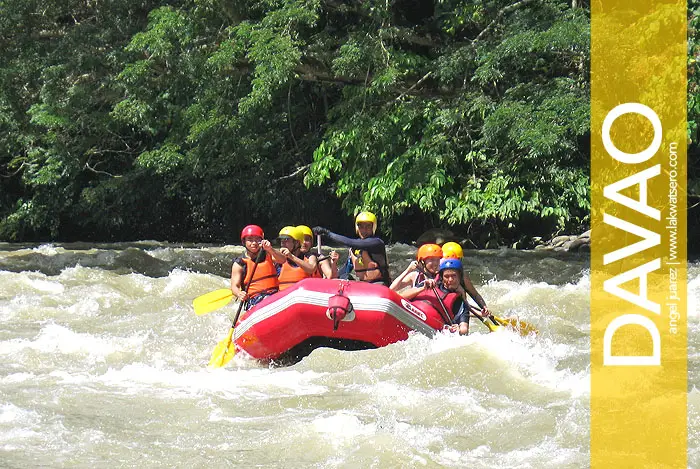 Sample Samal-Davao Itinerary
Samal – Davao 3D/2N Itinerary
Day 1:
– Arrival in Davao / Transfer to Samal
– Island and Beach Hopping: Isla Reta, Babu Santa Beach, Kaputian Beach or Pearl Farm Beach Resort
Day 2:
– Island Tour: Monfort Bat Cave, Tagbaobo Falls, Hagimit Falls, Beach
– Proceed to Davao City
– Dinner at
Day 3
– White water rafting
– Depart Davao