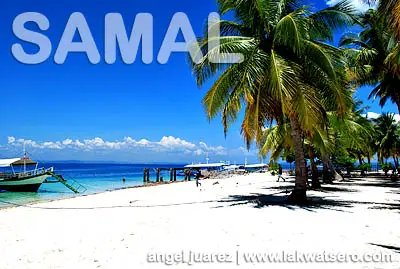 Beautiful and exotic, the Island Garden City of Samal or IGaCoS, a part of the Metropolitan Davao area, is a great destination if you are looking for tranquility, great adventures and extreme challenges with nature. It is a coastal paradise located in Davao Gulf, just a stone throw away from Davao City.
The place is blessed with beautiful coast having white sand beaches, abundant marine life, magnificent rock formations, and flourishing flora and fauna. It is home to the famous Pearl Farm Beach Resort, which was once literally a pearl farm.
A guided tour of the island will let you discover its inland treasures – the rivers, waterfalls, antique mansions and ancestral houses, and the world-renowned cave that hosts the world's biggest colony of fruit bats. Local and foreign scientists say that the cave (one of the 70 caves in the island) is home to 1.8 million Geoffrey's Rousette Fruit Bat.
But the beauty of the island is not just with its white and unspoiled beaches or its diverse natural attractions but to its warm and lovely people as well. All these make this island a potential world-class eco tourism destination in this part of the Philippines.
How to Get There
Davao City is the jump-off point for Samal Island. Davao is accesible via air or land/water travel from major cities in the country and the South East Asia. From Davao City, boats and ferries are available at Sta. Ana Wharf and Km. 11 Wharf in Sasa.
Via Air
Philippine Airlines, Air Philippines and Cebu Pacific fly to Davao regulary. It is an hour and half flight from Manila and fifity minutes flight from Cebu, and can also be accessed by plane from Zamboanga City and Iloilo City. From Singapore, Silk Air and Cebu Pacific service the route. Davao is also linked to Indonesia and Hongkong.
Via Land/Water
(Though Lakwatsero haven't try these means of transportation yet, one can possibly reach Davao by bus and/or ferry rides from Manila. These alternatives are relatively cheaper than air travel though quite strenous.)

Philtranco buses offers Manila(Pasay) to Davao for an approximately 48 hours travel time
Where to Stay
There are more than 30 commercial resorts scattered along Samal's more than 116 kilometers of shorelines. The very famous for high-end tourists is the Pearl Farm Beach Resort. Paradise Island Resorts, on the other hand, is also popular for most tourists due to its cheaper rates, good amenities and accessibility to Davao City, they have P1900.00 ($46)/room/night for a Standard Room that is good for two. Paradise Island Resort is where Lakwatsero stayed in his visit to Samal. For Lakwatsero's compilation of hotels and resorts in Samal – click here.
Activities
The island has it all, you can choose from a lot of activities that this island paradise offers.
Aquatic Sports: Snorkeling, Scuba Diving, JetSki Ride
Swimming and Beach Hopping
See the Pawikan and Dugong Santuaries
Visit Bat Cave in Babak District that is home to 1.8 million Geoffrey's Rousette Fruit Bat
Spelunking in Simbahan Dako Cave, Kimoko Cave, Mangongaong Cave and other caves in Talicud Island, Kaputian District and Babak District
Discover its waterfalls (Hagimit Falls, Tambang Falls, Tagbaobo Falls)
Island Hopping (Samal Island, Talikud Island, Malipano Island & Ligid Island)
Hiking/Camping
Lakwatsero Experience
Lakwatsero has been to Samal in 2005. Watch out for the photos of his travel in "My Photos" and his itinerary in "My Travels".
(Visited 355 times, 1 visits today)