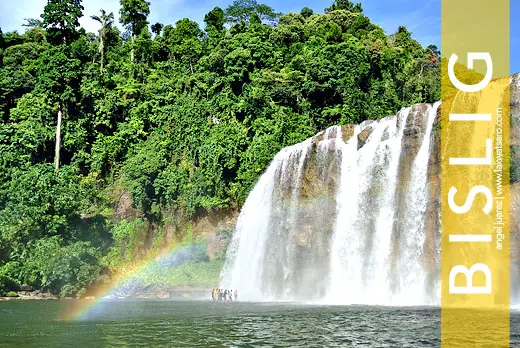 I guess no other tourist spot can best represent the whole province of Surigao del Sur than the grand and majestic Tinuy-An Falls of Bislig City.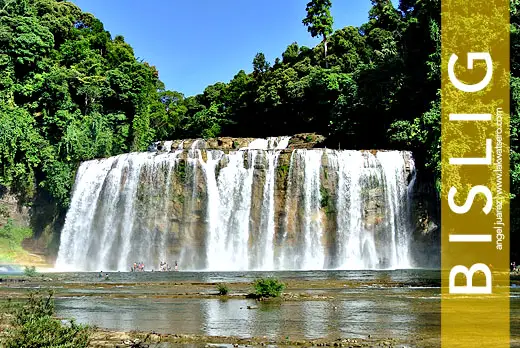 Situated in Barangay Burboanan, Bislig City or approximately 18 kilometers from the city center, Tinuy-an Falls is a three-tiered waterfalls that cascade from a height of 55 meters. It is one if not the widest waterfalls in the country at 95 meters width, aptly earning the title as the "Niagara Falls of the Philippines".
As with other waterfalls in the country, Tinuy-an has natural pools where one can leisurely take a plunge. The natural pool of the second waterfalls, the tallest of the three layers, is the biggest. It is big and wide that there are bamboo rafts to take guests closer to the wall of the falls where the waters drop (for a fee).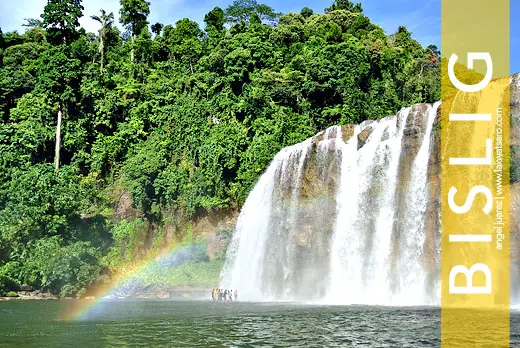 Meanwhile, one can reach the upper layer through the paved stairways on the side. The upper layer has smaller cascades and shallower natural pool. Be careful when swimming on the edge of the pool of the upper tier!
Tinuy-an Falls stands proud as the province's crown jewel. Despite the long journey to this side of Mindanao, its imposing beauty continues to attract tourist to visit this amazing natural gem. A long journey indeed, but a truly worthy one!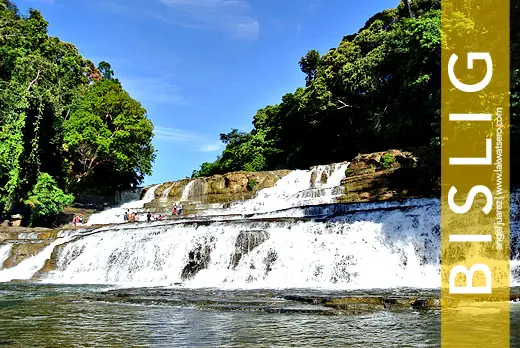 Tinuy-an Falls can be reached by traversing a rough road from the city proper. Private vehicles can drive directly to it and park their vehicles at the designated parking area. Meanwhile, public commuters can hire a tricycle or motorbike (habal-habal) to the waterfalls, travel time takes half-an-hour from the city proper. The best time to visit the place is in the morning, a rainbow can be seen on the wall of the second tier on a sunny day. Entrance fee at Tinuy-an Falls is P50 and parking fee is also P50.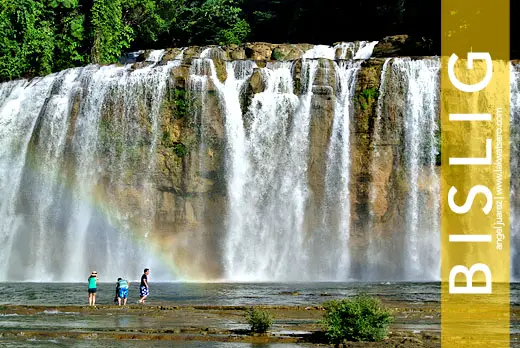 For more information on how to go to Tinuy-an Falls, check out Lakwatsero's Travel Guide to Bislig and Hinatuan.
(Visited 138 times, 1 visits today)