The highlands of South Cotabato is home to Lake Sebu, an important watershed in the region located in the town of the same name. Home to the T'boli tribes of Mindanao, the town is more than Lake Sebu, it has seven waterfalls, two more lakes (Lahit and Siloton), rivers and springs, indigenous community and culture, rich biodiversity and an emerging eco-tourism adventure destination, and one can experience all these in a day. Just like what I did in October of 2010.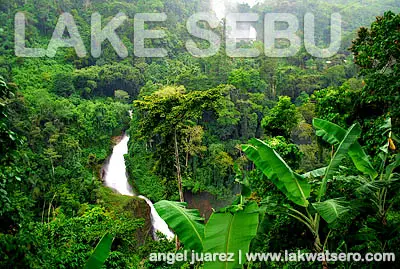 General Santos to Lake Sebu
The easiest mode of going to Lake Sebu from General Santos City is to hire a van or jeepney to conveniently take you there. But for budget and solo travelers like me, public commuting is the only option. So I took the nonstop Marbel (Koronadal) bound Yellow Bus Line (YBL) from General Santos Bulaong Terminal and arrived Marbel Terminal in Koronadal, South Cotabato in an hour, fare was P70.00. From Marbel Terminal, I transferred to another YBL bus for a short ride to Surallah. Travel time was less than 30 minutes for P20.00. Jeepneys to Lake Sebu are stationed in Surallah Terminal, less than an hour ride for P25.00.
The Good Samaritan
Aboard the jeep from Surallah to Lake Sebu, a very kind man asked me where I was heading. "Seven Falls", I said. He asked me if I knew the place, and I replied negatively. He then told me to follow him since he was also going there. We alighted at the jump-off point to Seven Falls and waited for his son to fetch us. While we were waiting, I got to know him as Kuya Bobby Alzate, husband of a Dongon, one of owners of the Seven Falls.
We headed to the Waterfalls Two gate, where they are staying, and met his wife. Entrance fee to the Seven Falls is P20.00 but they let me in for free. He introduced me to his daughter Robelyn Dongon Alzate who offered to tour me around.
The Seven Falls of Lake Sebu
The Seven Falls is an amazing natural wonders of Lake Sebu. The place is privately owned by 11 landowners, the first five falls are owned by Dongon clan (three families of Dongon).
The water comes from the outflows of Lake Sebu that goes to Lonon River and then to Lake Siloton before going to Waterfalls One to Seven and finally to Allah River.
The place is also known for its zip lines above the waterfalls and its rich biodiversity, with monkeys, tarsiers and other animals freely roaming in the area.
Waterfalls Two (Hikong Bente)
After meeting Kuya Bobby's family, they asked me to wear the traditional T'Boli costume and pose for a picture with the Waterfalls Two in the background. Robelyn took the pictures. Afterward, we trekked down to the base of the waterfalls , and in less than five minutes we were already at the foot of the most beautiful and tallest falls among the seven. The strong water cascades from the height of seventy feet going to the third to seventh waterfalls. T'Boli's call it as Hikong Bente translated as "immeasurable".
Robelyn told me that on sunny days, rainbows appear on the wall of this falls, this is also true for the other falls in the area, guaranteed. Kuya Bobby said that the most number of rainbows he saw was five in the fifth waterfalls, but the rain already started to pour, so no rainbow for us this time.
Waterfalls One (Hikong Alu)
When the rain stopped, Robelyn and I rode a habal-habal to Waterfalls One. This is the easiest mode of going to this falls, which can also be reached via the 774 steps stairs from Waterfalls Two.
This is the other gate to Seven Falls and the starting point of the zip line. A concrete bridge was constructed here that serves as view deck for the Waterfalls One locally called Hikong Alu or "passage" by the T'bolis, considered as the widest of the seven and with a height of approximately 35 feet.
Unique Zip Experience
I have already tried zipping in the highlands of Camp Sabros in Kapatagan, Davao del Norte, and Dahilayan in Bukidnon, but zipping in Seven Falls is a unique and memorable one.
The zip line may not be as long as Dahilayan or Camp Sabros, with only 700 meter long cable, but the experience of zipping above not one but four of the seven waterfalls is truly a surreal experience. If you are lucky that the sun is up, you will have a guaranteed chance of seeing rainbows.
The 700-meter zip line starts near the bridge of Waterfalls One and traverses above Waterfalls Two, Three, Four and Five. Another 400 meters zip line from the view deck of Waterfalls Three, Four and Five will take you back to the Waterfalls Two.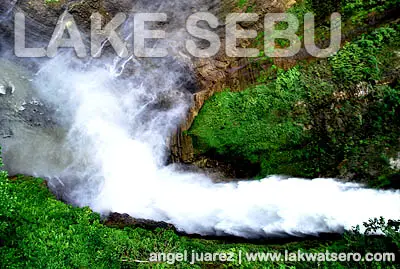 The zip lines were built in July 2009 by the builders of Camp Sabros zip lines. They had their soft launch in September 2009 before opening in public in October of the same year. Rate is P250.00 on weekends and holidays, P200.00 on weekdays. They offer discounts for groups.
Robelyn and I went for a tandem zip, I was on the right side. She told me to focus on my right and there I was amazed by the scenery below me, Waterfalls Two, Three, Four and Five all in birds eye view. We changed positions on our zip back, for me to witness again the four waterfalls. It was really amazing zip experience.
Lake Lahit, Lake Sebu and Punta Isla Resort
It was already three o'clock in the afternoon and I felt that it was already time for me to go back to General Santos. I want to stay longer but I have an early flight back to Manila the next day.
Janjan, son of Kuya Bobby, accompanied me to the best views of Lake Lahit and Lake Sebu, and a short visit to Punta Isla Resort before going to jeepney terminal to Surallah.
Back to GenSan
Before 4PM, we were already in the jeepney terminal, but the last trip to Surallah already left, so I had no other choice but to ride the habal-habal. We were three in the habal-habal aside from the driver, I paid P40.00 and a few minutes before 5PM, we reached Surallah.
I transferred to YBL bus to Marbel in Surallah, P24.00 for almost an hour ride. Then to General Santos bound bus in Marbel Terminal, the trip took more than an hour this time, fare was P70.00. It was already dark when I reached my hotel.
Factoids:
Going to Lake Sebu
General Santos is the usual jump off point for those traveling via plane. To summarize:
Gen San to Marbel (Koronadal) by bus at Bulaong Terminal (~1 hour) – P70.00
Marbel to Surallah by bus at Marbel Terminal (~30 minutes) – P20.00
Surallah to Lake Sebu by jeep at Surallah Terminal (~45 minutes) – P25.00
The last bus trip back to Marbel from Surallah is around 7PM. The last jeepney from Lake Sebu to Surallah leaves on or before 4PM. If you miss the last jeep, you can ride habal-habal to Surallah (~P30-P40).
Alternatively, you can ride a van to Kiamba at Bulaong Terminal, and transfer to another van from Kiamba to Surallah, and then jeepney from Surallah to Lake Sebu.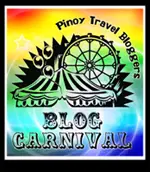 This is in response to the Best One Day Itineraries theme of Pinoy Travel Blog Carnival. Check out other one day itineraries from other travel bloggers as compiled by travel photographer Karlo de Leon of 4AM Chronicles.
This post is republication of the earlier entry, A Day Trip to Lake Sebu posted on October 7, 2010.