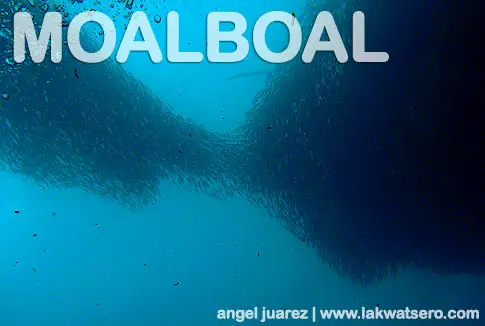 "This is the southern tip of Pescador Island. Below is a wall, we will drift northward around the wall. We expect to see the school of  sardines, of course; nudis; fusiliers; barracudas; tunas; and if we are lucky, the threshers", our dive master told us in all smile, before we descended in Pescador Island.
It took us twenty months to be back in Moalboal. The urge to revisit the place was unstoppable. The stories of friends about the exponential growth of the sardine population and the presence of threshers in the area were more than enough reasons for Ate Claudia and I, that we found ourselves in Cebu City one Saturday morning en route to Moalboal, two hours away from the city.
We arrived in Moalboal a couple of minutes after 10 o'clock in the morning, headed straight to our home in Moalboal –  Backpacker's Lodge, to leave our stuff, and then to Cebu Dive Center for our dives on that day. We were welcomed by Geom, a Cebuano speaking German, the shop's Dive Master (DM), Instructor and Manager.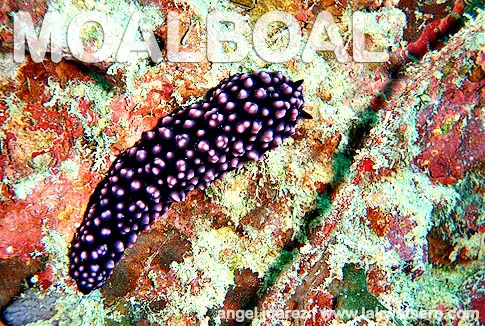 Geom was very accommodating and friendly. After some small talks and friendly banters, we signed the waivers and paid P2900.00 each for three dives (a shore dive and two boat dives), Pescador Marine Sanctuary Fee, use of equipments and DM fee. It was considerably cheap.
We had our first dive at the house reef of Cebu Dive Center, a sloping reef with a beautiful wall that houses a good population of tropical fishes, colorful corals, crinoids, seafans, sponges and other macro and marine species. The water was quite cold but tolerable, the current was perfect but the visibility was not so good due to overcast sky. But we still enjoyed their house reef, perhaps one of the best house reefs we dive so far.
There we saw not only the usual tropical marine species but a lot of nudibranches, some over sized; macro species of shrimps called thor and symbiotique; pipefishe; juvenile baramundi; a lot of lion fish; scorpion fish; and coral crabs, among others. But what surprised us was the huge sea turtle resting underneath with two remoras on its shell. The turtle swam away when we tried to get closer, and the remoras followed. We stayed to a maximum of 71 feet, and surfaced after 53 minutes with 40 bars of air left on my tank.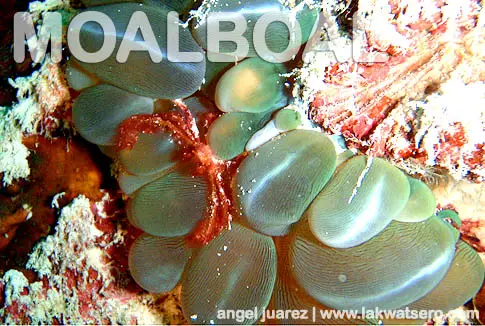 Dive Profile: Maximum Depth – 71 feet/Time of Descend – 1117H/Bottom Time – 53 minutes/Water Temp – 27°C/Start Air – 200 Bars/End Air – 40 Bars
We had an hour of surface interval and went backed to the shop after lunch. Our next dive was in Pescador Island, and when one say Pescador, it only means one thing for divers – the Sardine Run!
Pescador Island is a small uninhabited island in Tañon Strait, off the coast of Moalboal. The island has no beach and made up of rocks, with plants and a lighthouse above. The water surrounding the island is a marine sanctuary.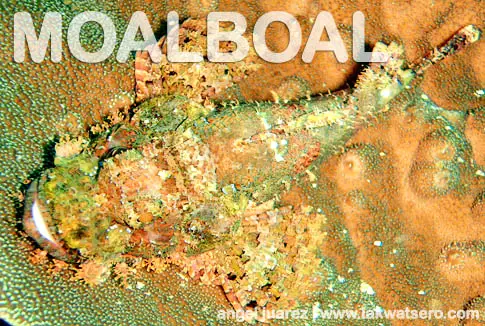 We went down on a vast coral area south of the island and dive northward, with the wall on our left. There we saw a lot of lionfish, different varieties of pipefish including the rare ghost pipefish, ornate nudibranches, scorpionfish, squat lobster, a frogfish mimicking a tube coral, a yellow spotted boxfish, pupperfish, and other tropical fishes, corals, crinoids and marine creatures.
Halfway of our dive, DM Geom pointed his stick upward and there we saw the school of sardines clouding us. Their population really grew more since the last time we saw them, perhaps they are in millions now. I twisted to see the famous sardine run on top of us, probably forty feet above us. It was so beautiful.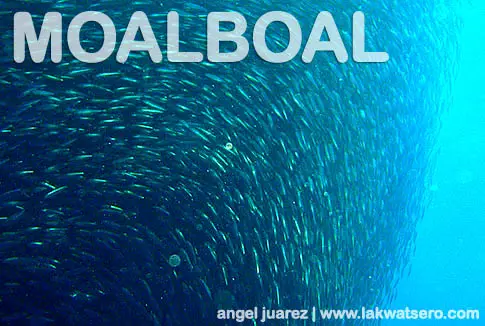 We passed by the school of sardines and continued our dive until we reached half-tank. We turned around and went back to the sardines while slowly ascending to 15 feet for our safety stop. There we had closer look of the sardines.
We surfaced on a choppy water after 50 minutes of diving at maximum of 71 feet (not a good profile huh), I still had 35 bars of air left in my tank.
Dive Profile: Maximum Depth – 71 feet/Time of Descend – 1359H/Bottom Time – 50 minutes/Water Temp – 27°C/Start Air – 200 Bars/End Air – 35 Bars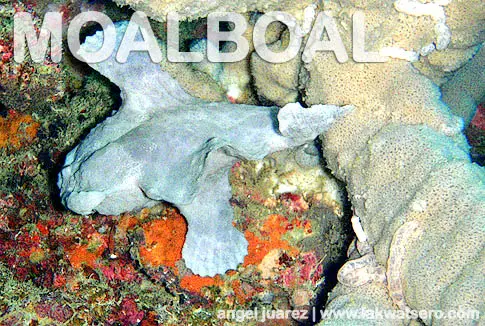 We were supposed to have our third and last dive in Pescador Island again but the waves were quite big, our DM decided that we dive in Talisay instead, a calmer spot near mainland Moalboal.
After resting for an hour, we descended at 4 o'clock in the afternoon in Talisay for another wall dive. At 20 feet, Geom pointed something from afar, I looked at it and saw nothing. It was another huge sea turtle as he described it underwater.
We drifted northward and we were delighted with another underwater show of lionfish, scorpionfish, various pipefish, nudis, vivid tropical species of fish, corals, crinoids, seafans, sponges and more. We also saw three sea hawks on this dive, each with remora on their back shell. At one point, we saw Geom as if jumping and celebrating, while looking at one rare specie of pipefish – it was a ghost pipefish.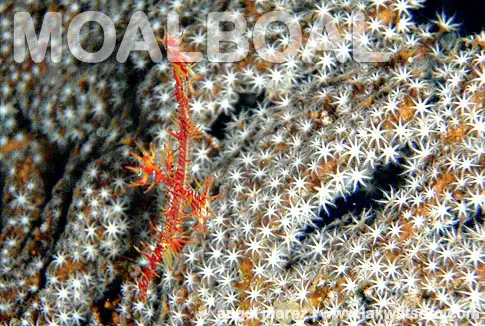 We had our safety stop at a shallow area with huge table corals and smaller fishes. We surfaced with 50 bars of air left in my tank after 47 minutes of diving at a maximum depth of 50 feet. I was trembling on the surface, the water was so cold.
Dive Profile: Maximum Depth – 61 feet/Time of Descend – 1559H/Bottom Time – 51 minutes/Water Temp – 27°C/Start Air – 200 Bars/End Air – 50 Bars
The boat went back to the shore and that was when we realized that our day in the water was finally over.
As we recall our dives: the amazing underwater scenery; the numerous sea hawks and remoras on their shell; the vast colorful corals, seafans, sponges and crinoids; the beautiful walls and the resident underwater creatures; the sardine run; and the good company of or dive master Geom, we can't help but sigh to the fact that it will take us at least another year to see them again.