North of the mainland Palawan is El Nido, a paradise considered by many as one of their dream destinations. With 45 islands and islets that harbor some of the country's best white sand beaches, hidden lagoons, picturesque cliffs and rich marine life underneath, El Nido is indeed a piece of paradise.
The town is a managed and resource protected area of Palawan, 238 kilometers from Puerto Princesa. Contrary to common notion that El Nido is an expensive destination, the place is in fact, can be explored on a budget. With plenty of budget accommodations lined up on the streets of the town and lots of tour groups offering cheap packages, El Nido is another backpacker's haven.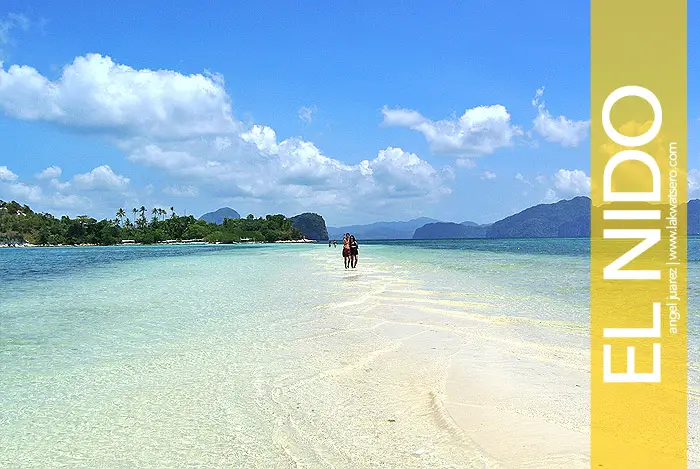 Get a tan on numerous white sand islands of Bacuit Bay; climb a cliff; dive to its diverse underwater life; snorkel and feed the tame fishes; sit and relax along the beach; watch the sun set; satisfy your cravings on its array of restaurants… El Nido is for everyone.
Perhaps it is now time to fulfill your dream, or revisit and rekindle the good times in paradise. El Nido is a promise of a perfect getaway. Experience paradise, experience El Nido!
How to Get to El Nido
From Manila, Caticlan, Cebu and Clark By Air
Air Swift has regular flights from Caticlan, Cebu, Clark and Manila to El Nido, and vice versa.
From Manila By Sea
There are also cargo ship operators that also ferry passengers from Manila to El Nido. Contact the shipping lines for schedule and fare information. Please note that these are smaller cargo ships/hauls that cater specially to cargo but also allow passengers.
Operator: San Nicholas Shipping Lines (M/B Andrea-1, M/V Catalyn-A, M/V Catalyn-C, M/V Catalyn-E, M/V Asuncion-IX, M/V Asuncion-XI)
Route: Manila-El Nido-Liminangcong and vice versa
Contact Info: (02)-243-4595
Operator: Atienza Shipping Lines (M/V Josilee-II, M/V April Rose, M/V Q-Carrelyn-III)
Route: Manila-Coron-El Nido-Liminangcong and vice versa
Website : http://www.atienzashippinglines.com
Email: atienzashippinglines@yahoo.com
Telephone No. : (02)-986-3118 and (02)-536-8123
From Puerto Princesa by Van
Coming from Puerto Princesa, air-conditioned vans to El Nido depart from as early as 7AM to as late as 9PM. Vans depart from Puerto Princesa Airport and from San Jose Terminal. Travel time is approximately 5 to 6 hours and one-way fare is P500.
Van Operators:
Daytripper Palawan: +63917-8488755
Lexus Van: +63917-5859612
Fort Wally: +63917-3488078
You can book your bus or van seat from Puerto Princesa to El Nido or vice versa below:
From Puerto Pricesa to El Nido by Bus
Cherry and RoRo Buses regularly ply the Puerto Princesa-El Nido route and vice versa. Buses leave San Jose Terminal to El Nido with stop over in Roxas and Taytay from 4AM to 9PM. Fare is P380 for the aircon bus  and P350 for the non-aircon.
You can book your bus or van seat from Puerto Princesa to El Nido or vice versa below:
From Coron to El Nido by Boat
There are boats to El Nido from Coron daily. Fare is P2200 for foreigners and P1500 for Filipinos. Travel time: approximately 8 hours.
You can book your ferry from Coron to El Nido or vice versa below: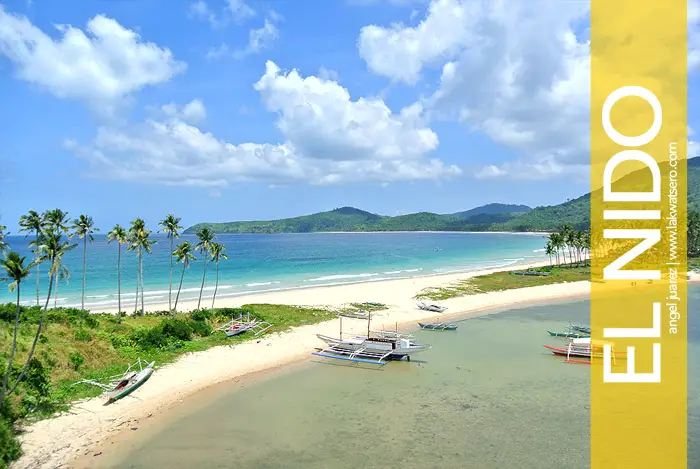 Where to Stay in El Nido
Accommodation in El Nido ranges from very basic for as low as P400 per room to high-end resorts that go by the thousands. I have tried staying in Lualhati Cottages (+639193196683) for a twin fan room at P400/night. My stay with them was pleasant. It is located along the main road, five to ten minutes walk to Bacuit Bay.
If you prefer beach front accommodation, Og's Inn, located along the Bacuit Bay, is a good choice for budget travelers. They have rooms fan rooms for as low as P500 and aircon rooms at higher rates. Og'as Inn is on the second floor of Og's Restorbar, the place is equipped with free wi-fi. Contact number: +639167070393 or +639204040223.
Marina Garden Beach Resort, also along the beach, have good reviews too. They have rooms for as low as P955. Contact details:  +63917 6247722/639088843711/marinagarden.elnido@gmail.com.
Another accommodation with good review is The Alternative, a family-run inn with restaurant and bar with a good view of Bacuit Bay. Room is as low as P900. For reservation and more information, check their website at http://thealternativeinn.com/
If you prefer more adventure, just pitch a tent or a a hammock in one of the islands in Bacuit Bay 🙂
For list of other accommodations in El Nido please visit this link.
Top-Rated Hotels in El Nido
El Nido Beach Hotel
Bacuit Bay, El Nido, Palawan
Starts at 5,000 PHP

Bill Tourist Inn
Poblacion, El Nido, Palawan
Starts at 2,000 PHP

La Salangane Hotel
Bacuit Bay, El Nido, Palawan
Starts at 4,000 PHP

Joaquinn's Bed & Breakfast
Bacuit Bay, El Nido, Palawan
Starts at 3,500 PHP
Top-Rated Budget Accommodations in El Nido
El Nido Viewdeck Cottages
Poblacion, El Nido, Palawan
Starts at 900 PHP

Bacuit Lodge
Poblacion, El Nido, Palawan
Starts at 800 PHP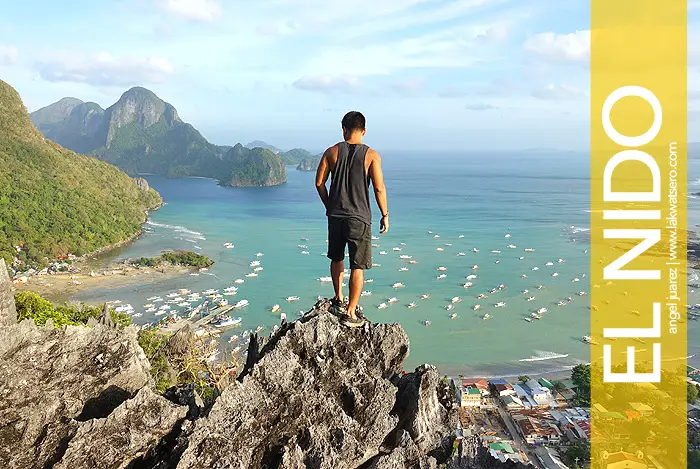 What to Do in El Nido
Island Hopping: Island Hopping in Bacuit Bay is a must and touring these islands are quite easy because the packaged tours are organized into common itineraries known to all organizers. The rates are standard as set by the local government but if you are good in haggling, you can lower it down.
A Tour: Small and Big Lagoons of Miniloc Island, Payong-Payong Beach, Shimizu Island and Seven Commandos – P1,200/person
B Tour: Pangulasian Island, Snake Island, Codugnon Cave, Cathedral Cave and Pinagbuyutan Island – P1,300/person
C Tour: Hidden Beach, Secret Beach, Star Beach, Matinloc Shrine and Helicopter Island – P1,400/person
D Tour: Cadlao Lagoon, Pasandigan Beach, Bukal Beach, Paradise Beach and Natnat Beach – P1,200/person
E Tour (Inland Tour): Nacpan and Calitang Beaches, Makinit Hotspring, Nagkalit-kalit Waterfalls – P1,200/person
Scuba Diving: The average cost for a three-dive package is P3,600 per person inclusive of gear and equipments, lunch, DM, boat and marine conservation fee. Here are some of the dive shops in El Nido:
Free diving
Snorkeling
Cliff Climbing
Kayaking/Kayak Island Trip
Wind Surfing
Beach Bumming/Camping
Watch the beautiful sunset in Bacuit Bay or Corong Corong Bay
Biking/motorbike tour to Makinit Hot Spring and other villages nearby
Hike to Nagkalit-kalit Falls
Explore the historical Ille Cave
See the beautiful twin beaches of Nacpan and Calitang
Visit Taytay, Roxas, Coron and Puerto Princesa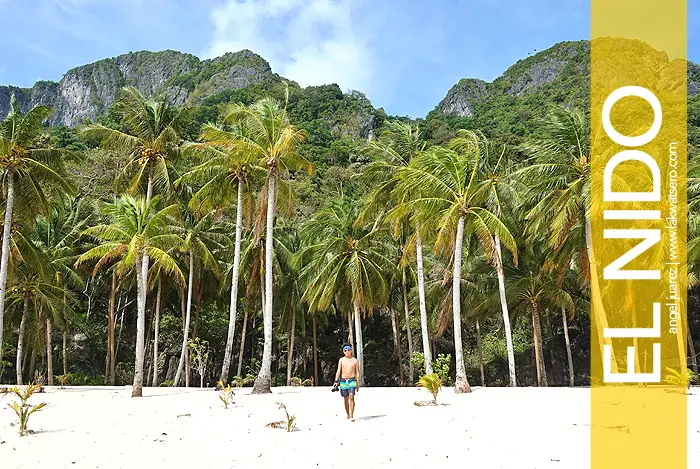 Tips
Electricity runs from 2PM to 6AM only
Bring cash, there is an ATM in town but is usually runs out of cash
Unlike Coron that charges entrance fees to almost every spot, El Nido implemented a single payment of  "Eco-Tourism Development Fee" for only P200/person for each visit of up to ten (10) days. This gives access to almost all public tourist sites in El Nido and Bacuit Bay
If your entry and exit point to El Nido is Puerto Princesa, it is advised to reserve your seat in advance, call the numbers above
Go to Bacuit Bay before sun down for the best view of sunset
Touring El Nido can be done on a budget. Try Lagoon Tours of Sir Harvey Templado (+639263049680), they offer cheap package tours complete with meals, and they cooked real good foods 🙂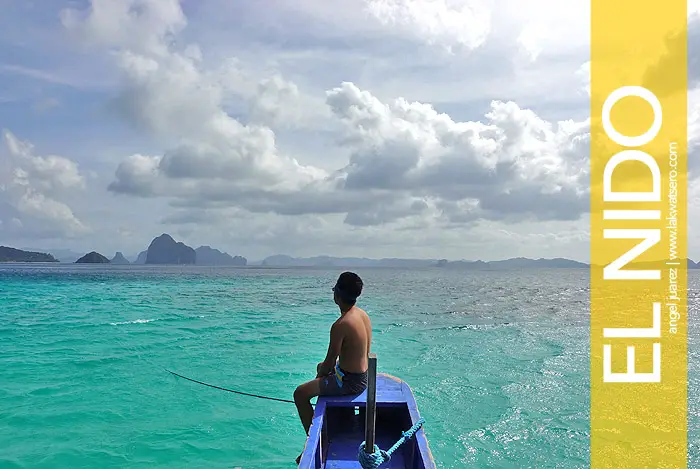 Sample Itinerary (4D/3N via Puerto Princesa)
Estimated Budget (Airfare excluded): P6000-P6500
0900H-1000H: Manila to Puerto Princesa
1000H-1100H: Puerto Princesa Airport to Fort Wally Terminal(San Jose Terminal)/Breakfast
1100H-1700H: Puerto Princesa to El Nido
1700H-1900H: Hotel check-in/fix stuff/rest
1900H-2100H: Dinner/Night Walk/Lights out
Day 2: Whole Day Island Hopping Tour
0700H-0800H: Call time/Breakfast
0800H-1700H: Tour A: Small and Big Lagoons of Miniloc Island, Payong-Payong Beach, Shimizu Island and Seven Commandos (Lunch included)
1700H-1900H: Back to hotel/fix up/wash up/rest
1900H-2100H: Dinner/Night Walk/Lights out
Day 3: Whole Day Island Hopping Tour
0700H-0800H: Call time/Breakfast
0800H-1700H: Tour C: Hidden Beach, Secret Beach, Star Beach, Matinloc Shrine and Helicopter Island
1700H-1900H: Back to hotel/fix up/wash up/rest
1900H-2100H: Dinner/Night Walk/Lights out
Day 4: Back to Puerto Princesa
0600H-0700H: Call time/Breakfast/Proceed to terminal
0700H-1300H: El Nido to Puerto Princesa
1300H-1500H: Lunch in KaLui
1500H-1530H: To Airport
1530H-1730H: Check-in/Assemble
1730H-1830H: Puerto Princesa to Manila