It was quite surprising that I have never been to Bacolod City before. The City of Smiles, famous for Masskara Festival; long lists of mouthwatering restaurants; cakes and pastry shops; napoleones, piyaya, butterscotch and other native delicacies; and century old landmarks, was not in my urgent list of must visit places. But thanks to Wandering Juan Travel Blog Awards 2010 for giving me a chance to taste Bacolod City.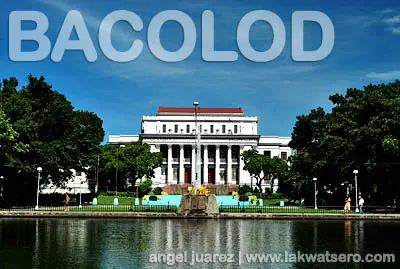 On a limited budget, I challenged myself for a two thousand bucks to explore and taste Bacolod on a weekend. The dare was to experience the famous homegrown cake and pastry shops of Calea, Bascon and Felicia; visit the ruins of Talisay; taste the chicken inato (inasal) in Manokan Country; dine in two famous local restaurants; and shop for some pasalubongs. Budget for accommodation, transportation and all other expenses that I will incur once my feet touch Negros should all be included in the P2000, so as the terminal fee in Bacolod Silay Airport going home.
So how did the challenge go? Read on 🙂
Touchdown Negros Occidental (Budget Left: P2000.00)
Upon arriving at the New Bacolod Silay International Airport in Silay City, 15 kilometers northwest of Bacolod City, my first concern was to go to downtown Bacolod the cheapest way. My options were to ride a taxi or discover the local's way of commuting, and since I was on a budget, I chose the latter of course.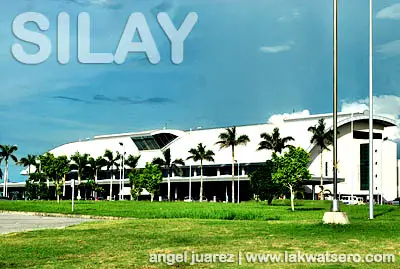 I walked to the road outside the airport complex; just in front of the airport's main gate is a terminal where trikes going to Silay main highway are stationed. This is where the locals and employees of the airport ride to commute daily from the airport.
The trikes can fill up to six passengers and will not depart unless they are full, but passengers in hurry may opt to pay for the fare of the entire capacity for a special trip. Fare is P10.00 per passenger, P60.00 for the entire trike for special trip. In less than ten minutes, I was already in the highway where the buses and multicabs to Bacolod pass. I transferred to a multicab, paid P13.00 and in half an hour I was already in downtown Bacolod. I transferred again to another muticab with the route Libertad-Bata to get to my hotel at 15th and Lacson Streets (P7.00). Total transportation expense from airport to downtown: P30.00.
Check-in at Saltimboca Tourist Inn (Budget Left: P1970.00)
Saltimboca Tourist Inn and Restaurant is one of the first tourists' inns in Bacolod City. Located in 15th Street and few steps from Lacson Street, Saltimboca offers cheap accommodation for as low P430 for non air-condition room. They have numerous rooms catering to budget segment of the traveling public. Although the facilities show signs of age, the entirety of the inn is still in good condition. They have a gazebo, garden, restaurant, a swimming pool, function hall and free wifi 🙂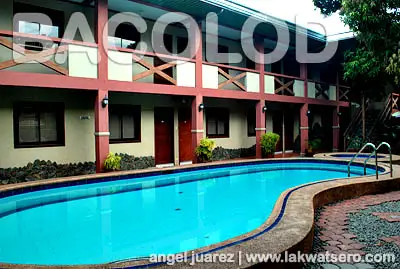 I got a single air-conditioned garden room for a discounted amount of P605.00 overnight with free breakfast. My room has a single bed, a television set and a private toilet and bath. It is not that elegant but just perfect for me and my budget. Total accommodation expense: P605.00.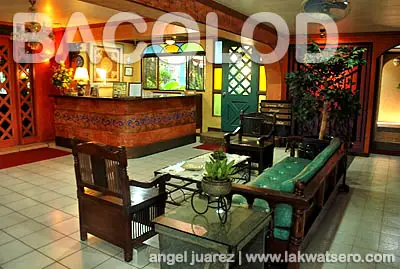 Sweet Treats at Calea (Budget Left: P1365.00)
Just a short walk (around 100 meters) from Saltimboca Inn is one of the famous cake and pastry shops in Bacolod City – Calea. Located along 14th street, on the side street of L'Fisher Hotel, Calea is a specialty cake shop offering some of the best cakes in town. The Calea's Special Imported Chocolate Cake is the most sought after cake in the shop, unfortunately, it was already sold out when I came but the kind and smiling staff recommended their two other best sellers – the Chocolate Mudpie and White Chocolate Cheesecake.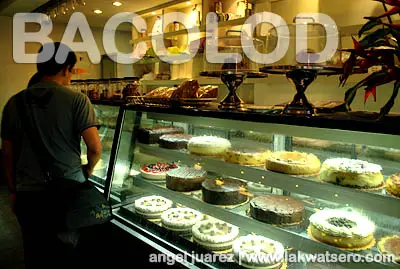 The delectable Chocolate Mudpie is a chocolate ice cream cake on a chocolate crust, topped with soft chocolate mud and crumbs, and sprinkled with almonds. The slice looked so good and yummy, and to say that it is definitely good is an understatement. I fell in love on my first pinch. It was a very good first Calea experience at P85.00 per slice.
Next was the slice of White Chocolate Cheesecake served with raspberry syrup and topped with grated cheese. I am a cheesecake lover, and I can say that it was also good but Chocolate Mudpie won this time. The slice of cheesecake costs P80.00.
Calea has branches in Robinson's Place Bacolod and East Block. Their main store along 14th street is open from 8AM to 10PM on Mondays, Tuesdays, Wednesdays and Thursdays; and from 9AM to 11PM during Fridays and weekends. Total expenses for Calea experience: P165.00.
Experience Manokan Country (Budget Left: P1200)
With a full stomach and relaxed schedule, I decided to take a walk on the streets of Bacolod. I passed by some of the famous landmarks of the city – Sorrento Plaza (I have read that there are few good restaurants there), University of St. La Salle, the Capitol, the Hospital, Central Market, Plaza, Cathedral and ended up in SM City Bacolod. I strolled inside the mall to cool down and when I felt that my stomach could tolerate another meal, I asked around for Manokan Country, a guy directed me to a lighted establishments in the street fronting the SM City, around 200 meters afar, just a short walk.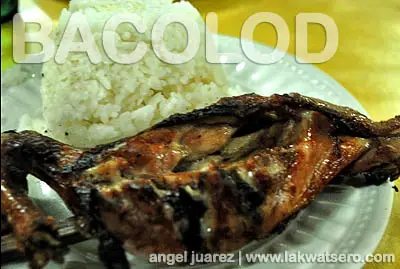 I headed towards Manokan Country, a complex filled will eateries serving the city's famous Chicken Inato and other dishes mostly grilled and seafood. I entered the first eatery I saw with lots of patrons and ordered a grilled chicken leg, a cup of rice and a soda. While waiting for my orders, I looked around and saw tables filled with groups, friends and families eating Chicken Inasal with their bare hands. I stood up, washed my hands before my order arrived, being a quick eater that I am, I finished my food in an instant.
The chicken tasted good but short of being excellent, on that moment I remember Penong's Chicken of Davao, one of the best grilled chicken brands I have tasted. Then I realized, groups, friends, families and individuals of all ages and walks of life go here not only for the food or the ambiance, but for the fun of eating with bare hands while sharing stories, exchanging laughter and teases, and bonding with their loved ones.
So my first day in Bacolod ended with a full stomach from Manokan Country, I walked again more than two kilometers from Manokan Country to the Saltimboca Inn and called it a day. Total cost for Manokan Country Dinner: P97.00 (P60.00 for the chicken, P10 for the rice, P12 for the soda and P15 for the bottled water).
The Ruins of Talisay (Budget Left: P1103.00)
I woke up at 630AM and availed of my free breakfast in Saltimboca Inn before proceeding to Talisay City to visit the Ruins.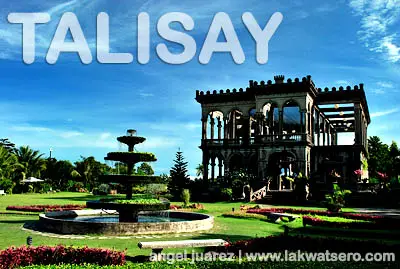 Along Lacson Street, I rode a multicab to Barangay Bata (P7.00) and transferred to a Talisay bound multicab in Robinson's Place for a short ride to Pepsi Plant (P5.00). Later did I realized that the Pepsi Plant is in Barangay Bata and the Bata bound multicabs from downtown Bacolod turn right to the street on the corner of Pepsi Plant, I should not got off that fist multicab and save P5.00.
The trikes on the street corner can go to The Ruins which is around 2 kilometers away. In less than 10 minutes, I was already in the complex of an elegant and beautiful skeletal frame of the century old Don Mariano Ledesma Lacson Mansion. I paid P20.00 for the trike's special trip.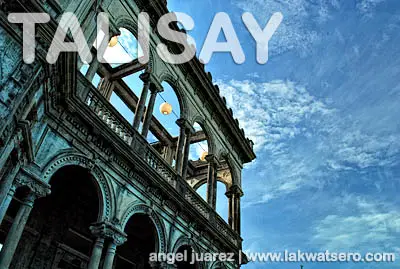 The Ruins of Talisay City is perhaps the most popular landmark of the province apart from Bacolod's Masskara Festival. It stands proud as an architectural legacy of its vibrant past. It is open everyday from 8AM to 8PM, entrance fee is P40.00 for adults, P20.00 for kids and P100.00 for unlimited monthly pass. The complex can also be used for special events, occasions, performances and gatherings. Contact +639178326003, email lacson_mansion[at]yahoo.com or visit their multiply site http://theruins.multiply.com for more inquiries and reservation.
Going back, I rode the same trike who fetched me there, he waited for me and I hopped in. It stopped in the main road where I transferred to Libertad bound multicab. I paid P20.00 to the trike for the return trip and added P10.00 that he asked for waiting me, then P7.00 to the multicab from Bata to Libertad. Total expenses for The Ruins was P109.00 (transportation and entrance fee included).
Breakfast Number Two at Café Uma (Budget Left: P994.00)
I alighted in front of the provincial capitol in the downtown and walked to the street across the capitol to dine in Felicia's but it was still close so I walked back to Café Uma.
Café Uma is located on the 15th Street, same street as Saltomboca Inn, on the side street of L'Fisher Hotel. They serve some good pasta, paninis, sandwiches and various cuisines and dishes, the prices are above average though. Their best seller pasta Café Uma Special is spaghetti in pesto cream sauce with bacon cubes and smoked salmon costs P400 per serving that is good for two. Since I am alone and still quite full with my Chorizo, egg and rice breakfast at Saltimboca, I just ordered a half serving of Asian Sirloin Panini, composed of grilled beef, cheese, tomato and coleslaw served with mixed greens in vinaigrette dressing. It was good and hearty heavy meal for P190.00.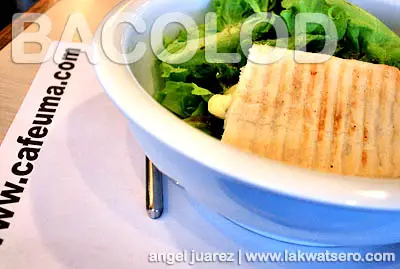 Cake Time at Felicia's (Budget Left: P804.00)
I walked back to my room, rested for a while before plunging to Saltimboca's swimming pool. After a couple of laps, and when I felt that I can take in another set of meal, I geared up and headed to Felicia's once more. Felicia's is located in Doll Building along 6th Street, the street across the provincial capitol, on the side street of Mc Donalds, perpendicular to Lacson. The cozy cake shop is open from 10AM to 11PM, and can sit approximately 40 guests. Contact number is (034)4336586.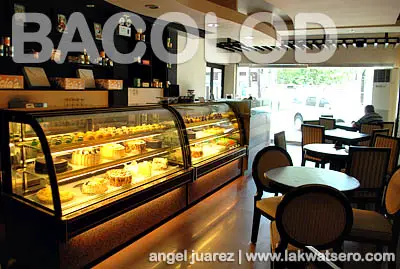 I had a slice of their best seller Chocolate Cake (P70.00) and the yummy single serving of Dulce de Leche Cheesecake (P75.00). I must say that the Dulce de Leche Cheesecake is really good, one of the best cheesecakes I've ever tasted. Total for Felicia's Cakes is P145.00.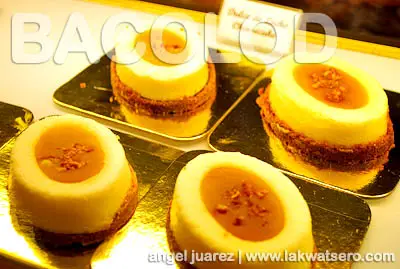 Late Lunch at 21 Restaurant (Budget Left: P659.00)
It was past 11AM when I went back to my room, I took a nap and woke up before 1PM to pack up and prepare for checkout. I left the Saltimboca's Inn complex at 1PM and walked to the direction of 21 Restaurant also along Lacson Street, three blocks away from Saltimboca, the block after Starbucks Bacolod, the only Starbucks in town.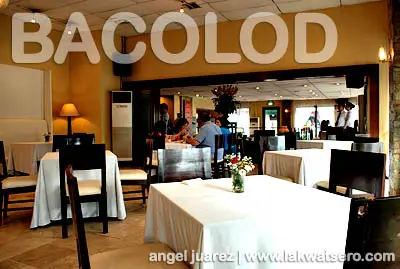 21 Restaurant is one of the fancy fine dining restaurants in the city. I ordered Fish and Chips but it was already sold out so I ended up having Herb Chicken, one of the Chef's recommendations. It is a deep fried chicken with herb stuffing, served with gravy, mashed potato and vegetables. No regrets though, the dish was superb. The food were quite expensive but I am sure every dish is all worth their price, you can never go wrong here. Herb Chicken is at P190.00.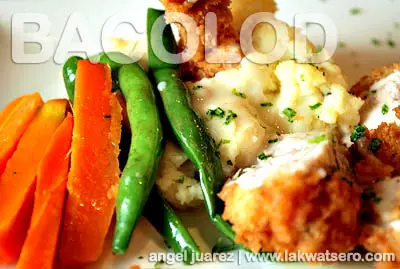 Napoleones of Pendy's (Budget Left: P469.00)
From 21 Restaurants, I walked again to the direction of the airport and passed by Pendy's at 25th Street. Pendy's is among the popular pasalubong shops in Bacolod. Apart from selling piyaya, barquillos, butterscotch, napoleones, cakes and other pastries, Pendy's also serves various meals on their restaurant. I bought two small boxes of napoleones there at P130.00 per box.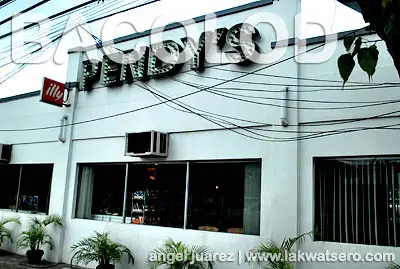 Sweet Goodbye at Bascon Café (Budget Left: P209.00)
Two blocks away from Pendy's was my last stop before going to the airport, Bascon Café and Restaurant.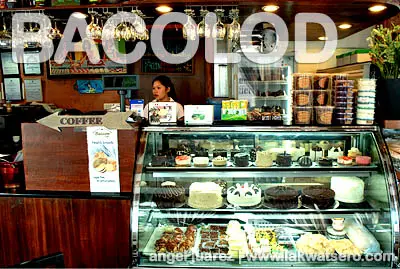 Bascon Café and Restaurant started out as a bistro offering specialty meals and eventually ventured on cakes and pastries. Their shop is located along Lacson Street corner 27th Street near Robinsons's Place, offering various meals, breakfast, lunch buffet ever Wednesday and Sunday, pastries, cakes, coffees and other drinks on a pretty good ambiance. Their other branch is in La Salle Bacolod. Contact number is (034)4353277 and email address [email protected].
I had a small serving of sugar free Monk Cappuccino Cake, a cappuccino mousse cake made from famous monk blend of Bukidnon on a chocolate crust, topped with icing and chocolate bits. Just like Calea and Felicia's cakes, theirs also tasted good at P75.00.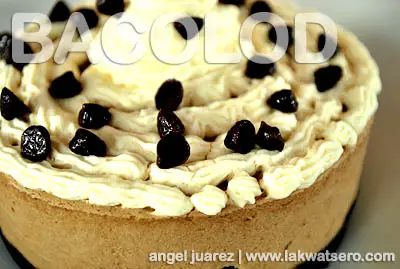 To the Homestretch (Budget Left: P134.00)
With all my "to do" in Bacolod already accomplished it was time to go home. From Bascon Café, I hopped to Silay bound multicab (P13.00) and alighted at the airport tricycle terminal in Silay after 30 minutes. I asked around for the trikes going to the airport and I was told to wait for the green trikes. Green tricycles are the only trikes allowed to pass in the airport. Few minutes of waiting and an almost full tricycle stopped in front of me. There was still room for me so I hopped in. It stopped on the gate of New Bacolod Silay Airport and I paid P10.00. Total transportation cost to airport is P23.00.
The Result
With P134.00 left on my budget, less P23.00 fare from downtown to the airport, what was left was P111.00. But I still needed to pay the P200.00 terminal fee at the airport so I ended up on the red. I over spent by P89.00. I failed the challenge by few pesos. I gain a pound or two (of empty calories though), but I got to discover, taste and experience Bacolod on a weekend. At the end of it all, with all these experiences, I can say that I still won.