Only few dive reports exist on the net about Camotes Islands, pictures are also rare. The only sure thing is that, there exists an underwater paradise underneath this group of islands that deserves a spot in the diving world and waiting to to be explored.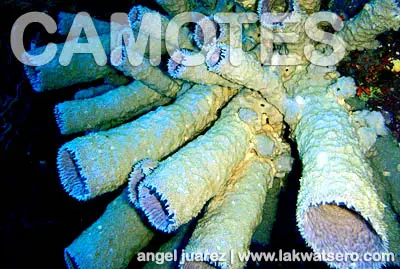 Of course with my best dive buddy Ate Claudia, armed with a little knowledge of the place, we braved the almost unknown. For us, what matters is that there's a dive operator in the area, although a bit expensive, and whatever is it in there will be a total surprise.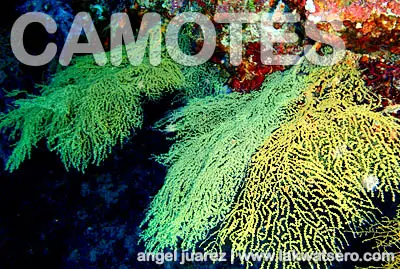 We booked three dives via Ocean Deep Dive in Mangongodlong Rock Beach Resort, the only dive operator in Camotes today. There used to be two, the other one being the Johny's Dive Camotes but it already stopped operating. Ocean Deep Dive charged us P1500 per dive inclusive of the BCD, regulator, tanks and weights.
We left before 9AM in the morning with Dive Master Gaspar Bacatan and sailed for almost an hour to Tulang Island for our first two dives.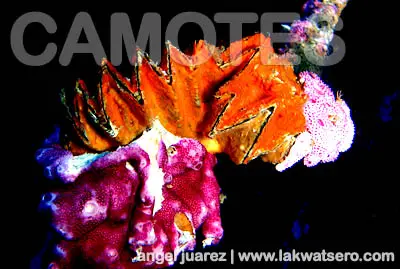 We first descended to Lawis on the northeast of Tulang Island, an easy dive to a wall dropping to eternity with blue sea on our right. We descended to a maximum of 33 meters for 46 minutes where we saw a beautiful wall filled with colorful corals and sponges, decorated with sea fans, crinoids and tropical marine species. We were advised to be careful when touching the wall, true enough, there were some scorpionfish in camouflaged.
At the end of the dive site is a coral area around 15 feet deep, where we had our safety stop, and while roaming around we spotted a lot of Crown of Thorns Seastars (COTS) embracing some of the corals. My heart bleed as I counted around seven big COTS and seeing some corals already dark and almost dead. I ascended with 50 bars of air left on my tank.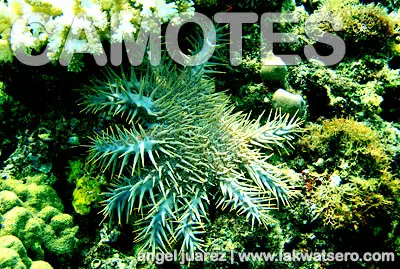 Our boat docked to a white sand beach of Tulang Island for our surface interval. The sky was perfectly blue and the turquoise water was so clear and inviting, so we took a dip and enjoyed the refreshing beach life of Camotes.
An hour past and the dive boat maneuvered to the nearby dive spot they called The Wall for our next descend. From its name alone, it was another wall dive on a colorful slope that drops to forty meters, filled with huge sea fans, various colorful corals and sponges and decorated by crinoids. The Wall is home to schools of small tropical fishes and nudibranchs. We dived at maximum of 26.7 meters and ascended after 56 minutes with 60 bars left on my tank. Thank goodness, we saw no COTS this time.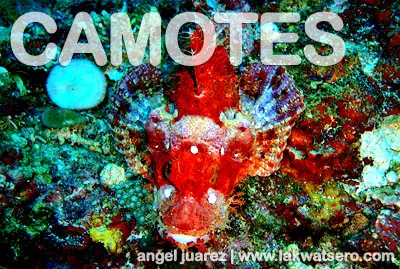 The boat traveled back to the direction of Mangongodlong and stopped at the newly discovered dive site they called Lucbon Shoal where we had our lunch while on surface interval. Shortly after, we prepared for our final dive.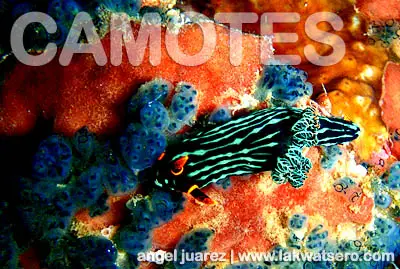 Lucbon Shoal is a small coral area off the shore of Barangay Consuelo, the area is around 15 to 25 meters deep known for its huge table corals. We stayed to a maximum of 20 meters, and circled around the various corals – table, branching, staghorn, soft and hard corals, anemones, sponges and crinoids. Lionfish, anemonefish, angels, groupers, clams and other tropical fishes and macro species like harlequin shrimps roam around. Apart from these, numerous COTS reside on its colorful corals; their population is alarming. I hope the local government and people organization do something about it. After 53 minutes, we surfaced with 50 bars of air left on my tank.
And so our day ended. We went back to the dive shop at around 3PM and settled our bill, P4500.00 for the three dives, quite costly but the experience and fulfillment of breathing underwater with my friends and family underneath is priceless.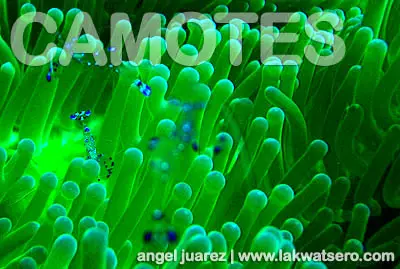 We only dove in three of Camotes' numerous dive sites and I'm sure these were not enough to fully appreciate the entire underwater scenery of the Camotes Sea. I've read somewhere that night dive is great in Cloud 8 of Tulang, but we didn't have the luxury of time for it. Probably someday unknown to us, because for sure it will be long before we dive in Camotes again.
The underwater paradise of Camotes Sea is very promising, and I'm quite certain that there are more spots in the area waiting to be discovered. It may not be our best dives so far but diving in the waters of Camotes is a whole new experience.
Dive operator in Camotes Islands:
Ocean Deep Dive
Mangongodlong, San Francisco, Camotes, Cebu
Email: tim[at]oceandeep[dot]biz
Mobile: +639084579355