This is the day one travelogue of the five-day trip to El Nido.
The Tubbataha June 2010 plan was shelved for some reasons. But it didn't stall our plan to pursue our backup trip. The equally enchanting El Nido, also in Palawan.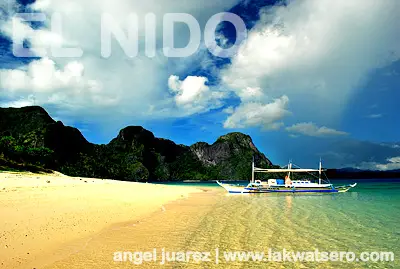 El Nido, a protected area, is a town in northern mainland Palawan, 238 kilometers from Puerto Princesa and considered as one of the prime tourist spots in the country. A dream destination for some, the town is composed of 45 islands and islets that harbor white sand beaches, lagoons, picturesque cliffs and rich underwater life that is great for diving and snorkeling.
Coming from Manila, I arrived at Puerto Princesa before 10AM, an hour earlier than my dive buddy and travel friend Ate Claudia, who came from Cagayan de Oro City via Cebu. We met in the airport and headed to Charing Bus Terminal for our trip to El Nido via Fort Wally van. We were in a hurry because the last trip was supposed to be at 11PM, so we took a tricycle that charged us P100 from the airport to the terminal.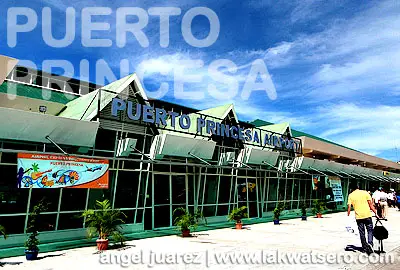 Fort Wally has daily trips to El Nido and vice versa, the earliest departs 7AM. Ate Claudia arranged the reservation for their 11AM last trip to El Nido, and they were so kind to delay their trip for an hour to wait for us. The van departed at 12 noon for five to six hours trip to El Nido at P600 per person, and after two hours, the van stopped at Fort Wally Food Stop in the town of Roxas, for lunch.
The road from Puerto Princesa to Roxas was all paved. The ride was smooth except for the curves and left and right turns, that made it hard for us to sleep. Half an hour after our lunch break at Roxas, the van continued the journey north.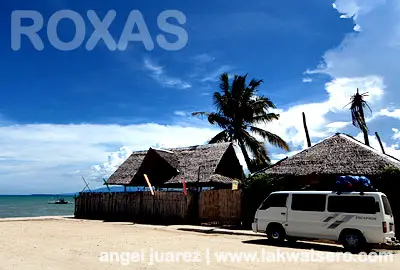 Three hours have passed since we left Puerto Princesa and we reached San Vicente with a watery welcome from kids who reminded us that it was June 24, Feast of St. John the Baptist. The rain also fell, as if the sky was also celebrating the day. From San Vicente, there are lots of road works going on – improvement, widening and constructions. Some parts of the road from the town are rough but with the constructions at work now, for sure it will all be paved soon.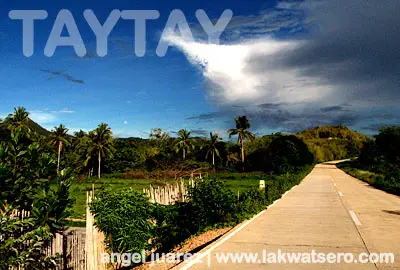 By 4PM, we were already in Taytay, road works are also on going in the town but most part are already cemented. At around 430PM, we stopped at Cataban, only forty kilometers away from El Nido, when the driver sensed an engine problem with the van. It took almost an hour to fix the problem.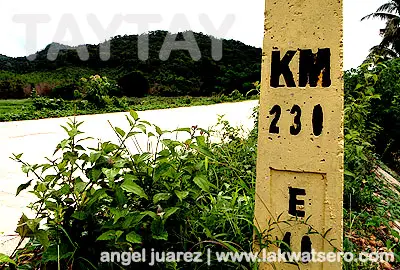 Thirty kilometers away, at half past 5 in the afternoon, the sun was still up in the west but it was raining. A rainbow appeared on the east, with its end just striking distance from where we were. Ate Claudia and I agreed that it was a promise of a good trip. Seeing the end of the rainbow touching the ground within our reach made me want to get off the van and look for the pot of gold, but we were already in a hurry.
The time clocked 630PM when we reached our final stop, and we were welcomed by no less than the stunning sunset in Bacuit Bay. Welcome to El Nido!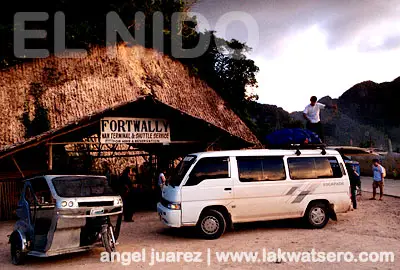 A trike took us from the terminal to Lualhati Cottages in Rizal St., Barangay Maligaya, where we reserved our room. A P500 per room per night for a big fan room with two double beds and private toilet and bath. It is located along the main road across the big cliff, around 10 minutes walk to the beach. Lualhati Cottages offers basic accommodation designed for budget travelers and for those who wanted a quieter atmosphere. (Contact Info: +63919-3196683)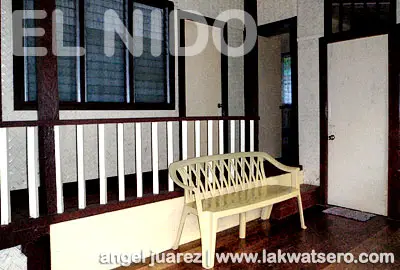 We had a walk after we settled our stuff; had our dinner at an eatery that costs P55 for a serving of chicken and half rice; bought drinks in a local store; and strolled along the beach at sundown. Lined up on the beach are hotels, restaurants and shops.
We dropped by at Og's Pension and checked their rooms. Og's Pension is conveniently located along the beach, with great view of sunset and near the town center. Their cheapest rate is at P500 per night for a fan room with a double bed and shared toilet and bath, but with a free breakfast. They also have P800 per night room with two separate beds and private toilet and bath. Another good thing about Og's Pension is their free wi-fi. We planned to transfer to Og's Pension on our last two days in El Nido, but we decided against it a day after, since we were already settled and comfortable with Lualhati Cottages.
El Nido is just a small town, and you will definitely not lost.
After walking and strolling around at dark, we headed back to Lualhati Cottages and called the day off. Tomorrow will be an exciting day, I said to myself, and I closed my eyes and surrendered to the night.
Quick Facts
Going to El Nido
From Manila: ITI has daily flights to El Nido, for booking and reservation contact ITI at (02)8515674. Travel time: approximately 1 hour.
SEA Air flies to El Nido every Wednesday and Saturday (although SEA Air flights to El Nido have been suspended by CAAP pending some issues.)
From Puerto Princesa: Air Conditioned van departs at 7AM and 11AM. Fort Wally Van: +63917-2762875 / Savior Van: +63929-6225974. Travel time: approximately 5-6 hours. Puerto to El Nido = P600. El Nido to Puerto = P500.
Public buses departs from 5AM to 9AM. Eulen Joy Bus: +63919-7162210 / Sweety Bus: +63919-7119221. Travel time: approximately 7-8 hours. Fare P250.
From Coron: There are boats to El Nido from Coron daily. Fare is P2200 for foreigners and P1500 for Filipinos. Travel time: approximately 8 hours.
Accommodation in El Nido
Accommodations in El Nido range from very basic for as low as P400 per room to the high-end resorts that go by the thousands. For list of resorts in El Nido please visit this site: http://www.elnidotourism.com/accommodation.html