So you have five-day off and thinking where to go in mainland Luzon? These five Luzon itineraries will come in handy!
Ilocandia: Time Machine to Northern Treasures
Walk back in time and explore the best of Ilocos Region. From old chuches, heritage towns, beautiful beaches, waterfalls, food and more, Ilocos will definitely not disappoint.
Day 1: Pagudpud
Depart Manila the night before and arrive in Pagudpud in the morning and check in at your hotel. In the afternoon, hire a trike to take you around the town. See Kabigan Falls, Patapat Viaduct, Bantay-Abot Cave and the sunset at Saud Beach.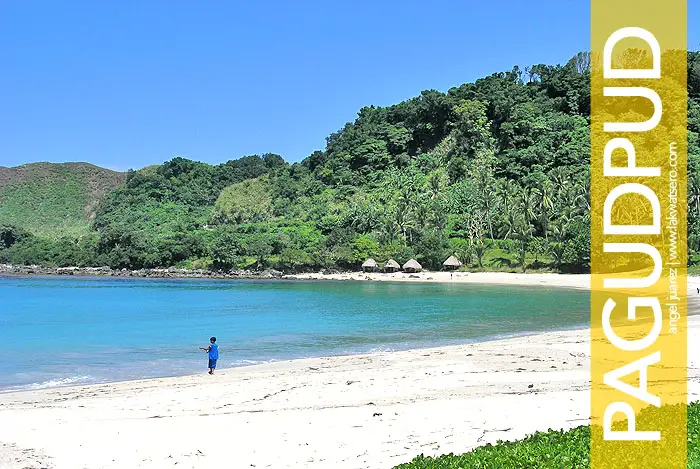 Day 2: Pagudpud
Wake-up early and proceed to Maira-ira Beach or Blue Lagoon in the morning. In the afternoon, see Kapurpurawan Rocks, Cape Bojeador Lighthouse and end your day in Bangui Windmills.
Day 3: Laoag
Have your breakfast by the beach before proceeding to your place in Laoag before midday. Settle in your hotel and have an Ilocano meal at Saramsam Ylocano Restaurant for lunch. Proceed to La Paz Sand Dunes in the afternoon until the sun turns gold before dusk. At night, stroll in and around the historic plaza. See the sinking bell tower, St. William's Cathedral, Provincial Capitol, Tobacco Monopoly Monument and Museo Ilocos Norte while searching for a good place to have dinner.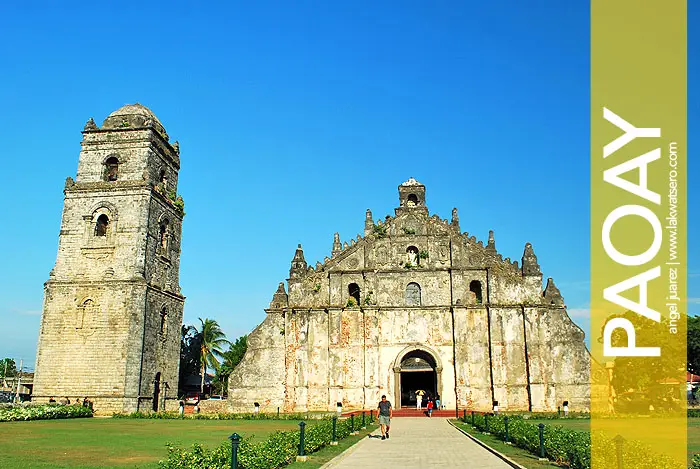 Day 4: Paoay – Santa Maria
Wake up early and pack your stuff. With all your bags on, proceed to Paoay for breakfast at Herencia Café in front of UNESCO World Heritage Saint Augustine Church. Catch a bus to Vigan afterwards and be in the city by midday. Check-in, have lunch and take a short rest at your hotel before proceeding to Santa Maria to visit Pinsal Falls and the other UNESCO World Heritage Site of Ilocos – Our Lady of Assumption Church of Santa Maria, Ilocos Sur.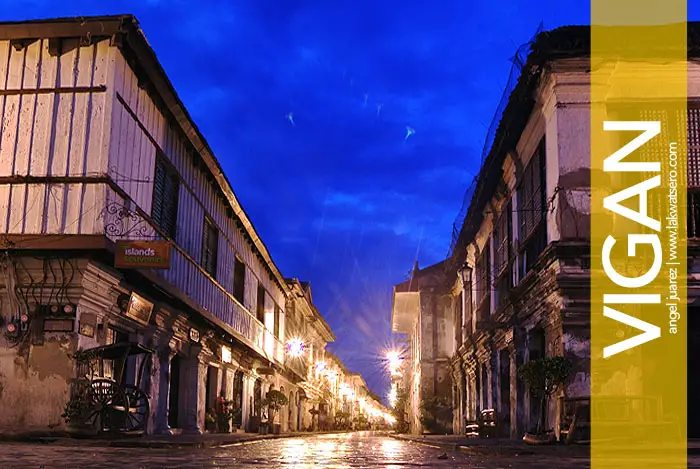 Day 5: Vigan
Catch the blue hour at Calle Crisologo before indulging on an Ilocano Breakfast at Café Leona. Try to see as much of the the city's attractions afterwards – St. Paul Metropolitan Cathedral, Simbaan a Bassit, St. Augustine Chuch of Bantay, Crisologo Museum, Father Burgos Residence & Museum, Religious Museum, Leona Florentino Ancestral House, Fil-Spanic Friendship Park, Buridek Museum, Baluarte Vigan (Vigan Fortress), Hidden Garden, Plaza Burgos, Plaza Salcedo and Syquia Mansion. Check out of your hotel at midday and walk the stretch of Calle Crisologo one more time to shop for souvenirs before going home.
Banaue-Sagada-Baguio: Rice Terraces, Culture and Adventure
Experience nature, culture and adventure at the heart of Philippine Cordillera with this five-day itinerary in Banaue, Sagada and Baguio.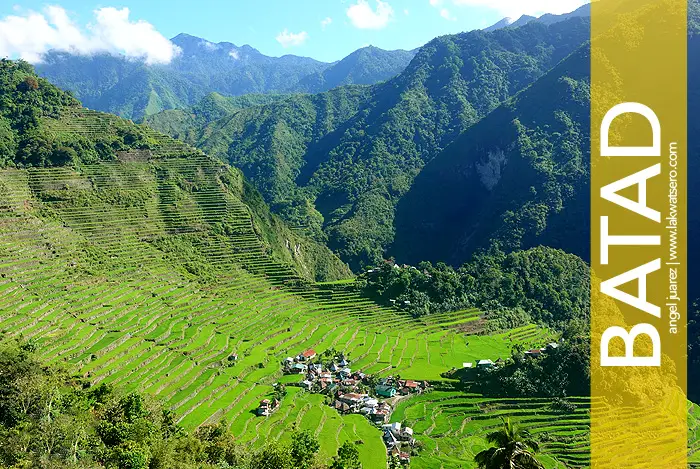 Day 1: Batad
Catch a night bus from Manila to be in Banaue early morning. Have a heavy breakfast in town before transferring to Batad. You'll get to Batad before noon, check-in at your hotel, have lunch and a short rest. After lunch, trek along the rice terraces (make sure to get to top view) on your way to Tappiya Falls. Rice wine and bonfire at night! 🙂
Day 2: Banaue – Sagada
Have an early breakfast in the mountain then catch the morning trip from Batad to Banaue. Drop by Banaue Rice Terraces Viewpoint before proceeding to Sagada at midday. Check-in at your hotel in Sagada, lunch at Yogurt House and get a tour of Echo Valley and Hanging Coffins in the afternoon. Arrange your sunrise watching for the next day and try to sleep early to prepare for your early activities on the next day.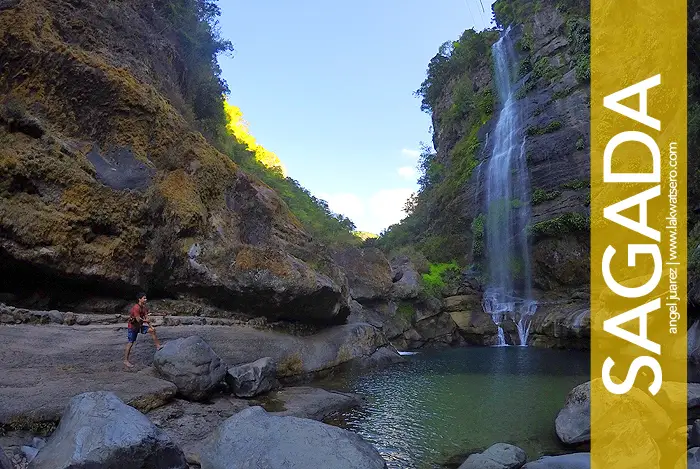 Day 3: Sagada
Catch the sunrise at Kiltepan or Kamanbaneng Peak and return to the town for breakfast. Explore Sumaguing Cave or better yet, try the Lumiang – Sumaguing Caves traverse. Stroll around the town in the afternoon or walk your way up to Danum Lake. Chill in Lemon Pie House at night.
Day 4: Sagada
Heavy breakfast then choose between Bomod-Ok or Pongas Falls for the morning trek. You'll be back in town before midday, shop for souvenirs and catch the bus to Baguio. Check-in at your chosen place, food trip in the city for dinner.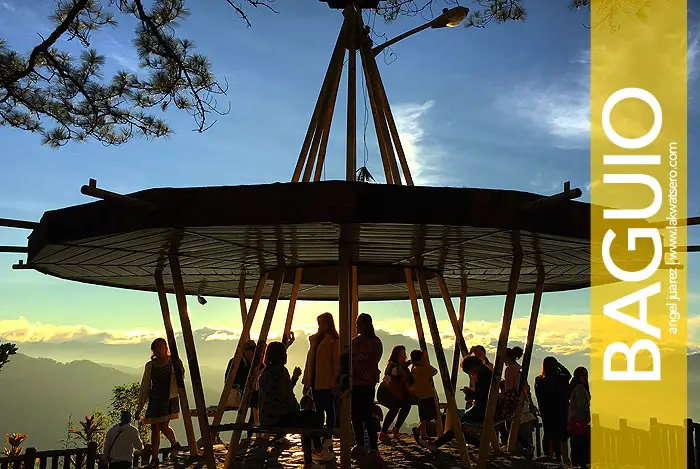 Day 5: Baguio
Wake up early and catch the sunrise at Mines View Park. Have breakfast at nearby café or restaurant before exploring some of the sights and spots of Baguio City such as BenCab Museum, The Mansion, Diplomat Hotel, Burnham Park and Session Road. Make sure to drop by the public market to shop for ube jam, alfajores, peanut brittle, fresh strawberries, veggies and other produce.
Palaui – Tuguegarao – Iguig: Idyllic North
Head to idyllic north and experience the ragged and wild coastline of Palaui Island. Have a sidetrip to Callao Cave and Tumauini Church before going home.
Day 1: Palaui
Make sure to be in Santa Ana Port in the morning by taking the night bus from Manila the night before. Charter a boat at tourism office to take you to Crocodile Island, Anguib Beach and Palaui Island. Spend the night camping in Punta Verde.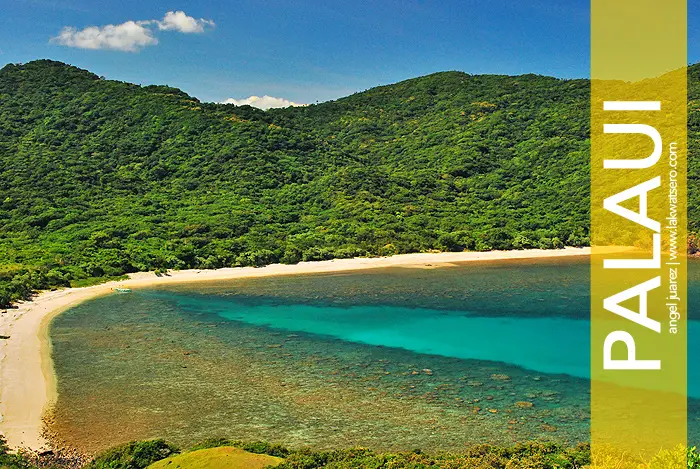 Day 2: Palaui
Catch the sunrise in Palaui Island and trek to Engaño Cove and Lighthouse after breakfast. Back to your barracks at midday for lunch. In the afternoon, you may opt to explore the other beaches on the eastern coast or the waterfalls or go snorkeling.
Day 3: Tuguegarao
Travel back to Santa Ana Port in the morning and onward to Tuguegarao City. Check-in at your hotel then grab a serving of pancit batil patung for lunch. Proceed to Buntun Bridge in the late afternoon for photo ops.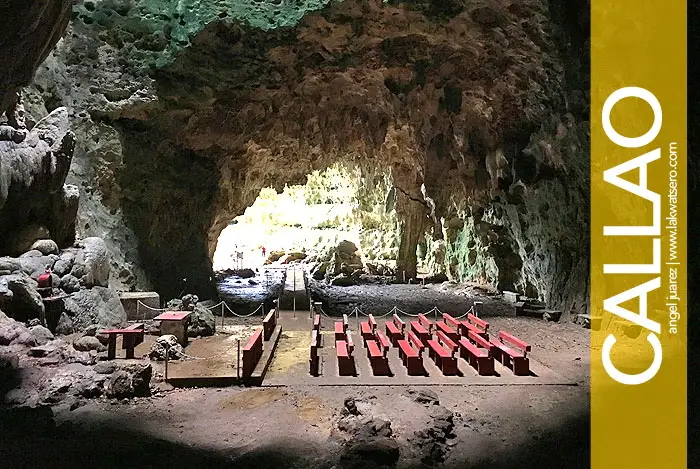 Day 4: Callao Cave and Iguig/Tumauini
Make your way to Peñablanca after breakfast and explore the multi-chamber Callao Cave. Catch a boat to Pinacauan River before returning to Tuguegarao. You may opt to visit Iguig or Tumauini in the afternoon.
Day 5: Tuguegarao
Relax! Just stroll around the town before your midday trip back home.
Caramoan – Catanduanes: Sun, Sea and Sand
Go island and beach hopping in Caramoan Islands then see the sights and spots of Catanduanes with this five-day itinerary.
Day 1: Caramoan
Take a bus the night before to be able to reach Sabang Port in the morning to catch the boat to Caramoan. Check-in at your hotel, take a heavy lunch, buy some snacks and drinks and charter a boat for your island hopping. See Hunungan Island, Cagbalinad Island, Bosdak Island, Tinago Island, Lahus Island, Lahuy Island, Sabitang Laya, Matukad Island and other nearby islands and islets.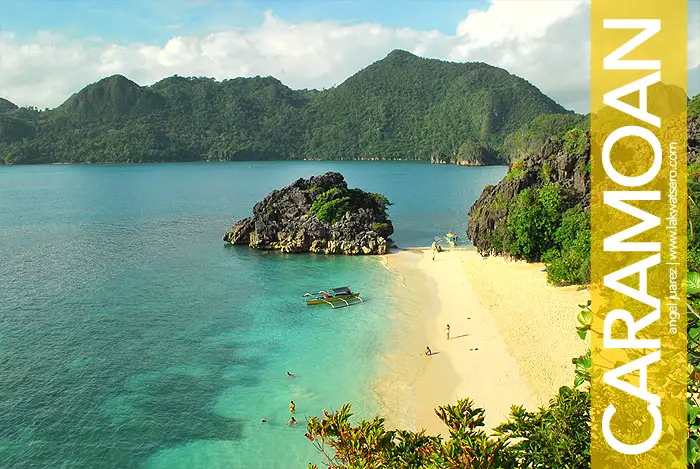 Day 2: Caramoan
Continue your island hopping tour after breakfast. Visit Manlawi Sandbar, Cotivas Island and Parola Island, be back in town for lunch. See the inland attractions in the afternoon such as Saint Michael Church, Culapnit Cave and Mount Caglago.
Day 3: Catanduanes
Catch a boat to Catanduanes after breakfast and make your way to Virac. Check-in at your hotel, take your lunch and quick rest before going to Maribina Falls and the old church of Bato in the afternoon. Try if you can catch the sunset at Bosdak Beach.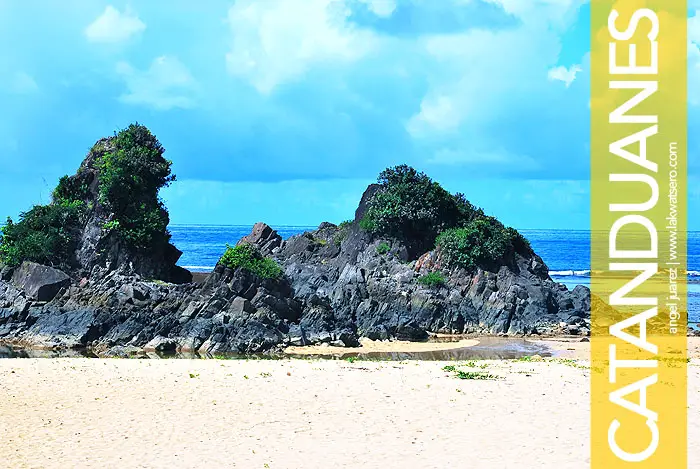 Day 4: Catanduanes
Start your day early watching the sunrise at Binurong Point and spend the day surfing or beach bumming at Puraran Beach. Check out Balacay View Point before you go for lunch. Visit Luyang Cave Park and Mamangal Beach in the afternoon towards sunset. You may opt to stay in Twin Rock Beach Resort.
Day 5: Catanduanes
Relax and take this day easy, it was an action-filled itinerary. Just stroll along Mamangal Beach or Twin Rock before you go home at midday.
Albay – Sorsogon: Food, Sights and More
Day 1: Albay
Take the night bus a day before to make it to Legazpi City in the morning of the first day. Check-in at your hotel and have your breakfast before touring the nearby attractions. Pay a visit to the scenic Daraga Church and Cagsawa Ruins, try the ATV tour and end your day in Ligñon Hill. Bicolano dinner at Small Talk Café.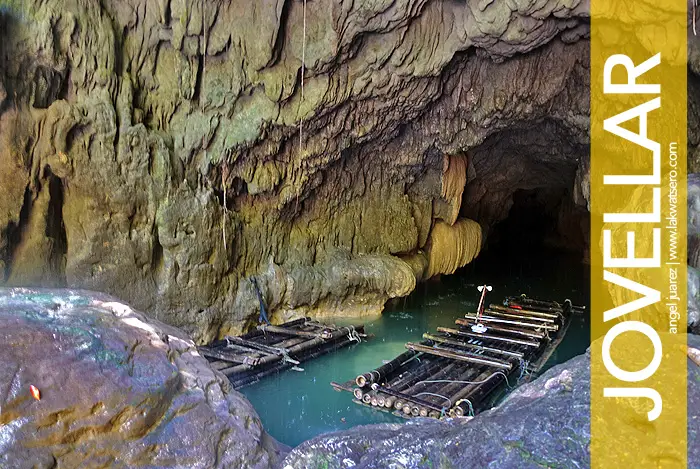 Day 2: Albay
Wake up early for sunrise at Sumlang Lake. Heavy breakfast at Bigby's Diner before proceeding to Quitinday Hills in Camalig then Quitinday Falls and Underground River afterwards, catch your lunch in between. Grab a pinangat in Camalig before going back to Legazpi City. Stroll, chill and dine in Embarcadaro in the late afternoon. Colonial Grill for dinner!
Day 3: Donsol
Catch the early bus or van to Donsol in the morning if it is whaleshark season or just chill in Legazpi City. By midday, proceed to Matnog, Sorsogon. Relax for the rest of the day and arrange your island hopping tour for tomorrow.
Day 4: Matnog
Have a power breakfast then go Island hopping in Matnog! Visit Tikling Island, Juag Lagoon, Calintaan Cave and Subic Beach. After the tour, check out and proceed to Gubat, stay in one of the cottages along Buenavista Beach.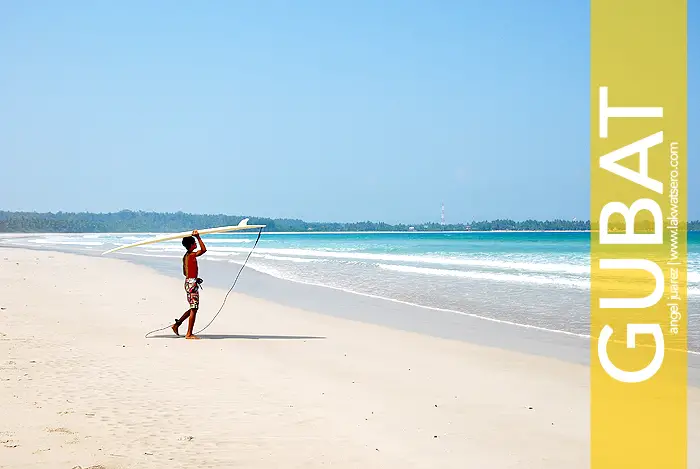 Day 5: Gubat
Grab a quick breakfast then spend your morning surfing or beach bumming along Buenavista Beach. Catch a bus back to Manila at midday.
Choose your own adventure! 🙂
*Originally Published: 12-Feb-2015 | Updates: 05-Mar-2017; 05-Nov-2017; 30-Apr-2020