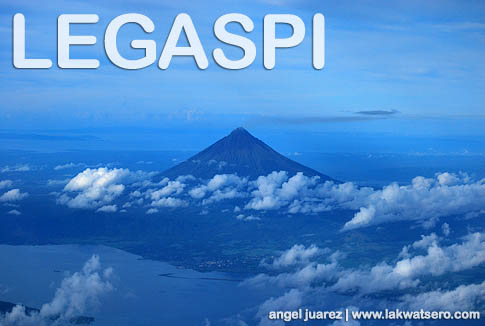 A progressive city by the bay nested in the backdrop of the Philippines' most beautiful yet active volcano – Mt. Mayon, dubbed as the world's most perfect cone, is Legazpi City.
The capital of the Province of Albay and regional hub for Bicolandia, Legazpi City beckons everyone with its amazing scenery, natural wonders, delicious cuisines and delicacy, and lovely people.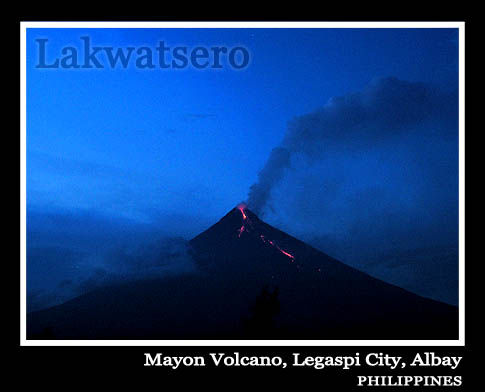 But Legazpi City not only boasts of its own attractions, it also serves as gateway to the province and the region's amazing destinations. Trek the trails of Mt. Mayon; dip in the hot springs of Tiwi; rekindle the volcano's tragic past at Cagsawa Ruins; experience adventure and the best view of the city at Lignon Hill; enjoy the sun, sea and sand of Misibis Bay; discover the unspoiled white sand beaches of Cagraray, San Miguel and Rapu Rapu; be amazed with the black sandy beaches of Bacacay; visit the province's old churches and structures; enjoy the cold water of its countless waterfalls; or explore its beautiful hidden caves.
If these do not excite you, go further south, swim with the whale sharks of Donsol, see the other virgin beaches and hidden treasures of Sorsogon, dive in Manta Bowl and hop to the islands of Masbate, try wake-boarding in Naga, head on and be mesmerized in Caramoan Peninsula, surf in Catanduanes and Daet, or fall in love with Calaguas.
Truly, Bicol is the land of beauty and wonders, and in the middle of it all is Legazpi City, your gateway to Bicolandia!
How to Get There
By Air
There are daily flights from Manila to Legazpi City. Airlines servicing this route are Philippine Airlines, Cebu Pacific and Airphil Express. It is approximately one hour flight.
Meanwhile, Cebu Pacific and Airphil Express also fly to the city from Cebu.
By Bus
Bus lines from Metro Manila going to Sorsogon, Visayas and Mindanao or vice versa, stop at Legazpi City. These include Philtranco, Superlines, Cagsawa Tours, Amihan, Isarog Line, St. Jude Transit and Goldline Tours. Travel time is 9 to 10 hours.
By Train
Philippine National Railways' used to service Albay Province with their Bicol Express. The end terminal was in Legazpi City until the service stopped in 2006 after the line incurred damages due to typhoons. In 2011, the PNR Bicol express resumed its Bicol Express service albeit only up to Naga City, Camarines Sur.
Bicol Express operates a daily trip from Tutuban in Manila to Naga City at 630PM, travel time is 10-12 hours. Return trip is also at 630PM. Fare is P416 for economy, P548 for reclining air-con, P950 for family sleeper and 1426 for executive sleeper. Reservation is required prior to boarding. Please visit their page (http://www.facebook.com/pnrailways) for announcements and  latest updates on schedules, prices and discounts.
Where to Stay

Various accommodations for various market segments are available in Legazpi City. From fancy hotels to backpackers hostel , lodges and inns, you will sure find a place perfect for your budget. Here's the list of places to stay as compile by Wow Legazpi (www.wowlegazpi.com).

Alicia Hotel
Capt. F. Aquende Drive, Legazpi City, Philippines
Telephone: 481-0801 / 481-4808 / 820-4412
Fax: (052) 481-4444
Email: info@aliciahotel.com.ph
Mobile: +639186253696
Arimbay Shell Inn
Arimbay,Legazpi City
Tel: +63 (52) 820 6283, +63 (52) 820 0558
Carlo's Hometel Bed and Breakfast
Rawis, Legazpi City
Tel: +63 (52) 482 0738
Casablanca Hotel
185 Peñaranda St., Legazpi City, Philippines, 4500
Tel No: +6352 480-8334 to 35; 820-1428; 821-6684
Fax No: +6352 480-8338
Website: http://www.casablancahotel.ph
Email: info@casablancahotel.ph
Dreams Inn and Café
F. Imperial St., Legazpi City
Tel: +63 (52) 820 0885
Hotel Venezia
Telephone: (63 52) 481-0877, 481-0888 and 820-0888
Telefax: (63 52) 820-4790 and 820-5824
Email: hvrsvn@discovery.com.ph
Hotel Villa Angelina
32 Rosario St., Old Albay District, Legazpi City
Telephone: (052)480-6345
Email: villaangelina_bicol@yahoo.com
Ibalong Traveler's Hostel
BDB Bank Bldg, 210 J.P Rizal St, Legazpi City
Tel: +63 (52) 820 3333
Jennifer's Kababayan Hotel
J. Estevez St., Albay Dist., Legazpi City
Tel: +63 (52) 245 5172, +63 (52) 480 1086, +63 (52) 245 5172
Fax: +63 (52) 820 4467
Email: info@jennifers-hotel.com
Legazpi Pension
Rawis, Legazpi City
Tel: +63 (52) 231 33 c/o Casablanca Hotel
Legazpi Tourist Inn
3rd Floor, V&O Bdg, Quezon Ave cor. Lapu-lapu Street Legazpi City, Philippines 4500
Telephone: (+6352) 820-4880
Telefax: (+6352) 480-6147
Email: legazpitouristinn@yahoo.com
Lita's Lodging House
Albay District, Legazpi City
Magayon Hotel
Peñaranda St., Legazpi City
Tel : +63 (52) 214 3121/ +63 (52) 214 3919
Mayon View Apartelle
Tel. no. (052) 482-0463,
Mobile: 0920-932-9581
Email: sa.bukid@gmail.com
Neuhaus Tourist Inn
Magayon Dr., Daraga, Albay
Tel; +63 (52) 820 0453
Pepperland Hotel
Airport Road, Legazpi City
Telephone: (52) 481-8000 Fax: 481-8004
Email: pepperlandhotelbikol@yahoo.com
Rawis Pension House
Rawis, Legazpi City
Tel: +63 (52) 820 1702
Sampaguita Tourist Inn
Rizal St., Legazpi City
Tel : +63 (52) 480 6258
Tanchuling Hotel
Imperial Subdivision, Legazpi City
+63 (52) 480 6003, +63 (52) 227-88
Vista Al Mayon Pensionne
Washington Drive, Legazpi City, Philippines 4500
Telephone: (+6352) 820-5814,
Mobile: (+6352) 481-0308
Email: vistaalmayon@yahoo.com
Xandra Lodging House
Peñaranda St., Legazpi City
Tel: +63 (52) 820 4808
What to do in Legaspi City
See Mayon Volcano up close (or trek the volcano and drop by to Mayon Resthouse Observatory).
Experience adventure at Lignon Hill. Trek up, try zipline, see the unobstructed view of the surrounding and check out the observatory.
Hang out Embarcadero, Legazpi City's newest commercial and entertainment hub.
Climb up the Kapuntukan Hill for the panoramic view of Albay Gulf, Mayon Volcano and the surroundings.
Explore the Japanese Tunnel at the foot of Lignon Hill.
Feast with spicy Bicolano cuisines. Try laing, pinangat, ginataang langka or bicol express.
Join the fun of Magayon and Ibalong Festivals
Visit Magayon Art Gallery and Legazpi City Museum
Stroll in Bicol Heritage Park and Albay Park and Wildlife
See the Liberty Bell in front of Provincial Capitol
Drop by to the nearby town of Daraga to see the Cagsawa Ruins and the century old Our Lady of Gate  Church
Dip in the hot springs of Tiwi
Try caving in Hoyop-Hoyopan Cave of Camalig
Dive and snorkel in Albay's unspoiled dive sites
Discover the white sandy virgin beaches of Bacacay, San Miguel and Rapu-Rapu
Experience the luxurious Misibis Bay Resort
Explore more of Bicol wonders in Sorsogon, Camarines Sur, Camarines Norte, Catanduanes and Masbate
(Visited 1,222 times, 6 visits today)
Follow @thelakwatsero on Instagram: