For years, Northern Mindanao holds the title of being adventure and nature capital not only of down south but of the country, a haven for those who love to see nature at its best and those who want some ultimate adrenaline rush.
Feel the flux of Cagayan de Oro River, experience the thrill of the longest zipline in the country at Bukidnon and commune with nature's great offerings in Camiguin. With all these adventures and wonders, you will surely fall in love with Northern Mindanao.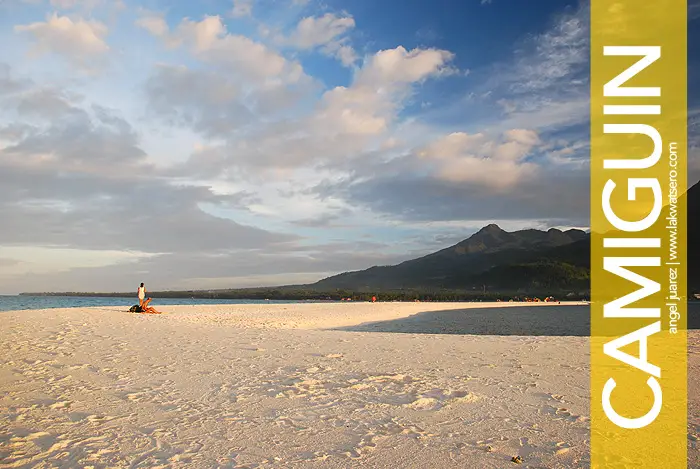 Hoping to help those planning to get there, here's my tried and tested DIY itinerary, four days and three nights designed for those busy and adventurous goers who want to experience these three places in one shot. Warning though, this isn't for lazy, faint-heart and those who prefer laid back and relaxing trip. But I promise, this is fun!
Camiguin, Bukidnon & Cagayan de Oro Itinerary
Day 1: Camiguin En Route and Sand Bar Sunset
0600H – 0825H: Assembly in the Airport / Check-in
0825H – 0950H: Manila to Cagayan de Oro Flight
0950H – 1030H: Assembly / Baggage Check-in
1030H – 1100H: Cagayan de Oro Airport to Agora Terminal
1100H – 1300H: Agora Terminal to Balingoan Port
1300H – 1400H: Lunch
1400H – 1530H: Balingoan to Benoni Port, Camiguin
1530H – 1600H: Benoni to Paguia's Cottages
1600H – 1630H: Check-in/Fix-up
1630H – 1830H: Camiguin to White Sandbar (by boat) / Sunset at White Sand Bar / Back to Mainland Camiguin
1830H – 1930H: Wash-up Fix-up
1930H – onwards: Dinner / Socials / Lights off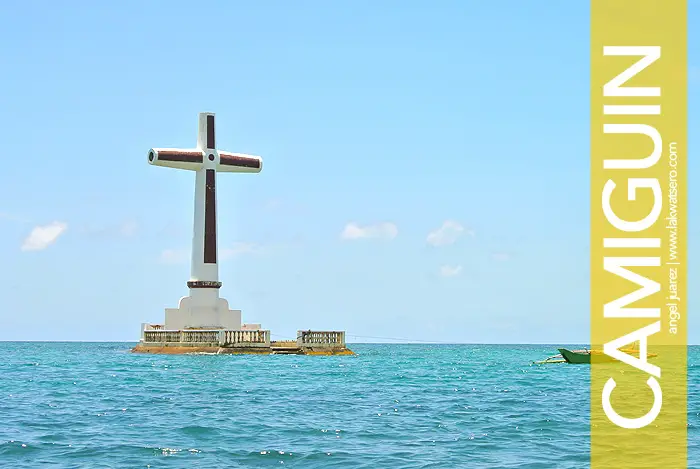 Day 2: Camiguin on a Day
0600H – 0800H: Call Time / Breakfast
0800H – 1300H: Multicab Tour: Ol Vocano Station of the Cross / Sunken Cemetery / Gui-ob Church Ruins/ Sto. Niño Cold Springs
1300H – 1400H: Lunch
1400H – 1800H: Katibawasan Falls / Ardent Hot Springs
1800H – 1900H: Wash-up / Fix-up
1900H – onwards: Dinner / Socials / Lights off
Day 3: Zip High in Bukidnon
0345H – 0430H: Call Time / Paguia's to Benoni Port
0430H – 0600H: Benoni Port to Balingoan
0600H – 0800H: Balingoan to Cagayan de Oro
0800H – 0900H: Check-in New Dawn Pensionne CDO / Heavy Breakfast
0800H – 1000H: Travel CDO to Bukidnon
1000H – 1600H: Zip, Zorb and more in Dahilayan (Lunch and Snacks Included)
1600H – 1800H: Travel Bukidnon to CDO
1800H – 1900H: Wash-up / Fix-up
1900H – onwards: Dinner / Socials / Buy pasalubongs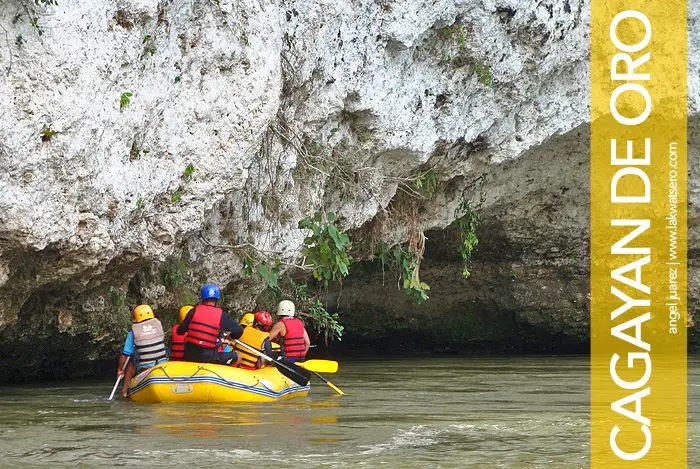 Day 4: Wild Water Ride
(The rafting organizer suggested to move it to day 4 instead of original day 3 since CDO River is near airport.)
0500H – 0600H: Call Time / Breakfast / Hotel Check-out (Bring all your stuff)
0600H – 0700H: Travel Time to White Water Rafting Jumpoff
0700H – 1300H: White Water Rafting!!!! (Buffet Lunch included)
1300H – 1400H: Wash up / Fix up
1400H – 1500H: To Airport
1555H – 1720H: Travel CDO to Manila
Expenses

NAIA Terminal Fee: P200
Taxi (Airport to Agora Terminal): P50.00/share
Bus (Agora To Balingoan): P143.00
Ferry to Camiguin: P150.00
Multicab (Tour/Transfer): P250
2 Nights Camiguin Accommodation: P600/share
Boat to White Island: P50/person
Ferry Camiguin to Balingoan: P150.00
Bus (Balingoan to Agora): P143.00
Taxi to Hotel: P60.00
1 Night CDO Accomodation: P350/share
White Water Rafting + Zipzone: P1999
Terminal Fee CDO: P30
Miscellaneous/Foods/Entrance Fees/Etc: P1000
———————————————————————-
Approximate Budget: P5180 (*Based on 10 pax excluding airfare)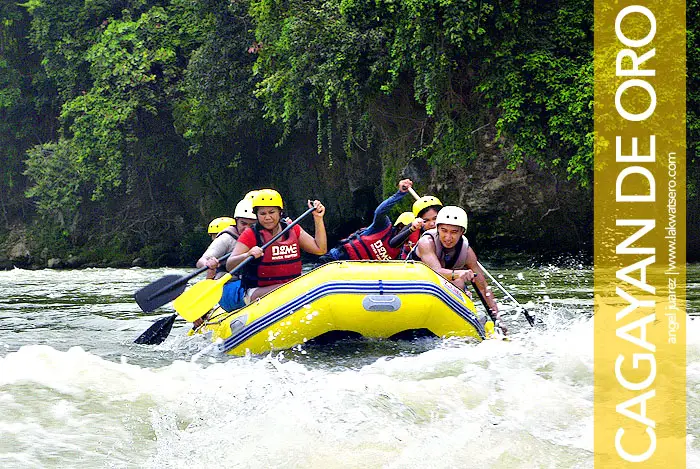 Where to Stay in Cagayan de Oro
Cagayan de Oro being one of the frequently visited place by tourists in Mindanao has a lot of resorts and hotels that cater to all type of travelers.
Top-Rated Hotels in Cagayan de Oro
Seda Centrio
C.M. Recto and Corrales Streets
Starts at 3,500 PHP

Limketkai Luxe Hotel
Limketkai Avenue, Cagayan de Oro City
Starts at 4,000 PHP
Top-Rated Mid-Range Accommodation in Cagayan de Oro
Red Planet Hotel
C.M. Recto Avenue, Cagayan de Oro
Starts at 1,300 PHP

New Dawn Pensionne
Velez & Macahambus Streets
Starts at 1,100 PHP
Top-Rated Budet Accommodation in Cagayan de Oro
The Urban Pod
Corrales Street, Cagayan de Oro
Starts at 300 PHP

St. Nicolas Inn
Cogon, Cagayan de Oro
Starts at 500 PHP
Other Attractions
Macahambus Cave and Garden of Malasag Eco-Tourism Village in Cagayan de Oro; Canopy Walk in Claveria, Misamis Oriental; Agutayan Island in Jasaan, Misamis Oriental; Waterfalls of Iligan City and Kapatagan, Lanao del Norte; Monastery of Transfiguration in Malaybalay City, Bukidnon; Mt. Kitanglad Range Natural Park also in Bukidnon.
Recommendations
Accommodation in Camiguin: Paguia's Cottages
Accommodation in CDO: New Dawn Pensionn or Budgetel (dorm type ideal for solo backpackers)
Transpo from CDO Airport to Agora Terminal: Taxi if group / Jeep if solo (Airport to Carmen Market, Carmen Market to Agora)
Transpo from Agora to Balingoan and Vice Versa: Bus
Transpo from Balingoan to Benoni and Vice Versa: Ferry
Transpo from Benoni Port to Paguia's Cottages: Multicab
Transpo on Camiguin Tour: Multicab
Transpo from Camiguin to White Sandbar and Vice Versa: Boat
Transpo from Agora Terminal to New Dawn Pensionne: Taxi or Jeep if Solo
White Water Rafting and Dahilayan Adventure Package: P1990.00 per person inclusive of Van transpo to and from Rafting Site, Dahilayan Bukidnon, Lunch and Snack on Rafting Day, Lunch and Snacks on Dahilayan, Advance White Water Rafting and three zip rides (150m, 320m, 840m)