After years of dreaming of having a bike, my dream came to reality. I finally got my own, thanks to a very good friend, fellow lakwatsero and now my bike buddy slash biking mentor Kenneth Paulino of Las Piñas.
It is a Trek 4300 series previously owned by a friend of Harley, Ken's friend and orgmate at Las Piñas Environmental Development Awareness League (LPedal). An eye candy green mountain bike which I got in a real good deal. Still in great condition and look, I felt our connection the first time I saw it. I know at once that the bike is for me. We were meant to be 🙂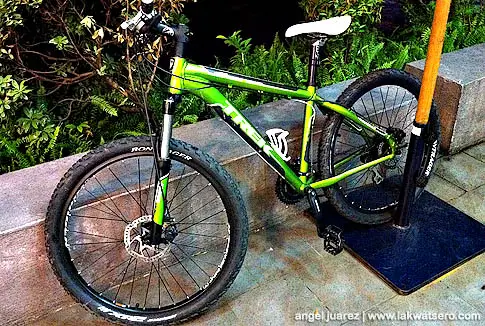 Excitement enveloped me as I saw my new best friend so I asked Ken for a test ride around Las Piñas and Parañaque the night before my first official ride to Tagaytay, which was an epic one (well for newbie like me) for mountain biking community of Metro Manila. A very challenging Las Piñas-Tagaytay-Manila route via Daang Hari-Molino-Paliparan-Silang in Cavite.
We started from Las Piñas by 8 o'clock in the morning, Sunday, November 13th, under an overcast weather which we found very conducive for biking. Before noon we were already in Silang, Cavite having lunch at Aling Pina's Eatery, a favorite stopover (or destination) for mountain bikers. After our meal and short rest, we decided to proceed to Tagaytay which is approximately six kilometers away of uphill slopes.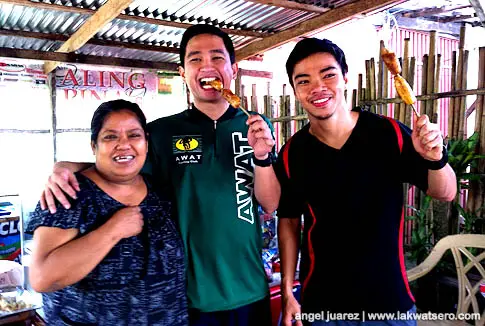 In less than an hour from Silang we made it to Tagaytay, with the last stretch being around 150 meters of 40 degrees slope. It was a very tiring yet fulfilling moment. Never did I imagine that I would or could ever do such, but I did and I am very proud.
The cool breeze of the highland sent a relaxing aura down to my joints, I was tired but I could take more. We were thankful that the weather was very nice to us, it wasn't raining and not sunny, a big boost for a first time biker like me. The sun hid behind the clouds the entire day, Taal Volcano too as we arrived. But as if a grand welcome, the cloud slowly moved away from the volcano and Taal showed up in all its glory in less than half-an-hour. Before we head back home, the striking backdrop of the smallest active volcano in the world was already in display, as if all the universe conspired and made that day perfect for biking.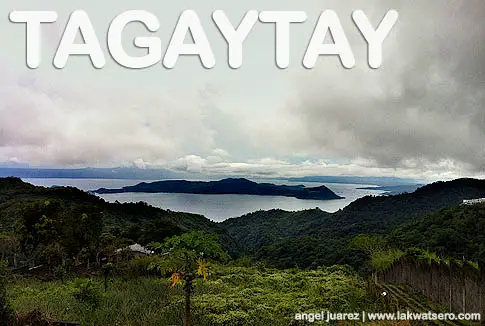 The ride back from Tagaytay was supposed to be a joy ride with long stretches of downhill and the cool breeze of the highland. But accidents happen in biking, and a newbie like me is vulnerable to such. Everything happened so fast in the steep downhill slope and a sharp blind curve. My fast moving bike hit a concrete block and I was thrown with great force to a pineapple farm.
When all the dust settled, I had a numb and deeply wounded left knee and scratches all over my arms, legs and chest. Some concerned bypassers stopped and asked if I was okey. I guess I was so I nodded in affirmation albeit I was a bit concerned with the badly bleeding wound on my knee.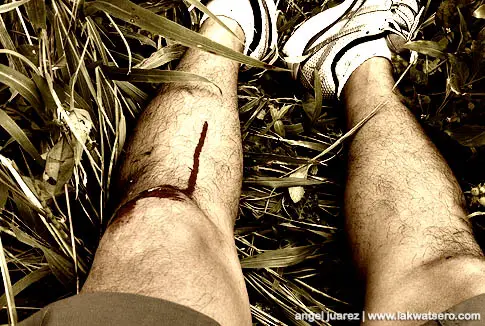 In difficult times like this that Good Samaritans show up. Here it was Kuya Eli Creus and his family. They opened their home for us and provided me first aid kit to nurse my wounds. Kuya Eli helped made the mood lighter with his stories while I was attending to my injuries and while Ken was fixing my bike. They made sure that everything was okay before allowing us to leave and we were very touched by their kindness.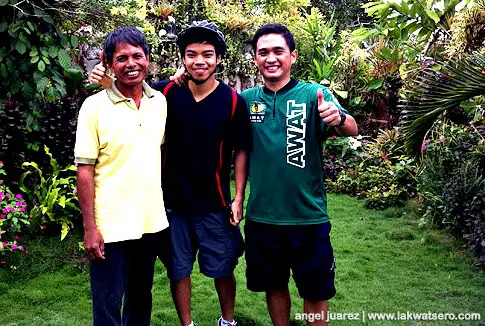 When we felt that we were good to go, we said our thanks and goodbyes with a promise that we will return one day.
Though my bike also suffered a bad fate – a busted interior, dent on the wheel set and bent fork (that I had to replace), my newly acquired bike still managed the 49 kilometers ride back home. Despite everything, I was still lucky, my bike could still be used and I incurred no serious injury.
It was a total of 10 hours (including all the stops) of epic mountain biking, 103 kilometers from Las Piñas to Tagaytay and back to Manila. My very first ride, where every uphill is a test of strength, will and endurance; and every down slope is a reward.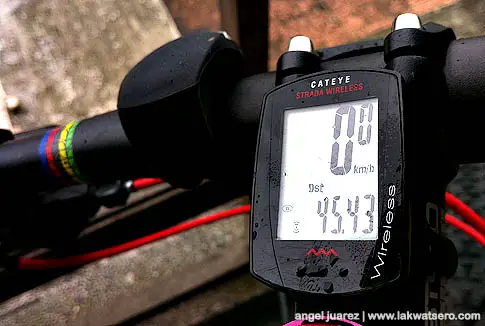 For a newbie in biking, I wanted to believe that I fared well on my first ride despite the accident. I will take Kenneth's word that I did good since he is my mentor 😛 Thanks Padi!
It is still a long or perhaps an endless road for me in mountain biking, but this early I already feel very much happy. I can travel the cheapest, healthy and environment friendly way with my new friends, new group and new journeys. The horizon looks bright and promising, and my dream of biking the entire Philippines has just started with this small leap. Thanks Ken for all the help and words of encouragement and to the rest of LPedal for opening your door to me (even if I am not from Las Piñas :P), you guys really rock!
Crank and roll brothers! Ride on!