The Zipzone of Dahilayan Adventure Park puts the town of Manolo Fortich, Bukidnon in the country's tourism map, thanks to its 840 meters dual cable zipline, the longest in the Philippines and Asia.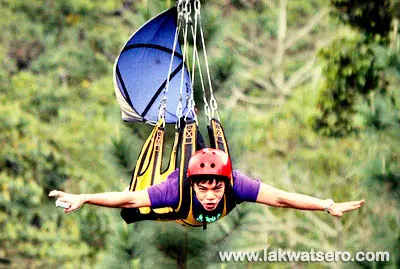 Launched in 2009, the Dahilayan Adventure Park boasts of extreme adrenaline experience with their 150, 320 and longest 840 meters zipline rides at maximum speed of 90 kilometers per hour, right at the foot of Kitanglad Mountain Range, over 4,700 feet above sea level. It surpassed Camp Sabros Zipline of Digos, Davao del Sur, previously the longest at 820 meters.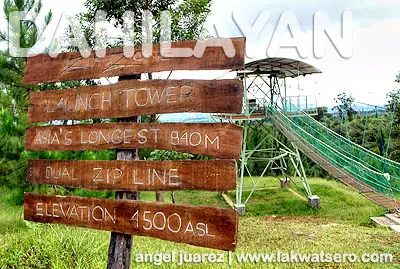 But the park is not just about zip rides. They also offer ATV rides, Zorbit (zorb ball), horseback riding, mini-boat ski ride, wall climbing, rope course challenge and more. All these fun adventures are staged on a foggy terrain, temperate weather and lush green scenery of more than 20,000 pine trees and plants.
For those who want more thrill, there is available Zipzone and Cagayan de Oro's White Water Rafting Package, a guaranteed ultimate eco-tourism adventure, cheaper and convenient with the inclusion of all fees, guides, transportation, snacks and meals including buffet late lunch on white water rafting day. Dahilayan Adventure Park is around 40 kilometers away from CDO, two hours travel by land, making river rafting and zipping a perfect adventure combination.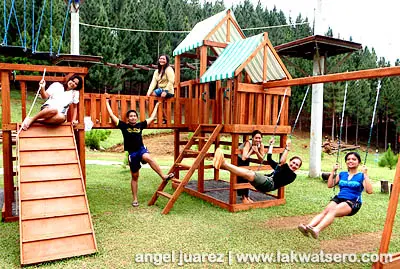 The park offers a Day Tour Package of P1,200.00 per person (as of November 2010) inclusive of three zipline rides (150m, 320m, 840m), transportation from CDO to Dahilayan and back, set lunch and light snacks. For the White Water Rafting and Dahilayan Adventure Package, the rate is P1,999.00 per person (as of September 2010) inclusive of package tour in Dahilayan Adventure Park, whole day advanced white water rafting in CDO River with guides and equipments (operated by Great White Water Rafting), light snacks, buffet lunch and transportation from CDO city proper to the river and back.
The park is open everyday including public holidays from 9AM to 3PM, major credit cards are accepted. For booking, more information and inquiries, please contact them at +639228801319 or (088)857-2663 locals 403 and 404, or visit their website: www.dahilayanadventurepark.com.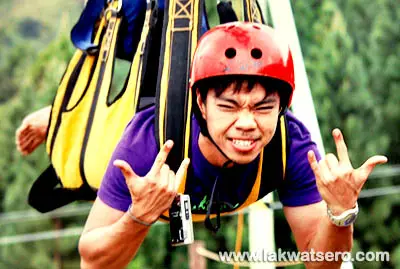 How to Get There
Parts of the the road to Dahilayan Adventure Park are rough, but the discomfort will all be compensated with the great view of Bukidnon's Camp Phillips of Del Monte Philippines.
If you are going there via public transportation from CDO city proper, ride a Puerto bound jeep for half-hour ride to Barangay Alae. Alight at Shell Station near the Puerto Market or before the rotunda. Catch another jeepney going to Camp Phillips, travel time is less than an hour. From Camp Philips, you may opt to ride a multicab or habal-habal to Dahilayan.
Park Rates
Zip Ride (840m) – P500.00/person/ride (40kg – 110kg only)
Zip Ride (320m + 150m) – P250.00/person/ride
Child Tandem – P150.00 (below 5 years old and weighs not over 20kls.)
Zip Zone Package (150m, 320m and 840m) – P600.00/person
ATV Ride (20 minutes) – P400.00
Mini Boat Ski Ride (15 minutes) – P200.00
Zorbit (for 2 persons) – P400.00
Horseback Riding – P200.00
Ropes Course – P 200.00/person
Wall Climbing:     P 100.00/person + P50.00 for additional wall