After almost three years since our first dive trip in Malapascua, my dive buddy Ate Claudia and I were back to the island to try our luck, once more, to see the Thresher Sharks of Malapascua.
The site known as Monad Shoal, southwest of the island, is well known for its regular sighting of the Threshers. Unfortunately, our attempt in 2010 yielded nothing so we promised to return and in one weekend of February this year, we fulfilled the promise, hopeful to have a glimpse of the seemingly elusive Threshers.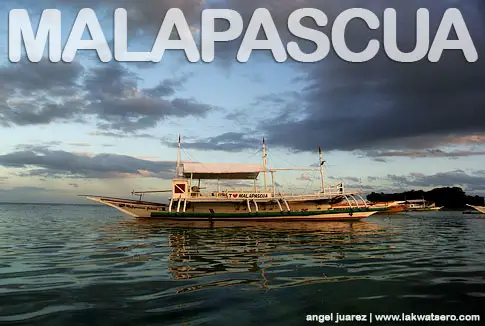 Thresher sharks diving is always scheduled in the early morning, right after sunrise, the known and documented time of the day when they go to Monad Shoal, their cleaning area. Cleaner Wrasses await the sharks on the same spot everyday to clean them, or in reality, to feed on their dirt. The symbiotic relationship of threshers and wrasses are somewhat amazing wonder of nature.
Monad Shoal
It was a few minutes before five in the morning when we showed up at Dive Link Cebu in Bounty Beach. It was still dark but we could not hide our excitement. James, our dive guide, welcomed us along with a family of scuba divers from Thailand. It seemed like another hopeful day in the water, but unbeknown to us, we were all off to a day of special underwater treats.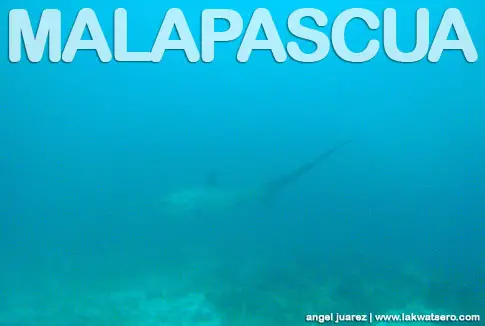 Our dive boat left right after sunrise and sailed for half an hour to Monad Shoal, where other dive boats were already parked. We geared up, James did the briefing afterwards. He was quite sure that we would finally see the Threshers. When we were all ready, we all had a big leap to the water and then we were down.
Slowly, we descended in the cold water of Monad Shoal and at fifteen meters deep, lo and behold, a Thresher showed up and quickly circled around us while we were descending. My eyes were wide on my first sighting of the sharks, I was ecstatic. Was it a premonition of more great things to come? I hoped so. One thing was sure, we would not be leaving without seeing one.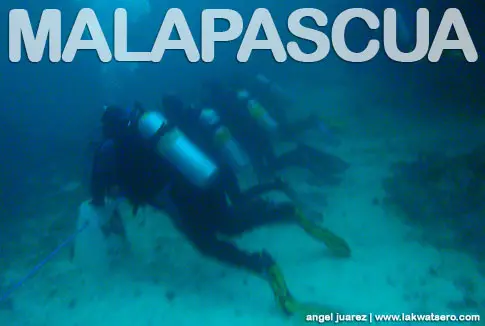 We continued our descent to our maximum depth of 27 meters, where a nylon line was setup to limit the area for diving tourists. It was setup so as not to disturb the sharks and I thought it was effective. Divers already lined up the area, holding the nylon cord, watching the sharks as they passed. We positioned on an empty space in one end of the line. Then I saw one shark, and another, and another, and more, until I lost count. There were so many of them, some even went too close to us. I saw their tamed-looking eyes, their prominent elongated tail, shiny body. It was surreal!
Few minutes left before our decompression limit, we slowly ascended, while circling around the shoal. Other divers were already gone. We saw some more sharks as we circled around. After 37 minutes, we were back on the surface. It was a short yet very eventful dive. A really good one!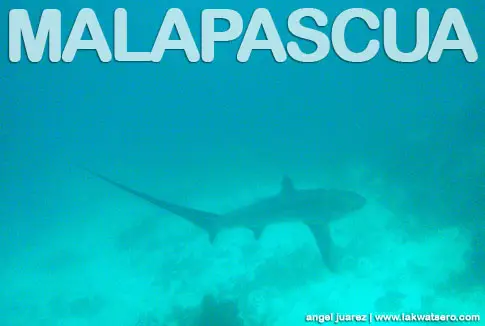 Back in the boat, there were exchanges of smiles, laughter and stories. I could still feel the hangover of the group from that amazing experience. James later explained that the Threshers are generally not aggressive to nor afraid of scuba diving humans, they are rather curious. It is our bubbles that frightened them. That explains why others came even close because for the Thresher sharks, humans are just another big sea creature, just like them.
We went back to Bounty Beach and were asked to come back at ten o'clock in the morning for our succeeding dives at Gato Island. We had breakfast and quick rest at our room and returned to the dive shop before ten.
Gato Island
Nick, an Australian dive master, was assigned as our dive guide for our next dives in Gato. We were grouped with two additional women divers, I failed to ask their nationalities, but they are both white. James was assigned to the Thai family.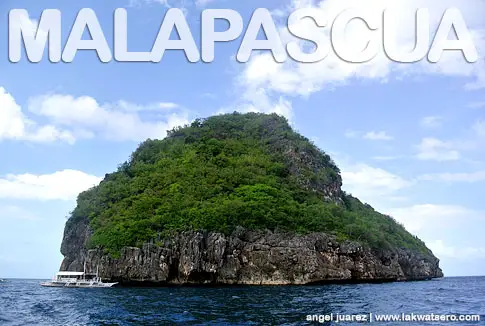 We left at exactly ten and sailed for half an hour to Gato Island, north of mainland Malapascua. Nick was very professional and organized. He did the briefing at the boat and as soon as we were ready, we jumped out to the water.
Our first dive in Gato Island, second for the day, was relax compared to the first. We maneuvered underwater, through the crevices and in between coral boulders where we saw two White Tip Sharks. One was so huge, I estimate it to be bigger than me, sleeping in one of the small caves. We surface after 49 minutes of scuba diving.
An hour of surface interval and we went down again on the other side of Gato Island, near the guard house. Nick did the briefing in a hurry, advised us to bring our torches, and jumped off the water as soon as he was ready. He told us to follow him quickly, so our group went down first while James and the Thai divers were still on the boat.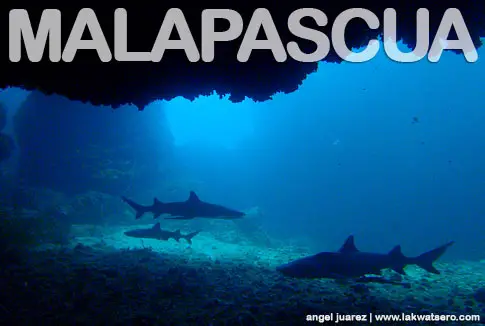 We descended gradually to a maximum of 17 meters, towards the small underwater cave. Nick motioned to to switch on our torches and one by one, we entered the cave. Nick was first. It was just a small cave, with an opening probably three meters in width and one meter in height.
We swim for a few meters with the ceiling almost touching my tank, the cave gradually widen as we traversed it to the end. The opening on its other end fitted the five of us with comfortable distances between each other. Around two meters before the end of the cave, we stopped to watch a surreal underwater show – five White Tip Sharks circling around, swimming obliviously in the open. It was a scene I thought I could only see in documentaries or in movies. Simply amazing!
We stayed for a few minutes, watching in awe, as the sharks continued what seemed to be a ritual. We were still until the other group came and we graciously exited on our right, trying not to disturb the sharks. But our movements and bubbles bothered them that they swam away. I wasn't sure if the other group witnessed what we saw. I guess not because I never heard them talk about it when we surfaced. That clearly explains why Nick wanted us to go first. A really clever idea!
We continued our dive and saw two more sharks before we went up. It was fifty five minutes of pure underwater bliss! What a great way to end our day of diving.
I somehow regretted why it took us three years to be back in the waters of Malapascua, three long years. I've been to a manifold of scuba diving destinations and never did I imagine that such scenes exist in the Philippines. The early morning Thresher Sharks diving and the White Tip Sharks experience in Gato Island are truly beyond compare. My Malapascua dive, the second time around, easily made it into my best diving experiences. Hence, I officially pledge my love of Malapascua Island. Thank you Nick and James of Divelink Cebu for that awesome experience.
Cost of diving with Divelink Cebu: P1200 per boat dive + P500 gear rental (3 tanks + BCD + regulator + weights) + P200 environmental  fee.