On our continuous chase of off-the-beaten dive sites in the country, Ate Claudia and I reached the surfing haven in the northeastern Mindanao – Siargao Island.
Situated off the coast of Surigao City and fronting the roaring Pacific Ocean, Siargao is famous for its waves. It is hailed as one of the best surfing spots today not only in Mindanao nor the entire Philippines, but also in the world.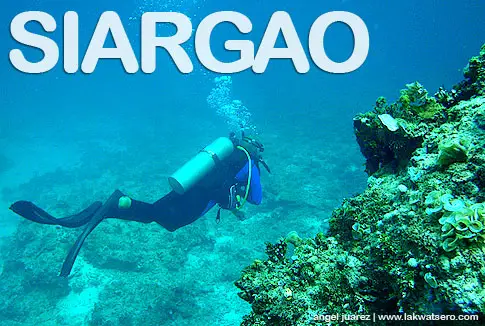 While it is a fact that surfing placed the island on the tourism map, there 's more in Siargao than just Cloud 9! The island is surrounded by blue waters and reefs that are teeming with vivid marine life, making it a great place for diving all year round!
Scuba diving in Siargao is still on its infancy, dive operators can be counted with the fingers on your one hand. But there are already known dive sites around the island and there are still more waiting to be discovered. From the waters around Daku and Naked Islands to other sites known as Casulian, Pilar Twin Rocks, Shark Point, Blue Cathedral, Puyo and Seeco Reef among others, Siargao is a promising dive destination!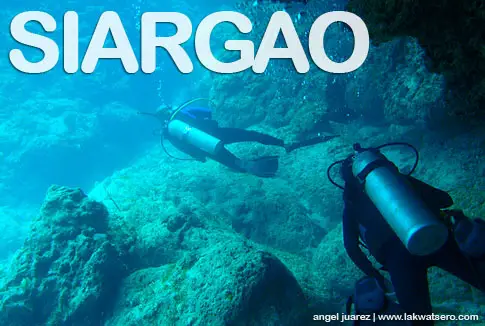 It was the peak of summer when we went there, the best time to dive in Siargao. There were occasional rain shower but the sky was generally clear, the sea was calmer, the visibility was great, perfect timing! So perfect that we were one of the first customers of Palaka Dive Center, a newly open dive resort in General Luna. Damien, the French owner and dive instructor, who have been around the world before deciding to settle in Siargao, gladly accommodated us!
We intended to dive in Blue Cathedral, considered as the best dive site in the island, but it is quite far and with only the two of us diving, the cost would be higher. So we decided to go for local dives, two boat dives off the coast of General Luna, around the island of Daku.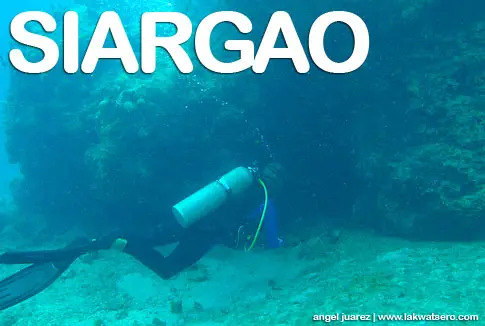 Daku Island East
Aboard the white speed boat of Palaka Dive Center, we headed to the east of Daku Island, past one o'clock in the afternoon for our first dive. Damien, being a dive instructor was professional yet cool. His stature as an instructor made us conscious of our movements specially underwater.
It was a relaxing first dive on a gradually sloping seabed adorned by colorful corals and dotted by huge rocks. We checked out the small cave, occasionally visited by sharks but not on that day. What graced our dive were juvenile banded sea snakes, puffers, groupers, sweet lips, moray and other tropical fishes and marine species. We surfaced after some 50 minutes of bottom time.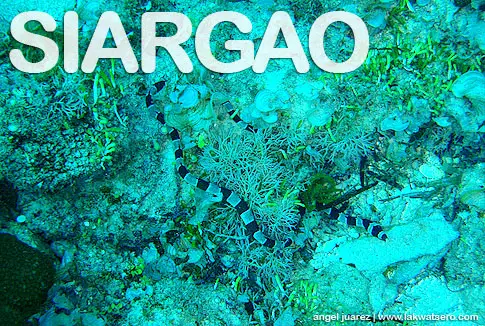 Daku Island South
We spent the surface interval on the boat before descending to the southwest of Daku Island for our second dive past three in the afternoon. Our descent was on a sandy bottom where we spotted two juvenile stingrays. They sped away fast though before I was able to take some proofs. There were also lone barracuda, nudis, moray eel, groupers, snappers and the usual tropical marine residents. We logged fifty five minutes underwater.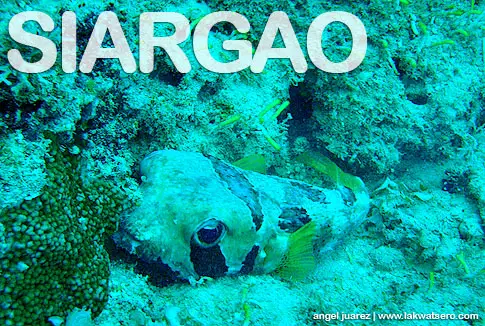 It was two relaxing dives in the waters of Daku Island which may not be as eventful as Malapascua and Coron or as colorful as Tubbataha and Apo Reef but they were good dives just the same. It always feels good to be underwater anyway, specially if it is a new dive site. A chance to explore and discover, to wait for surprises and appreciate what it offers. We've only had a glimpse of Siargao's depths but I believe there are more out there.
Surprises await. How about next summer? Insha'Allah!
Planning to dive in Siargao, I recommend Palaka Dive Center:
General Luna, Siargao
Contact No: +639186262303
Rate: P1800 per local dive (inclusive of gears, dive master and boat fees)