About Siargao
Siargao, a small and unassuming island off the coast of Surigao del Norte, is one of Mindanao's prized destinations. Famed for its surfing spot named "Cloud 9", the island is increasingly becoming popular to local and foreign tourists, surfers and non-surfers alike.
Siargao Island is the biggest landmass in the island group of the same name. The entire island group is composed of nine municipalities including Socorro, where Bucas Grande Islands or Sohoton Cove is located. The other eight municipalities are located in mainland Siargao.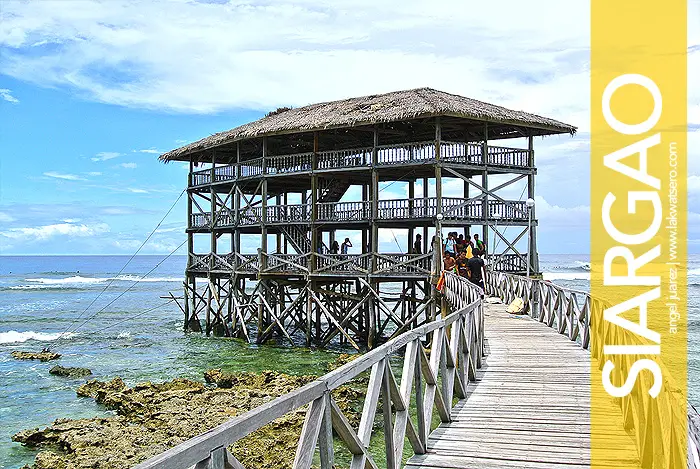 The island is almost synonymous to surfing, but more than its waves, there are other attractions that dot the island. Dip in the natural infinity pools and beach of Magpupungko in the town of Pilar; hop and laze under the sun in the sand bar and fine white sand islands off General Luna; dive the underwater caves and unspoiled sites around the island; paddle board in the green waters of Sugba Lagoon; go bird watching or game fishing; feast with fresh seafoods and other local delicacies; or explore other beaches, waterfalls, and natural attractions of the place.
Siargao is not only all about surfing, it has evolved into an all around adventure and eco-tourism destination. Come and discover its manifold of offerings and be amazed of the tropical paradise that is Siargao!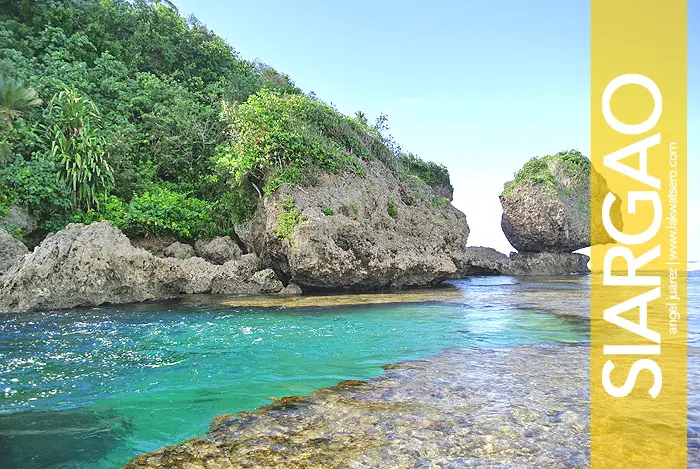 How to Get to Siargao
From Manila
Siargao Island has an airport (Sayak Airport) that serves commercial but currently, only Skyjet and Cebu Pacific fly there direct from Manila. Check out their website for the latest flight schedule and fare.
Sayak Airport is located in Barangay Del Carmen, approximately 45 minutes from General Luna, where most tourist facilities and attractions are located. There are vans parked outside the terminal to transport passengers going to General Luna. The current prevailing rate is P150 per person, you may work out your charm and bargaining skill to lower it down. Alternatively, you may also take a tricycle (as low as P500 per tricycle good for four) or habal-habal (as low as P400 per motorbike good for two).
From Cebu
Philippine Airlines and Cebu Pacific fly from Mactan Cebu International Airport to  Sayak Airport of Siargao.
Surigao City to Siargao
Surigao City, the capital of Surigao del Norte, is another jump-off point to Siargao Islands specially for those coming from Manila. Philippine Airlines and Cebu Pacific have daily flights to Surigao City from Manila and Cebu.
Upon arrival in Surigao City, catch a multicab or tricycle to take you to the port where trigger boats (P250/person) or RoRo Ferry (P210/person) to Dapa Port of Siargao dock. There are daily trips from Surigao to Dapa, the earliest leaving at 5:30AM and the latest at around noon. Take note that the trigger boats use different port from the RoRo Ferry, so make sure to tell the driver on where you intend to ride (boat/ferry fares vary, rates are as of May 2013).
You can book your ferry tickets from Surigao City to Dapa Port of Siargao and vice versa below.
From Dapa Port, transfer to a tricycle (P250/tricycle) or habal-habal (P200/motorbike) to take you to General Luna. If you are on a budget, just walk from Dapa Port to the nearby tricycle terminal in the market. The public tricycle fare to General Luna costs P30 per passenger as of May 2013.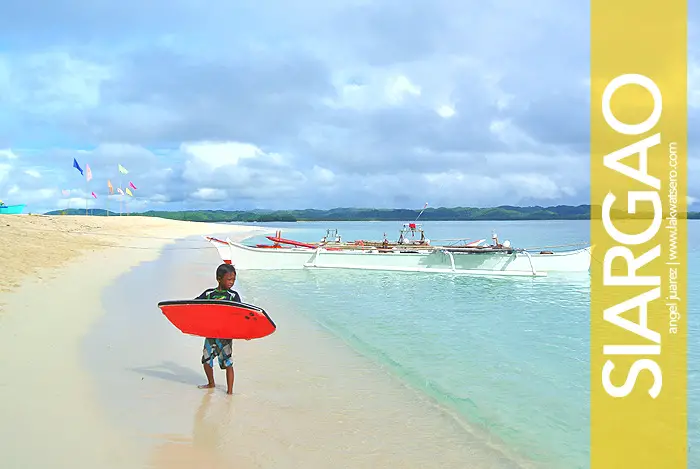 Getting Around and Away
Habal-habal and tricycle are the common means of transport around the island. The local government has standard rates for them (Contact the Tourist Assistance Center for more information at +639285970090 or email them at [email protected]). Minimum fare for short distance travel is P10/person.
If you are planning to go to Soccoro/Bucas Grande, there are two schedule departures from Dapa daily – 7AM and 2PM. Travel time is approximately (1) hour and boat fare is P100/person.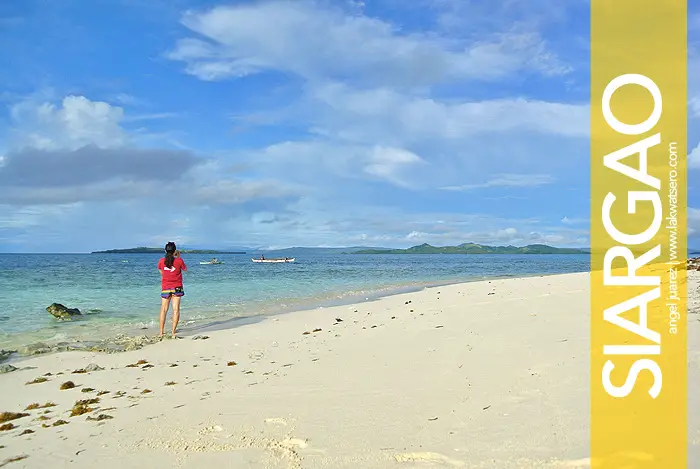 Where to Stay in Siargao
Accommodation in Siargao ranges from budget type to high end hotels and most of them are located in General Luna. For budget travelers, there are accommodations for as low as P400 per room and deluxe resorts that goes by the thousands.
Top-Rated Budget Accommodations in Siargao
Moonlight Homestay
General Luna, Siargao Island
Starts at 400 PHP

Point 303 Resort
General Luna, Siargao Island
Starts at 700 PHP
Top-Rated Hotels in Siargao
Ocean 101 Cloud 9 Beach Resort
General Luna, Siargao Island
Starts at 2,000 PHP

Isla Cabana Resort
General Luna, Siargao Island
Starts at 2,500 PHP
List of Hotels/Inns/Lodges in Siargao
Ocean 101 Beach Resort
Catangnan (Cloud 9), General Luna
Fan Room for two for as low as P700 per room
Contact No: +639108480893/+639198268837
Email: [email protected]

Happy Gecko Siargao Backpackers Hostel
Catangnan (Cloud 9), General Luna
Dorm room for as low as P200 per person
Contact No: +639999937416
Email: [email protected]
The Boardwalk @ Cloud 9 Resort
Catangnan (Cloud 9), General Luna
Budget fan Room for two for as low as P500 per room
Contact No: +639391641268
Email: [email protected]
Ocean Pacific Inn and Restaurant
Catangnan (Cloud 9), General Luna
Fan Room for two for as low as P500 per room
Contact No: +639083932796 and +639301880363
Email: [email protected]
Jadestar Lodge
Poblacion, General Luna
Budget fan cottage for two for as low as P600 per room
Contact No: +639192344367 (Ma'am Anita Quintas)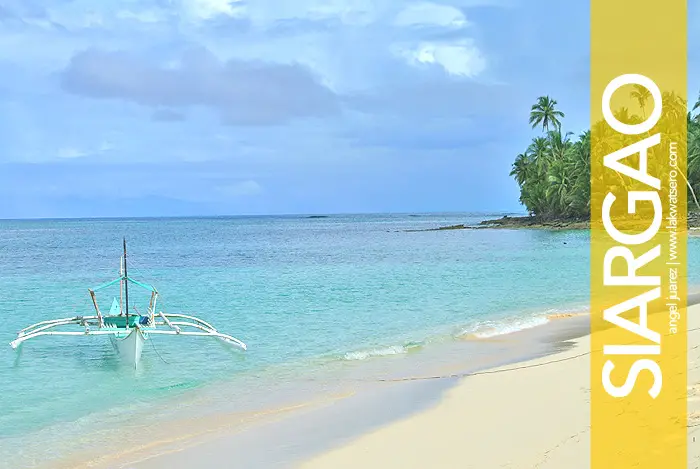 What to Do in Siargao
Go Surfing! Most resorts in Barangay Catangnan (Cloud 9) offer board rental and tutorial. There are also stand alone rentals in the boardwalk. The standard rate is P500 per hour for the use of longboard and service of a instructor. For board rental only: P300 for half day; and P500 for whole day.
Scuba diving/Free Diving/Snokeling: Unspoiled and unexploited, the waters around Siargao Island are divable all year round. Sites include Blue Cathedral, Guyam Island, Dako Island, Seeco Reef, Antokon, Shark Point and more. Contact Palaka Dive Center at +639186262303.
Other water sports such as paddle boarding and kayaking
Island Hopping: Naked Island, Guyam Island and Daku Island
Visit Magpupungko Beach and Natural Infinity Pools (Entrance P50/person)
Go Fishing
Trek to Taktak Falls of Sta. Monica
Visit Sugba Lagoon in Del Carmen
Explore the caves in Consuelo
Bird watching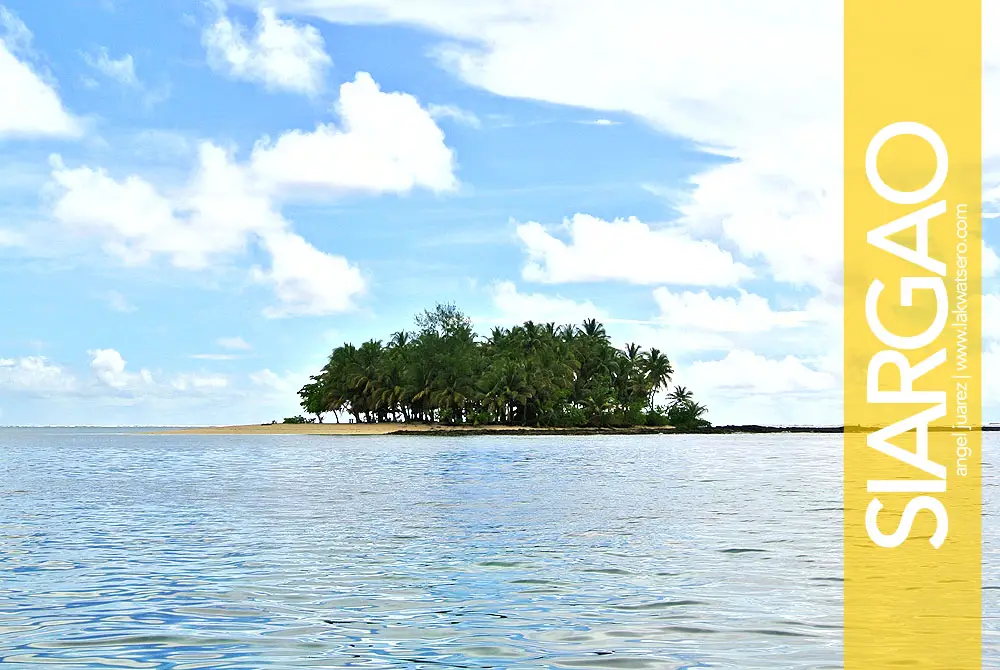 Sample Siargao Itinerary
Day 1
0800H – Arrived at Surigao City/ Breakfast / Proceed to port
0900H – Boat Surigao to Dapa
1130H – Arrive in Dapa Port / Proceed to Hotel
1200H – Check-in at Hotel / Lunch / Rest
1500H – Surfing Lesson / Surfing
1800H – Wash-up  / Fix-up / Dinner / Socials
Day 2
0800H – Call Time / Breakfast
0930H – Island Hopping: Naked Island, Guyam Island, Daku Island
1600H – Back in Hotel / Wash-up / Rest
1900H – Dinner / Socials
Day 3
0700H – Call Time / Breakfast
0830H – Island Tour: Magpupungko Tidal Pool and Sugba Lagoon
1600H – Back in Hotel / Wash-up / Rest
1900H – Dinner / Social
Day 4
0500H – Call time / Breakfast
0700H – Depart Siargao
Other Tips
There are ATM machines in Dapa but most of the time they do not work with foreign ATM cards and credit cards.
Some resorts accept major credit cards with additional fee of at least 6%
Travelers' checques are not accepted
Globe and Smart have mobile signal
Best time to go surfing in Siargao is from July to November
*First published: 12-Aug-2014 | Updates: 08-Sep-2017; 27-Nov-2017; 07-Jul-2019; 03-Mar-2020; 04-Nov-2021