Rich in culture and tradition and endowed with amazing natural wonders, the highland province of Ifugao is famous for the Rice Terraces of Philippine Cordillera, a UNESCO World Heritage Site which covers the rice terraces of Bangaan and Batad in Banaue as well as the clusters in the neighboring town of Kiangan (Nagacadan), Hungduan and Mayoyao. History tells us that these rice terraces were built more than 2000 years ago, truly an architectural masterpiece of the ingenious people of Cordillera.
These beautiful rice terraces were our epic destination last summer.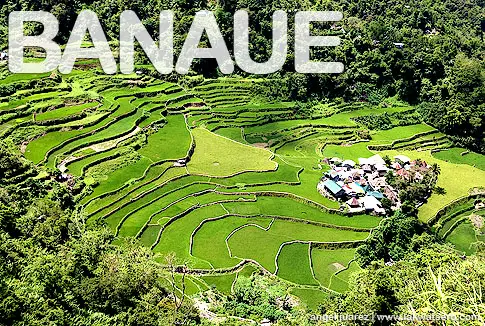 While the whole country was busy for the last few days of campaigning for the midterm national election, Rod, Kenneth, Glen, Richard and I made our way to Banaue on the second weekend of May for a biking adventure in one of the most beautiful places in the country. Our itinerary was to travel with our bikes from Poblacion Banaue to Poblacion Mayoyao, Poblacion Mayoyao to Batad, and Batad back to Poblacion Banaue. With only three days to spare, our plan called for us to travel light and move fast.
The 9PM trip of Ohayami Bus in Sampaloc, Manila took us to Banaue after 10 hours. Our saddle adventure began from there, and here is the diary of the first day of that epic weekend.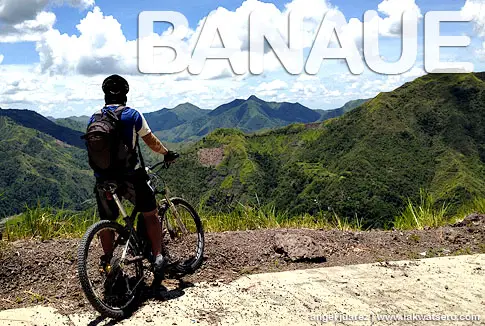 May 10, 2013: Poblacion Banaue to Poblacion Mayoyao – 41  Kilometers
7:15 AM Banaue
After 10 hours of overnight travel, the bus stopped at Poblacion Banaue. We unloaded our bikes from the bus' compartment and assembled it. Banaue welcomed us with a good weather, the sky was blue and the sun was gradually rising from the east. When we're good to go, we pedaled to the nearby Las Vegas Restaurant for breakfast.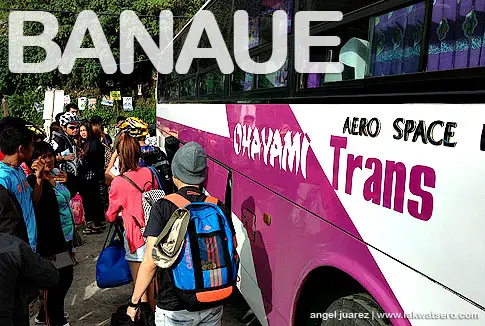 7:45 AM Breakfast at Las Vegas
We powered up for the whole day of biking at Las Vegas Restaurant, a popular diner in town. A Cheese Pancake and Brewed Coffee cost me P135.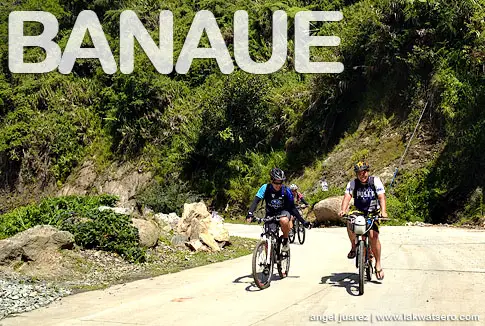 9:00 AM Rideoff
After a short rest, we left Las Vegas Restaurant and pedaled all the way to Bangaan with the green scenery on our backdrop.
It was around 12 kilometers on mostly paved road with mild ascent. We couldn't contain our excitement and astonishment so we made frequent stops to take photos of the breathtaking greens around us.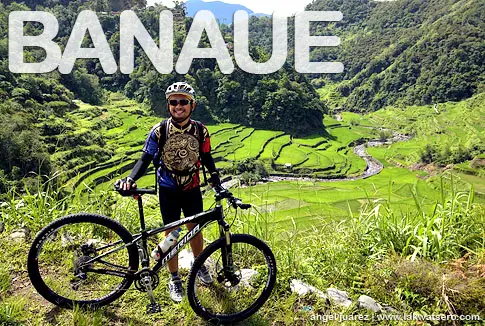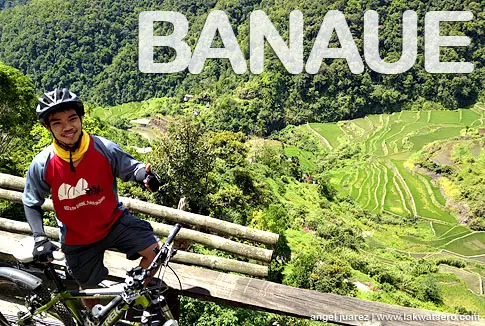 10:30 AM Anaba
We reached Bangaan Inn and stopped for a quick refreshment. The Bangaan cluster of  UNESCO World Heritage Rice Terraces was right in front of us. The ride from Poblacion Banaue to Bangaan was just a warm up, a harder challenge was ahead but we were prepared for more.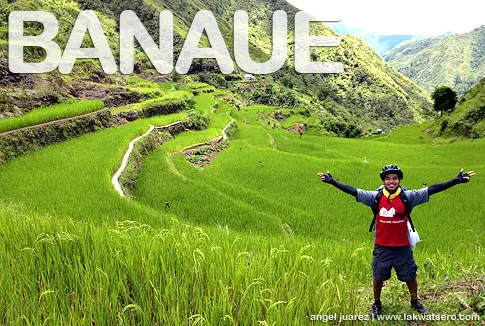 11:20AM Ducligan
With the sun fully up and our adrenaline still high, we continued our journey towards Mayoyao. From Bangaan, the terrain turned into a combination of rough and paved road, on mild ascent and some recovery. We had a short rest at Ducligan before heading to the boundary of Bangaan and Mayoyao. We were still around 25 kilometers away from our destination.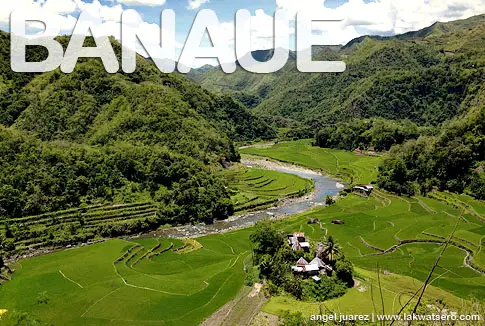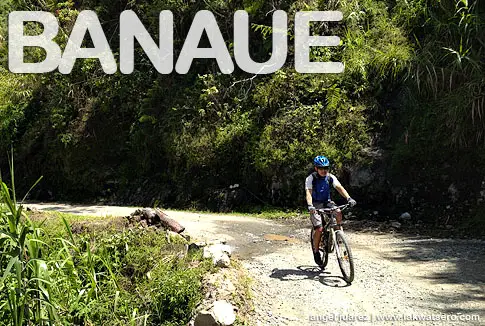 11:30 AM Habbang Bridge
From Ducligan, it was mostly downhill to Habbang Bridge that connects Barangay Ducligan of Banaue and Barangay Aduyongan of Mayoyao. Below the bridge is Ducligan River that separates the two towns. The inviting cold water of  the river provided a great relief on a midday heat and for us who were starting to feel the load of our adventure, we succumbed to its invitation to freshen up!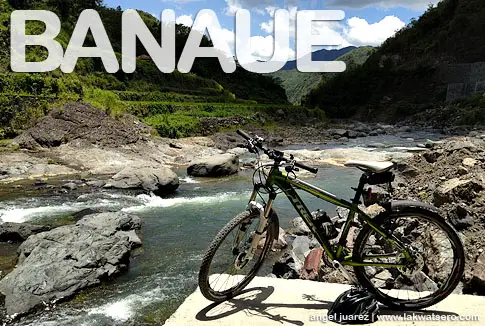 12:10 PM Welcome to Mayoyao
Not quite! From Banaue-Mayoyao boundary, we still needed to pedal twelve kilometers to the town's center, our pit stop for the day. Twelve kilometers of mostly uphill and dirt road combo, the start of the real challenge. Thankfully, the sun was playing with the clouds… or should I say with us?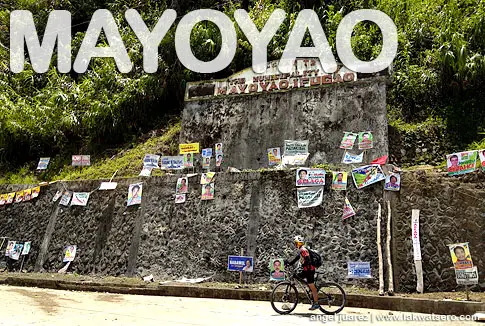 12:45 PM Quick Stop at Tulaed
After pedaling four kilometers of uphill dirt road, we stopped by the village of Tulaed for our lunch and quick rest. There are stores that sell variety of snacks and drinks in Tulaed, and it was our last chance for decent foods for the entire afternoon because the stretch from there to Poblacion Mayoyao is just bare scenery dotted with few quiet houses by the road.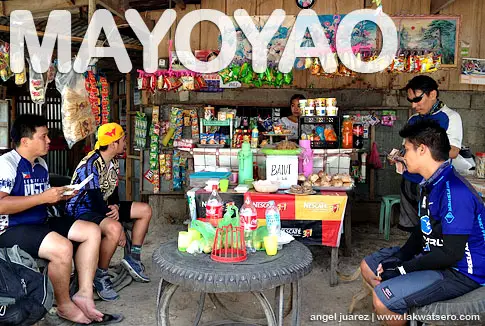 1:30 PM Ascent to Mayoyao
We left Tulaed to continue our journey, nine more kilometers to Poblacion Mayoyao.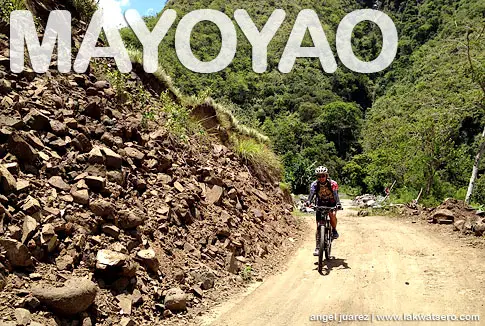 2:45 PM Mongol
After a grueling climb, we had a quick stop at Barangay Mongol. The sun already hid behind the gray sky, a hint of an afternoon shower. But with Poblacion Mayoyao just in striking distance, we were still eager to roll uphill, oblivious of any distraction. We knew we were on the final stretch!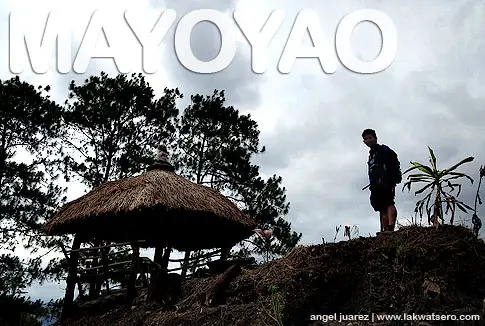 4:10 PM Touchdown Mayoyao Poblacion
Few more quick stops and finally we reached Poblacion Mayoyao, around seven hours after we started to pedal. The rain began to pour, thankfully we were already in the comfort of Milcah Lodge, where we were billed for the night.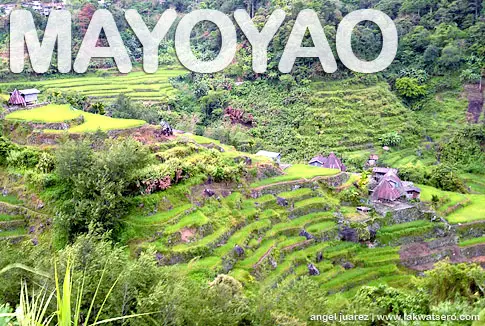 5:00 PM Walking Around Town
The afternoon shower halted so we went out and walked around the town. There were a lot of people in the plaza, a 'miting de avance' had just packed up. I could feel a lot of eyes were on us who were still on our bike jerseys. They knew we were from the lowland but the locals were generous with their smiles. We walked and walked and walked, checking out some of the rice terraces that can be seen along the road. Before the darkness enveloped Mayoyao, we went back to the plaza, had our dinner and returned to Milcah Lodge to call it a day.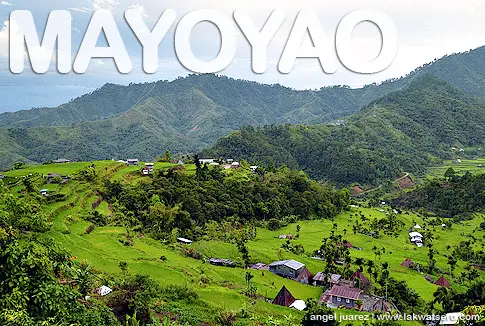 It was dark. The rain knocked down the town's power supply but the night was cold, sleep would not be hard I supposed. Not minding the freezing water, I had a quick shower before going to bed.
When I closed my eyes, the images of Banaue and Mayoyao kept my mind busy, one after the other they flashed back until everything turned gray then black. The last thing I remember was smiling all throughout my early dreaming and I guess even after I crossed the threshold of consciousness. I never knew it would be so fun that I didn't want our epic adventure to end. A day just passed and it was full of good memories, but there would be more the next day and I simply couldn't wait.