Thinking of my activities for the next day made it hard for me to sleep on my first night in Lubang. The images of the lighthouse and the open blue water kept playing on my head when I closed my eyes. I was terribly excited!
I still managed to have an eight hour of rest though. I woke up at exactly seven in the morning, had my breakfast where I met Mrs. Divinia Bertos, the owner. Then I proceeded to the dive shop to prepare my gears and equipment all lent to me by Sir Chot – wet suit, boots, fins, mask, weights, dive computer, underwater camera and the backplated BCD. It would be my first time to dive on a backplate and Mr. Chot kept on saying that I would like it more than the jacket BCD. "You won't use the conventional jacket type again after using backplate", Mr. Chot jested.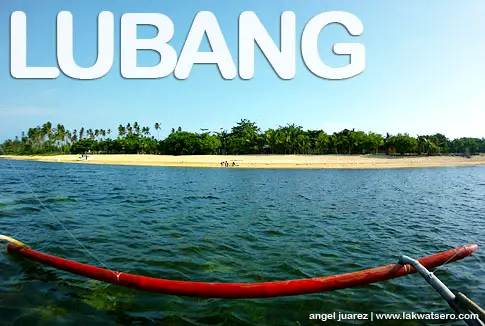 Lubang Island lies on the western edge of Verde Island Passage that stretches towards Marinduque on the east with Verde Island on the middle. The passage is dubbed as the center of the center of world's marine biodiversity, an area of dense marine life, the center of coral triangle, the Amazon of the sea. Colorful corals, pelagic, tropical fishes and other marine life thrives on its water. An old study even revealed that it is where the underwater life originated, the waters of Lubang Group were specifically mentioned.
But unlike Verde Island and the nearby Puerto Galera and Anilao, scuba diving is not common in Lubang. Unknown to many, the waters around the island and the neighboring Cabra and Ambil are diveable all year round with wrecks, caverns, walls and underwater crevices that make it an ideal dive for scuba divers of all levels. Sharks and Mantas are known to dwell in the area and although most are not aggressive, some are not used to human, so divers are advised to be careful and vigilant.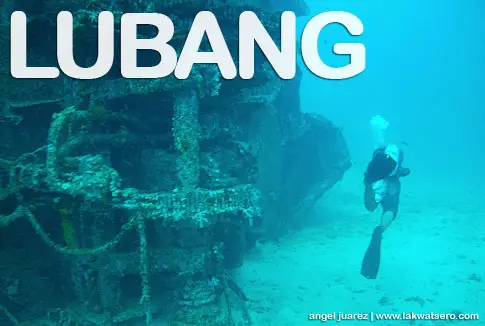 At exactly eight in the morning, we boarded the small trigger boat good only for the three of us – me, Sir Chot and our boat captain Kuya Dickie. We sailed towards calm water towards Cabra Island. The blue sky and the summer sun relaying to us the message that it was a perfect day to dive.
Cabra Wreckage
It took us 45 minutes to reach our first dive site south of Cabra Island, where a wreck lies at 27-meter deep sea bed. We descended at a coral area and drifted eastward to find the wreck. Sir Chot wasn't so sure of its exact location, he assumed it to be 100 meters east from where we descended. I was confident that he would find it and after 15 minutes, a huge shadow emerged from somewhere and became clearer as we went closer.
Aha! The wreck! A steel one that resembles a gate of a barge. No one actually knows what it is, where it came from, when and why it sunk. It just beam a huge underwater attraction today. I assumed it was already there for years as shown by the corals that already covered its walls. Lionfish, angelfish, nudis and other small tropical fishes are already taking refuge on it.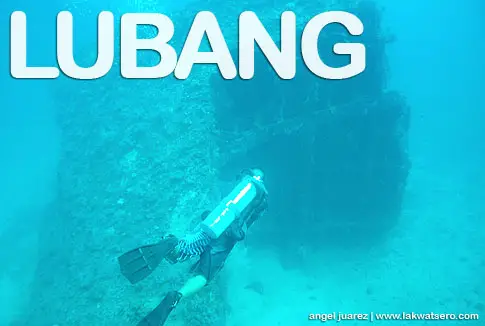 We wandered around the wreck and circled around four times from its bottom at 27 meters to the top at 21 meters. It may not be as big as the Japanese shipwrecks of Coron or the Alma Jane of Puerto Galera but it is amazing anyway for someone like me who has penchant on underwater wrecks.
After spending some time on the wreck, Sir Chot gestured our return so we maneuvered back to our entry point in the coral area while slowly ascending for our safety stop. We had a bottom time of 37 minutes at 33 meters maximum depth.
Surface Interval: Cabra Island Lighthouse
As promised, they brought me to the shore of Cabra Island during surface interval to let me do my own agenda. I approached one of the trikes parked near the shore and asked the driver to bring me to the lighthouse. I was charged P100 for the ride back and forth which I thought was a good and just reasonable bargain so I agreed. After a roughly 10 minutes of ride, there it was, in an open field north of the island, the towering and picturesque Spanish built lighthouse of Cabra with the modern one standing beside.
Built in 1885, the first order lighthouse of Cabra Island was built to guide vessels entering the Philippines from South China Sea towards Manila Bay or Verde Island Passage. It was the first of the five first-order lighthouses built by the Spaniards to guide the ships in one of busiest sea routes of the Philippines.
The old lighthouse is evidently unattended and in seriously bad state, dilapidated and in need of repair. But despite her poor condition, I still felt her impressive appeal radiating around. She has imposing beauty that I guess only a few could ever notice. And so I wandered around her and marveled at her beauty. I felt our connection the first time I saw her. She is lonely yet beautiful.
I wanted to stay longer but I couldn't, so I bid her goodbye. My eyes were glued as we moved away until she completely vanished from my site. It was a dream come true to see her but I am not happy after seeing her current state. I am worried.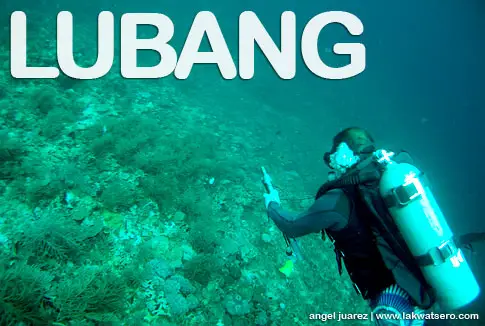 Back at shore, Sir Chot and Kuya Dickie were already waiting for me. I smiled at them to hide my emotions. We sailed back to Tagbac for our lunch. Our next two dives would be south of Tagbac in the afternoon.
At half past one in the afternoon, we boarded back to our trigger boat for our next dives and after half an hour, we reached the site near a Japanese owned guesthouse.
Underwater Caverns
We descended to a wall covered with corals and adorned with huge sea fans. Lobsters, eels, smaller reef fishes, nudis, shrimps and other macro species dwell on the wall that slopes down to maximum of 50 to 60 meters. It reminded me of the Sea Fan Alley of Tubbataha and the walls of Kalanggaman Island. With not so good visibility, we navigated northward to the underwater cave at 30 meters depth. The cave is said to be 20 meters long, sharks, napoleons and other pelagic occasionally take refuge inside. We didn't get inside the cave since we left our torches in the boat. We surfaced after 37 minutes of bottom time.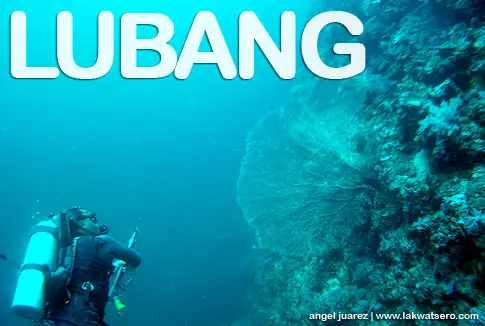 Another hour of surface interval and we went down again to the nearby site for another wall dive near the other underwater cave in a hope to see the huge Mamengs or Napoleon Wrasses. According to Sir Chot, these huge Mamengs, measuring around two meters, frequent the other cave believed to be an underwater passage with the other end towards the sea surface. Our descent was on a crevice, with both walls covered with variety of corals and home to lobsters and other small reef fishes. Luck wasn't on our side, we didn't see the Mamengs but it was a good wall dive anyway. Our safety stop was on a shallow coral area scarred by dynamite and cyanide blasts years back. Thankfully, blast fishing has already halted in the water of Lubang these days, the corals are starting to recover. Give two to three years and the reef will be fully alive again. Forty one minutes of diving and we surfaced. It was our last dive.
After a day in the water with three dives, a visit to the lighthouse and a quick touch of my feet to the beaches of Cabra and Tagbac, my Lubang trip was finally over. It was such a short stay and there are more places that yet to be visited – Onoda trail and caves; beaches of Binakas, Looc and Ambil; hidden waterfalls; Gozar Radar Station; and other dive sites around the water of Lubang Group. Nevertheless, I was thankful that even for a day, I was able to experience Lubang's assets – the truly warm hospitality of its people and its rich underwater life, one of the Lubang's greatest potentials and big surprise!
Before I end this post, let me thank the friendly people of Lubang with special mention to Ms. Virginia Bertos and Ret. Col. Bertos of Don Juan Villa Resort; Sir Chot Lucas, Kuya Dickie and the staff of the dive shop; LIS Principal Mrs. Ermelita Villar; Mr. Jaime Villegas; Gilbert; and all those who help me directly and indirectly. You have proven to me that it is in fact an "Amazing Lubang!"
Photos on this post are taken using Sir Chot Lucas' camera. If you wan't to experience diving in Lubang island, you  may contact:
Don Juan Villa Beach Resort and Dive Center
Contact No: +639202385270/+639085532147