Baler Travel Guide 2018: How to Get There, Where to Stay, Activities & More
Categories

Luzon, Travel Guide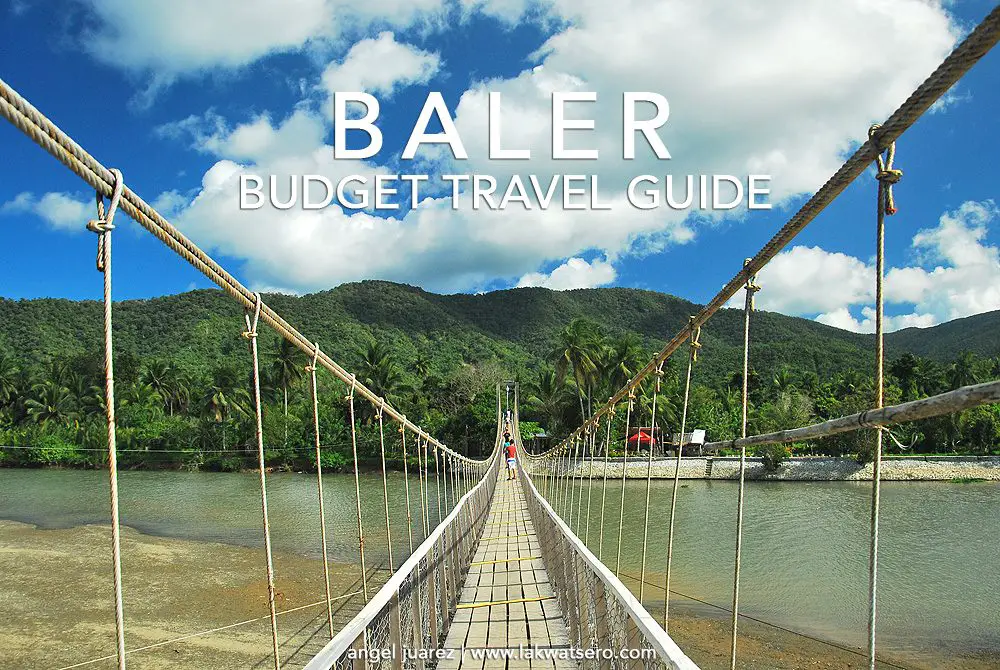 Mention Baler and the first thing that will popup in everyone's mind is surfing. And this without a doubt is true because Sabang Beach is a real surfer's paradise. But more than surfing, the town is increasingly becoming popular not only to surfing enthusiasts, primarily because of its natural beauty, historical significance and other attractions.
The capital of the province of Aurora, Baler is situated on the east coast of Luzon, fronting the roaring waves of Pacific Ocean and enclosed by the mountains of Sierra Madre. The town's relative isolation has preserved much of its historical sites, cultural heritage and tradition that are all deeply rooted on its vibrant past.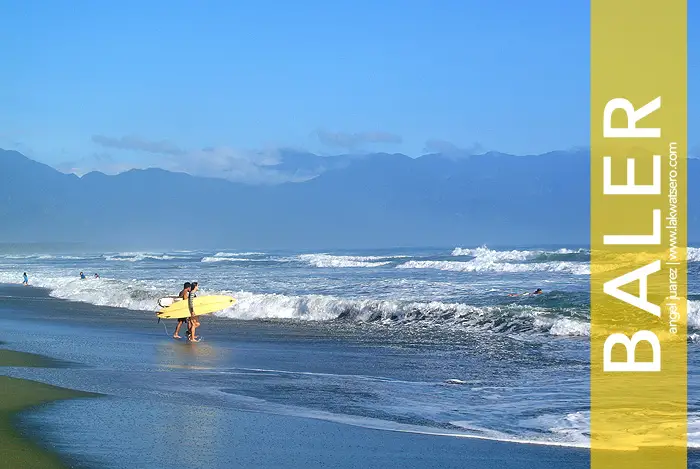 Looking back, there are major events in the past three centuries that marked significantly in the town's history: on December 27, 1735, a phenomenal tidal wave ("tromba marina" in Spanish) wiped out the coastal town; from June 27, 1898 to June 2, 1899, fifty four soldiers of Spanish Army barricaded inside the town's church and bore the brunt of the Philippine revolutionary forces; and in 1979, the Hollywood classic film "Apocalypse Now" filmed their surfing scenes in Sabang Beach. All these plus all those little folklore and stories shaped the town to what it is now.
Baler is Baler, it has unique identity and charm that sets it apart from other places in the country. Have a bit of adventure, a lesson in history and commune with nature, visit Baler!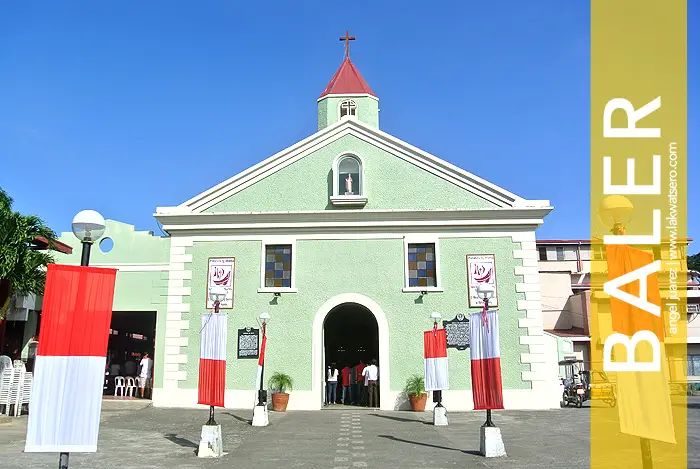 How to Get There
Manila to Baler
Genesis Transport Service is the only bus company that plies directly from Metro Manila to Baler. Their Baler bound buses are located in their Cubao Terminal.
Genesis offers two types of bus service for the Baler:
The executive luxury bus called Joy Bus, a non-stop service trip with snacks on a sleeper bus with Wi-Fi, a bus stewardess, blankets, pillows and a morning kit. There are at least three trips a day, with travel time of five hours and P750 (November 2014 rate) fare. Advance reservation is required.
The regular air-con bus that travels six to seven hours for a fare of P450, advance reservation is not necessary.
Although Genesis has a published schedule of the trips, the schedule of the regular aircon bus is almost always not followed. Joy Bus from Cubao to Baler are set to depart at 12:30AM, 1:30AM, 2:30AM and 5:30AM while the regular air-con bus has supposed to have hourly trip from 2AM to 8AM but it also depends on the volume of passengers. It is advised to be in the station early if you are taking the regular air-con bus and be attentive of the announcement and updated schedule since there is no proper way of queuing or ticket issuance for the regular trips. For advance reservation on Joy Bus and other information, call their Cubao Office at (02) 709-0803 or (02) 421-1425.
Sometimes, there are colorum vans plying Manila to Baler charging at least P550 per passenger, they are station on the street beside Genesis Bus Terminal, travel time takes at least five hours.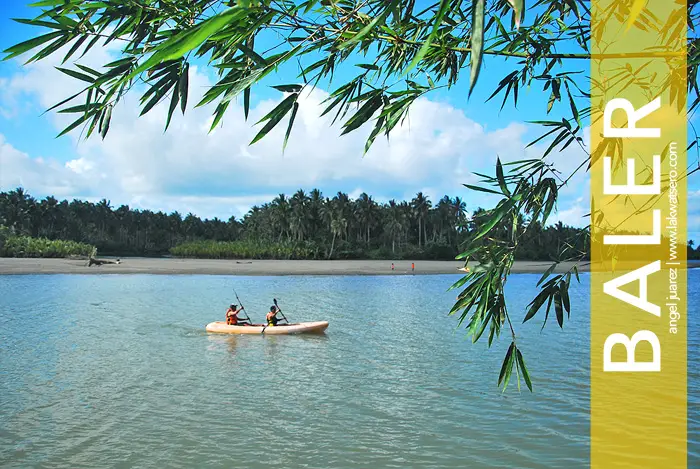 Manila to Cabanatuan to Baler
Another alternative of going to Baler is via Cabanatuan City, Nueve Ecija. Several bus lines ply from Pasay, Avenida, Cubao and Caloocan to Cabanatuan daily including Genesis Transport, Five Star Bus, Baliwag Transit and ES Transport. Travel time is approximately three hours and fare is at least P185.00 (November 2014 rate). There are also vans servicing Manila to Cabanatuan.
Buses from Metro Manila stop at Cabanatuan Central Terminal where the vans and buses to Baler are also stationed. Maria Aurora Bus Line has regular trip to Baler from here with the earliest bus at around 8AM, travel time is approximately four hours and fare is P247 (November 2014 rate). Vans travel when they are full, travel time is faster at three hours and fare is P220 (November 2014 rate). There are also non-airconditioned buses at the bus station, they are slower yet cheaper.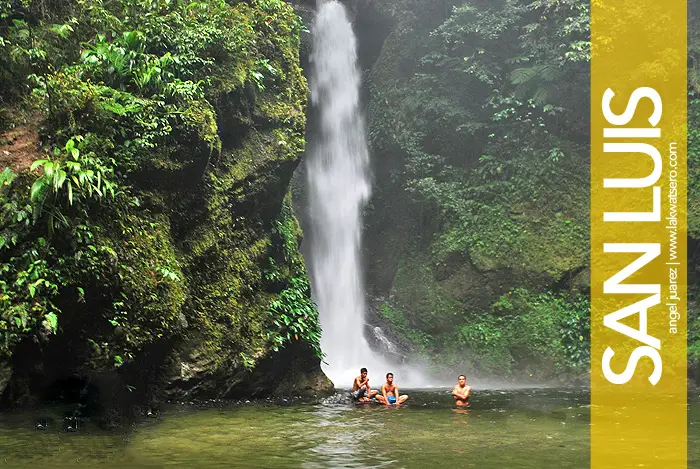 Going Around and Away
Tricycle is the common mode of transport in Baler, minimum fare is P10. It is also the cheapest mode of transportation in touring the town. A tour of Baler can be arranged for as low as P700 (March 2013 rate) for a trike that can sit at most four passengers. The tour includes the attractions around the Poblacion (Baler Museum, Dona Aurora Aragon Quezon House, Baler Church and Plaza), Ermita Hill, Fish Port, Lukso-Lukso Islet, Anao Islet, Diguisit Falls, Mother Falls and the Old Balete Tree.
Buses, vans and jeepneys going to Cabanatuan, San Luis, Maria Aurora, Dipaculao, Dinalungan, Casiguran and Dilasag are stationed in Baler Central Terminal while the Genesis buses to Manila are in their own terminal near the public market.
Baler is also connected to the northern towns of Dipaculao, Dinalungan, Casiguran and Dilasag by commercial boat. There are public boats that depart from its own port known as "Duungan", but trips are only possible when the sea is calm.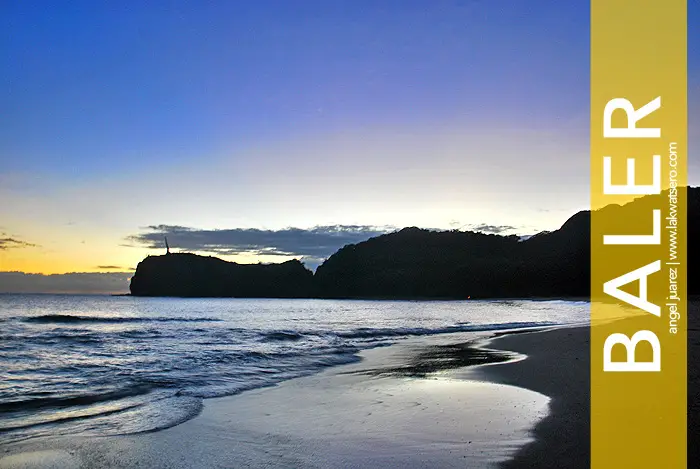 Where to Stay in Baler
Accommodation in Baler ranges from budget inns to posh hotels and most of them are located in Sabang Beach, the popular surfing spot.
For solo backpackers, Jam and Jen's Lodge (Contact Number: +639215983588 /+639162001731) offers single fan room for as low as P700 per night. The place is along the street parallel to the beach, right beside Costa Pacifica. On non-peak season, you can get the room for as low as P600. They also have rooms for two guests. The place is equipped with free wi-fi.
For groups, June Samano Homestay (Contact Number: +639297163292/+639081042043) is a good choice for those in budget. They have rooms that are big enough for five persons for as low as P2,000 per night. The place is along the beach and right beside Bayler Inn. Free wi-fi too!
Top-Rated / Highly Recommended Accommodations in Baler
Costa Pacifica Resort
Sabang, Baler
Starts at 5,500 PHP

Baler Fiore del Mare
Sabang, Baler
Starts at 2,600 PHP

Chamie's Transient House
Sabang, Baler
Starts at 3,000 PHP

Baler Darshans Guesthouse
Sabang, Baler
Starts at 1,800 PHP
Top-Rated Budget Accommodations in Baler
Go Surfari House
Sabang, Baler
Starts at 700 PHP

The Circle Hostel
Buhangin,Baler
Starts at 1,000 PHP
Other notable places to stay are:
Aliya Surf Camp and Resort (Sabang)

Contact Number :+639399390929
Email: info@aliyasurfcamp.com
Room Rate: P2,100 >
Amco Beach Resort (Sabang)
Contact Number: +639214117671/+6323303515
Amihan Aplaya Lodge (Sabang)
Contact Number: +639186328566 / +639184263268
Bay's Inn (Sabang)

Contact Number: +639189266697/+639089823509
Email: baysinnbaler@gmail.com
Room Rate: P800 >
Bayler View Hotel (Sabang)

Contact Number: +639192863105 /+639273638735
Email Address: baylerviewhotel@yahoo.com
Room Rates: P1,400 >
Cocohut Lodge (Sabang)
Contact Number: +6342-2094341
Costa Pacifica (Sabang) *Formerly Bahia de Baler

Contact Number: +6325194249
Email: inquiry@costapacificabaler.com
Desiree's Lodge (Sabang)
Contact Number: +639204800978/+639217518490
Room Rate: P600 >
El Trophine Lodge (Suklayin)
Contact Number: +639193737575/+639387972080
Room Rate: P700 (aircon) >
Isla Virgina Resort (Sabang)
Facebook: https://www.facebook.com/Isla.Virginia.Resort
Contact Number: +63919-8653703/+63920-7550467
Room Rate: P2,000 >
Kahea's Lodge / Surfer's Inn (Sabang)
Contact Number: +63920-8689477/+63921-5480823
Little Girl's Surfers Lodge (Sabang)
Contact Number: +63907-7041186 / +63918-6859449
Room Rates: P500 >
Mel's Nest Lodge (Sabang)
Contact Number: +63920-5245004
MM Lodge (Sabang)
Contact Number: +63910-8440452/+63919-537940
Moreno Lodge (Suklayin)
Contact Number: +63-042-2094208/+63-042-2094207
Room Rate: P750 (aircon) >
Noel Carl's Garden and Resort (Suklayin)
Contact Number: +63-042-2094265/+63918-53933870
Oasis of Baler Resort (Sabang)
Contact Number: +63920-4606866/+63918-6676749/+63919-4749116
Pacific Waves Inn (Sabang)
Email Address: marvinlee12@gmail.com
Contact Number: +63917-8950276/+63-5143020
Sanchez Resort (Cemento)
Contact Number: +63920-8129998
Sea Breeze Lodge (Sabang)
Contact Number: +63915-322-5994
Room Rate: P500
Secret Spot (Sabang)
Contact Number: +639434898188/+639284531777
Room Rate: P750 (fan)
Trezzo Inn (Sabang)
Contact Number: (+63) 927-894-7232 / (+63) 920-567-8153 / (+63) 916-255-6025
Room Rates: P500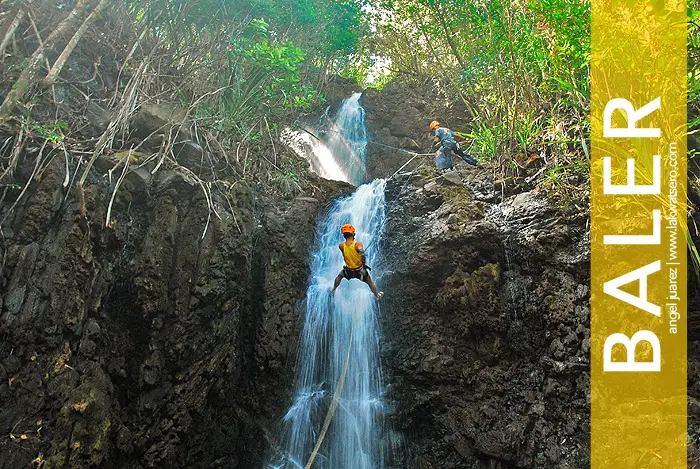 Where to Eat in Baler
When in Baler, dining should not be a problem. The major hotels in Sabang have their own restaurants that are open to public. Bayler's Inn, Bay's Inn Hungry Surfer Restaurant and Baler Surfer's Grill are some of the most popular restaurants in the area. My personal favorite is Bayler's Inn specially their Tuna Carbonara and Longanisa Aglio Olia Pasta as well as their Chocnut Turon Ala Mode. If you are into buffet, Chef Jerry Shan's Place in the plaza is the place to be for only P199 per person. Night life is limited to restaurants along Sabang Beach.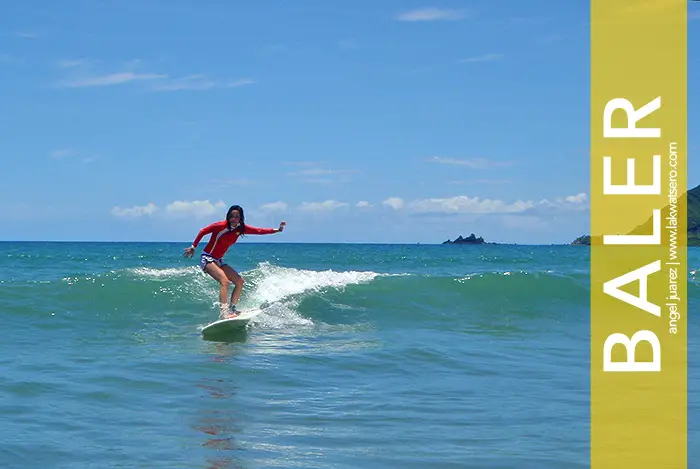 What to Do in Baler
Surf! Surf! Surf! Most resorts offer board rental and tutorial, add to this are the stand alone kiosks along the beach, The standard rate is P350 per hour for the use of surf board and service of a guide. For board rental only: P200 per hour; P400 for half day; and P800 for whole day,
Scuba diving/Snokeling
Other water sports: paragliding, paddle boarding, kayaking
Tour Baler by visiting these attractions: Aniao Islet, Canawer, Dicasalarin Cove, Mother (Ditumabo) Falls, Ampere Beach, Diguisit Beach, Dinadiawan Beach, Ermita Hill, Aurora Aragon Quezon House, Museo de Baler, Baler Church, Cunayan Falls, Centuries-old Balete Tree
Try rappelling in Digisit Fals
Explore the beaches, caves, waterfalls and other attractions of the neighboring town of Dingalan, Dicasalarin, Casiguran, Dipaculao, San Luis and Dilasag.
Go camping in the secluded beaches and coves
Trek Mt. Udok, Mt. Pamazam-pazam, Mt. Anacuao and Mt. Maaling-Alin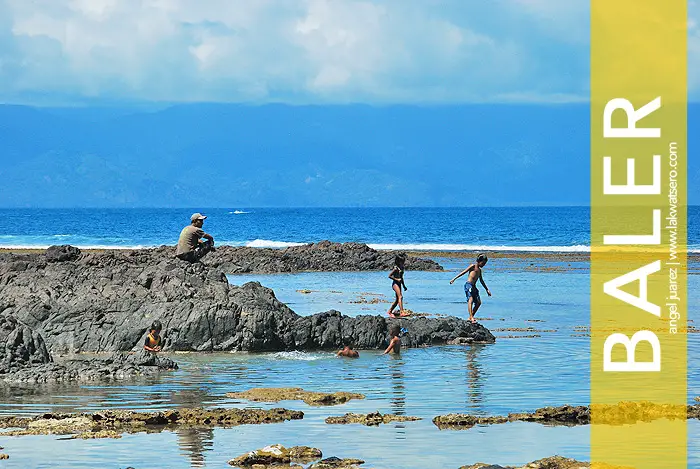 Other Tips
All mobile operators have mobile signals
There are ATMs in town
Most establishments accept credit card and debit card but not traveler's check
If you are into surfing, the best months to visit Baler are from July to December. During summer and dry months, the waves may be smaller but still surfable
(Visited 2,182 times, 45 visits today)