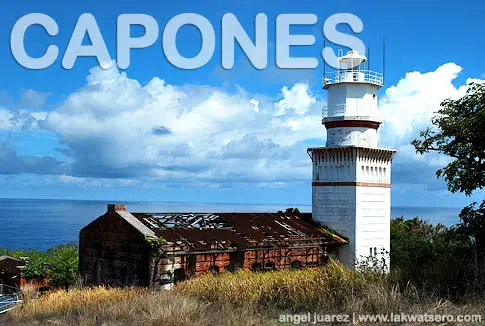 Four kilometers off Barangay Pundaquit, Zambales in the main island of Luzon, Philippines is the Capones Island or "Isla de Gran Capon" during the Spanish era. It is a two kilometer long bone-shaped island surrounded by white sand and rocky shores.
This island boasts of white sand beaches conducive for overnight camping, day picnic and swimming; turquoise water and rich marine life that is great for diving and snorkeling.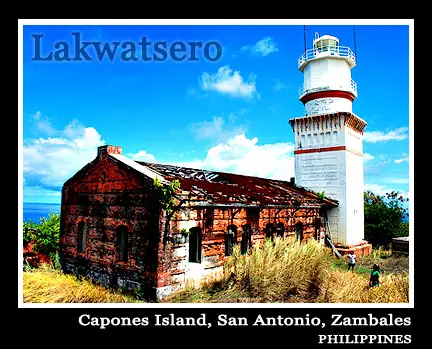 There are no commercial establishments on the island and the only structure there (aside from an unfinished building) is an old Spanish lighthouse (Faro de Punta Capones) that was built in 1890 to guide ships entering and leaving the bays of Manila and Subic, and to warn passing ships of the dangers of rocky shores around the island. The solar-powered lighthouse is Capones best kept secret, with its original brick house structure still in place, though ragged and neglected, but still draws a dramatic picture.
Close to Capones Island is the Camara Island, which is virtually two islands connected by a sandbar.
How to Get There:
By Land
To get there, one must go to Barangay Pundaquit or San Miguel in San Antionio, Zambales, where a boat to Capones Island can be rented for a standard rate of P700.00 (~$17) round trip. It is a 15 to 30 minutes boat ride from the shores of Pundaquit or San Miguel.
To go to Pundaquit, ride a bus bound to Iba or Sta. Cruz, Zambales. Victory Liner has regular scheduled trips to those destinations. Tell the driver to drop you off at San Antonio. If you are coming from their terminal in Sampaloc, it will cost you P220.00 (~$5.25), don't forget to tell the cashier that you are up to San Antonio only, or they will charge you the full fare to its destination. Travel time is around 3 to 4 hours via NLEX.
From San Antonio, ride a tricycle to Barangay Pundaquit or San Miguel, standard rate is P20.00 (~$0.5), you may opt to add some tip since it is quite far.
By Air/Sea
By ferry, take a Mt. Samat Express (Contact No: 551-5290) ferry ride to Subic in CCP (~P250.00 – P300.00) or the Supercat from Mall of Asia (P300.00) . It is an hour ferry ride to Orion Bataan. From there catch a bus to Subic for another hour or less and then a bus to Iba, Zambales, passing to San Antonio.
By air, charter an aircraft to International Subic Airport, Castillejos Airstrip, or to Iba Local Airport and catch a ride to San Antonio.
Where to Stay:
Since there are no commercial establishments in this island, you may bring a tent or camping equipments (plus foods and drinking water) if you are planning to stay there overnight. Just tell the boatman your planned date and time of return to Pundaquit. Boat rate for overnight trip is highr at P1500.00 for aboat that can fit up to four persons.
Most tourists, however, camp in Anawangin or Nagsasa Cove or stay in Pundaquit where numerous hotels and restaurants can be found. You can have a room for as low as P1000.00/~$25 (or even lower). For Lakwatsero's compilation of hotels in Barangay Pundaquit click here:
Activities:
Trek to Capones Lighthouse: If you are coming from the east side of Capones Island, you have to trek for an hour or less, to a rocky shore, passing to an unfinished building and statue of Mama Mary. I suggest you have someone with you who knows the place since the trail up has no signage, (only stone guides) and you may get lost. But if you are coming from the other side of the island (near the stairs), the lighthouse is already visible so it is easier to reach the place passing through a field, this side of the island however has rocky shore and some huge waves making it impossible for bancas to dock.
Camping: Just bring your own camping equipments, enough foods and water supply.

Swimming, Snorkeling and Diving: Just bring your own equipments.
Island Hopping: You can visit the nearby Camara Island, Nagsasa Cove, Silanguin Cove and Anawangin Cove.
Aquatic Sports in Barangay Pundaquit: Jetskis are available for rent.
Visit Pundaquit Falls: Walk along the beach southward towards the Pundaquit river. If your resort is too far north of the river, you can take your vehicle and get back to the main Pundaquit road and head southward until the road ends by the river. From the river, it is only a short walk by the seashore until you reach the end of the beach where there is a cliff and a smaller river (or a big stream, you might say). This small river comes from the falls, so, technically speaking, just follow the river upstream for about a hundred meters and you will end up at the foot of the falls. But remember, you may have to cut your own trail or walk along the shallow portions of the stream to get there. As you explore the falls, it gets more interesting as you climb from cascade to cascade. This falls is worth going to only during the wet season (or a little after the wet season) when there is plenty of fresh flowing water filling up the numerous "tubs" along the stream. Too little flowing water during the dry seasons makes this falls nearly stagnant, dirty and even stinky. (Source: waypoints.ph)
(Visited 1,134 times, 15 visits today)
Follow @thelakwatsero on Instagram: