If Bohol has Chocolate Hills and Cebu has jagged Mantalongon Range, Albay's equally beautiful reply is Quitinday Hills.
Quitinday Hills is situated in the village of the same name in the town of Camalig, Albay. It covers a land area of approximately 400 hectares, dotted with verdant mounds or hills that resemble the famed Chocolate Hills of Bohol. But despite the similarities, Quitinday Hills offers a unique charm and vibe with the majestic Mount Mayon in the backdrop. It is as if a combination of two iconic Philippine spots, dramatic and magical.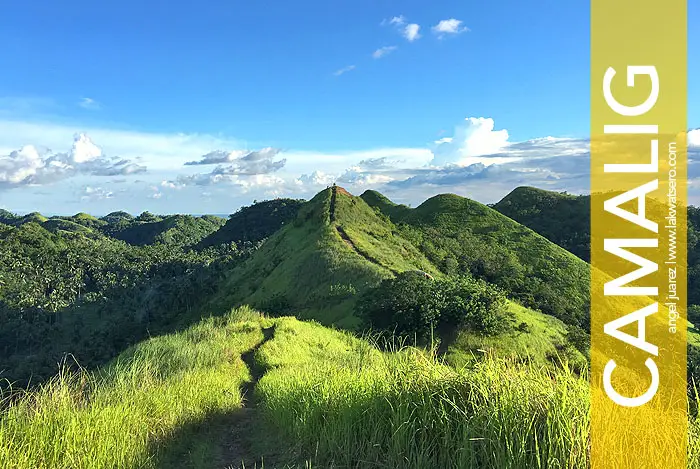 Aptly called as "Pili Nut Hills", the hills of Quitinday range from 100 to 130 meters in elevation. There is no exact figures on how many mounds comprise the entire complex but two peaks have been open for tourism purposes. These peaks offer a 360-degree view of the area and an unobstructed view of Mayon Volcano.
The two peaks are connected by a single track trail which can be reached within 15 minutes of gradual trekking from the trailhead. Guide is not necessary as the trail is well established but an environmental fee of P20 is collected for every guest.
Best time to go here for sunrise (early morning) or before sunset (late afternoon), when Mayon Volcano is usually clear. The trail is open daily from 5:30 AM to 5:30 PM. Camping is allowed but requires advanced permit, contact Jed Villanueva from Camalig Tourism at +639276213315.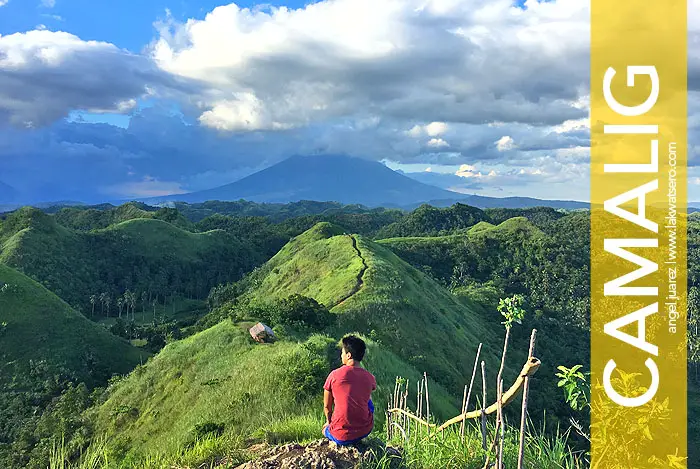 How to Get to Quitinday Hills
To get here, make your way to Camalig and drop off at Quitinday Junction / Diversion Road. Charter a tricycle from the junction to take you to the site. Trike rate is P500/round trip good for maximum of five passengers, travel time is around 45 minutes one-way. Pay the P20 environmental fee then trek for 15 minutes, no need for a guide.
You may ask your trike driver to partner this with a trip to Quitinday Falls and Underground River for P1000 (both Quitinday Falls and Underground River, and Quitinday Hills) round trip, good for five passengers. The entire tour will take around five to six hours.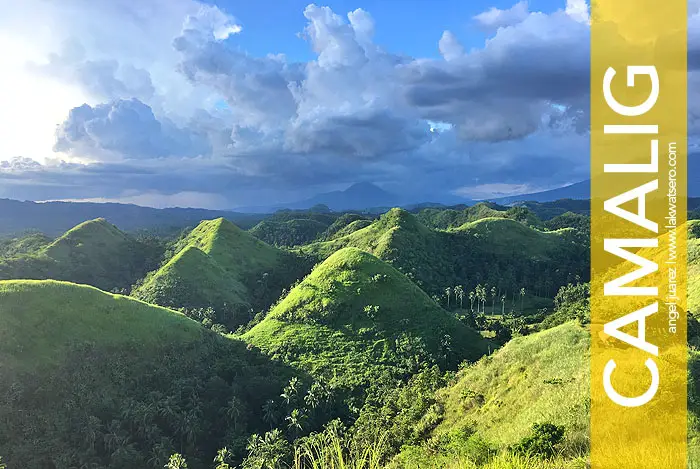 Sample Weekend Itinerary
Day 0:
2100H: Depart Manila
Day 1:
0500H: Arrive in Legazpi / Proceed to Hotel / Breakfast
0700H: Proceed to Cagsawa Ruins / ATV Ride
1000H: Proceed to Daraga Church
1100H: Lunch / Proceed to Camalig
1230H: Trike to Quitinday Falls and Underground River
1330H: Quitinday Falls and Underground River
1600H: Proceed to Quitinday Hills
1630H: Arrive in trailhead of Quitinday Hills / Register / Start Trek
1700H: Quitinday Hills
1800H: Trek back
1845H: Back in Camalig / Dinner (laing, pinangat, ginataang langka or bicol express)
Day 2:
0600H: Call time / Breakfast / Proceed to Sumlang Lake
0730H: Sumlang Lake
0830H: Proceed to Ligñon Hill
1100H: Return to Hotel / Wash-up / Pack-up
1200H: Hotel Check-out / Lunch at Small Talk Cafe, Bigby's or Collonial Grill
1400H: Shop for pasalubong
1500H: Depart for Manila
Day 3:
0000H: Arrive in Manila
Where to Stay in Legazpi
From backpackers hostel, lodges and inns to fancy hotels, various accommodations for different market segments are available in Legazpi City.
Top-Rated / Highly Recommended Accommodations in Legazpi City
Embarcadero Hotel
Embarcadero de Legazpi, Legazpi
Starts at 1,000 PHP

Hotel St. Ellis
Rizal Street, Legazpi
Starts at 2,000 PHP

Casa Roces Bed & Breakfast
Old Albay, Legazpi
Starts at 2,000 PHP

The Oriental Hotel Legazpi
Old Albay, Legazpi
Starts at 3,000 PHP
Top-Rated Budget Accommodations in Legazpi City
Mayon Backpackers Hotel
Old Albay, Legazpi
Starts at 350 PHP

Legazpi Tourist Inn
Old Albay, Legazpio
Starts at 600 PHP