Kawasan Falls is a multi-layered waterfalls located in Barangay Matutinao in the town of Badian of southern Cebu. It is less than an hour away from scuba diving hotspot of Moalboal.
Famous for its beautiful turquoise water, Kawasan Falls sits at the foot of Mantalongon Mountain Range. It is approximately one kilometer from the national road of Badian and at least four hours of trekking from Osmeña Peak of Dalaguete. Its cold and clear water cascades through layers of waterfalls emanating from Kandayvic Spring before going to Matutinao River and Tañon Strait. The falls is the culminating point of Cebu canyoneering.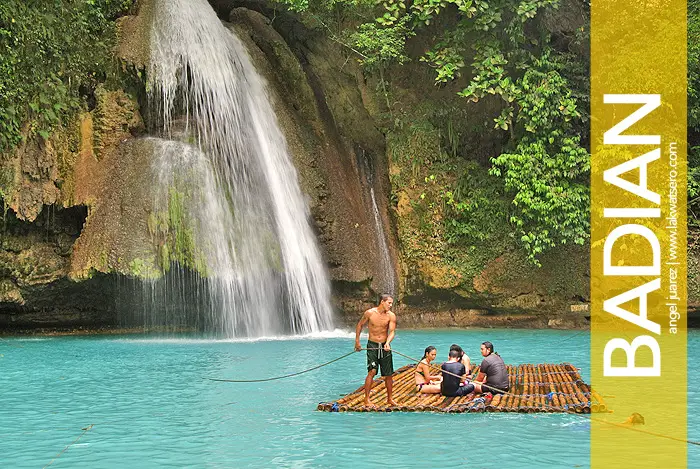 The waterfalls has two main cascades both with deep natural pools ideal for swimming. Its first cascade stands at approximately 40 meters. Meanwhile the less crowded second level has a height of approximately 20 meters and can be reached within ten minutes of trekking.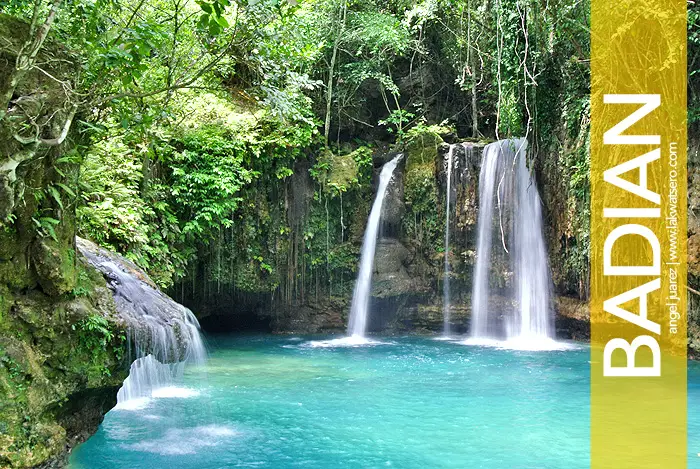 Entrance fee in Kawasan Falls is P40 per person. Bamboo rafts that can sit up to 20 persons are available for rent on the site for P300. It will to take you to where the water drops for a natural waterfalls massage. Cottages and picnic tables are also available for rent while for those planning to stay overnight may opt to get a room for as low as P1,000 good for two. Food should also not be a problem, you can bring your own or order in the restaurants in the area.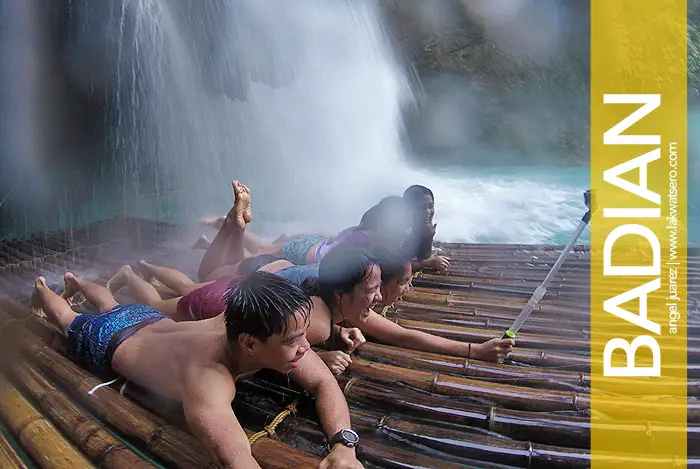 Canyoneering to Kawasan Falls
If you are into extreme adventure, you may want to try downstream canyoneering. This adventure starts at Kanlaob River in the town of Alegria down to Kawasan Falls. It involves lengthy river trekking, swimming, rappelling, climbing and waterfall jumping, passing through and along scenic forest trails, clean rivers, streams and waterfalls.
The Municipality of Alegria implemented a standard rate of P1,500 per person for the adventure. The rate is inclusive of guide fee, all entrance and registration fees, motorbike transport, and use of life vest, helmet and shoes.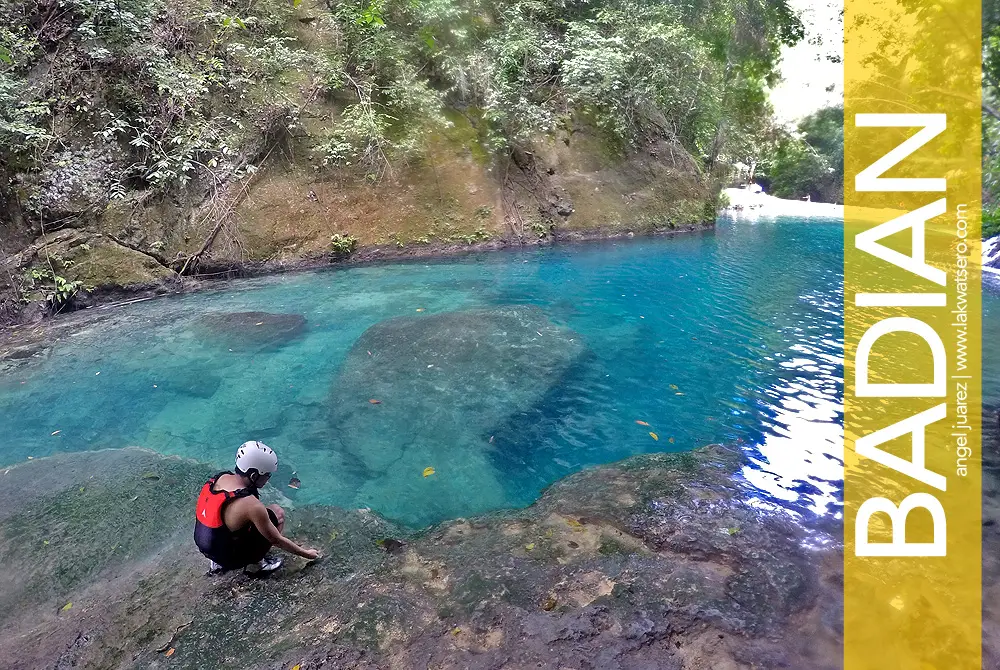 How to Get to Kawasan Falls
From Cebu City
If you are coming from the capital of the province, Kawasan Falls is four hours drive by public bus. Librando and Ceres buses going to Bato (Santander) via Barili are located in the South Bus Terminal of the city capital. Fare starts at P110 for non-aircon bus, P130 for aircon. Get off at Kawasan Falls in Badian and trek for 10 minutes from the main road in Barangay Matutinao.
Froms Oslob to Kawasan Falls
Coming from Oslob, catch a trike or multicab to Bato and transfer to a bus to Cebu via Barili. Get off at Kawasan Fall in Badian and trek for 10 minutes from the main road in Barangay Matutinao.
From Dumaguete to Kawasan Falls
Meanwhile, if you are fronting Dumaguete City, Kawasan Falls can be reach within three hours. From downtown Dumaguete, catch a minibus or multicab to Sibulan Port for a minimum fare of P7. From Sibulan Port, take a pumpboat to Bato (Santander) for P50, terminal fee included. Upon reaching the Port of Bato, transfer to a bus to Cebu via Barili, get off at Kawasan Fall in Badian and trek for 10 minutes from the main road in Barangay Matutinao.
From Osmena Peak / Casino Peak to Kawasan Falls
Trek for at least four hours, guide is advised.
Originally Published: 23-Apr-2011 | Updates: 02-Dec-2014; 10-Oct-2017; 05-Jul-2019; 17-Feb-2020