Merely six hours of land travel from Manila and you will be transported to Maniwaya Island, Marinduque's prime beach destination.
Situated off the coast of the town of Santa Cruz on the eastern part of Marinduque, Maniwaya Island beckons with its white sandy beach, disappearing sandbar and other nearby attractions that will surely synthesize your love for the salt water.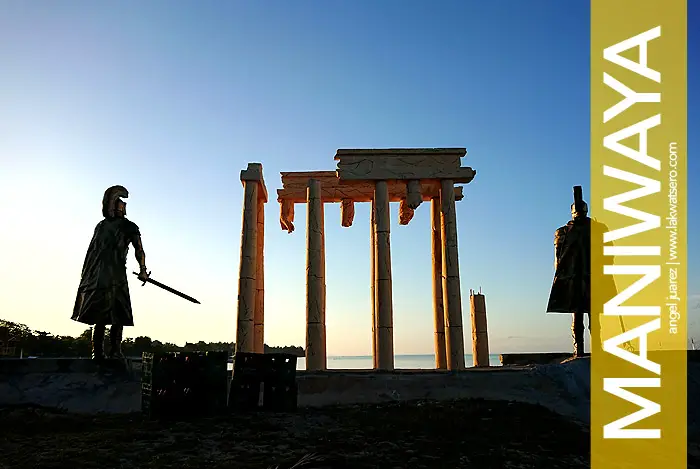 Simple yet priceless pleasures await in Maniwaya. Bask on its white sand beach, catch a boat to Palad Sandbar and Ungab Rock Formation of Mongpong Island, dive or snorkel on its vivid waters, or just catch the island's idyllic sunrise or sunset.
With its proximity and accessibility, the island is a favorite weekend getaway of those based in Metro Manila and Southern Tagalog provinces. It is a great prelude to the heart of the Philippines, an experience that will satisfy your cravings for the sea, an ideal escape from the summer heat!
Explore, experience and enjoy the simple pleasures of Maniwaya Island!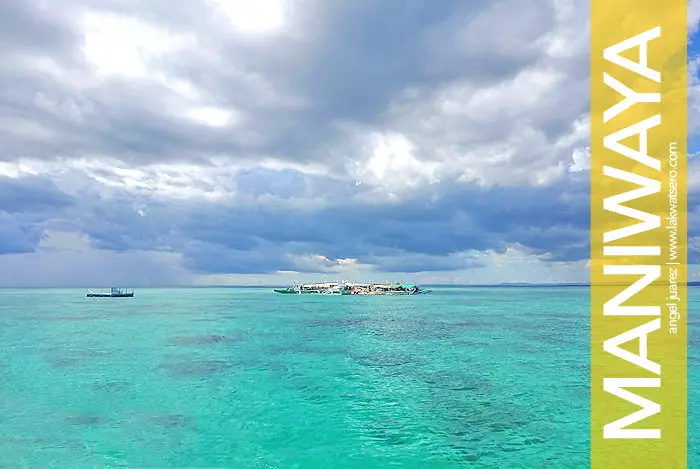 How to Get to Maniwaya Island
Going to Maniwaya Island involves land and sea transport via Quezon Province. There are two routes – via General Luna Port and via Dahican Port of Lucena City.
Via General Luna Port
The easiest and preferred route is via General Luna in Southern Quezon's Bondoc Peninsula.
Manila to General Luna
Superlines and AB Liner buses from Cubao, Sampaloc and Alabang going to Catanauan and Mulanay via Unisan pass by General Luna Crossing which is just a five minutes tricycle ride to the port. Travel time is around five hours and fare starts at P320. Advise the conductor or the driver to drop you off at General Luna Crossing if you are taking these buses.
Manila to Lucena City Grand Terminal to General Luna
Alternatively, you can catch a bus to Lucena City Grand Terminal. Jac Liner, Jam Transit, Lucena Liner and Ceres Transport have buses bound to Lucena Grand Central Terminal. Buses leave almost every hour every day for approximately three hours of travel, fare is as low as P210. You can book your bus ticket from Manila to Lucena City and vice versa below:
BOOK YOUR BUS FROM MANILA TO LUCENA
From Lucena Grand Central Terminal, there are local buses and vans straight to General Luna or you may take the Catanauan, Mulanay and San Francisco bound vehicles that pass by General Luna Crossing. Van is the preferred method of travel for faster travel time of around two hours, fare is P150 per passenger one-way.
General Luna to Maniwaya Island
There is only one departure daily of the public boat going directly to Maniwaya Island at 10AM, travel time is approximately one (1) hour and fare is P150 per person one-way.
You may also charter a boat from General Luna to Maniwaya, rate starts at P1,500 for a small boat that can ferry around four persons.
Via Dalahican Port of Lucena
This route is a bit inconvenient if your destination is just Maniwaya Island as it involves numerous land and sea transfers. But this is ideal if you will be exploring mainland Marinduque first.
Manila to Dalahican Port to Buyabod Port of Santa Cruz, Marinduque
Catch a direct bus from Cubao or Buendia Going to Marinduque, Jam Liner and Jac Liner serve this route. You can book your bus ticket from Manila to Marinduque and vice versa below:
BOOK YOUR BUS FROM MANILA TO MARINDUQUE
The bus travels to Dalahican Port, boards a ro-ro ferry to Balanacan Port of Mogpog and circumnavigate the circumferential road of the province.If you're taking this route, ask to be dropped off at Buyabod Crossing in Santa Cruz, total travel time from Manila is around seven (7) hours and fare is approximately P880 one-way. At Buyabod Crossing, transfer to a tricycle to take you to Buyabod Port for P10 per passenger.
Another option is to take a bus to Dalahican Port. Jac Liner, Jam Transit, Lucena Liner and Ceres Transport have buses bound to Dalahican Port leaving almost every hour daily for approximately three hours of travel, fare is as low as P210.00.
From Dalahican Port, transfer to a Montenegro or StarHorse ro-ro going to Balanacan Port. There are numerous departures daily, regular fare is P260 one-way and travel time is approximately three (3) hours. Upon arrival in Balanacan Port, transfer to a jeepney to Santa Cruz and then to a tricycle going to Buyabod Port.
Buyabod to Maniwaya Island
There is usually one public boat going to Maniwaya Island from Buyabod Port daily departing in the morning but extra departure at noon or in the afternoon is mounted occassionaly. If you miss the public boat, you may charter a boat to Maniwaya Island starting at P800, travel time is no more than 30 minutes.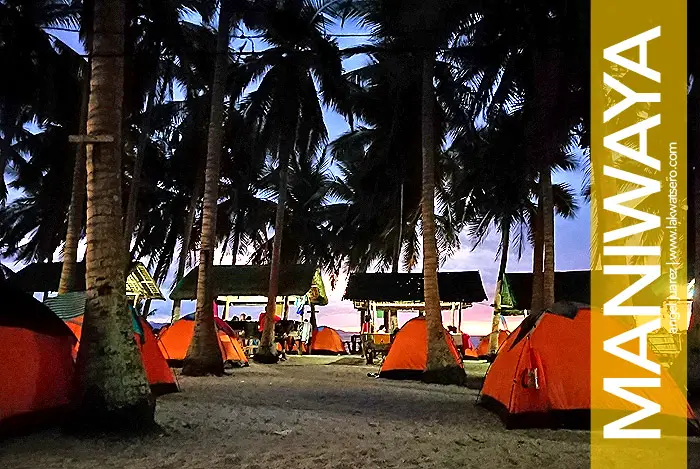 Where to Stay in Maniwaya Island
There are resorts in the island offering different types of accommodations, from tent to cottages to private fan and air-conditioned rooms.
The most prominent is Wawie's Beach Resort with private room starting at P1,200 per night good for three. You may also opt to stay in their open air cabana at P1000 good for four to six or in the tents at P500 per night good for two. You may also bring your own tent and you get to pay only P300 per night or your hammock at P150 per night. Entrance fee is P50 per person.
Wawie's Beach Resort
Maniwaya Island, Santa Cruz, Marinduque
Contact Numbers: +639213695359 / +639773314872
Rates: Tent – P500 per night | Open Air Cabana – P1,000 per night (5 to 6 persons sharing) | Private Room – P1,200 per night (2 to 3 persons sharing)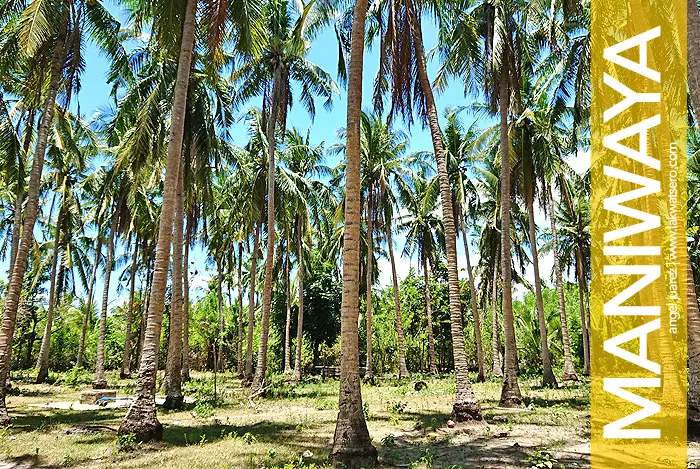 Other notable places to stay include:
Residencia De Palo Maria
Maniwaya Island, Santa Cruz, Marinduque
Contact Numbers: +639192375633 / +639228670312 / +639179540495 / (046)5172189
Email: [email protected]
Rate: Starts at P1,500 per night (2 persons sharing)
Villa Atilana
Maniwaya Island, Santa Cruz, Marinduque
Contact Numbers: +639185594522 / +639954062027
Email: [email protected]
Rate: Starts at P1,000 per night (single room)
Playa Amara
Maniwaya Island, Santa Cruz, Marinduque
Contact Numbers: +639285070362 / +639205556256
Rate: Starts at P1,000 per night (2 persons sharing)
Marikit na Beach Resort
Maniwaya Island, Santa Cruz, Marinduque
Contact Numbers: +639278789782 / +639219785565
Rate: Starts at P1,500 per night (2 persons sharing)
Three Brothers
Maniwaya Island, Santa Cruz, Marinduque
Contact Numbers: +639186532592
Rate: Starts at P1,500 per night (4 persons sharing)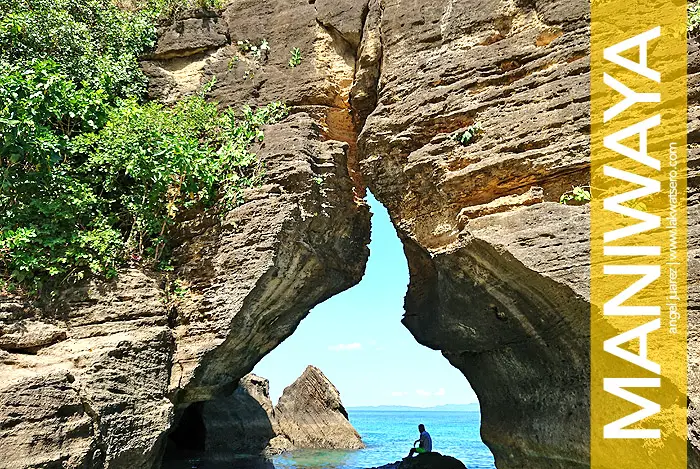 What to Do in Maniwaya Island
Beach bumming
Island Hopping: Ungab Rock Formation, Palad Sandbar and coral garden (snorkeling) – P1,500 good for 6 to 8 persons
Sunrise and sunset
Camping
Snorkeling or Free Diving
Explore the attractions of mainland Marinduque: Poctoy Beach,Tres Reyes Islands, Elephant Island (Bellaroca Island Resort and Spa), Sta. Cruz Church, Luzon Datum, Bathala Caves, Amoingon Beach, Cagpo beach, Norada Falls, Paadjao Falls, Bulusukan Falls, etc.
See the other attractions of Bondoc Peninsula: Borawan and Kwebang Lampas of Pagbilao, Alibijaban Island of San Andres, etc.
Food trip in Lucena City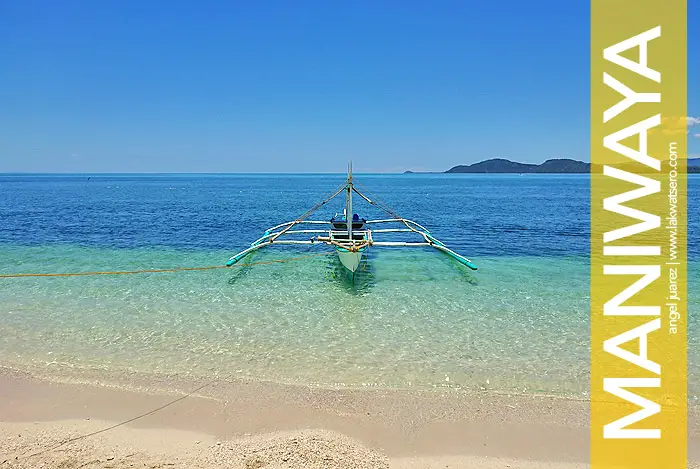 Sample Maniwaya Weekend Itinerary
Estimate Budget: P1500 / person
Here's my actual weekend itinerary with budget breakdown:
0200H – 0500H Buendia to Lucena – P210
0600H – 0900H Lucena to General Luna – P160 (van)+ P100 (food and water)
1000H – 1100H Genaral Luna to Maniwaya – P150
1130H – 1145H Arrive at Wawie's Beach: Check-in (P50 entrance + P150 hammock pitching)
1145H – 1300H Free time
1300H – 1430H Island Hopping: Rock Formation + Sand Bar + Snokeling – P300
1430H – 1830H Wash-up / Sunset
1830H – 2000 Dinner / socials – P100
0500H – 0600H Call time / pack-up / breakfast / proceed to port – P50
0600H – 0630H Waiting time
0630H – 0730H Maniwaya to General Luna – P150 boat
0730H – 0740H Trike to crossing – P10 trike
0740H – 0800H Waiting time
0800H – 1015H General Luna Crossing to Lucena Grand – P150 van
1015H – 1030H Waiting time
1030H – 1330H Lucena to Buendia – P210 bus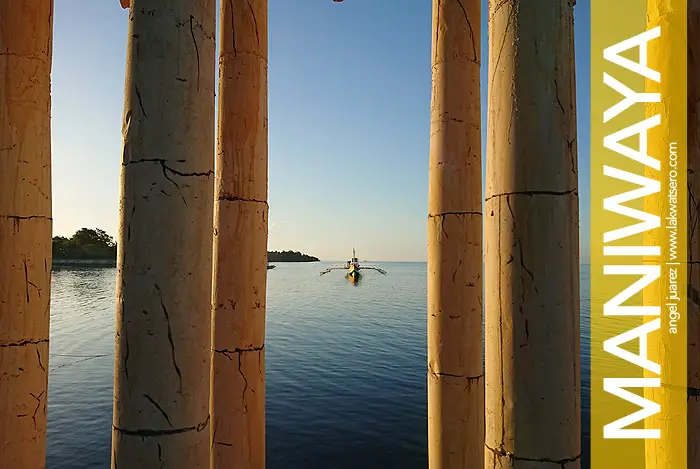 Breakdown of Expenses
| | |
| --- | --- |
| Particulars | Cost |
| Bus: Buendia to Lucena | P210/person |
| Van: Lucena to General Luna | P160/person |
| Tricycle to General Luna Port | P10/person |
| Boat: General Luna to Maniwaya | P150/person |
| Entrance at Wawie's |  P50/person |
| Hammock Pitching at Wawie's | P150/night |
| Island Hopping: Rock Formation + Sand Bar + Snokeling | P300/person |
| Miscellaneous Expenses (food, souvenirs, personal expenses, etc.) | ~P500/person |
| Boat: Maniwaya to General Luna | P150/person |
| Tricycle to General Luna  Crossing | P10/person |
| Van: General Luna to Lucena | P150/person |
| Bus: Lucena to Buendia | P210/person |
Tips
Try to avoid weekend and holidays as it gets crowded sometimes
Best months to visit is from November to June
Bring cash, no ATM in the island and no establishment accepts credit card or cheques
Mobile signal is available but data is only 3G
There are stores and mini restaurants along the beach selling cheap food and other basic supplies
Electricity runs only from 3PM to 11PM but most resorts have back-up generators
If you are a solo traveler or small group, ask the resort to join you to other groups for island hopping tour to save cost
First published: 01-May-2018 | Updates: 07-Feb-2020