Dubbed as the "Heart of the Philippines," the province of Marinduque is ready to welcome everyone like kings and queens!
Marinduque is a heart-shaped island in Southern Tagalog. Coincidentally, the island is also the geographical center of the Philippine archipelago as evidenced by a geodetic stone marker known as Luzon Datum located at the summit of Mataas na Bundok in the town of Mogpog.
The province is made up of six (6) municipalities and fourteen (14) islands and islets with the town of Boac as its capital. Northeast of the mainland are island group of Santa Cruz, Mongpong and Maniwaya Island, popular for its white sand beaches. Meanwhile, in the southwest is Tres Reyes Islands, a group of islands which also boast of white sand beaches and bountiful waters.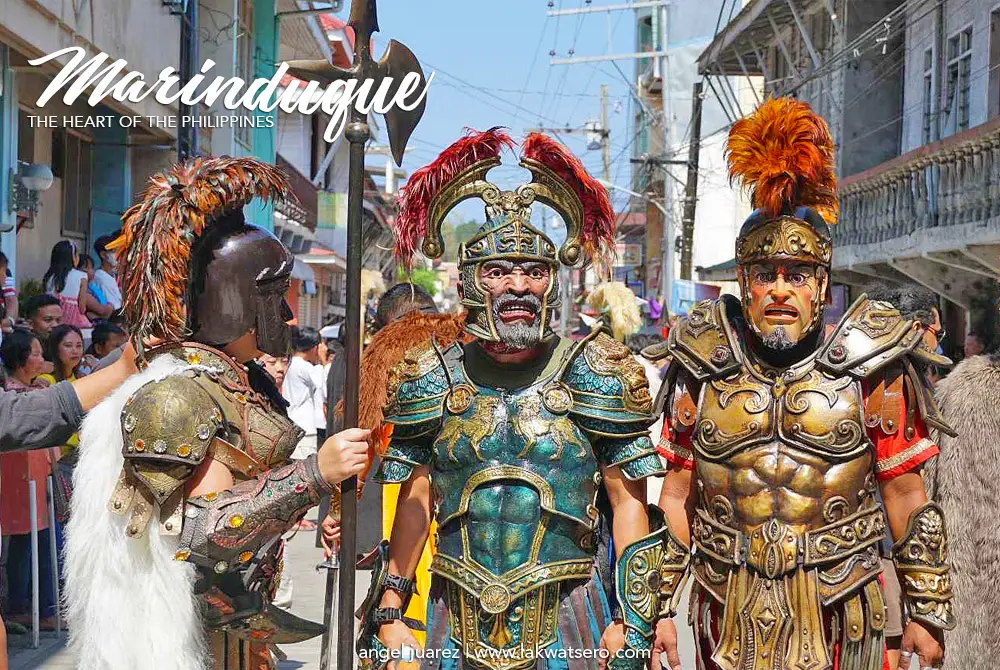 More than being the heart of the Philippines, geographically and visually, Marinduque is also known for Moryonan or Moriones Lenten Rites making the island province as the Lenten Mecca of Southern Tagalog.
Moryonan or Moriones Lenten Rites is when colorfully garbed and masked soldiers and centurions parade the streets of Boac, Mogpog and Gasan. The tradition is observed during Holy Week where the streets of the towns are converted into a huge stage as the story of Longinus unfolds.
Such a small island full of natural and cultural wonders, and blessed with lovely people. Marinduque has everything that your heart desires. From white sandy beaches, to centuries old churches, panoramic mountains, cave systems, scenic waterfalls, rich tradition and culture, and more!
Marinduque, more than a destination, make it your home!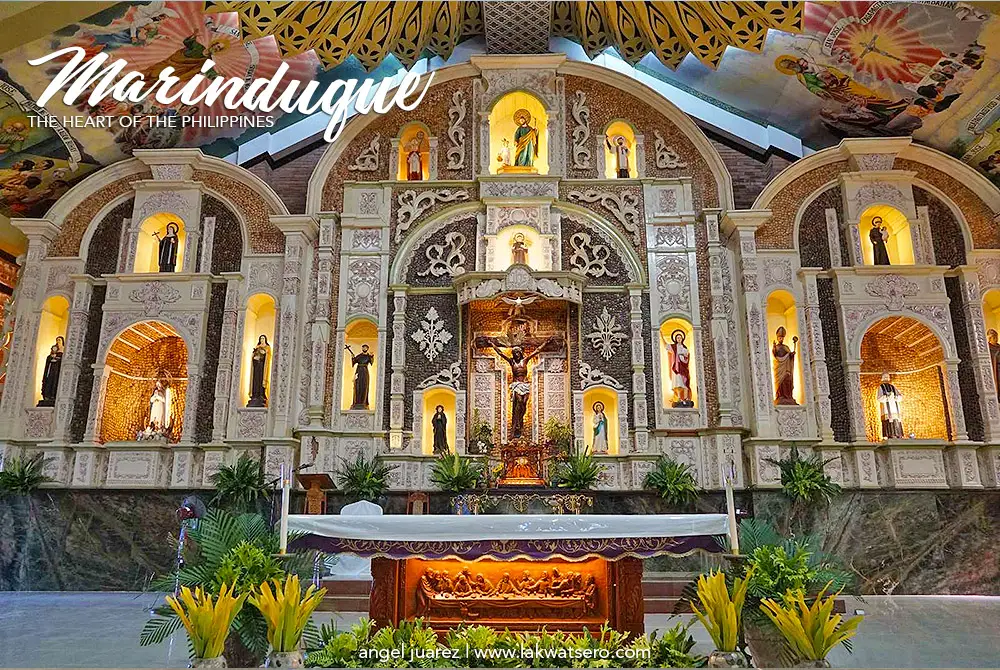 How to Get to Marinduque
Marinduque by Plane
The town of Boac has a local airport that can accommodate small aircraft. As of this writing, there is no commercial flight yet but Cebu Pacific is soon to launch a commercial flight.
Marinduque by Bus
JAC Liner operates a direct bus from Kamias to Marinduque. The bus travels to Dalahican Port of Lucena, boards a RoRo vessel to Balanacan Port of Mogpog before traversing the circumferential road of the province and stopping at every town. One-way fare starts at P1,150 inclusive if RoRo ticket.
You can book your bus ticket from Manila to Marinduque and vice versa below:
BOOK YOUR BUS FROM MANILA TO MARINDUQUE
Manila – Lucena – Marinduque Bus
Another option is to take a bus to Lucena Grand Central Terminal or straight to Dalahican Port. Jac Liner, Jam Transit, Lucena Liner and Ceres Transport in Cubao, Buendia and Alabang have buses bound to Lucena Grand Central Terminal and Dalahican Port leaving almost every hour daily for approximately 2.5 to 3 hours of travel, fare starts at P470.00. From Lucena Grand Central Terminal, there are jeepneys and vans that will take you to Dalahican Port.
From Dalahican Port, transfer to a Montenegro or StarHorse RoRo going to Balanacan Port. There are numerous departures daily, regular fare is P260 one-way and travel time is approximately three (3) hours.
Where to Stay in Marinduque
There are high-end resorts and hotel in Marinduque, but most tourists spend a night in local hotels, inns and guest houses. Meanwhile, the adventurous ones may choose to pitch a tent in Poctoy Beach, Tres Reyes Islands or Maniwaya Island.
Some of the prominent hotels and resorts in the province re:
Top-Rated Hotels in Marinduque
Activities in Marinduque
Experience the Holy Week Tradition
Moryonan or Moriones Lenten Rites – A Holy Week tradition where colorfully garbed and masked soldiers and centurions parade the streets of the province particularly in the towns of Boac, Mogpog and Gasan which culminates in the re-enactment of the beheading of Longinus.
Senakulo in Boac Morion Arena – A yearly theatrical re-enactment of the passion of Christ performed by local artists in Boac Morion Arena
Black Friday Processions – Each town holds its Black Friday Procession, most notable is the one in the town of Gasan where lady devotees called Pupuwa Ladies who are clad in black dress and crowned with pupuwa leaves join the procession barefooted. Meanwhile, Pataraka Boys are positioned at start the processions of both the Catholic and Aglipay faithfuls, these are boys in hooded abito making loud noise with various types of pataraka or local noisemaking instrument made of bamboo or thick plywood
Via Crucis – During Good Fridays, the streets of Boac, Mogpog and Gasan are converted into huge stage as locals observed Via Crucis or the Way of the Cross, one of the highlights of Moryonan Lenten Rites
Visita Iglesia in the old churches of the province including Immaculate Conception Cathedralo or Boac Cathedral, St, Joseph Parish Church or Gasan Church and Holy Cross Parish Church or Santa Cruz Church, among others
Tawak Drinking – A traditional drink similar to a potion which is made up of brewed barks, leaves, various herbs and vines. It is usually drink in the early morning of Good Friday and believed to be an effective antidote against animal bites, maladies and bad spirits.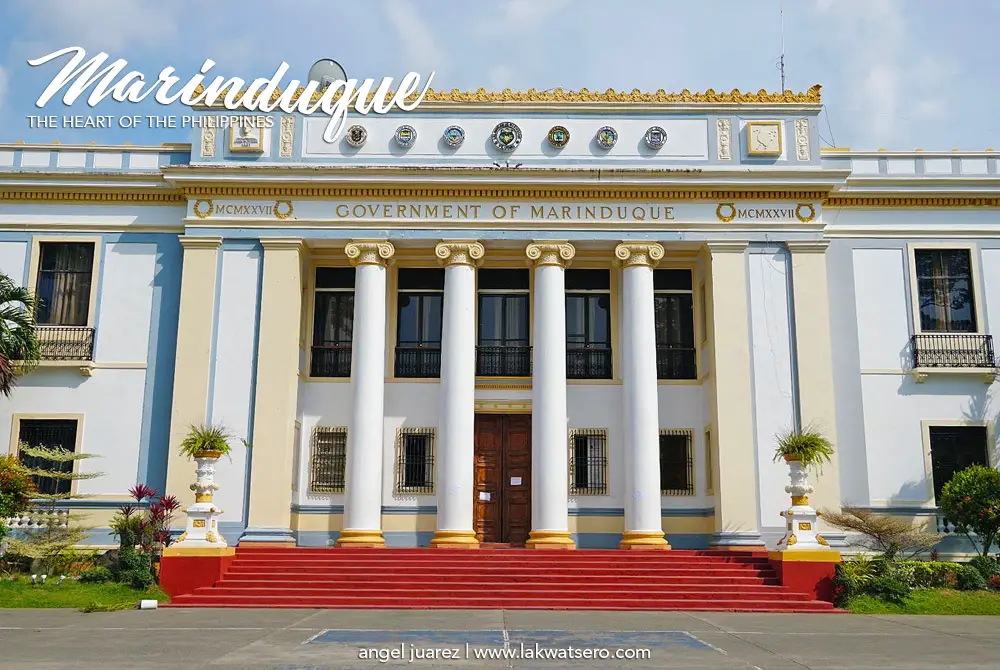 Other Activities & Attractions
Witness a Putong Ceremony – Putong or tubong is a ceremony performed in the Province of Marinduque to welcome and honor the visitors. The ceremony takes the form of the eponymous songs for thanksgiving, hope and prayer for a long blessed life, accompanied by local dances.
Check out Luzon Datum of 1911 – Geodetic center of the Philippines
Visit a Butterfly Farm – Butterfly farming is one of the major enterprises in the province of Mariduque, with 70-80% of Philippine butterfly export coming from the province,  Marinduque has gained its title as the "Butterfly Capital of the Philippines."
Poctoy White Beach, Gaspar island or Maniwaya Island – Bask in the sun, sea and sun
Try the local delicacies such as Manakla, Kari-Kari and Ulang-Ulang as well as the original arrowroot cookies or uraro of Rejano's Bakery, local bibingka and cassava, famous crispy pata of Ka Ambo and more
Pasalubong Shopping at Rejano's Bakery – Don't miss their famed arrowroot cookies and polvoron
Panuluyan Farmstay of Masalukot – Pay a visit and have a farm to dining experience
Hike. Mt. Malindig – At a height of 1,157 meters, Mt. Malindig is the highest point in the province and  a popular for hikers of all levels
Waterfalls Hopping – Check out the waterfalls scattered in the island such as Paadjao Falls of Mogpog; Kabugsakan Falls, Busay Falls and Lambngan Falls of Boac; Basud Falls and Tabag Falls of Torrijos; and Kawa-Kawa of Santa Cruz.
Spelunking – Explore the Bagumbungan Cave and Bathala Caves of Santa Cruz, Tarug Cave of Mogpog, Duyay Cave of Boac and Ka Amon Cave of Torrijos
Visit the century-old Baltazar island Lighthouse
Stop at Sunflower Farm of Gasan
Witness Baliis Sea of Clouds
See Haynon Hills – The Chocolate Hills of Buenavista
Stop at Battle of Pulang Lupa Monument in Sta. Cruz and Battle of Paye Monument in Boac
Swim in the Sulfur Springs and Hot Springs of Buenavista
Visit the National Museum – See the exhibits of Philippine Rise, Marinduque Shipwrecks and Moryonan Art and Devotion
Festivals: Celebrate with Kangga Festival of Mogpog, Bila-Bila Festival of Boac, Gasang-Gasang Festival of Gasan, Kalutang Festival, Kalesayahan Festival, Haring Karabaw Festival
Biking in Marinduque – The 119-kilometer circumferential road of the island is ideal of biking
Snorkeling, Free Diving and Scuba Diving in Tres Reyes Island, Maniwaya Island and the waters around town
See the heritage houses in every town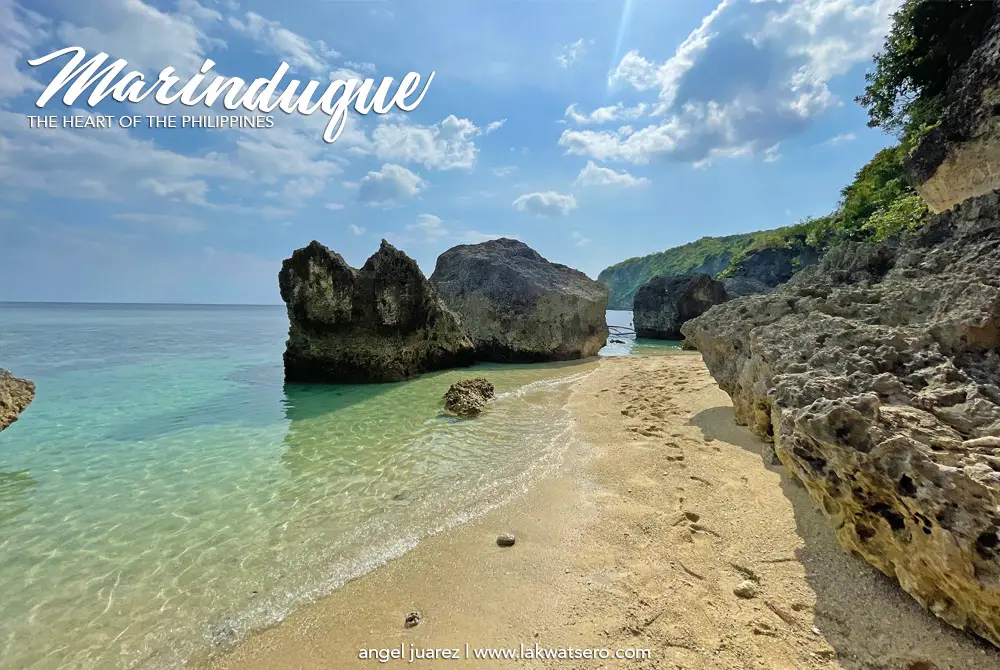 Sample Marinduque Itinerary
Day 1: En route to Marinduque and Boac
0300H – 0600H: Buendia to Lucena Dalahican Port
0600H – 0900H: Ferry from Lucena Dalahican Port to Balanacan Port
0900H – 1000H: Arrive at Balanacan Port, Breakfast
1000H – 1300H: Hotel Check-in, Freshen up, Lunch at Mamita's Cafe
1300H – 1800H: Vist Marl's Butterfly Farm, Visit Boac Cathedral, National Museum of Boac, Town Plaza
1800H onward: Dinner in Boac, Free Time
0700H – 0800H: Wake-up call, Breakfast
0800H – 1300H: Visit at Sunflower Farm of Gasan, Gasan Church, Gaspar Island, Lunch at Sandbar
1300H – 1900H: Visit Buenavista Sulphur or Hots Spring, Poctoy White Beach, Torrijos Church, Battle of Pulang Lupa, Dinner in Gasan
1900H – 2000H: Travel Back to Boac
2000H onward: Freshen up, Free Time
Day 3: Sta. Cruz and Mogpog
0700H – 0800H: Wake-up call, Breakfast
0800H – 1200H: Visit Luzon Datum, Paadjao Falls and Moryon Mask Makers of Mogpog
1200H – 1800H: Lunch at Ka Ambo Crispy Pata, Spelunking at Bagumbungan Cave, Visit Panuluyan Farmstay
1800H – 1900H: Dinner at Kamayan
1900H – 2000H:Back to Boac
2000H onward: Freshen up, Free Time
Day 4: Back to Lucena
0700H – 0800H: Wake-up call, Heavy Breakfast
0800H – 1000H: Visit Town, Shop for Pasalubong, Hotel Check out
1000H – 1100H: Proceed to Balanacan Port
1100H – 1400H: Ferry from Balanacan Port to Lucena Port
1400H – 1500H: Late Lunch at Lucena
1500H – 1900H: Bus from Lucena to Manila
Where to Eat in Marinduque
Boac: Mamita's Cafe, Curba Grill, 10 Y.O. Cafe, Kusina sa Plaza, RMB Farms, Balar Hotel & Spa and 10 Y.O. Cafe, Casa de Don Emilio, Kusina sa Plaza
Santa Cruz: Panuluyan Farmstay, Ka Ambo Crispy Pata, Kamayan sa Hardin, Cusin'A Del Farma
Gasan: Luxor Restaurant, Residencia Faeldo Farm Cafe, Marigold Kitchenette
Torrijos: Tabag's Place, Kamayan sa Hardin, The Flintstones, Food Island
Mogpog: Villa Negro Cafe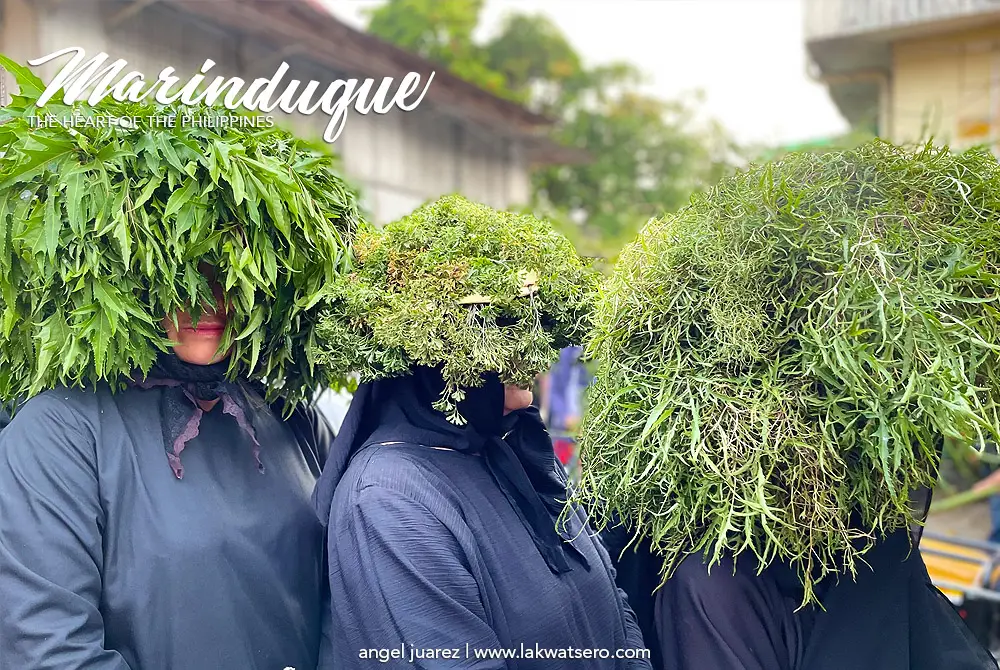 How to Tour Marinduque
Bike Tour – The island is linked by a 119-kilometer circumferential road that passes all the six towns. You can bring your own bike by transporting it to Ro-Ro ferries while bike rental shops still scarce.
Do-It-Yourself Commute by Jeep, Tricycles or Motorbikes – Local jeepneys are available although limited. Alternatively, there are tricycle and motorbikes that can transport you even to interior locations.
Private Tour Operators  – There are numerous private travel and tours in the province to take you around the island conveniently
Tips
Best time to go: November to May, Holy Week for Moryonan Lenten Rites
Baliis Sea of Clouds is best during July to October
There are ATMs in the province and electronic wallet (GCash, Maya) are widely accepted in major establishments