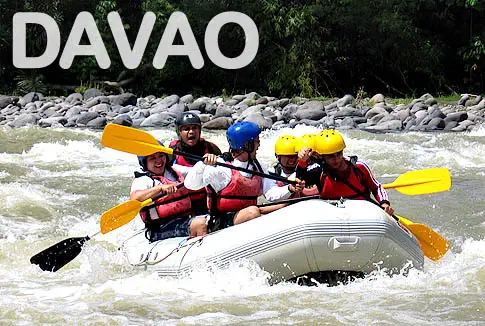 Tagged as the Philippine's melting pot of diverse cultures, Davao City is a safe haven in Mindanao for those who want to experience modern city life and commune with nature's offerings. With its contemporary malls and establishments, nearby world-class beaches and explorable caves, great restos and foods, superb adventures and lovely people, Davao City is definitely the place to be.
It is South East Asia's largest city at 2,444 square kilometers with population of 1,725,355 (2005). Foreign magazine ranked this place as the most livable city in the country, and earned a spot among the 20 most livable cities in Asia surpassing Metro Manila and Cebu.
It is home to the Philippine Orchid (waling-waling), the exotic Durian, the country's highest mountain – Mt. Apo and the Philippine Eagle. You can also visit the Crocodile Park, feel the rapids of Davao River with the White Water rafting Adventure, and defy your fear of height in Davao's latest attraction – the Zipline (Zip for Life).
Davao, the Premier City of The South, the City in Bloom, the Royal City. Experience it and find your own words that best describe how magical this place is.
How to Get There
Davao City is accesible via air or land/water travel from major cities in the country and the South East Asia.
Via Air
Philippine Airlines, Air Philippines and Cebu Pacific fly to Davao City regulary. It is an hour and half flight from Manila and fifty minutes flight from Cebu, and can also be accessed by plane from Zamboanga City and Iloilo City. From Singapore, Silk Air and Cebu Pacific service the route. There are alse plane services to this city from Indonesia and Hongkong.
Via Land/Water
(Though Lakwatsero haven't try these means of transportation yet, one can possibly reach Davao by bus and/or ferry rides from Manila. These alternatives are relatively cheaper than air travel though quite strenous.)

Philtranco buses offers Manila(Pasay) to Davao City for an approximately 48 hours travel time
Where to Stay
Being one of the country's premier city, Davao offers a lot of rooms to its visitors with the presence of numerous hotels throughout this Metropolis. In 2005, Lakwatsero stayed in Waterfront Insular Hotel in Lanang, Davao City, just a stone throw away from Samal Island. For the compilation of hotels, lodges and inns in the city – click here.
Activities
You will never run out of activities in Davao, here are some:
White Water Rafting in Davao River. Contact No: +63.082.301.2020 and +63.082.305.0099 (PhP 2,500/~$55 per person)

Inclusions:

Transportation (From Crocodile Park to Rafting Area and back)
Free entrance at Crocodile park
Packed Lunch & Bottled Water
Use of Gears & Equipment
Guide Fee
Souvenir Shirt
Photo CD
Roundtrip transfers from city hotel to Crocodile Park

Zipping (Zip for Life) – the longest zipline in the country in Camp Sabros. Contact No: +639208750015.

Rates:

Zip line solo: P200.00/~$4.50
Tandem/Duo ride: P300.00/~$6.75
Overnight rate: P300.00/~$6.75 per person including accommodations (no meals).

Taste Durian and Mangorind
Take a walk in Pryce Business Park at Bajada
Dine in Jack's Ridge 's restaurants row overlooking the entire city
Visit the Philippine Eagle Camp, Crocodile Park, People's Park and Malagos Garden Resort
Spend a day in Eden Nature Park – tour the area, try the skyrider (their own version of zipline), avail of their buffet lunch, taste their great salads, sun dried tomato dressing and other foods
Queue and crave for great tasting barbecues while waiting to be served at Penong's
Taste the famous Foping's Halo-Halo at Matina
Experience Davao Coffee in Bluegre Cafe
Shopping in modern malls and bargain hunting in the city markets
Trekking/Hiking in Mt. Apo
Beach Hopping
Scuba diving and snorkeling (the cheapest Scuba diving destination, as low as 8,500 all in for a PADI open water course)
Island Hopping (Samal Island, Talikud Island, Malipano Island & Ligid Island)
Spelunking in the caves of Samal and nearby province of Davao del Norte
Lakwatsero Experience
Lakwatsero has been to Davao City in 2005. Watch out for the photos of his travel in "My Photos" and the narrative and itinerary of his visit in "My Travels".
(Visited 175 times, 1 visits today)