Whenever I read or hear of Malapascua Island, the first thing that comes on my mind is – shark. Yes, shark!
Malapascua is the northernmost island of Cebu, an island famous for its white sand beaches and world class diving sites. It is under the jurisdiction of Municipality of Daanbantayan, five hours away from Cebu City by land and boat trips.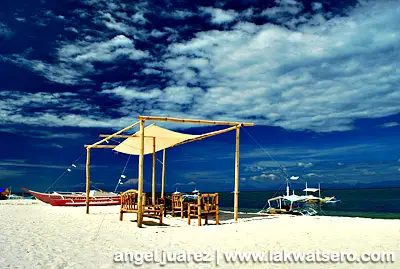 For years, Malapascua has been synonymous to sharks since it is the only known place in the world that guarantees daily sightings of Thresher Shark. It also offers sightings of some Whitetip Sharks, Hammerheads, mantas, nudis and various tropical fishes and colorful corals.
If you are a fellow diver, I'm sure you would agree that it is every diver's dream to have a close encounter with sharks. So my dive buddy Ate Claudia and I troop to Cebu on a summer weekend of April, hopeful to have our very first encounters with them.
Going There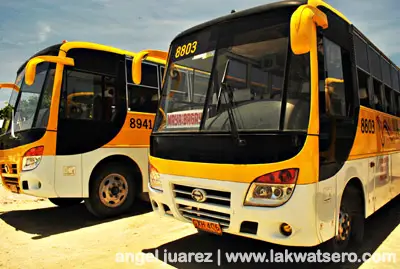 Going to Malapascua requires four hours bus ride from Cebu City to Maya in Daanbantayan, and half an hour boat trip from the port of Maya to the island. Buses going to Maya are stationed in Cebu North Terminal and leave almost every hour. They are mostly non-air-conditioned buses, charging P90.00 for the trip.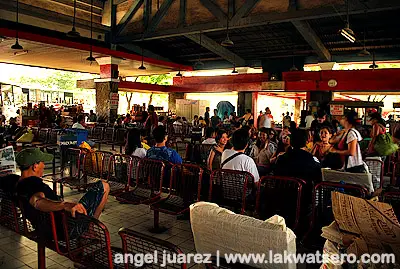 Ate Claudia and I met in the terminal early Saturday morning  to catch the 8AM Ceres Bus to Maya. We made sure to leave Cebu City early for us not to miss the last public boat that departs to Malapascua at 3PM. The bus made a short stopover in the town of Carmen and arrived at the port of Maya at noon.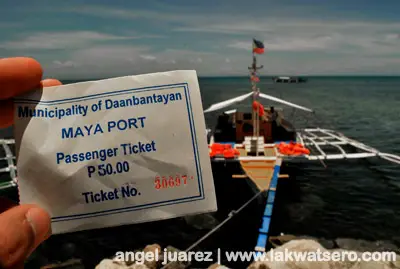 By 1PM, we were already in Malapascua Island. A short 30-minute ride for P50.00. The public boat stopped in Barangay Logon, a southwest barangay of the island. It was already low tide and the boat couldn't get to the shore, so the passengers transferred to smaller boats that locals called tunda to reach the shore, they are charging P10.00 per passenger. Luckily, the boat's next stop was near Mike and Dioses's Beach Cottage where we reserved our room. We opted to get off there and saved P10.00 for the tunda fare since the boat docked on the shore in front of Mike and Diose's.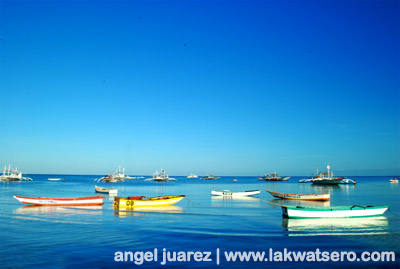 We reported to Divelink Cebu after checking-in at Mike and Diose's. Divelink Cebu is the shop we chose  for our dives the next morning. We were schedule to dive in Monad Shoal to see the thresher sharks and in Kalanggaman Island after.
We had our late lunch at Ging-Ging Flower Garden, just a short walk from the dive shop. An order of fish and chips, vegetable salad and mango shake billed P200. It was already 5Pm when we got back to our room, and that was when I felt the burning heat of the day and the tiring five hours of travel, I laid my back on my bed and had a short nap. It was getting dark when I woke up, but we took advantage of the little light left to swim in the waters of Malapascua before calling the day off.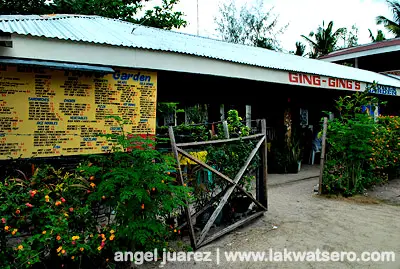 Early Dive
Our alarms woke us up a couple of minutes before 4Am. We were expected to be in the shop at 430 in the morning for our dive in Monad Shoal. Thresher Sharks are known to show up in the shallow shoal early morning. The shoal serves as their cleaning station, where the Cleaner Wrasses await them everyday. The symbiotic relationship of Thresher Sharks and Cleaner Wrasses is surreal. Both have understanding of the mutual purposes and benefits they get from each other. Thresher sharks go there to be cleaned by wrasses. Wrasses await the sharks to eat their dirt.
We boarded the dive boat past five in the morning and headed to the Monad Shoal. We were welcomed by the fantastic view of sunrise. My bad, I though it will be a night dive so I didn't bring my cam. Shortly after, the boat stopped and the divers excitedly geared up. There were already four dive boats in the area when we arrived but most of the divers were already down the shoal. One by one, we jumped to the water and when our Dive Master Johan gestured the down signal, we all descended.
Our DM instructed us to stay to at most one meter above the shoal's bed and wait for the threshers sharks to pass above us. Fifteen minutes have passed at 20 meters below, with our air supply slowly depleting, there were still no trace of the shark. After a while, DM Johan pointed his stick to the direction of an approaching Devil Ray. It circled on our group and eventually left as if teasing us that there would be no shark sighting for us that day. We waited for a few minutes more and decided to transfer to the other cleaning station when no shark was spotted on the first site.
Another round of waiting but still no luck. After 40 minutes of diving, with 70 bars left on my air, we ascended at six meters for our safety stop, still hoping to catch a glimpse of the shark that was so elusive that day until we surfaced.
We didn't see any Thresher Shark, we missed it. Perhaps they were disturbed by a large contingent of divers waiting for them. A diver from the other group said that he saw one approaching but suddenly backed off. But if it is any consolation, we were thankful that a Devil Ray showed up.
We learned our lesson – diving in Monad Shoal during summer or peak season has no guarantee of Thresher Shark sighting. Oh well, at least we still have a reason to go back in Malapascua again, most probably next year.
Wall Dives in Leyte's Hidden Paradise
We went back to the island and had our free breakfast courtesy of Mike and Diose's. By 9 AM, we returned to the shop for our next two dives in Kalanggaman Island.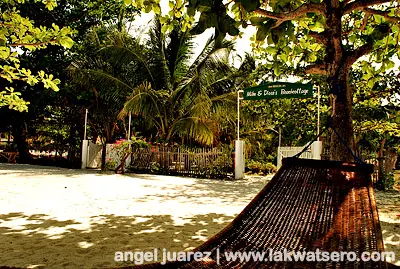 Kalanggaman Island, a marine protected area, is a small island under the town of Palompon in the Province of Leyte, two hours away by boat from Malapascua. Palompon means a lot to me since it is the hometown of my mom. I never knew that the island existed until Tatz, a friend and also a diver went there last year.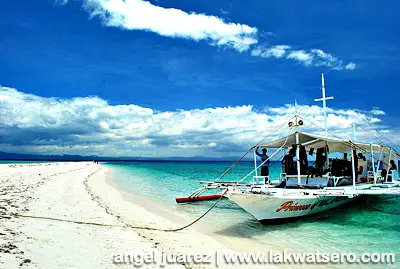 From afar, the island shines like a pearl. But when we got closer, a picturesque island with white sand on both ends was revealed. Kalanggaman holds a promise of a perfect tropical island experience.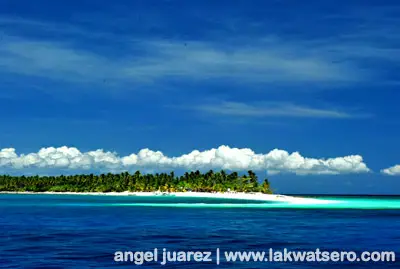 Before we set our feet to the island, we had our first dive on its southern part. It is a wall with unspoiled and colorful corals and variety of tropical fishes and other marine life. The wall goes down up to 200 meters, but we only stayed at 24 meters maximum. There was almost no current and the visibility was very good. We spent forty minutes underwater and when we surfaced I still had 60 bars of air left on my tank.
When all divers got on the boat, it docked on the eastern side of the island for our surface interval. We were given two hours to have our lunch and some time to explore and enjoy Kalanggaman.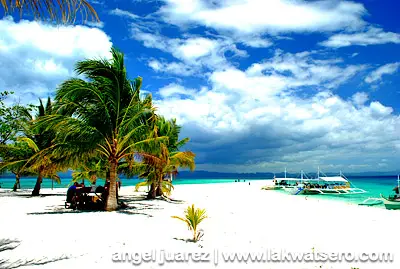 Before 2PM, the boat called us for our next dive – Northern Kalanggaman. Like the first one, the second site is a wall dive, the visibility and the current was still very good. I clocked 54 minutes at 20 meters maximum depth with 70 bars left on my tank.
We headed back to Malapascua by 3PM, tired but happy and satisfied. I don't know why, but I feel that diving brings certain satisfaction in me that is so hard to explain. When I'm underwater and interacting with fishes and sea creatures, I feel I'm one of them. Indeed, I may have been a fish in my previous life.
The day is over, the night came so fast. After our dinner at Ging-ging's and some small talks, we surrendered to the comfort of our bed and called the day off. The next morning, we woke up early to catch the 7AM boat to Maya and headed again to the City for our flights back home.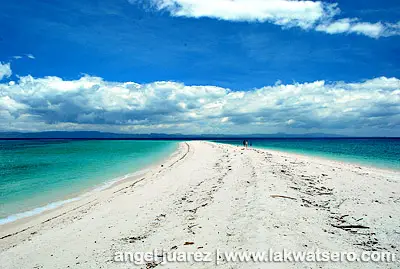 The dive trip was over. We missed the Thresher Shark but we were able to dive in one of our dream sites and destinations – Kalanggaman Island, and that was more than enough to call it an experience.
Note: No underwater pics for this dive report since Ate Claudia's underwater camera malfunctioned the day before the dive. 🙁