Malapascua, the northernmost island of Cebu known for its long stretch of white sand beaches, is also a haven for scuba divers, thanks to its rich and colorful marine life and the resident Thresher Sharks. Unfortunately, not everyone get a chance to witness its underwater beauty since not everyone can dive. But frown no more, you can still enjoy its vivid marine life through snorkeling.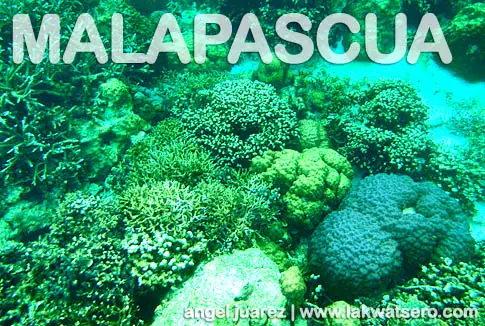 Snorkeling around Malapascua is a fun and cheap way to appreciate and enjoy its beauty, and that was what we did on our return to the island. We rented the boat to bring us to some of the best snorkeling sites around. It cost us P275.00 each (all eleven of us), which we later found out to be overpriced, the normal rate was P200.00 per person inclusive of mask and snorkel rental. Nevertheless, it was fun that the cost was out of question.
Malapascua was actually our side trip, prior to the Luyang Town Fiesta the next day. Racquel, a good friend, one I met in one of my travels, invited us there. And there, what was supposed to be laid back easy itinerary turned into busy fun day in the water.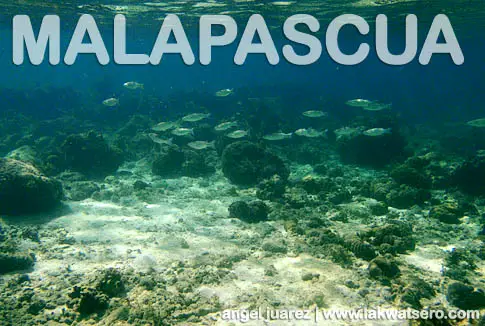 As usual, the child in me was so excited to be back to the sea, my home. So when the boat made its first stop, I immediately wore my snorkel and mask, and jumped into the water where the vast area of colorful corals and small fishes graced my sight. The site is known as Coral Garden. Various species and colors of corals, soft and hard, roam around – staghorn, branching, brain, cabbage and more; but then I saw one Crown of Thorns. I looked around but saw no more. With a little sigh of relief and a consoling thought that it was just for ecological balance, I continued my snorkeling around despite the huge waves.
The waves were getting stronger so we got back to the boat and proceeded to our next site. We were supposed to snorkel also in the nearby Bantigue Cove but the waves were strong either so we passed by to it and headed to a more relax water of Los Bambos, near the rocks in Lapus Lapus. We dipped once more for another snorkeling session, although the corals there were not as diverse, colorful and vast as in Coral Garden.
Our third stop was Guimbitayan, the water fronting the lighthouse. What made this site unique was the submerged shipwreck, believed to be bombed during the second world war. However, what was left today was just the skeleton of its starboard. The skeleton is submerged to a shallow reef of approximately fifteen to twenty feet.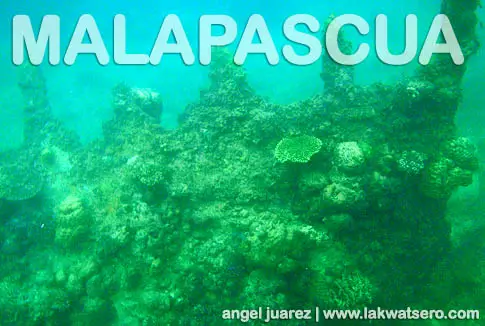 Our final stop was in another site they call Dakit Dakit, another coral area, though not as beautiful as the Coral Garden and the water is quite itchy. We spent a few minutes there snorkeling before calling our day in the water off.
It was a very short stint in the water due to a limited time we had in Malapascua, but we made sure to make the most of it. A very short time spent very well in a lovely place.
After a day of travel, the wild boat ride to the island, the fun of snorkeling on its waters, the sumptuous buffet dinner by the beach (P275.00), a night walk to its soft white sand and a leisurely stop at our restaurant's bar, I appreciated Malapascua more. Perhaps, it was how Boracay or Puerto Galera looked like decades ago, and I am hoping that it stays as is on the decades to come.
Shout outs to my travel buddies this time – Racquel, Jen, Mario, Thea, Allen, Jinky, Reggie, Kaye, Jo and Karen.
Tips:
The regular rate for snorkeling is P200.00 per person inclusive of snorkel and mask minimum of five persons, four sites
The best time to snorkel is in the morning or after lunch
Be careful of the sea urchins and crown of thorns in the shallow snorkeling areas