Right in the heart of this quiet city in Mindanao is the very reason why I keep on coming back in Butuan – Margie's Kitchen.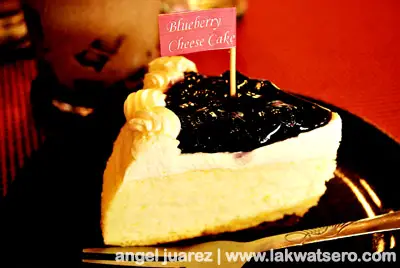 The pride of the Butuanons, Margie's Kitchen offers the best desserts and pastries in town.  Their bakeshop is located in 393 M. Calo Street, while the cafe is in 1342 Sentro building, J. C. Aquino Avenue, Butuan City in Agusan Del Norte. It is owned by Margie Calo and managed by her two children – Marcos Calo III and Consuelo Agnella Calo.
A visit to the city will never be complete without tasting their delectable offerings which quickly gained popularity not only in Northern Mindanao, but even in Metro Manila and other parts of the Philippines. Last year they started expanding by opening a cake shop in Davao City.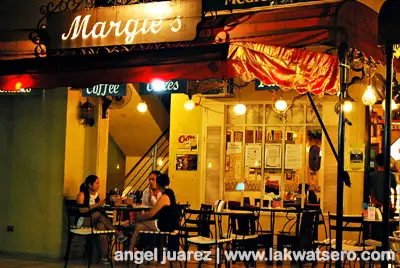 Don't miss their sure hits that will definitely make you crave for more: the guiltless Chocolate Cookie Monster cake, Food for the Gods, cappuccino brownies, pandan cake, banana bread, silvanas, mint brownies, chocolate chip cookies, Boston cream cake, blueberry cheesecake, nelusko, brownies thins, caramel nut bars and chocolate mousse cake. The rest of their menu can be found in their website.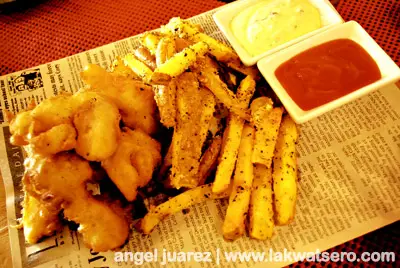 My personal favorite,  homemade English Beer Battered Fish Fillet and Fries served on a personalized mat, partnered with Mango Jelly Shake and the Chocolate Cookie Monster Cake are best enjoyed in their cozy cafe, while surfing the net with free wi-fi and having chit chats with good friends.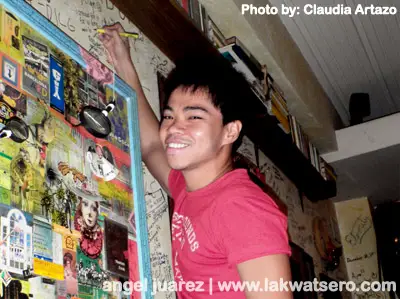 Ahhh! You captured my heart, and I miss you terribly Margie's Kitchen. All these thoughts and reminiscence make me want to fly to Butuan now and satisfy my never ending cravings for your mouth-watering food. But I'll start with the desserts, because as what you say "Life is short, eat your dessert first!"