Surfing! That's what most people said when I told them that I went to Siargao. I understand them completely, without any doubt the place is almost synonymous to that sport. But ironically, I didn't go there to surf. Yes I can surf albeit a newbie for quite a long time. I can stand up and balance on the board but I think Cloud 9 is not for me, not yet. Maybe next time, when I am more confident with my surfing skill.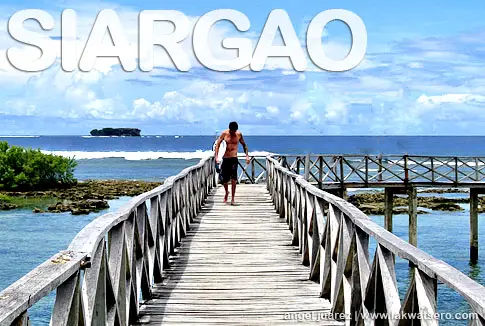 So what was I doing there?
Unknown to many, Siargao is not only about surfing. It is more than the waves, the curls and the breaks. I went there to experience what's beyond Cloud 9 and ended up really amazed of what the place offers to non-surfing guests.
Magpupungko Beach and Tidal Pools
Upon arriving in the morning, we spent the afternoon of my first day in Siargao in Magpupungko Beach of the town of Pilar. Going there, we rented a motorbike for P800 round trip via the long route, passing the town of Dapa and San Isidro, approximately 60 kilometers from Poblacion, General Luna. The route has patches of rough roads but works are in progress to make it all cemented. There is in fact shorter route from General Luna to Pilar (and for sure cheaper motorbike rental rate) but the works were in full blast and it wasn't advisable to take that route.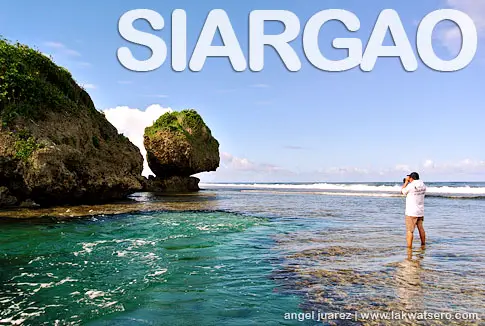 It took us an hour and a few minutes to reach the uncrowded Magpupungko Beach, a stretch of cream colored sandy beach with the famed Magpupungko Rock and Tidal Pools on its northern end. It was still high tide and the coral rocks that serve as walls of tidal pools were still completely submerged. We took the dry trail going to the pools since getting there through the rocky side of the beach was quite difficult because of high sea. Despite the high tide, the underwater crevices were visibly identifiable with its beautiful turquoise color as compared to the wide brown coral rock that separates the placid tidal pools to the crashing waves of the Philippine Sea. I was amazed!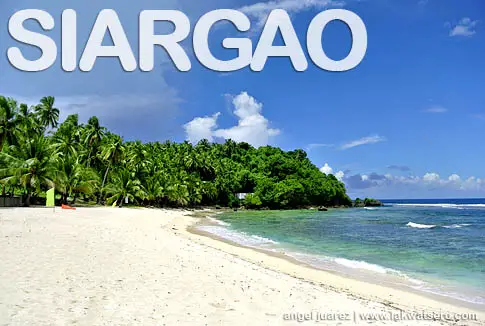 We dipped and enjoyed the cool water of Magpupungko while waiting patiently for the water to recede but it was already getting late so we decided to go back to General Luna.
Our dives were scheduled on the afternoon of the next day, which gave us enough time in the morning to explore the islands off General Luna.
Naked, Daku and Guyam Islands
We woke up early the next day for a quick visit to Naked, Daku and Guyam Islands. We chartered the boat of Jadestar Lodge, where we were staying, for a half-day tour to the three islands for P1,500.00.
Our first stop was Pansukian Island or commonly known as Naked Island simply because it is just a bare sandbar – no trees, no structures, no nothing. Just pure white sand surrounded by clear water. It reminded me so much of the "White Island" of Camiguin, only smaller, with the entire circumferential stretch that is said to be only 200 meters long. The island also submerges significantly during high tide. It was a lovely little island. We took a moment to dip and enjoy its water before going to our next destination – Daku Island.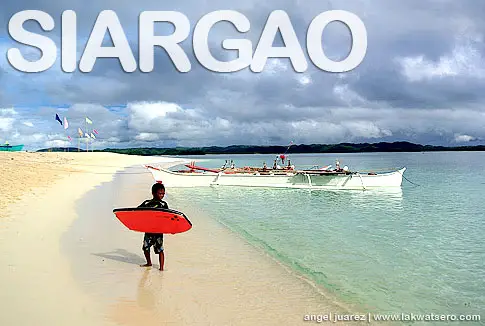 Daku Island is the biggest of the three islands, it has a small community and a resort with a long stretch of white sand beach dotted by coconut trees. It is a typical tropical beach paradise. Another interesting stuff about the island is the changing beach area depending on season.
We walked the stretch of the beach while being followed all throughout by a cute little dog. We passed by a crowd of local kids playing in the beach, radiating a happy ambiance. They gathered in circle, shouting while looking at something that caught our attention. To our surprise, it was reef shark, a dying one, probably caught by local fisherman. We wanted to ask the kids to free the shark but it was too weak and barely moving. I felt sad for the shark 🙁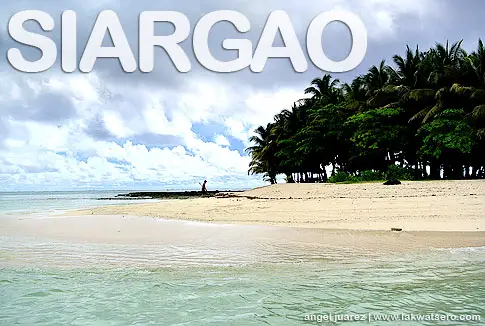 We then went back to our boat to proceed to Guyam Island, a small privately owned island with small stretch of white sand beach and dotted with interesting coral rock formations. Coconut trees decorate the small island with two to three wooden cottages for those who want to rent it out. The family of the caretaker resides in the island that collects entrance fee of P10.00 for every guest.
It was just a short stop at Guyam and we headed back to Jadestar Lodge for our lunch before going to Palaka Dive Center for our dives. We were too early at the dive shop, so after preparing our gear and equipments we flagged down a habal-habal to bring us to the Boardwalk.
The Boardwalk
A trip to Siargao will not be complete without a visit to The Boardwalk. Surfer or not, one must walk to this prominent icon of the island to feel the true Siargao ambiance. This long wooden structure serves as a viewing deck and walkway to the surf break of the famed "Cloud 9″, where the surfer's take off before hitting the water and touch down after getting stoked.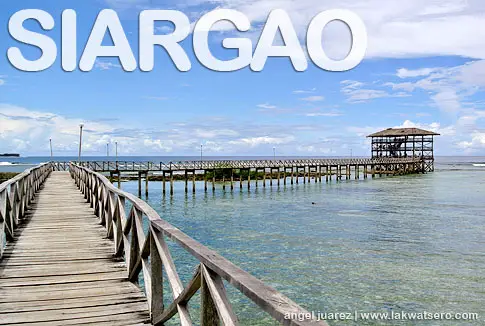 I made sure to see this spot which I usually see only in Magazines and TV, so I was truly elated when our habal-habal stopped in the Boardwalk. It was the Siargao that I know!
We walked to the stretch of the board walk towards the huge hut that serves as a viewing platform. Local surfers offered us their lesson and board rental to which we politely declined. In full envy, I just watched as the surfers enjoy the swells. I wanted to go surfing but our time was limited.
Unspoiled Dives Sites
So we left The Boardwalk with a promise to return. We headed straight to the beach near the market where the speedboat of Palaka Dive Center docked. We were just on time, the gear and equipments were just being loaded in the boat. Damien, the dive shop owner who happens to be an instructor and also our dive guide, welcomed us again with a smile.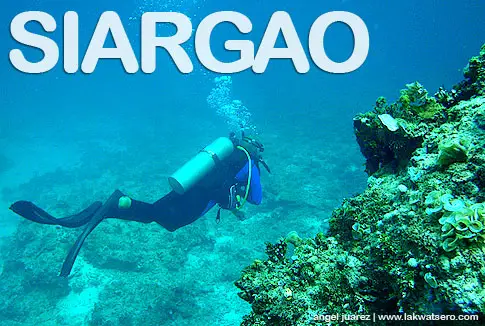 Shortly after, we boarded the boat and headed to Daku Island for our two dives where we saw juvenile sea snakes, puffers, groupers, sweetlips, juvenile stingrays, barracudas, nudis, morray eel and other tropical species. Well, the entire dive experience merits a separate blog post 🙂 The sun was already starting its descent when we finished our last dive.
They say that time flies so fast when one is having fun and that was what we experienced in Siargao. It was a busy trip in this lovely island. Ironically, we missed the island's famed attraction – the surf breaks! Nevertheless, we had a great time discovering Siargao beyond Cloud 9 and I must say that indeed, the island is a complete paradise!