Bacolod City, the City of Smiles and the capital city of Negros Occidental, is also the stage for the yearly Masskara Festival, one of the most colorful, anticipated and well attended festivals in the country.
But aside from Masskara Festival, Bacolod City is also a known destination for food lovers! Lined up in the streets and outskirts of the city are countless restaurants, cafés, hole-in-the wall eateries and other specialty diners that will sure make you fall in love with the city.
To help you on your food tripping, here are some home-grown dining places in the city that I have personally tried and worth recommending!
Diotay's Eatery
Location: Gatuslao Street, Barangay 6
Cuisine: Filipino, Grilled
Budget: P200 – P300 sharing per person
You can never go wrong with Diotay's, an unassuming eatery right in the heart of Bacolod City. A popular go-to spots for the locals, Diotay's Eatery offers fresh seafood, chicken, pork and other meat products cooked or grilled on the spot.
The place looks like a big compound with lots of tables which usually get fulled on peak hours, proof that the place is really a favorite! Must try are buttered shrimps, grilled scallops, sinigang na ulo ng lapu-lapu, grilled blue marlins, chicken inasal and liempo.
21 Restaurant
Location: 21st corner Lacson Streets
Cuisine: Filipino, Continental
Budget: P150 – P300 per dish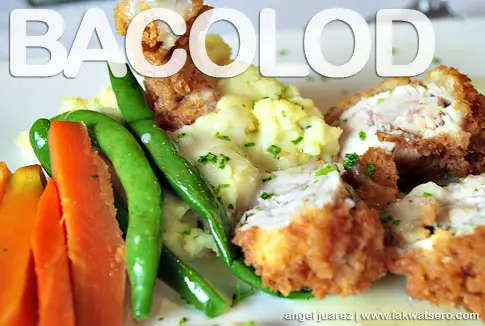 You can never go wrong with 21! This classy family owned restaurant gives a unique continental twist to local flavors. A favorite for locals and tourists for its homey ambiance, great food selection and reasonably priced menu. Their best sellers include the Original Batchoy, Lutik, Adobadong Alimusad, Chicken Binacol, Herb Chicken, Chicken Inasal Lollipop, Rib-Eye Steak, Porkchop ala Bicol Express, Pasta Sukiyaki, Chicken Dinuguan and Tangigue Kinilaw among others. Open daily from 10AM to 11PM.
Manokan Country
Location: Father M. Ferrero Street (near SM City Bacolod)
Cuisine: Filipino
Budget: P100 – P150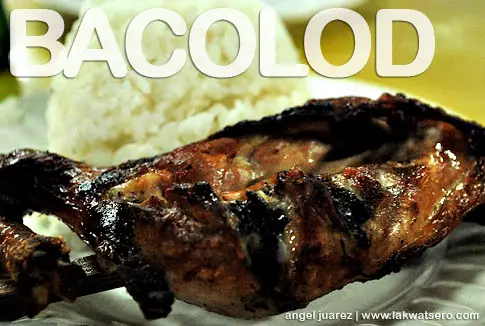 For a real Bacolod experience, go to the Manokan Country! Every visitor in the city should try pigging out in this local landmark but do not expect fancy stalls or grand setting because the complex is filled with humbly designed eateries serving the city's famous Chicken Inato (or inasal) and other dishes that are mostly grilled. Cheap and delicious and the best part of it all is eating with your bare hands! Open daily from 7AM to 3AM.
Café Uma
Location: 15th corner Lacson Streets
Cuisine: Italian, Western, Asian
Budget: P200 – P400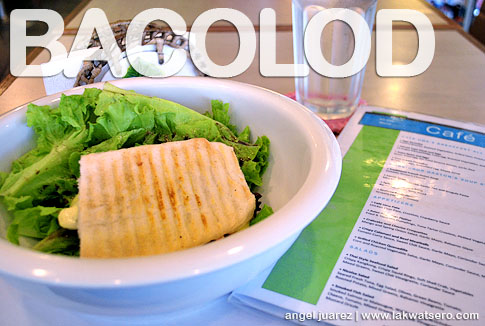 They claim to serve the best pasta in town, well yes they do! Located beside L'Fisher Hotel, Café Uma's offerings include pizza, pasta, panini, coffee and various western-style dishes. The prices are above average although each serving is for sharing. Some of their best sellers are Pesto Special (spaghetti in pesto cream Sauce with bacon cubes and smoked salmon) and Shrimp and Chorizo Pasta. Open daily from 9AM to 9:30PM.
Calea
Location: 14th corner Lacson Streets
Cuisine: Cakes, Pastries, Desserts
Budget: P100 – P200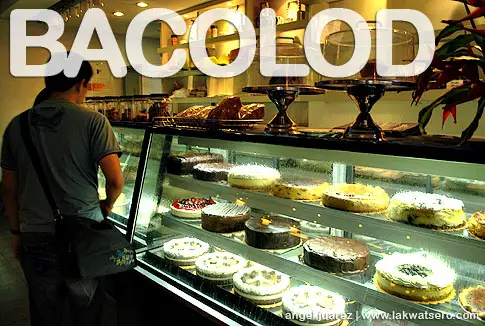 Calea is one of Bacolod's Icon! Never miss this well known homegrown sweet shop when in the city for they serve beautifully designed cakes and pastries that are not only eye-candies, they taste great too! Best sellers include Calea's Special Imported Chocolate Cake, Chocolate Mudpie, Blueberry Cheesecake and White Chocolate Cheesecake. Forget your diet, it's not everyday that you will get a chance to visit Bacolod. I guarantee you, Calea will make you fall in love with the city! Calea has branches in Robinson's Place Bacolod and East Block too. Open daily from 8AM to 10PM from Monday to Thursday and from 9AM to 11PM from Friday to Sunday.
Felicia's Pastry Café and Steak Room
Location: Doll Building, 6th Street (near provincial capitol building)
Cuisine: Cakes, Pastries, Desserts, Continental
Budget: P100 – P300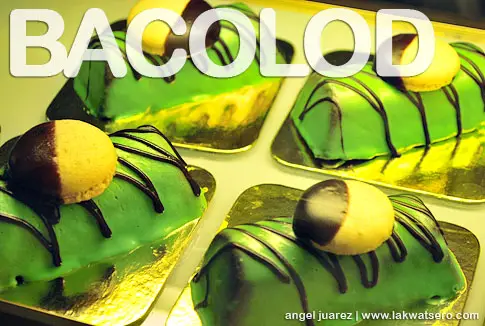 Another proof that Negros Occidental is the sugar capital of the country, Felicia offers mouth-watering and truly delectable cakes and pastries. Originally just a pastry shop, Felicia's evolved into a hearty restaurant serving steaks, salads and other delectable meals! I am yet to taste the newly added items in their menu but I am sure that their cakes and other pastries are really good! I love their Dulce de Leche Cheesecake, one of the best that I have tasted. Other best sellers are Chocolate Cake, Lemon Almond Dacquoise, Butter Sans Rival, Cream Puff, Macarons and Frozen Mango Mousse. Open daily from Sunday to Thursday 9AM to 11PM and from Friday to Saturday 9AM to 11:45 PM.
Pendy's
Location: Lacson and 25th Streets
Cuisine: Cakes, Pastries, Filipino, Continental
Budget: P100-P200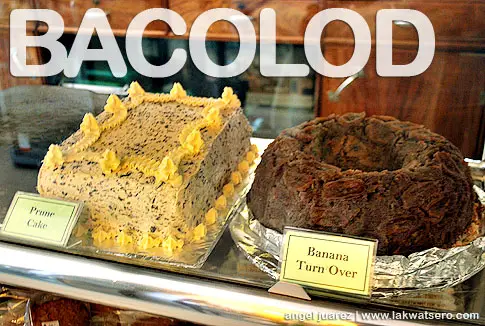 Pendy's is my unexpected discovery in Bacolod. I was searching for Napoleones and other local delicacies and I happened to pass by this restaurant which I later found out to be one of the famous and well established in the city, serving not only local pasalubong items but also cakes, sandwiches and other Asian-inspired and Continental foods. I've read great reviews of their foods which I am yet to try but their Napoleones had me at first bite!
Bascon Café
Location: Lacson corner 27th Streets (near Robinson's Place)
Cuisine: Cakes, Pastries, Filipino, Spanish, Western
Budget: P100-P200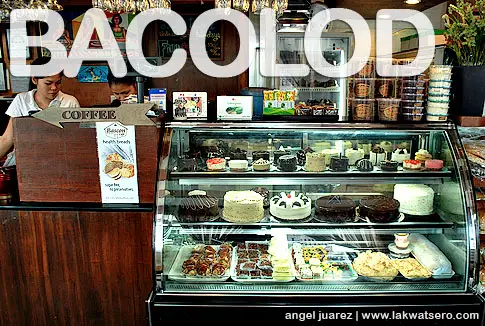 The story of Bascon Café and Restaurant is the opposite of Felicia's. It started out as a bistro offering specialty meals and eventually ventured on cakes and other pastries. They have lunch buffet ever Wednesday and Sunday, and also serve mostly Filipino and Spanish inspired dishes apart from cakes, pastries and coffees. House favorites include Pesto Chicken, Choriza Risotto and Chicken Relleno. For the sweets its Triple Chocolate Mousse, Cosmopolitan Cake, Bubba Cake, Cathedral Cheesecake and Churros con Chocolate, but my personal favorite is Bascon's Monk Cappucino Cake. Their other branch is in La Salle Bacolod.
These are just eight out of countless restaurants, cafes, hole-in-the-wall diners and other culinary treasures of Bacolod City. There are more out there, and I believe they merit a visit too. Well, I think I should book another trip to the City of Smiles.
If you have recommendations, feel free to pitch it in! Happy food tripping!