The Chocolate Hills has become synonymous to the island province of Bohol. This comes not as a surprise since this iconic land formation is unique to the island.
Approximately 1,776 conical karst hills scattered over 50 square kilometers of land area covering the towns of Bilar, Valencia, Sierra Bullones, Batuan, Sagbayan and Carmen made up the Chocolate Hills. These hills were formed by the uplift of coral deposits and the action of rain water and erosion millions of years ago. They change color depending on season – green on rainy days and brown that resembles chocolate during dry season, thus Chocolate Hills.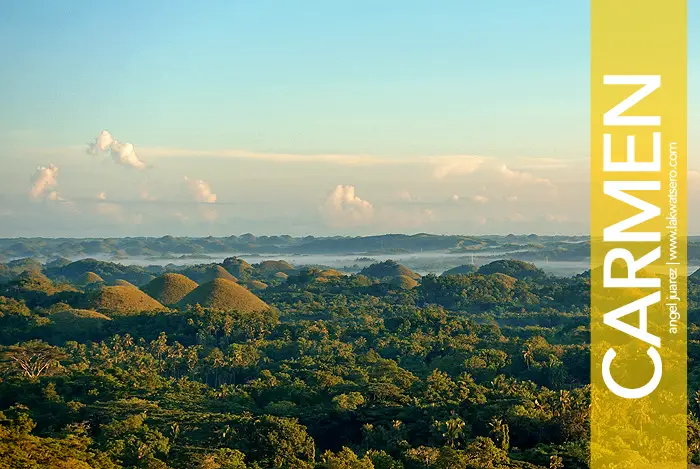 Two of these hills were developed for tourism and they are found in Sagbayan and Carmen. The most popular and arguably the one that offers the most imposing view of these hills is in the latter, known as the Chocolate Hills Complex. It was developed by the local government which collects P50 entrance fee for maintenance and development of the hill. The complex is located near the main highway, approximately four kilometers away from the town proper or beside the Chocolate Hills Adventure Park.
The best time of the day to see these hills is during sunrise. This is to avoid the crowd and for better clearing. Doing so, however, will require you to stay overnight in Carmen or nearby town. Unless you charter your own ride and depart from Tagbilaran or Panglao as early as 3AM which is quite impractical and costly. You can actually sunset and sunrise in Chocolate Hills if you decide to spend the night in or near the area.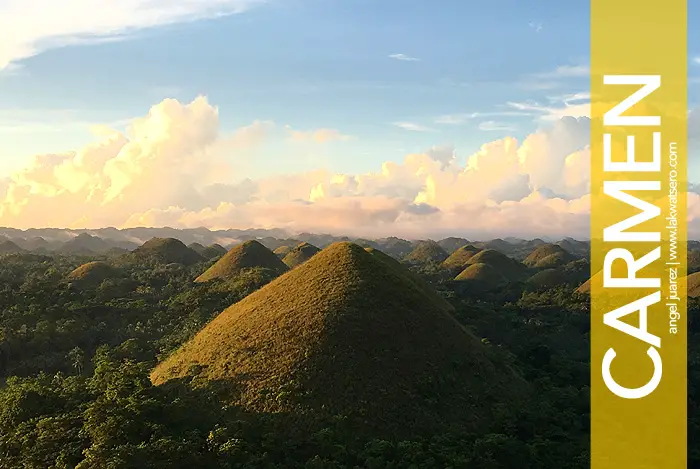 Where to Stay in Carmen
If you prefer to stay overnight in the area, there are accommodations in the town of Carmen. The nearest to Chocolate Hills Complex is Banlasan Resort, located along the main road around 2 kilometers away. Cheapest single fan room is P400/night, the room is pretty basic but you get free access to the resort's swimming pool and of course an easy access to the Chocolate Hills. They have air-conditioned rooms too. You may ask their staff to take you to Chocolate Hills for sunrise for only P50 via a motorbike.
Other accommodations in Carmen include 7P2 Bed and Breakfast, Villa del Carmen, Villa Luisa and Marbezen Inn.
Book Your Accommodation near Chocolate Hills of Carmen
Villa del Carmen Bed & Breakfast
Carmen, Bohol
Starts at 1,200 PHP

7P2 Bed & Breakfast
Carmen, Bohol
Starts at 800 PHP
How to Get to the Chocolate Hills (Carmen)
From Tagbilaran
To get to Chocolate Hills of Bohol from Tagbilaran, catch a bus or a van from Dao Integrated Bus Terminal going to Carmen. Air-conditioned bus fare is around P100 for a travel time of at least two hours.
The Chocolate Hills is one of the stops of land tours based in Tagbilaran and Panglao. It is approximately 50 kilometers from Tagbilaran City, roughly two hours away by private vehicle and even longer by public transportation. By private vehicle, you can charter a van for around P3,000 or a car for around P2,500 for for a six to eight hours tour of mainland Bohol with final stop at the Chocolate Hills.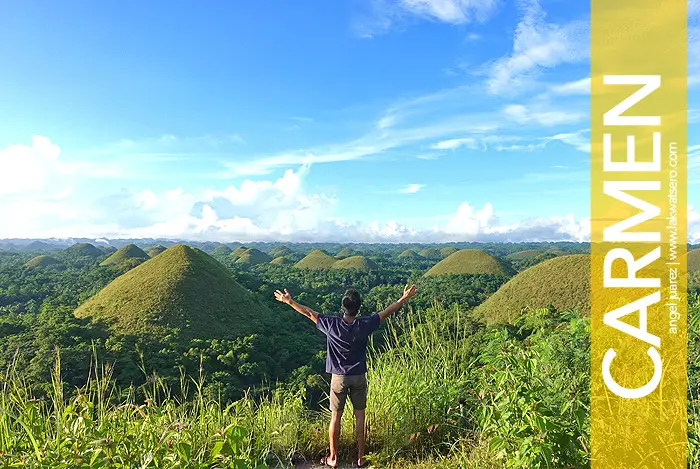 From Tubigon
There are vans and buses from Tubigon going to Carmen as well. Bus fare is approximately P70 while vans charge P80 per person, travel time is not more than two hours.