Summer in the Philippines has ended and we are now bracing for monsoons and typhoons. But before you keep your backpacks, cancel all your local out-of-town trips or travel outside the country, you might want to try the other local destinations that are best experienced during rainy season or go to other places in the Philippines with lesser or absence of rain when it is pouring hard on where you are.
But when exactly is the rainy season? It actually depends on your geographical location.
Rainy Season Activities
Believe me, there are activities best enjoyed during rainy season aside from malling. Among them is white water rafting, one of my favorite adrenaline boosters. In fact most white water rafting organizers in the Philippines prefer rainy season since the water in the river is high and the rapids are wilder. For adventure lovers (*ehem, like me*), you will appreciate the rapids more during this time because on summer or dry season, most rivers become unraftable thus making it impossible for this type of sport although river kayaking is still doable. The popular white water rafting sites in the Philippines are in Kalinga, Cagayan de Oro and Davao.
Lakwatsero in three popular white water rafting sites in the country:
Cagayan de Oro River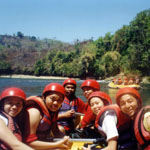 Davao River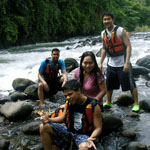 Chico River (Kalinga)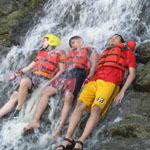 Cagayan de Oro River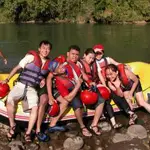 Davao River
Chico River (Kalinga)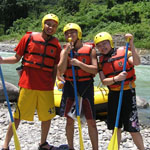 Seasons
While the Philippines has two seasons – the wet and dry, the entire archipelago is still subdivided into four climatic types due to differences in geography and distances between the islands. So it is possible that while it is raining hard in Boracay you can still get a tan in Caramoan or Siargao.
Type I: These areas have two pronounced seasons. Dry from November to April, and wet the rest of the year. Areas categorized under this type are in the western Philippines, which includes the western Palawan, Occidental Mindoro, Bataan, Zambales, Pangasinan, Cavite, Laguna and Metro Manila.
Type II: These areas have no dry season, with a very pronounced wet season from November to January. Areas under this type are mostly located in the east sides of Bicol peninsula, Visayas and Mindanao. Camarines Norte, Catanduanes, Albay, Sorsogon, Eastern Samar and Surigao are among the provinces under Type II.
Type III: These are areas with unpredictable seasons, but experts observed a relatively dry season from November to April and wet during the rest of the year. Kalinga, Apayao, Oriental Mindoro, Romblon, Masbate, Aklan (Boracay) and Antique are under this type.
Type IV: Areas under this type have evenly distributed rainfall throughout the year. Bohol, Leyte, Western Samar, Quezon Province, Aurora, Batanes, and the Pacific side of Cagayan and Isabela fall under this type.
Basis: http://commons.wikimedia.org/wiki/Image:Philippine_climate_map.png
Typhoons
If there's one to watch out for and must call off your planned vacation, then no other else but typhoon. The Philippines is visited by an average of 20 typhoons a year. Typhoon season starts as early as May and usually lasts up to December. Most devastating and super typhoons occur from October to December.
Due also to geographical differences, not all areas in the Philippines are directly hit by typhoons. In fact the southern part of the Archipelago (Mindanao) is nearly free from cyclones, as storms are rare in the area and account only for 5 percent of the storms that cross the Archipelago. The southern islands in the Visayan Archipelago (Panay, Negros, Bohol, Guimaras and Cebu) are also rarely direct hits of cyclones. Areas that are frequently visited by typhoons include those in the Eastern Visayas, and the entire Luzon landmass, specially in the Bicol peninsula, Catanduanes, Polilio Islands, Eastern Luzon provinces of Aurora, Quezon, Isabela, Cagayan, and Batanes.
Foro ther things to do in the country this season, check out my Ten Things to Do in the Philippines This Rainy Season.