When I was a kid, one of the first books I owned was Nick Joaquin's "Manila, My Manila: A History for the Young". Being the foremost chronicler of 20th century Manila, Joaquin dedicated his life to the city. To describe Manila more than how he vividly chronicled the city is hard to accomplish, and I cannot think of ways to match his writings. At my very young age, his words made me love my hometown… and everything grew from there. So let me just borrow some of his, because I know nobody does it better than the great Quijano de Manila.
"Like Troy, that was sevenfold, Manila has been many cities and will be many more. Like every great city, Manila sprang from wilderness of question marks. Legazpi was not the beginning, nor yet Soliman." – Joaquin.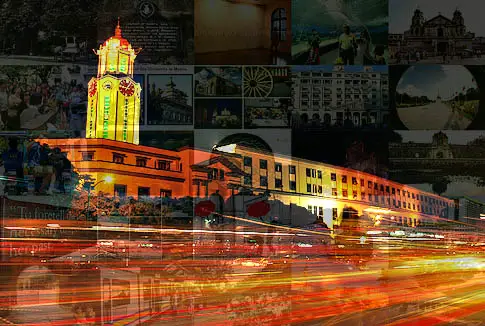 Manila used to be the Pearl of the Orient Seas… the place to be in the east… one of the most progressive and beautiful cities in the world. But through the years, her image continues to deteriorate. Today, her paradigm as a filthy, chaotic and old forgotten city shun not only foreign tourists but even most Filipinos. So this time, the Pinoy Travel Bloggers will change the way everyone looks at Manila.
In our own little ways, we will bring the good side of our city, the details we usually overlook and forgotten, the beauty hidden in every nook and corner of its old districts, and its glory invisibly inscribed on its walls and halls. We are the modern day Nick Joaquin who loved, cursed and criticized the city and yet still keep coming back to her arms, and for our love of our city, we will celebrate its glory. Manila, Our Manila!
+++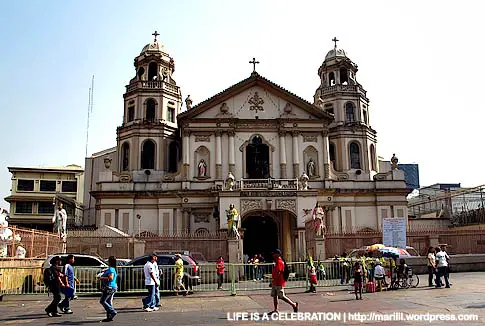 Life is a Celebration takes us to a different tour of Quiapo, where she rediscovered the district's beautiful churches and heritage that most of us usually overlooked. The Minor Basilica of Black Nazarene, the Asia's all-steel church of San Sebastian, the old houses and structures of Nakpil-Bautista and La Gota de Leche, and other treasures around the area guarantee that you will never look at Quiapo the same again.
"No, it is not a secret. We have heard of some of these places, even watched documentaries on television about them. But perhaps not often enough. Nor enough. Many history books hardly talk about them too. And as soon as we hear the heritage sites are in Quiapo, many of us would either lose interest or feel not too brave to walk the streets there. Sad but true. And I am ashamed to admit it."
Read more of Tita Lili's Rediscovering Quiapo (Manila) here.
+++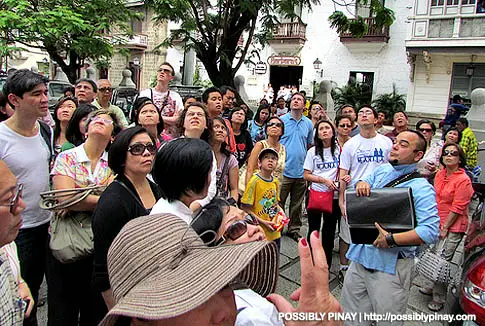 Possibly Pinay tells us how two men changed her heart, from being a Manila snob to being in love with the city that holds a dear spot in her heart. Joining Carlos Celdran and Ivan Man Dy's walking tours of Manila reacquainted her to the place she used to rebuff that ended up in her metanoia of Manila.
"These two men have shared their love for Manila and I am more than thankful that they have. They changed me in a way no man ever has. My hats off to Carlos Celdran and Ivan Man Dy. I respect you and promote you to everyone I know with a passion that is beyond my love for True Blood and Grey's Anatomy."
More of Eileen Campos' My Manila and Two Men here.
+++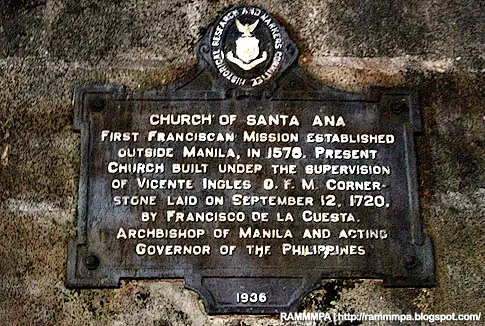 Rammmpa shares his Visita Iglesia experience which opened his eyes to the beautiful churches of Manila. From Tondo, Binondo, Sta. Cruz, Intramuros, Sampaloc, San Miguel and Quiapo, he navigated some of the amazing religious landmarks of the city while commemorating the passion of Christ.
"I spent seven hours in this journey. I know I didn't sacrifice that much but I hope that with this blog, I'll be able to open your minds about Via Crucis and I hope too that I'll somehow captivate your tastes on architecture and history through these churches that I've been to here in Manila."
Check out Alex Dizon's full narrative of his Via Crucis: 14 Churches of Manila here.
+++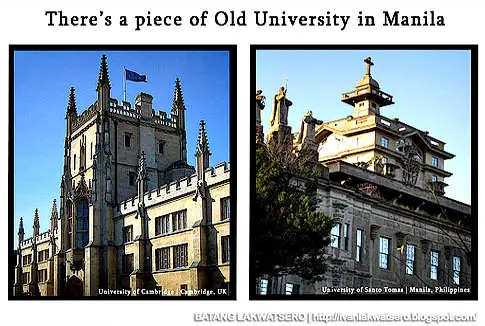 Batang Lakwatsero reveals the pieces of the city that make Manila at par with other cities of the world. He shared some of the city's landmarks in a witty comparison to other world icons. The Manila City Hall Watchtower, the old churches of San Sebastian and San Agustin, and the University of Sto. Tomas among others.
"Manila used to be the most beautiful city in the east, until it was leveled into the ground by the Americans during the 1945 Liberation of Manila, a sad reality we can no longer revert. Manila now maybe negligible when it comes to first class beauty, but for me, the City of Manila is still and forever will be the Pearl of the Orient. It has an incomparable greatness, you'll just have to have a good eye for history to see it."
Follow Ivan Brinas Cultura's Ten Pieces of Something in Manila here.
+++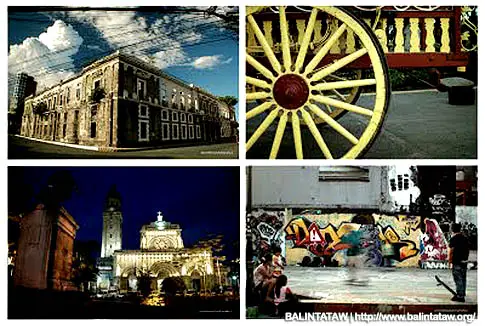 Balintataw shares his Photowalk Guide of Manila through his collection of stills. He intends to guide first time photographers who would like to experience shooting in the city, backpackers who enjoy discovering new places or anyone who aims to rediscover the country's capital.
"Visiting the capital city is always part of my itinerary when ever I'm in a foreign land. For me, the capital cities are the best subject to try out street photography. It is also the fastest way to get to know a piece of the country's history and culture. Back in 2008, I joined my first ever photowalk across the streets of Manila. During our walk, I tried to pretend to be a first time tourist in Manila who just came out of NAIA and went out on the streets of the city to shoot. After reviewing the photos I've taken, I was surprised on how vibrant and exciting our capital city looked like on prints."
See more of Jerome Baluyut's Manila Photowalk: A Guide for Newbies here.
+++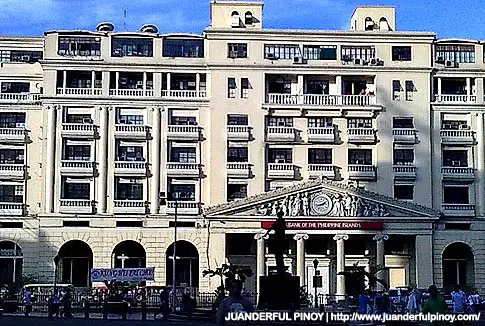 Juanderful Pinoy takes us on a walk to his favorite district in Manila, the Chinatown, center of Chinese community in the Philippines and one of city's popular shopping districts. A great spot for bargain hunters and food trippers, Manila Chinatown never fails him when it comes to leisurely walk and budget shopping.
"Despite of changes and development in the country, Manila's oldest district was restored and preserved to commemorate its natural and historic image. In Manila, you will see mixed communities of distinct and extreme differences like in Chinatown, the center of Filipino Chinese community in the country."
Check out Chin Chan's post on Shopping and Leisure in Manila here.
+++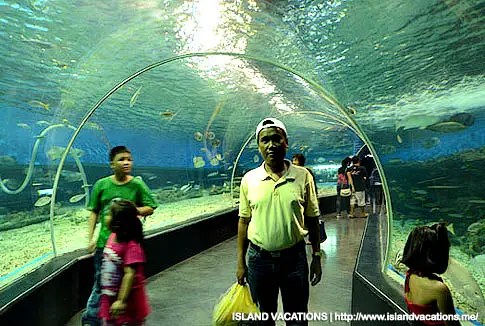 Island Vacations strolled the underwater world in the country's first and only marine theme park and found himself associated once more to the sea. But this time, not in the island where he was born and raised but in the city miles away from his hometown.
"The Manila Ocean Park might not be as large and well-equipped as some of the more famous marine theme parks in Asia, but it is still a popular attraction among the Filipinos and foreign visitors. The fact that the first volunteer on the photo session with the sea lions in the midst of the Sea Lion Show was a female Indonesian national was proof that the Manila Ocean Park had already gained popularity among our Asian neighbors. The existence of the Manila Ocean Park has become a national pride among the Filipinos and visiting the spot by marine world lovers like you is a step in the right direction if only to prove that the Philippine capital city of Manila has attractions worthy of a visit by local and foreign tourists alike."
Read the full narrative of Edelito Sangco's day in Manila Ocean Park – A Stroll On The Marine World In Manila, Philippines here.
+++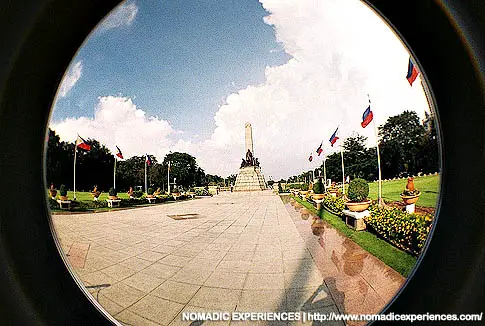 Nomadic Experiences shows us the fish-eye view of Manila that he took in one of his walks along its busy districts. The vivid images of Quiapo, Sta. Cruz, Ermita and Sampaloc, their sidewalks, churches and old structures show a day in the life of the city as captured by his lens.
"Wherever I may roam someday, Manila will always have a bearing on my consciousness. Never the bright lights of Manila has failed me miserably. There is always that hidden something waiting to be discovered."
More of Marky Ramone Go's Fish Eye View of Manila here.
+++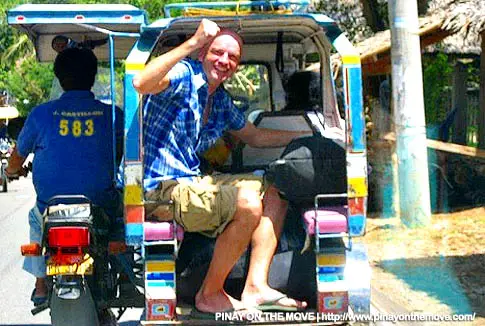 Pinay on the Move compiles the testimonies of five adventurers and discerning travelers from various corners of the globe about their discoveries in Manila that all boil down to a single message: Manila Rocks!
"Manila is a misunderstood city. Often neglected and rejected by many, even by locals, it is in need of a second chance. Years and layers of poverty and pollution has made it look derelict. But if you go beyond the surface you will find a city with a soul."
More of Graciel Cecilio's Manila Revealed: Testimonials on Why the World's Most Misunderstood City Rocks here.
+++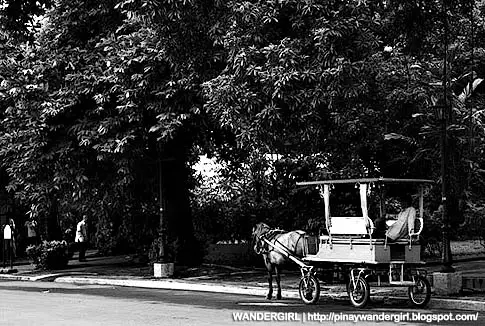 Wandergirl relives the old walled city of Intramuros, the center of political, military and religious power of the Spaniards during the Spanish colonization of the Philippines.
"The walled city is like a silent witness to everything that's happened in the country. For sure when something changes or shakes the country, expect it to happen in Manila. Sometimes I wish to be transported back to a time where Intramuros is still where the powerful live, where Escolta is the coolest place to hang out for its shopping centers and Ermita is like the Forbes Park of society."
Check out Bridgette Rebuca's Intramuros here.
+++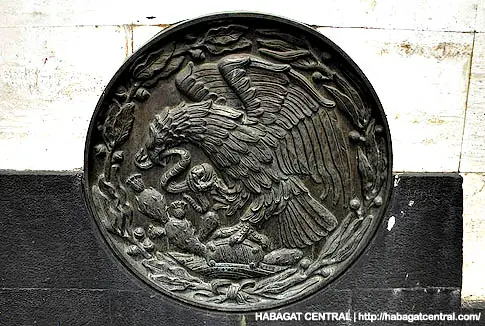 Habagat Central narrates his experience during his photo walk from Intramuros, Escolta, Sta. Cruz and Quiapo,  where he saw Manila in its real heartbeat. The vivid images of the city on its normal day relives his fascination over urban exploration.
"Manila is one adventure, really. Just by simple walking, a lot can be experienced. There is this bliss and agony—there's a story in every nook and corner. And just simply that malls are the in-thingies these days, urban outdoors has become one place to get out of the comfort zone and dare to explore more. Manila is not just malls—try to look beyond it!"
More of Berniemack Arellano's narrative and great photos while Walking at Steamy Manila Noon here.
+++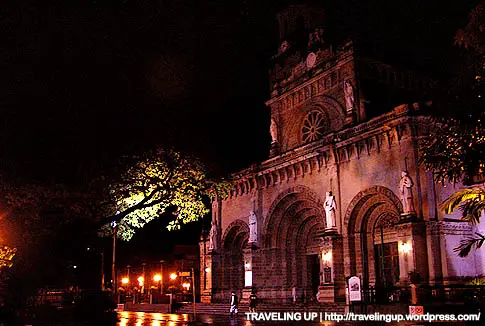 Traveling Up explored the city differently. Aboard her motorbike, she navigated the streets of Manila to check out Intramuros, Manila Bay area, Binondo, Ermita and Malate. She also shared some tips and benefits of touring the city using a motorcycle.
"Mention Manila and the most common image that comes to mind is heavy traffic, smoke-belching jeepneys, swerving buses and congested streets. Our country's capital city hardly seems like an ideal place to visit, and even more so by motorcycle. But if you give Manila a chance, it may just surprise you. On a Sunday morning ride, when the traffic was relatively light, I found it extremely satisfying to be able to zip along Roxas Blvd. and visit various tourist spots and cultural and historic landmarks. Though I wasn't expecting it to be a great ride, I have to say, Manila does have a unique charm."
Find out how Kara Santos explored Manila by Motorcycle here.
+++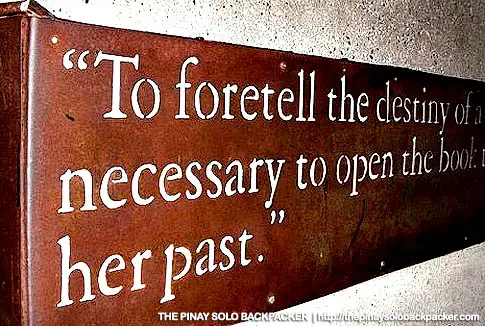 With injured feet, my sister The Pinay Solo Backpacker tours Intramuros on a pedicab, where she rekindled the glory days of the city through its walls, gates, plazas, churches, old structures and monuments.
"I guess to truly experience Manila's nostalgic charm, or savor it's mouth-watering food and indulge on it's cheap shopping, one needs to sacrifice a little – throw out your fears and inhibitions out of your luggage and walk into her bosom but don't forget to bring an ounce of extra care and tons of common sense! Manila is Manila, love it or hate it, this city maybe dangerous but it is a beautiful temptress. Besides, isn't the most challenging destinations oftentimes turns out to be the most memorable? To discover Manila, you have to see the beauty in the imperfect. Impeccable is boring."
Check out how Gael Hilotin's Intramuros Walking Tour Turns into a Pedicab Tour here.
+++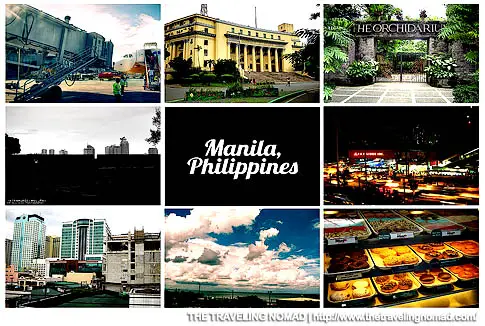 A son of Davao, The Traveling Nomad narrates his day in Manila where he discovered the real beauty of the city beyond the traffic, crowded places and stressful way of life. He rode the LRT and walked the streets of Intramuros, Ermita and Malate to see the city from a Davaoeños point of view, and promised to return to continue searching for its soul.
"Manila is beyond my comfort zone but I'd still go back to this place and relive the experience. And oh, I'll still continue finding the lost soul of Manila. Maybe she has more clues for me."
Find out how the city fared from Renz Bulseco's Manila in the Eyes of a Davaoeño here.
+++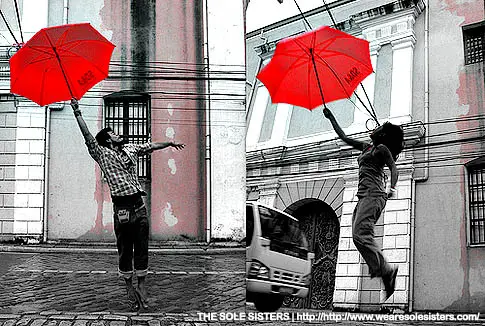 The Sole Sister shares how she turned from being a tourist guide into a first time tourist in the old walled city. Amazed with the evidence of being an old Spanish city, she found beauty on her own backyard and promised to explore more to get to know her city better.
"It was a slice of Spain in this godforsaken city. I was impressed by old buildings, the street signs and how well-preserved the Walled City was. Harry and I couldn't stop ourselves from acting like total tourists and walking around the place with childlike wonder."
Tour Intramuros with Sole Sister Lois Yasay's Who's the Tourist Now? here.
+++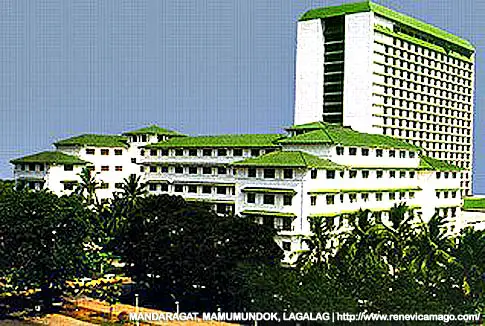 Mandaragat, Mamumundok, Lagalag features the city's famous landmarks. From the world renown sunset in Manila Bay, the ever evolving grandeur of Manila Hotel, the nostalgic walls of Intramuros, the historic Rizal Park and the river that has been witness to the city's triumph, fall and recovery.
"History is a scroll worth remembering, it is an event in past that made us where we are now, a result that need to look back to keep moving forward; and a legacy to love and give importance. Long live Manila!"
More of Renevic Amago's Manila: Behind its Name here.
+++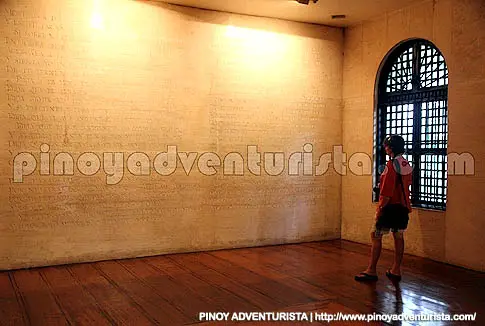 Pinoy Adventurista recounts the day they revisited Manila's old walled city to tour their Australian colleague. Serving as tour guides, they went to Manila Metropolitan Cathedral, Fort Santiago and Rizal Bagumbayan Light and Sound Museum in Intramuros, on a day that ended on a sumptuous Filipino food feast.
"Intramuros holds a special place in my heart as I've been there for numerous times. It's a place where I had a field trip when I was in high school, it was a site for a quick historical tour when I was in college, also a venue for a video and photo shoot for an event in our office a couple of years ago, and simply a place to hang out. Now, a place to show an Australian colleague the Philippines' vibrant past. "
Continue reading Mervin's Manila – Revisiting the Walled City of Intramuros, a Tour for an Australian Colleague here.
+++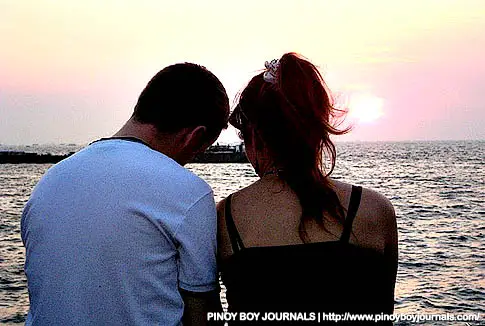 Pinoy Boy Journals shares the story of a traveler and a local girl, two different people from the opposite sides of the world with two different stories. He creatively chronicled an unforgettable love story in the backdrop of a picturesque city.
"You can travel miles and miles away to forget about her, to leave her… but she will never leave you. She will stay in your heart forever… a city like no other in the world… Manila."
Read the full script of Jerik De Guzman's Manila: A Screenplay here.
+++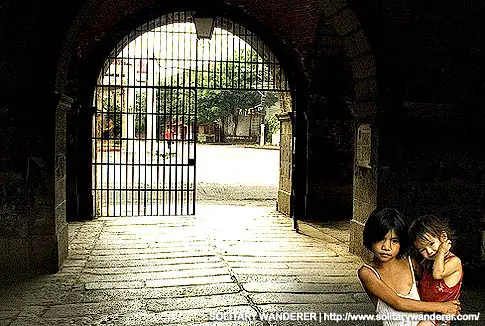 Solitary Wanderer shares her one-day itinerary of Manila, the places that should not be missed during a short stop to the city. With a walk to history, a culinary feast, a mystical rendezvous and romantic treat, her diverse itinerary is one great way to experience the city.
A lot of foreign visitors fly into Manila with no intention of staying long in the city. They just use it as a jump-off point in their trips across the Philippines. If this sounds like you, there's no need for you to spend the whole day in your hotel or at the airport. Manila has its share of attractions that you can appreciate even in just one day."
Full account of Aleah's What to Do in Manila in One Day here.
+++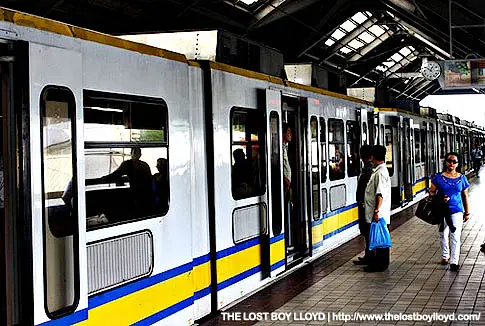 The Lost Boy LLoyd explores the forgotten city by rail. In his detailed recollection of his LRT Tour of Manila, he shared the city's important landmarks and the easiest way of getting there right from the tracks of Manila's elevated train system.
"Manila used to be one of the most cosmopolitan cities of Asia back on its heyday, yet now it seems to be skipped in typical Philippine itineraries, no thanks to the impressions given to this once glorious city… But you see, Manila still retains much what could be explored, and it could still be considered as a good travel destination for its culture, heritage, history, and cuisine."
Find out the spots that Lloyd visited in his LRT Manila Tour here.
+++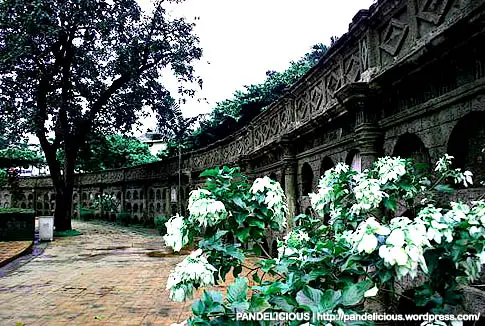 Pandelicious professes her love of Manila through an epic metaphorical ode that traverses some of the city's statuesque icons. Her hope for the city remains for as long as her sunset continues to draw its most vivid display on her seemingly endless horizon.
"For now I find a bit of solace in the philosopher, Kurt Vonnegut's words. "The purpose of life, is to love whoever is around to be loved" Until I find my own happiness, and someone that will be the inspiration for the mantra which I could live by. My path to Manila I hope hasn't ended. But if it did, I leave in good thoughts knowing I did everything I could to make it better. Yet I know I'm still waiting for a heroic chance to prove myself and the great lengths I shall go for, just to be able to stay."
Read more of Lauren Gaile's ode to her city, To Manila, with Love here.
+++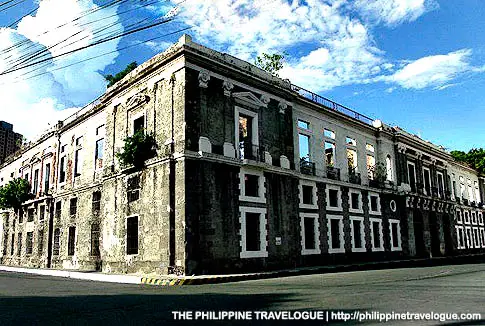 The Philippine Travelogue tells how her love for the city bloomed as she strolled one day on its old district and reacquainted with the place she once called home.
"Despite having once been a Manila girl, this year is the first time I've gotten a closer look at Manila's oldest district – Intramuros. It may not have been the first time I stepped foot on it, but it is definitely the first time that I actually felt connected, felt interested and was enchanted by Manila's history and how Intramuros came to be what it is today."
Follow Brenna Bustamante's trail in her A Walk Around Manila's Memories here.
+++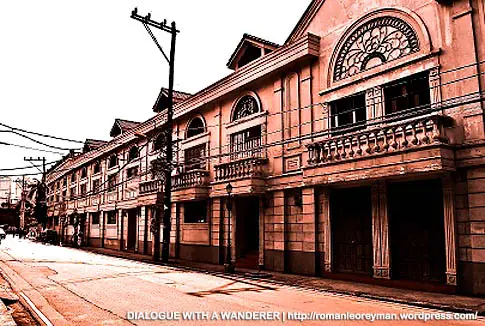 Dialogue with a Wanderer narrates the day they braved the heat of the sun, the usual crowd and traffic to rediscover Manila. From Quiapo, Intramuros to Rizal Park, he and his friends, relived the city that fostered him and later realized that despite Manila's tainted image, the city will always be a spring of hope for most.
Everybody has a lot say about this city—hatred, fear, and admiration—however, we cannot fault anyone who defends Manila with all their might. I'm neither the best to ask for directions nor the best to identify its tourist spots. I might also appear incoherent with its history, but ask me about how many dreams I fulfilled and still pursuing in this city, I can sit for a cup of coffee.  Over and again I look at Manila as the melting pot of diverse hopes. Manila may have ruined someone's life, but for most that are here, Manila will always be a place to fulfill ones dream.
Check out Roman Leo Reyman's Say Goodbye To Daydreaming, Manila Can Make It Real here.
+++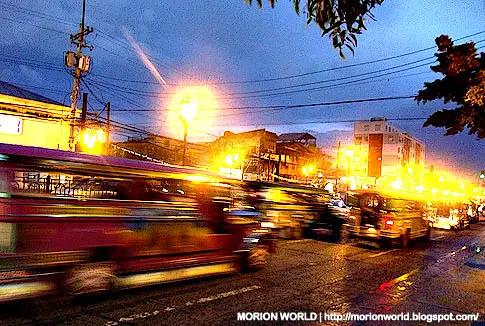 Morion World displays some images of España in Sampaloc, Manila. The busy avenue, the streetlights and the fast moving jeepneys in this city artery that is named after the nation that built Manila at is is now.
See Jeffrey Riles' photos of 7:00 PM España, Manila here.
+++
Journeying James shares his dreams for Manila: More trees; Bike lanes; Trash can in every street corner; Wi-fi everywhere; Restoration and preservation of its Heritage, among others.
Find out the complete list of James Betia's Dreams for Manila here.
+++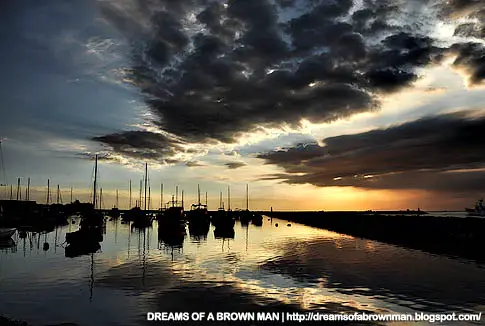 Dreams of a Brownman features some of amazing photos of Manila that he captured as he stroll one day to the place that never ceases to inspire him. Its sunset, reflections, walls, monuments, churches, halls, old structures and other icons that cradle him whenever he needs to rest his soul.
"It's just incomparable, this is where you can truly see the west fusion with the east. not because of its fast development just like advance Asian countries but because it is the way people have learned to live their everyday lives."
See more of Ian dela Pena's Manila Through Brownman's Eyes here.
+++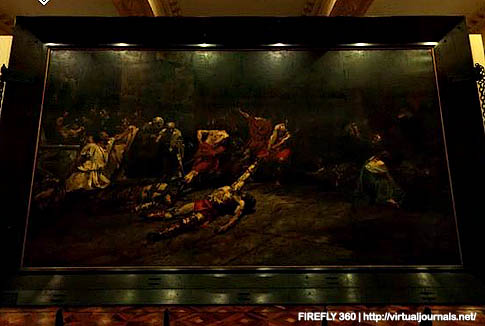 Lastly, Firefly 360 takes us to a 360 degree tour inside the National Museum of the Philippines in Ermita, Manila. Take a virtual look of Juan Luna's Spoliarium, winner of the gold medal in Exposición Nacional de Bellas Artes in 1884, proudly displayed in the main gallery and the first artwork that greets visitors upon entry in the museum.
See Fung Yu's amazing 360° Virtual Reality of the National Museum's here.
+++
Manila, our Manila. You are often misunderstood, criticized and overlooked. But you still embrace everyone with your open arms, hoping that your children will see you in different light and appreciate your ill-coated beauty. Let us wipe those tears our beloved city, so that those searching for your soul will see its reflection through your beautiful eyes.
No matter how many cursing, hatreds and criticisms you receive, you will still be our beloved city, and we promise to celebrate every bit and piece of your history, just as Nick Joaquin celebrated you.
"When we celebrate Manila, we celebrate not a date or a founding, but a site, a scene, a location, a mother-ground. It has known too many dates and foundations. Races and empires and religions have washed over it; the warlike have used thunder to claim it and the city, smiling, has allowed them their foolish moment. Age after age, its lovers have hailed its rebirth or bewailed its perishing, while outside continued the traffic for strange webs with eastern merchants… And all this has been but as the sound of lyres and flutes."
Long live Manila!
—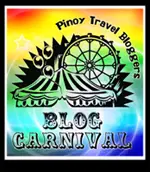 In Focus: Manila, Our Manila! is the tenth installment of monthly Blog Carnival of the Pinoy Travel Bloggers. Check out the carnival's archive as compiled by Estan Cabigas.