Budget, comfort and convenience. These three best describe our hotel of the month – Injap Tower Hotel.
The skyline of Iloilo City was forever changed by Injap Tower Hotel, the tallest and first ever high-rise building in Western Visayas at 21-storey high. Situated in the heart of the city's emerging business district, it has become an icon of Iloilo's leap to the future… of the city's transformation and development.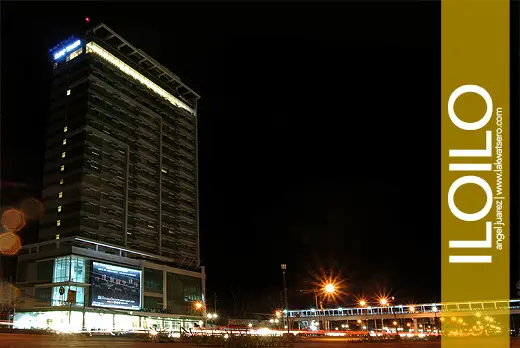 Location
The Injap Tower Hotel sits not in the downtown but along Benigno Aquino Avenue (formerly West Diversion Road) in Mandurriao District which the city is grooming to become its newest business center.
But despite its separation from the usual tourist areas, the place still offers convenience with SM City Mandurriao just across the hotel, while the downtown, port, markets, century-old churches and other attractions just a jeepney ride away.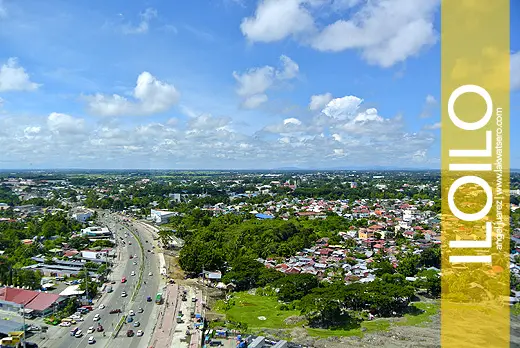 There are other building constructions nearby, give five more years or so and the district will become the new go-to place for everyone, tourists and locals alike.
Budget
Who would have thought that for as low as P1,250 per night, a party of three can get a first-class accommodation in a prime location in a big city such as Iloilo?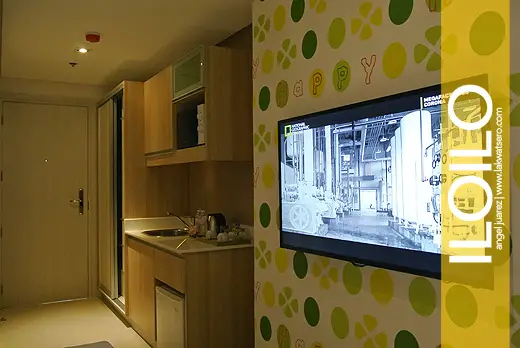 Apparently, yes! You can stay in one of the happy rooms of Injap Tower Hotel that fits three guests and can be maximized to fit four! And it is not a promotional or discounted rate but the regular early bird rate bookable thru their website.
Amenities, Facilities and Services
Injap Tower Hotel has a total of 194 rooms designed uniformly in minimalist modern approach, they call it the Hotel 101 Happy Room.
Each room has the same floor area of 21 square meters with air conditioning unit, a queen size and a standard bed, kitchen sink with microwave and mini refrigerator, telephone with IDD and NDD calls, 46″ LED Cable TV with HDMI capacity and complimentary wireless internet accessible even inside the rooms.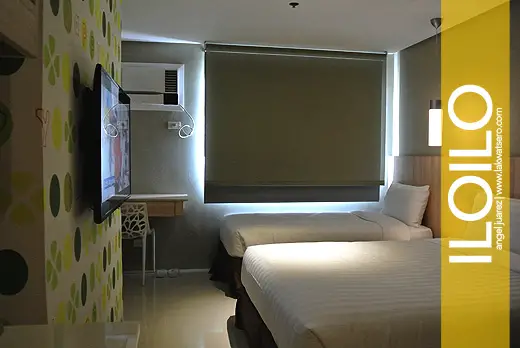 On its 21st floor is Horizon Cafe, the hotel's restaurant that has become popular not only for its great food but for its great view. The restaurant is open to public, offering awesome fusion of Asian and Western cuisines.
The hotel also boasts of its lap pool, fitness center, spa, airport service, daily housekeeping, 24-hour security, ample parking space and 24/7 standby power generator and a helipad at the topmost floor.
Too good to be true? But yes, it's all real and it's all for a budget!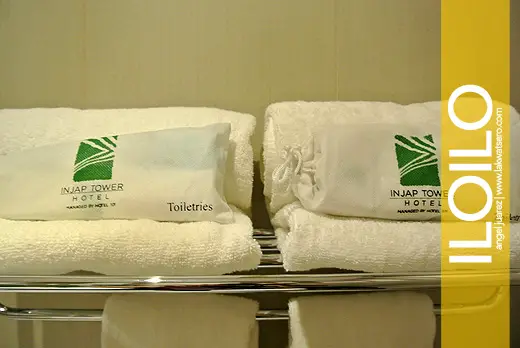 Experience
I have been to Iloilo City before but it was just a short stopover upon arriving from Cuyo, Palawan by ferry in the morning and before flying to Manila at night of the same day. Thankfully, an event dubbed as "Blog the City of Love" paved the way for me to experience more of the city and the province.
The three-day event aims to showcase the city's attractions – its century old churches, neighboring island and beaches, heritage districts, foods and everything Iloilo. Participants to the event were all billed to Injap Tower Hotel, who happened to be the organizer of the event.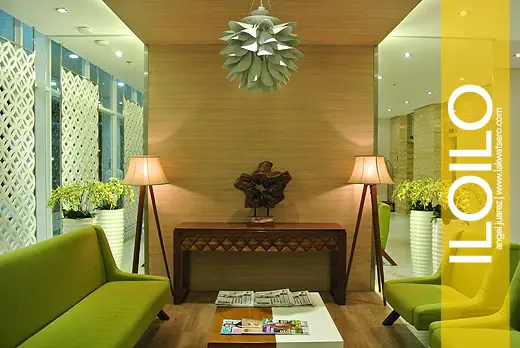 As the organizer, Injap Tower Hotel made their best effort in showcasing the best of Iloilo including in our accommodation and they sure did!
The first time I saw it, the imposing tower radiated strong presence and good impression, this as we traversed the wide highway coming from the airport. An impression that turned into fact the moment I stepped inside the tower. The small lobby was complimented with large smiles from the welcoming staff who directed each of us to our rooms.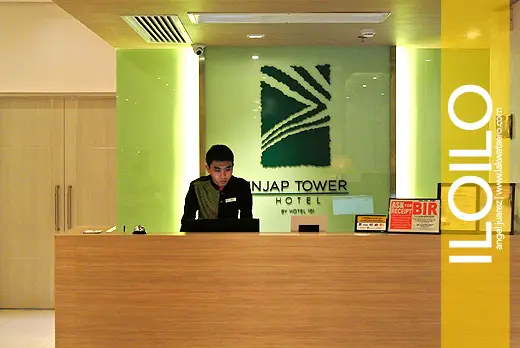 The beautifully designed happy room is spacious enough for its maximum capacity of three persons, let alone for one and in this case for me. The room interior is well designed and well lit. It has a huge glass window that offers good view of the city. It is the kind of room you experience in high-end hotels, the kind that promises sound sleep and comfortable stay. A promise delivered well!
The bathroom is of good standard too, not too big and not cramped either. It has hot and cold shower while toiletries and towels are readily available.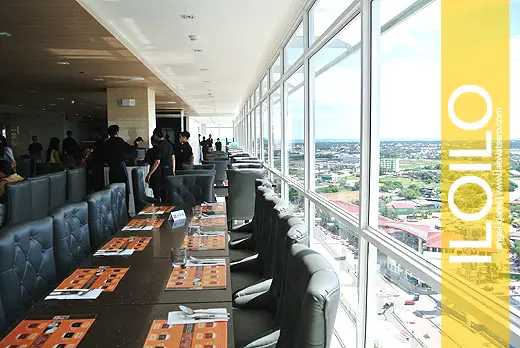 Wifi signal in my room is pretty good too, I can't say it for all but at least on my room at the 12th floor near the elevator. I love having a microwave, mini-ref, electronic kettle and complimentary instant coffee and bottled water in my room. At night, I was surprised when I got a knock from housekeeping just to give me some "Pillows". Not the pillow that I could sleep on but the snacks made by Liwayway Marketing, with good night quote stick on its packaging that made me smile. Sweet! 🙂
We had breakfast, lunch and dinner at Horizon Cafe and truth be told, their culinary offerings are quite remarkable as well as the view. I love their Asian menu particularly the Hainanese Chicken, Pork Medallion, Imperial Pork Ribs, Grilled Chicken Stuffed with Riped Mango, and the Creamy Seafood Marinara. But I will always remember Horizon Cafe with their mouthwatering Kaya Toast and Milo Godzilla for breakfast!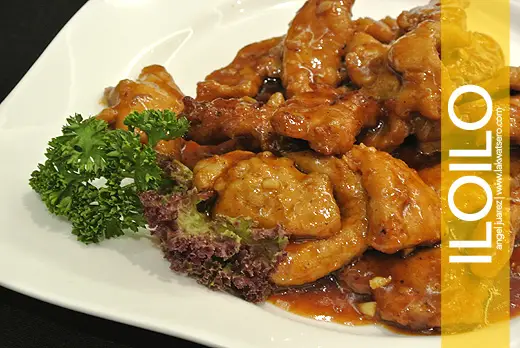 I also had a relaxing massage at Spa Circle and I must say that it was rather good. My personal gauge for a good massage is when I get to sleep during the session and here I slept like oil. Regrettably, I never got to try the gym and the lap pool.
Setting the Bar High
Overall, it was an awesome stay with Injap Tower Hotel. They set the bar high in hospitality department by offering low budget room on high standard. Complete with facilities, amenities and services that not only promise but guarantee a comfortable and unforgettable stay in the city.
So when in Iloilo City, consider staying in Injap Tower Hotel and personally experience one of the best that the city has to offer without emptying your pockets.
Injap Tower Hotel is located along Benigno Aquino Avenue (formerly West Service Road) in Mandurriao District and is highly accessible to public transportation. It is right across SM City Iloilo and just a walk away from Plazuela de Iloilo and a few-minute ride to Smallville Complex. For booking, visit their website at www.injaptowerhotel.com.ph. Check out also their Facebook, Instagram and Twitter account.