The island born of fire is more than the white island, hot and cold springs, waterfalls, volcanoes and other inland natural wonders, underneath this wonderful island is an evenly enthralling underwater paradise, and this is where my dive buddy Ate Claudia and I headed for another fun filled diving experience in our continuous diving pilgrimage across the archipelago of 7,107 islands.
Camiguin, an island province popular for its stretch of white sand bar, volcanoes, country's sweetest lanzones and popular yema-filled bun called pastel, is a pear-shaped volcanic island approximately 100 kilometers north of Cagayan de Oro City, my jump-off point to Mantangale and Camiguin.
Arriving Cagayan de Oro City early in the morning via Cebu Pacific and having an ample time to commute from the airport to bus terminal in Agora Market, I opted to take the public jeepneys from Lumbia Airport to Carmen Market (P16.00) and then to Agora Market (P7.00), big savings instead of taking a taxi cab direct to Agora charging fixed P200. In less than an hour, I was already in terminal, where I met Ate Claudia already aboard the Balingoan bound bus. At exactly seven o'clock in the morning, the bus left for almost two hours trip to Balingoan (P130.00).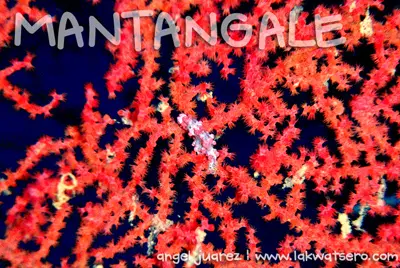 By 9AM, we were already in Mantangale Alibuag Dive Resort and we were welcomed by their very hospitable staff and by Sir Dodong, a dive master and owner of the dive resort.
We quickly prepared our diving stuff and had a nippy breakfast before boarding their big and comfortable dive boat. Our first dive was in the resort's house reef known as Banaug Shoal in Mantangale, described by the resort's website as an area filled with black corals, seafans, whips and home to schools of fishes like Randall's, silver fusiliers, drummers, surgeonfish, pipe and trumpet fishes, and other tropical fishes.
We descended with the aid of the buoy line attached to a coral head at 22 meters deep and explored the shoal where we saw pygmy seahorse, huge snappers, lionfish and the resident marine creatures decorated by crinoids and corals in varied hues. We spent 41 minutes underwater at 33.2 meters maximum depth, with 700 PSI of air left in my tank when we ascended.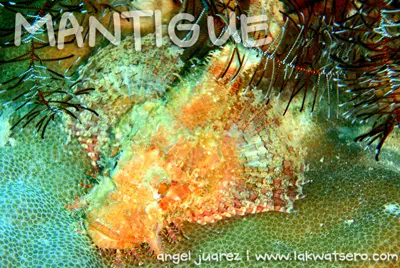 Our boat moved to the direction of Camiguin Island during our surface interval. An hour past and we were already in Mantigue Island, for our succeeding dives.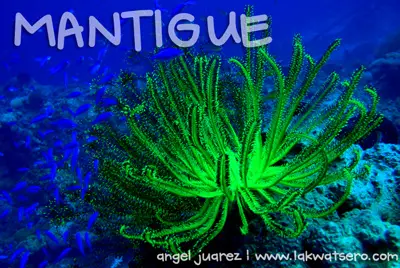 Mantigue Island (also called Magsaysay) is a tiny island southeast of Camiguin with land size of approximately four hectares. It is surrounded by white powdery sand and shaded by green trees rising inland, there are few families residing in the island although there is an ongoing plan of relocating them one-by-one to mainland Camiguin in order to preserve the surrounding and in aim to declare the entire water around as a marine sanctuary, today only a portion of the area is declared as such.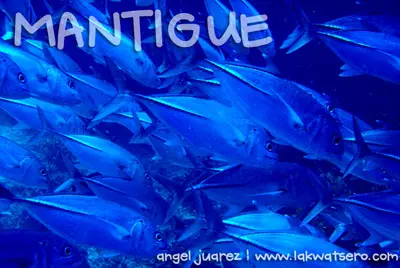 The water around Mantigue Island is teeming with diverse marine life. It has a wall that is home to school of jacks, lionfish, triggerfish, rabbitfish, snappers, sweetlips, frogfish, groupers, scorpionfish and more, while sponges, corals and crinoids render beautifully contrasting colors. Sir Dodong told us that the action is at 3 meters to 10 meters.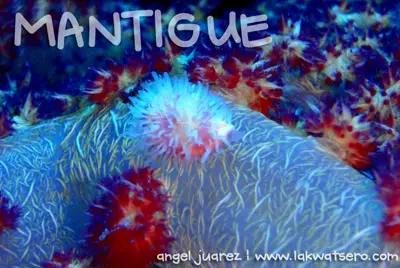 On our first descend in Mantigue Island, Sir Dodong gave us a Discover Nitrox dive for free. We used 30% enriched air nitrox and he gave us brief tips and pointers about its effects and the maximum depth we were allowed to dive. It was my first nitrox experience and the feeling while breathing it underwater was almost the same.
Underneath, I was surprised by the diverse, vibrant and colorful marine life. I never expected it to be of such beauty. I logged 63 minutes underwater at maximum 29.4 meters depth with 50 bars of air left in my tank when I surfaced.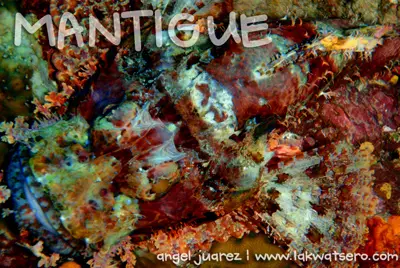 On our last dive in Mantigue Island, we descended to the same spot but drifted to the opposite direction. We had a chance to appreciate once more the unspoiled and unexploited marine life of Camiguin. Using compressed air, we stayed to a maximum of 15 meters and ascended after 60 minutes.
The dive sites of Mantangale in Balingoan, Misamis Oriental and Mantigue in Camiguin are definitely astonishing and world class; they exceeded our expectations. I never knew that beneath the island paradise of Camiguin lies a paradise of equal beauty. I will definitely go back here and dive more.
Thanks to Sir Dodong of Mantangale Alibuag Dive Resort and for giving us a discounted rate of P1250.00 per dive. Regular dive rate is P1500.00 per dive, plus equipment (BCD, regulator, tank, weights) rental of P550.00 per day and sanctuary fee of P130.00 per person. Here is the contact details of the resort:
Mantangale Alibuag Dive Resort Incorporated
Resort Address: Barrio Mantangale, Balingoan, Misamis Oriental
Sales Office: No.119, 3-R Bldg. Lapasan Highway, Cagayan de Oro City
Website: http://www.mantangale.com/
Contact: (08822)-722591/(08822)-728718
Email: [email protected]
Cebu Pacific took me to Cagayan de Oro City, my jumpoff point to Mantangale and Camiguin, thanks to Wandering Juan Travel Blog Awards 2010. Cebu Pacific flies to Cagayan de Oro City from Manila, Cebu and Davao, avail of their Fun Tours for some of the best packages in the City of Golden Friendship, please visit their site http://funtours.cebupacificair.com.